krainaksiazek victims and survivors of violence 20040232
- znaleziono 14 produktów w 2 sklepach 310,96 zł
Książki / Literatura obcojęzyczna
Every year, hundreds of thousands of women become victims of sexual violence in conflict zones around the world; in the Democratic Republic of Congo alone, approximately 1,100 rapes are reported each month. This book offers a comprehensive analysis of the causes, consequences and responses to sexual violence in contemporary armed conflict. It explores the function and effect of wartime sexual violence and examines the conditions that make women and girls most vulnerable to these acts both before, during and after conflict. To understand the motivations of the men (and occasionally women) who perpetrate this violence, the book analyzes the role played by systemic and situational factors such as patriarchy and militarized masculinity. Difficult questions of accountability are tackled; in particular, the case of child soldiers, who often suffer a double victimization when forced to commit sexual atrocities. The book concludes by looking at strategies of prevention and protection as well as new programs being set up on the ground to support the rehabilitation of survivors and their communities. Sexual violence in war has long been a taboo subject but, as this book shows, new and courageous steps are at last being taken D at both local and international level - to end what has been called the "greatest silence in history".
Sklep: Libristo.pl 224,97 zł
Książki / Literatura obcojęzyczna
Rape is one of the most under-reported crimes in the U.S., and yet it is one of the most vicious, devastating, and violent of all crimes. But getting justice for victims has not always been easy. Often the victim is criminalized, demonized, sexualized, or otherwise attacked for her own part in the rape. But over the years, laws have changed and prosecuting rapists has become more common. Taking the Stand describes the criminal prosecution of rapists from the perspective of the women who survived their violence and explores if, when, and how the criminal justice process can work for them. Walking through the various responses rape victims have had to the criminal justice process, Konradi's vivid analysis provides new information to help raped women decide whether and how they should participate in prosecution, to help friends and family assist them, and to improve criminal justice practice for crime victims generally. Taking the Stand follows 47 rape survivors of varied ages and ethnicities, from the terror and trauma of rape through reporting to law enforcement, police investigation and indictment, hearings for probable cause and trials, plea bargaining, and sentencing. It focuses on women's experiences throughout the process and demonstrates how every experience is different. The problems that rape survivors face in the criminal justice process are not simply the result of the adversarial nature of court, defense tactics, or their own emotional reactions to violent sexual domination. Problems emerge from: (1) the social networks in which survivors are situated, (2) their variable access to emotional and financial resources, (3) their lack of knowledge about the formal and informal practices of courtrooms, (4) their lack of structural power in the criminal justice process, and (5) standard procedures employed by prosecutors and police. By recognizing individual differences in rape survivors, and their rape experiences, criminal justice personnel can better serve victims, and by understanding the layers of criminal investigation and prosecution, survivors and their families can play a more active role on their own terms in an effort to bring about justice. A rape survivor herself, Konradi exposes in the raw language of the victims the very sensitive nature of the topic and the personal obstacles survivors face. By addressing each stage of the criminal justice process, she makes it easier for those who seek justice to make decisions and choose behaviors that will positively affect their outcomes and their personal experiences with the system.
Sklep: Libristo.pl 131,21 zł
Książki / Literatura obcojęzyczna
The horrific torture and execution of hundreds of thousands of Cambodians by Pol Pot's Khmer Rouge during the 1970s is one of the century's major human disasters. David Chandler, a world-renowned historian of Cambodia, examines the Khmer Rouge phenomenon by focusing on one of its key institutions, the secret prison outside Phnom Penh known by the code name 'S-21'. The facility was an interrogation center where more than 14,000 'enemies' were questioned, tortured, and made to confess to counterrevolutionary crimes. Fewer than a dozen prisoners left S-21 alive. During the Democratic Kampuchea (DK) era, the existence of S-21 was known only to those inside it and a few high-ranking Khmer Rouge officials. When invading Vietnamese troops discovered the prison in 1979, murdered bodies lay strewn about and instruments of torture were still in place. An extensive archive containing photographs of victims, cadre notebooks, and "DK" publications was also found. Chandler utilizes evidence from the S-21 archive as well as materials that have surfaced elsewhere in Phnom Penh. He also interviews survivors of S-21 and former workers from the prison. Documenting the violence and terror that took place within S-21 is only part of Chandler's story. Equally important is his attempt to understand what happened there in terms that might be useful to survivors, historians, and the rest of us. Chandler discusses the 'culture of obedience' and its attendant dehumanization, citing parallels between the Khmer Rouge executions and the Moscow Show Trails of the 1930s, Nazi genocide, Indonesian massacres in 1965-66, the Argentine military's use of torture in the 1970s, and the recent mass killings in Bosnia and Rwanda. In each of these instances, Chandler shows how turning victims into 'others' in a manner that was systematically devaluing and racialist made it easier to mistreat and kill them. More than a chronicle of Khmer Rouge barbarism, "Voices from S-21" is also a judicious examination of the psychological dimensions of state-sponsored terrorism that conditions human beings to commit acts of unspeakable brutality.
Sklep: Libristo.pl 58,54 zł
Książki / Literatura obcojęzyczna
In this moving and authoritative work which combines dedicated research and interviews with victims of childhood abuse and neglect, psychotherapist Linda Sanford passionately refutes the received wisdom that such people are trapped in a vicious circle of abuse and will probably become perpetrators of violence themselves. In more than seventeen years of working with victims and survivors, she discovered that this simplistic formula is far from true. Most survivors, in her experience, break free from the patterns of victimization and abuse and go on to lead healthy and fulfilling lives. And the more than twenty interviewed in depth by Sanford provide vivid proof that full recovery is possible. As they discuss key issues, such as self-image, intimacy, work and spirituality, we come to see what enables them, and countless others like them, to triumph over trauma and become not only strong, but often strongest where they've been most injured- strong at the broken places.
Sklep: Libristo.pl 64,89 zł
Książki / Literatura obcojęzyczna
Source: Wikipedia. Pages: 28. Chapters: Human rights in Argentina, Racism in Argentina, History of Argentine nationality, Abortion in Argentina, Women in Argentina, Villa miseria, Domestic violence in Argentina, Estancia, HelpArgentina, Prostitution in Argentina, Escrache. Excerpt: The Dirty War, state-sponsored violence against Argentine citizenry from roughly 1976 to 1983 carried out primarily by Jorge Rafael Videla's military government, ended years ago, and the human rights situation in Argentina has improved. Poster by the Madres de la Plaza de Mayo NGO with photos of the disappearedThe history of human rights in Argentina is affected by the Dirty War and its aftermath. According to the Nunca Más report issued by the National Commission on the Disappearance of Persons (CONADEP) in 1984, about 9,000 people were "disappeared" between 1976 and 1983. According to a secret cable from DINA (Chilean secret police) in Buenos Aires, an estimate by the Argentine 601st Intelligence Battalion in mid-July 1978, which started counting victims in 1975, gave the figure of 22,000 persons - this document was first published by John Dinges in 2004. Estimates by human rights organizations estimate up to 30,000. The Montoneros admitted losing 5,000 guerrillas killed, and the ERP admitted the loss of another 5,000 of their own guerrillas killed. By comparison, Argentine security forces cite 775 deaths of their own. In contrast, there were 13,500 victims of left-wing terrorism in Argentina. There is no agreement on the actual number of detenidos-desaparecidos. In an interview with Buenos Aires daily Clarin in 2009, Fernandez Meijide, who formed part of the 1984 truth commission, claimed that the documented number of Argentines killed or disappeared was closer to 9,000. The Asemblea por los Derechos Humanos (APDH or Assembly for Human Rights) estimated the number of disappeared as 12,261, which included "definitive disappearances" and PEN detainee survivors of the clandestine detention centres spread throughout Argentina. The total figure of official prisoners was 8,625 and of these PEN detainees 157 were killed after being released from detention. Between 1969 and 1979 left-wing guerrillas accounted for 3,249 kidnappings and murders. CONADEP also recorded 458 a
Sklep: Libristo.pl 180,87 zł
Książki / Literatura obcojęzyczna
In 1994, an interim government in Rwanda orchestrated one of the world's worst mass crimes: a 100-day extermination campaign that took half a million lives. At the time, Rwanda's genocide went largely unnoticed by the outside world. Today there is growing interest in the Rwandan experience as many discover the horror that took place and seek to understand how and why violence of this character and magnitude could have happened in our time.Intimate Enemy is a rare entree into the logic, language, and imagery of Rwanda's violence. The book presents perpetrator testimony along with photographs of Rwandans, both perpetrators and survivors. The images and words are raw and unanalyzed; the reader is left to make sense of the killers and their would-be victims. Intimate Enemy challenges our assumptions about the genocide and about those who perpetrated it. It also prods us to consider how to represent and imagine violence on the scale of Rwanda's.
Sklep: Libristo.pl 139,93 zł
Książki / Literatura obcojęzyczna
Why is it that men and boys have been and still are violated in human conflict, be it in conventional war, insurgencies or periods of civil and ethnic strife? Above all, why, throughout history, have victims, perpetrators and society as a whole refused to acknowledge this violation, and why do episodes of male-on-male rape and sexual abuse feature so rarely in accounts of war, be they official histories, eye-witness ac- counts or popular narratives? Is there more to this elision of memory than simply shame? Is there more to it than the victor's desire to violate the enemy body? Amalendu Misra's startlingly original re- search into male sexual violence explores the meaning and role of the male body prior to its abuse and how it is altered by violation in war- time. He examines the bio-political contexts of conflict in which primarily men and occasion- ally women sexually violate men; he details the inadequate legal safeguards for survivors of such events; and in unearthing and analysing an ignored aspect of war, he inquires whether such violence can ever be deterred.
Sklep: Libristo.pl 311,28 zł
Książki / Literatura obcojęzyczna
"Democratic Insecurities" focuses on the ethics of military and humanitarian intervention in Haiti, during and after Haiti's 1991 coup. In this remarkable ethnography of violence, Erica Caple James explores the traumas of Haitian victims whose experiences were denied by U.S. officials and recognized only selectively by other humanitarian providers. Using vivid first-person accounts from women survivors, James raises important new questions about humanitarian aid, structural violence, and political insecurity. She discusses the politics of postconflict assistance to Haiti and the challenges of promoting democracy, human rights, and justice in societies that experience chronic insecurity. Similarly, she finds that efforts to promote political development and psychosocial rehabilitation may fail because of competition, strife, and corruption among the individuals and institutions that implement such initiatives.
Sklep: Libristo.pl 46,33 zł
Książki / Literatura obcojęzyczna
When investigative telejournalist Nick Pearson is sent to Darworth in Hertfordshire, he finds a community divided. A steady influx of foreign immigrants has led to racial tension and open hostility and violence. The African newcomers are particularly targeted, regular victims of vandalism and even fire-bombing. The Africans seem unwilling to fight back, until the arrival of a mysterious, powerful man who many of them know - and fear. Nick begins to wonder if there might be some kind of connection between this newcomer and the desecration of a local cemetery - an event followed by the disappearance of a number of corpses and a series of bizarre, ritualistic murders. In each case, the victims bear the same marks on their bodies. Scars that Nick has seen before, five years earlier in Africa. Ancient religion and modern prejudice are about to collide, and when they do, there may be no survivors. At least not human ones ...
Sklep: Libristo.pl 184,36 zł
Książki / Literatura obcojęzyczna
During the twelve years from 1933 until 1945, the concentration camp operated as a terror society. In this pioneering book, the renowned German sociologist Wolfgang Sofsky looks at the concentration camp from the inside as a laboratory of cruelty and a system of absolute power built on extreme violence, starvation, "terror labor," and the business-like extermination of human beings. Based on historical documents and the reports of survivors, the book details how the resistance of prisoners was broken down. Arbitrary terror and routine violence destroyed personal identity and social solidarity, disrupted the very ideas of time and space, perverted human work into torture, and unleashed innumerable atrocities.As a result, daily life was reduced to a permanent struggle for survival, even as the meaning of self-preservation was extinguished. Sofsky takes us from the searing, unforgettable image of the Muselmann - Auschwitz jargon for the "walking dead" - to chronicles of epidemics, terror punishments, selections, and torture. The society of the camp was dominated by the S.S. and a system of graduated and forced collaboration which turned selected victims into accomplices of terror.Sofsky shows that the S. S. was not a rigid bureaucracy, but a system with ample room for autonomy.The S.S. demanded individual initiative of its members. Consequently, although they were not required to torment or murder prisoners, officers and guards often exploited their freedom to do so - in passing or on a whim, with cause, or without. The order of terror described by Sofsky culminated in the organized murder of millions of European Jews and Gypsies in the death-factories of Auschwitz and Treblinka. By the end of this book, Sofsky shows that the German concentration camp system cannot be seen as a temporary lapse into barbarism. Instead, it must be conceived as a product of modern civilization, where institutionalized, state-run human cruelty became possible with or without the mobilizing feelings of hatred.
Sklep: Libristo.pl 72,49 zł
Książki Obcojęzyczne>Angielskie>Society & social sciences>Society & culture: general>Social issues & processes>Violence in society>S...
Based On The Experiences Of Hundreds Of Survivors, This Work Profiles Victims Who Share The Challenges And Triumphs Of Their Personal Healing Processes. It Offers Mental, Emotional And Physical Support To People Who Are In The Process Of Rebuilding Their
Sklep: Gigant.pl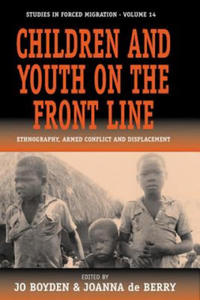 167,38 zł
Książki / Literatura obcojęzyczna
"This deeply disturbing but brilliant collection will be a challenge to a burgeoning literature on children in war situations ...[especially] to those who wish to make a black and white distinction between children and adults." ?- Children, Youth and Environments War leads not just to widespread death but also to extensive displacement, overwhelming fear, and economic devastation. It weakens social ties, threatens household survival and undermines the family's capacity to care for its most vulnerable members. Every year it kills and maims countless numbers of young people, undermines thousands of others psychologically and deprives many of the economic, educational, health and social opportunities which most of us consider essential for children's effective growth and well being. Based on detailed ethnographic description and on young people's own accounts, this volume provides insights into children's experiences as both survivors and perpetrators of violence. It focuses on girls who have been exposed to sexual exploitation and abuse, children who head households or are separated from their families, displaced children and young former combatants who are attempting to adjust to their changed circumstances following the cessation of conflict. In this sense, the volume bears witness to the grim effects of warfare and displacement on the young. Nevertheless, despite the abundant evidence of suffering, it maintains that children are not the passive victims of conflict but engage actively with the conditions of war, an outlook that challenges orthodox research perspectives that rely heavily on medicalized notions of 'victim' and 'trauma.'
Sklep: Libristo.pl 133,11 zł
Książki / Literatura obcojęzyczna
In a congregation of devoted worshippers gathered for Shabbat services at the local synagogue, it may be difficult to accept how many wives go home with their husbands to ongoing physical and emotional abuse. In Sins of Omission, author Carol Goodman Kaufman offers a compelling investigation of the Jewish community's reaction -- or nonreaction -- to domestic violence. Concerned with the sins of the community more than the sins of the abuser, Goodman Kaufman finds that the Orthodox, Conservative, and Reform rabbis and community leaders are not doing enough and are not informed enough to help the abused women in their congregations get the support, protection, and guidance they need. Through her many insightful interviews with survivors of abuse, rabbis, and lay community leaders, the author takes a hard look at the Jewish community, its rules, regulations, and followers, and discovers the ways in which it helps and hinders victims of abuse.
Sklep: Libristo.pl 63,78 zł
Książki / Literatura obcojęzyczna
Child psychiatrist Bruce Perry has treated children faced with unimaginable horror: genocide survivors, witnesses, children raised in closets and cages, and victims of family violence. Here he tells their stories of trauma and transformation.
Sklep: Libristo.pl
Sklepy zlokalizowane w miastach: Warszawa, Kraków, Łódź, Wrocław, Poznań, Gdańsk, Szczecin, Bydgoszcz, Lublin, Katowice
Szukaj w sklepach lub całym serwisie
2. Szukaj na wszystkich stronach serwisu
t1=0.074, t2=0, t3=0, t4=0, t=0.074