krainaksiazek viewpoint in language a multimodal perspective 20112137
- znaleziono 7 produktów w 1 sklepie 155,04 zł
Książki / Literatura obcojęzyczna
What makes us talk about viewpoint and perspective in linguistic analyses and in literary texts, as well as in landscape art? Is this shared vocabulary marking real connections between the disparate phenomena? This volume argues that human cognition is not only rooted in the human body, but also inherently 'viewpointed' as a result; consequently, so are language and communication. Dancygier and Sweetser bring together researchers who do not typically meet on common ground: analysts of narrative and literary style, linguists examining the uses of grammatical forms in signed and spoken languages, and analysts of gesture accompanying speech. Using models developed within cognitive linguistics, the book uncovers surprising functional similarities across various communicative forms, arguing for specific cognitive underpinnings of such correlations. What emerges is a new understanding of the role and structure of viewpoint and a groundbreaking methodology for investigating communicative choices across various modalities and discourse contexts.
Sklep: Libristo.pl 156,44 zł
Książki / Literatura obcojęzyczna
This volume presents six alternative approaches to studying second language acquisition ż 'alternative' in the sense that they contrast with and/or complement the cognitivism pervading the field. All six approaches ż sociocultural, complexity theory, conversation-analytic, identity, language socialization, and sociocognitiveż are described according to the same set of six headings, allowing for direct comparison across approaches. Each chapter is authored by leading advocates for the approach described: James Lantolf for the sociocultural approach; Diane Larsen-Freeman for the complexity theory approach; Gabriele Kasper and Johannes Wagner for the conversation-analytic approach; Bonny Norton and Carolyn McKinney for the identity approach; Patricia Duff and Steven Talmy for the language socialization approach and Dwight Atkinson for the sociocognitive approach. Introductory and commentary chapters round out this volume. The editorżs introduction describes the significance of alternative approaches to SLA studies given its strongly cognitivist orientation. Lourdes Ortegażs commentary considers the six approaches from an 'enlightened traditional' perspective on SLA studies ż a viewpoint which is cognitivist in orientation but broad enough to give serious and balanced consideration to alternative approaches. This volume is essential reading in the field of second language acquisition.
Sklep: Libristo.pl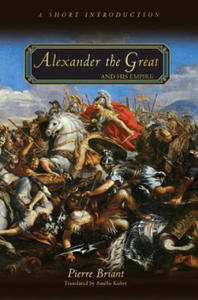 88,01 zł
Książki / Literatura obcojęzyczna
This is the first publication in English of Pierre Briant's classic short history of Alexander the Great's conquest of the Persian empire, from the Mediterranean to Central Asia. Eschewing a conventional biographical focus, this is the only book in any language that sets the rise of Alexander's short-lived empire within the broad context of ancient Near Eastern history under Achaemenid Persian rule, as well as against Alexander's Macedonian background. As a renowned historian of both the Macedonians and the Persians, Briant is uniquely able to assess Alexander's significance from the viewpoint of both the conquerors and the conquered, and to trace what changed and what stayed the same as Alexander and the Hellenistic world gained ascendancy over Darius' Persia. After a short account of Alexander's life before his landing in Asia Minor, the book gives a brief overview of the major stages of his conquest. This background sets the stage for a series of concise thematic chapters that explore the origins and objectives of the conquest; the nature and significance of the resistance it met; the administration, defense, and exploitation of the conquered lands; the varying nature of Alexander's relations with the Macedonians, Greeks, and Persians; and, the problems of succession following Alexander's death. For this translation, Briant has written a new foreword and conclusion, updated the main text and the thematic annotated bibliography, and added a substantial appendix in which he assesses the current state of scholarship on Alexander and suggests some directions for future research. More than ever, this masterful work provides an original and important perspective on Alexander and his empire.
Sklep: Libristo.pl 455,52 zł
Książki / Literatura obcojęzyczna
"A Decade of Negative Thinking" brings together writings on contemporary art and culture by the painter and feminist art theorist Mira Schor. Mixing theory and practice, the personal and the political, she tackles questions about the place of feminism in art and political discourse, the aesthetics and values of contemporary painting, and the influence of the market on the creation of art. Schor writes across disciplines and is committed to the fluid interrelationship between a formalist aesthetic, a literary sensibility, and a strongly political viewpoint. Her critical views are expressed with poetry and humour in the accessible language that has been her hallmark, and her perspective is informed by her dual practice as a painter and a writer and by her experience as a teacher of art. In essays such as 'The ism that Dare Not Speak Its Name,' 'Generation 2.5 ', 'Like a Veneer', 'Modest Painting', 'Blurring Richter', and 'Trite Tropes, Cliches, or The Persistence of Styles', Schor considers how artists relate to and represent the past and how the art market influences their choices, whether to disavow a social movement, to explicitly compare their work to that of a canonical artist, or to take up an exhausted style. She places her writings in the rich transitory space between the near-past and the 'nextmodern'. Witty, brave, rigorous, and heartfelt, Schor's essays are impassioned reflections on art, politics, and criticism.
Sklep: Libristo.pl 321,69 zł
Książki / Literatura obcojęzyczna
Philosophers of religion such as Mark Kingwell regard millenarian dreams as humanity's most powerful hopes for transformation, transcendence, apocalypse, and utopia. In Catholics and Millennialism: A Theo-Linguistic Guide , Warren A. Kappeler III explores the insights of critical discourse theory to examine the impact of millenarian groups upon Catholics. He examines theo-linguistic practices among present-day Catholics through allegorical interpretation, fundamentalism, and neo-literalism. Utilizing surveys of pre-millennial movements as revealed in academic research by Michael Cuneo, William Dinges, and Sandra Zimdars-Swartz, as well as post-millennial collaboration by progressive Catholics such as Hans Küng, Matthew Fox, and Karen Armstrong; Kappeler argues that apocalyptic stories and media images in today's popular culture promote a self-dramatization that encourages sympathetic Catholics to interpret their life experience within the grammar of the millennium myth. While some commentators argue that the new age audience is driven by populist reasoning inside church history and culture, a critical discourse analysis perspective reveals that millenarian movements have provided a language resource for a great number of social, cultural, and political conflicts in the history of Western civilization. Consequently, the mainstream history of the Catholic Church has been dedicated to the a-millennial viewpoint of Saint Augustine of Hippo. Considering these platforms, Kappeler sketches a mediating position between the church's millennial factions called Proleptic Adventism based upon a dialectical approach to both eschatology and incarnational spirituality. Ultimately Kappeler's findings offer hope to a postmodern world by looking to the future instead of the past, by analyzing popular culture in its dynamism and its contradictions, stressing the spiritual elements of liberation and participation, and by expressing itself in sacramental action and analogical reasoning.
Sklep: Libristo.pl 101,06 zł
Książki / Literatura obcojęzyczna
ARE YOU READY FOR THE SOCIAL ENTREPRENEURSHIP REVOLUTION?§"In her book Social Entrepreneurship for the 21st Century , Georgia Levenson Keohane provides a great insight into the emergence of social business and entrepreneurship. Her work provides a clear-sighted analysis of the many different dynamics at play as we test new models and solutions for global economic change." -- MUHAMMAD YUNUS, 2006 Nobel Peace Laureate, author of Banker to the Poor §"Entrepreneurship and venture thinking don't reside only in Silicon Valley; they can be found in the nonprofit sector, and they are changing the social fabric of nations and cultures around the world. Just how the nonprofit sector has evolved into a powerful agent of social change is the story expertly told by Georgia Levenson Keohane in Social Entrepreneurship for the 21st Century . This is a hugely important book for those who want to understand the nonprofit world and its evolving role." -- ELIOT SPITZER, former governor of New York§and host of Current TV's Viewpoint§"A timely, comprehensive, and well-written perspective on one of the most powerful, positive forces for social change in our world today. Keohane's book not only synthesizes her state-of-the-art knowledge of the field, but brings new insight into impact investing, the growing role of the social capital markets, the essentiality of valid performance measures, and the blurring of the lines between the social, public, and private sectors." -- WILLIAM F. MEEHAN III, Raccoon Partners Lecturer in Management, Stanford Graduate School of Business and Director Emeritus, McKinsey and Company§Modern social entrepreneurship is transforming the way we invest our money and change the world. Within 10 years, investors will channel hundreds of billions of dollars to achieve positive social and environmental impact in housing, health, education, energy, and financial services across the globe. While there are extraordinary financial and social gains to be made, many unanswered questions remain.§What's the best way to harness markets to promote social change? And what kinds of investments can we make across the nonprofit, private, and public sectors to achieve a more shared prosperity?§This book demystifies the complex world of social entrepreneurship, providing all the information you need to understand social investment and innovation, whether you re a private investor, policymaker, nonprofit manager, or passionate and engaged donor.§In clear and straightforward language, former McKinsey executive Georgia Levenson Keohane charts the development of what the New York Times calls "the emerging hybrid of philanthropy and private equity." In Social Entrepreneurship for the 21st Century , a must-read for anyone interested in innovative solutions to social problems, Keohane:§Shows how social entrepreneurship has radically transformed the nonprofit, private, and public sectors§Explores the promise of impact investing--what it really is and how it works§Illuminates the challenges of bringing billions of dollars in private capital to bear on social problems§Identifies smart public policies that promote social innovation at the local and national levels§Recommends specific investment opportunities you can act on now §With in-depth coverage of cutting-edge social programs and philanthropic initiatives, Social Entrepreneurship for the 21st Century provides the knowledge and tools you need to be a responsibly engaged investor and citizen in the coming decades.§
Sklep: Libristo.pl 85,58 zł
Książki / Literatura obcojęzyczna
Cities speak, and this little book helps us understand their language. Considering the urban landscape not from the abstract perspective of an urban planner but from the viewpoint of an attentive observer, Urban Code offers 100 "lessons"--maxims, observations, and bite-size truths, followed by short essays--that teach us how to read the city. This is a user's guide to the city, a primer of urban literacy, at the pedestrian level. The reader (like the observant city stroller) can move from "People walk in the sunshine" (lesson 1) to "Street vendors are positioned according to the path of the sun" (lesson 2); consider possible connections between the fact that "Locals and tourists use the streets at different times" (lesson 41) and "Tourists stand still when they're looking at something" (lesson 68); and weigh the apparent contradiction of lesson 73, "Nightlife hotspots increase pedestrian traffic" and lesson 74, "People are afraid of the dark." A lesson may seem self-evident ("Grocery stores are important local destinations"--of course they are!) but considered in the context of other lessons, it becomes part of a natural logic. With Urban Code, we learn what to notice if we want to understand the city. We learn to detect patterns in the relationships between people and the urban environment. Each lesson is accompanied by an icon-like image; in addition to these 100 drawings, thirty photographs of street scenes illustrate the text. The photographs are stills from films shot in the Manhattan neighborhood of SoHo; the lessons are inspired by the authors' observations of SoHo, but hold true for any cityscape.
Sklep: Libristo.pl
Sklepy zlokalizowane w miastach: Warszawa, Kraków, Łódź, Wrocław, Poznań, Gdańsk, Szczecin, Bydgoszcz, Lublin, Katowice
Szukaj w sklepach lub całym serwisie
2. Szukaj na wszystkich stronach serwisu
t1=0.072, t2=0, t3=0, t4=0, t=0.072