krainaksiazek warriors of old japan 20120211
- znaleziono 7 produktów w 3 sklepach 108,70 zł
Książki
Sklep: KrainaKsiazek.pl 17,37 zł
Książki / Literatura obcojęzyczna
Thirty accurate illustrations portray life among Old Japan's elite warrior class. Depictions from 800 years of samurai history include famous leaders, training, armour and weapons, battles, and more.
Sklep: Libristo.pl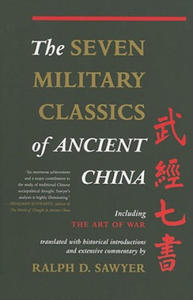 109,07 zł
Książki / Literatura obcojęzyczna
The Seven Military Classics is one of the most profound studies of warfare ever written. It presents us with an Eastern tradition of strategic thought that emphasizes outwitting one's opponent through speed, stealth, flexibility, and a minimum of force--an approach very different from that stressed in the West, where the advantages of brute strength have overshadowed more subtle methods.Safeguarded for centuries by the ruling elites of imperial China, even in modern times these writings have been known only to a handful of Western specialists. In this volume are seven separate essays, written between 500 b.c. and a.d. 700, that preserve the essential tenets of strategy distilled from the experience of the most brilliant warriors of ancient China.Only one of these seven essays, Sun Tzu's famous Art of War, has been readily available in the West. Thanks to this faithful translation of the complete Seven Military Classics, the insights of these ancient Chinese texts are now accessible in their entirety.It's not uncommon to see a "salaryman" on a crowded Tokyo subway studying one of the many popular Japanese editions of these essays. But why do so many businesspeople in Japan, Korea, and Taiwan study a 2,000-year-old military text? Because it embodies the strategic tradition of outwitting an opponent through speed, stealth, flexibility, and a minimum of effort. These principles have been proven both on the battlefield and in the marketplace. Now they are available in the West for the first time in their entirety.The lessons found in this book were exploited by such pivotal Asian war leaders as Japan's Yamamoto, China's Mao Tse-tung, and Vietnam's Giap to inflict terrible defeats on their enemies. And in more recent times, when Japan and others have decided to win their laurels on the field of international economic competition, these principles have been a key to the achievements of many Asian corporations. Executives in Japan, Korea, and Taiwan regularly study the Seven Military Classics. Unfortunately, even those far-sighted Western business leaders who have read Sun Tzu have glimpsed only a fraction of the knowledge their best Asian competitors use to plan corporate strategy--until now.Those who appreciate Chinese literature and philosophy will also discover much that is new in these pages. Here is a substantial but previously inaccessible body of thought that stands in contrast to Confucianism, which deprecated the military sphere in favor of self-cultivation and the ethical life.The Seven Military Classics of Ancient China remedies a serious gap in Western knowledge of Asian thought. This accurate translation is based on the best available classical Chinese manuscripts, some only recently discovered by archaeologists. It is a uniquely important contribution to the world's military literature and is essential reading for anyone interested in China's rich cultural heritage or in the timeless principles of successful strategy.
Sklep: Libristo.pl 149,77 zł
Książki / Literatura obcojęzyczna
When the Japanese attacked Pearl Harbor on 7 December 1941, the U.S. Navy had a total of 111 submarines. However, this fleet was not nearly as impressive as the number suggests. It was mostly a collection of aging boats from the late teens and early twenties, with only a few of the newer, more modern Gato-class boats. Fortunately, with the war in Europe was already two years old and friction with Japan ever-increasing, help from what would become known as the Silent Service in the Pacific was on the way: there were 73 of the new fleet submarines under construction. The Silent Service in World War II tells the story of America s intrepid underwater warriors in the words of the men who lived the war in the Pacific against Japan. The enemy had already begun to deploy advanced boats, but the U.S. was soon able to match them. By 1943 the new Gato-class boats were making a difference, carrying the war not just to the Japanese Imperial Navy, but to the vital merchant fleet that carried the vast array of materiel needed to keep the land of the Rising Sun afloat. As the war progressed, American success in the Solomons, starting with Guadalcanal, began to constrict the Japanese sea lanes, and operating singly or in wolfpacks they were able to press their attacks on convoys operating beyond the range of our airpower, making daring forays even into the home waters of Japan itself in the quest for ever more elusive targets. Also taking on Japanese warships, as well as rescuing downed airmen (such as the grateful first President Bush), U.S. submarines made an enormous contribution to our war against Japan.This book takes you through the war as you learn what it was like to serve on submarines in combat, the exhilaration of a successful attack, and the terror of being depth-charged. And aside from enemy action, the sea itself could prove to be an extremely hostile environment as many of these stories attest. From early war patrols in obsolescent, unreliable S-boats to new, modern fleet submarines roving the Pacific, the forty-six stories in this anthology give you a full understanding of what it was like to be a U.S. Navy submariner in combat.REVIEWS This is a compilation of many stories that originally appeared in the Polaris Magazine and is edited by Edward Monroe-Jones (A USSVI Life/Holland Club member and a member of the Bremerton Base) and Michael Green. Although you may have read these stories in the Polaris, it is worth the effort to read them again. I suspect that many of the AS readers and USSVI members have never read the Polaris so these are all new recollections. The book is designed for submariners and non-submariners alike as there is an excellent glossary at the beginning to define the abbreviations used. There are 46 separate sea stories that range from 1940 through 1945. It is an easy enjoyable read which I recommend. American Submariner ..gives the reader a greater understanding of what it was like to be a U.S. Navy submariner in combat the most comprehensive work ever assembled on World War II submarines then or since Naval Historical Foundation enjoyable collection of good sea tales, with stories that intrigue and capture the imagination...The Northern Mariner provides a colorful picture of the difficulties these crewmen encountered during the war This eclectic collection of short reminiscences should help make the wartime experiences of those men available to a wider audience Journal of America's Military Past"
Sklep: Libristo.pl
150,74 zł
Książki / Literatura obcojęzyczna
In this landmark book, author Fumon Tanaka uses the life and accomplishments of sword master Miyamoto Musashi to explore the history of swords and sword fighting and show the key role they played in the development of the traditional Japanese martial arts systems. The book opens with an introduction to Musashi as a real-life figure, not just the legend we've come to know. Musashi was born in 1584, a time of transition in Japan that saw centuries of violence and war give way to an era of peace. In his early years, Musashi studied kenjutsu (the technique of the sword) and trained as a warrior. By the age of thirty, he had fought and won sixty-six duels, proving himself a truly gifted swordsman. When he was in his thirties, however, warriors were no longer called upon to do battle, and many, like Musashi, turned to the inner secrets and theories of kenjutsu in order to find a deeper meaning to life. He became a first-class painter and wrote Zen poetry. In 1643, when he was sixty years old, Musashi wrote his classic work, The Book of Five Rings. Musashi was a master of the two-sword fighting technique, although he didn't invent it, as is often thought. By 1629, he had gone back to his ronin (masterless warrior) way of life and opened a kenjutsu dojo, where he taught two-sword fighting, which the author covers later in the book. The second chapter talks about other important sword fighters, while the last two chapters go into great detail about the various traditional martial arts systems including the history and characteristics of each, as well as the techniques themselves. The long history of Japan is also the history of the martial arts, which evolved from swordsmanship. And since the mental, spiritual, and physical aspects are inseparable, an exploration of traditional martial arts is also a look at the very essence of Japanese culture.
Sklep: Libristo.pl 33,30 zł
Kryminał, sensacja, thriller, horror
Shattered by the murder of his wife at the hands of Ernst Stavro Blofeld, James Bond has gone to pieces as an agent. M gives him one last chance, sending him to Japan for a near-impossible mission. There Bond is trained in the fighting arts of Ninja warriors and sent to infiltrate a mysterious fortress known as the 'Castle of Death' – a place of nightmares where a lethal poisoned garden destroys all who go there – and awakens an old, terrifying enemy. You Only Live Twice sees Bond's final encounter with the insane mastermind Blofeld – one that could mean the end for 007.
Sklep: Albertus.pl 174,39 zł
Książki / Literatura obcojęzyczna
This imaginative collection juxtaposes images of Old Japan's samurai warriors with medieval armored knights. The 200 full-color illustrations are drawn from rare 19th-century sources, including valuable prints by famed Japanese artist Kuniyoshi.
Sklep: Libristo.pl
Sklepy zlokalizowane w miastach: Warszawa, Kraków, Łódź, Wrocław, Poznań, Gdańsk, Szczecin, Bydgoszcz, Lublin, Katowice
Szukaj w sklepach lub całym serwisie
2. Szukaj na wszystkich stronach serwisu
t1=0.026, t2=0, t3=0, t4=0.021, t=0.026