krainaksiazek way before investing in mutual funds 20045680
- znaleziono 8 produktów w 1 sklepie 86,39 zł
Książki / Literatura obcojęzyczna
John C. Bogle, founder of the Vanguard Group of Investment Companies, has built a $100 billion mutual fund company on principles of candor, fairness, and low cost. The most outspoken critic of the mutual fund industry, Bogle speaks to the serious mutual fund investor, both novice and seasoned, in this straightforward assessment of an industry Bogle himself helped revolutionize. Here he offers the essential principles of canny mutual fund investing, as well as caveats to protect the investor. Readers will learn how to: Ask three critical questions before investing. Evaluate risk tolerance and design a portfolio to meet current financial objectives. Develop a diversified portfolio of equity funds, bonds, and money market funds that will weather the market's short term variations. Apply Bogle's eight model portfolios to achieve their own financial goals. Always find themselves in a winning money market fund. Protect themselves from inflation Use index funds to effectively balance risk/return. Anyone who is serious about mutual funds can apply the dynamic investment principles of "Bogle On Mutual Funds to establish a winning, long-term investment portfolio.
Sklep: Libristo.pl 114,38 zł
Książki / Literatura obcojęzyczna
Investing is all about common sense. Owning a diversified portfolio of stocks and holding it for the long term is a winner's game. Trying to beat the stock market is theoretically a zero-sum game (for every winner, there must be a loser), but after the substantial costs of investing are deducted, it becomes a loser's game. Common sense tells us-and history confirms-that the simplest and most efficient investment strategy is to buy and hold all of the nation's publicly held businesses at very low cost. The classic index fund that owns this market portfolio is the only investment that guarantees you with your fair share of stock market returns. To learn how to make index investing work for you, there's no better mentor than legendary mutual fund industry veteran John C. Bogle. Over the course of his long career, Bogle-founder of the Vanguard Group and creator of the world's first index mutual fund-has relied primarily on index investing to help Vanguard's clients build substantial wealth. Now, with The Little Book of Common Sense Investing, he wants to help you do the same. Filled with in-depth insights and practical advice, The Little Book of Common Sense Investing will show you how to incorporate this proven investment strategy into your portfolio. It will also change the very way you think about investing. Successful investing is not easy. (It requires discipline and patience.) But it is simple. For it's all about common sense. With The Little Book of Common Sense Investing as your guide, you'll discover how to make investing a winner's game:* Why business reality-dividend yields and earnings growth-is more important than market expectations* How to overcome the powerful impact of investment costs, taxes, and inflation* How the magic of compounding returns is overwhelmed by the tyranny of compounding costs* What expert investors and brilliant academics-from Warren Buffett and Benjamin Graham to Paul Samuelson and Burton Malkiel-have to say about index investing* And much more You'll also find warnings about investment fads and fashions, including the recent stampede into exchange traded funds and the rise of indexing gimmickry. The real formula for investment success is to own the entire market, while significantly minimizing the costs of financial intermediation. That's what index investing is all about. And that's what this book is all about. JOHN C. BOGLE is founder of the Vanguard Group, Inc., and President of its Bogle Financial Markets Research Center. He created Vanguard in 1974 and served as chairman and chief executive officer until 1996 and senior chairman until 2000. In 1999, Fortune magazine named Mr. Bogle as one of the four "Investment Giants" of the twentieth century; in 2004, Time named him one of the world's 100 most powerful and influential people, and Institutional Investor presented him with its Lifetime Achievement Award.
Sklep: Libristo.pl 87,36 zł
Książki / Literatura obcojęzyczna
They are the world's best - the professional investors at the head of global investment funds and the mavericks operating from behind nothing more than a laptop and a point of view; some with millions of pounds at their disposal and the fate of companies and customers' savings hanging on their decisions, others with nothing more (or less) than their reputation and their own fortune on the line. What sets them apart from the thousands of other investors out there is their track record. The professional investors who have contributed to this book include multiple award winners, fund managers who have managed to double or triple investment returns every two years, as well as the heads and founders of firms with billions - occasionally trillions - under management and half a century of profits to which they can point. There are no better investors to learn from when making your own way in the markets, and this book is the indispensable collection of the secrets behind their success, straight from the investors themselves. Featuring the investing rules of award-winning experts in Asian, Latin American and Western markets, contrarian specialists, mutual fund managers and more, "Professional Investor Rules" is a compelling snapshot of some of today's best investing minds. No investor can afford to be without it.
Sklep: Libristo.pl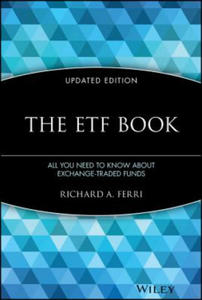 140,60 zł
Książki / Literatura obcojęzyczna
Exchange-traded funds (ETFs) are revolutionizing the investment industry. From their introduction in 1993, ETFs have expanded exponentially over the past fifteen years. You, as an informed investor, need to know what makes ETFs unique, how they work, and which funds may help you achieve your financial goals. The updated edition provides the most current look at the ETF market, where the number of funds has doubled since the book first published in December 2007. A huge number of bonds funds, commodities funds, currency funds, leverage and short funds have been introduced. In addition, actively managed ETFs are here now, and some major mutual fund companies, like Fidelity and PIMCO, are getting into the market. Remarkably, the terminology in the ETP marketplace is also evolving at a rapid pace. The acronym ETP for exchange-traded product has become an industry standard. The term did not exist two years ago. Written by veteran financial professional and experienced author Richard Ferri, The ETF Book, Updated Edition gives you a broad and deep understanding of this important investment vehicle and provides you with the tools needed to successfully integrate exchange-traded funds into any portfolio. This detailed, yet clearly articulated guide contains the most up-to-date information on navigating the growing number of ETFs available in today's marketplace. Divided into four comprehensive parts, this guide addresses everything from ETF basics and in-depth fund analysis to the tax benefits of using ETFs. Included are a variety of portfolio management strategies using ETFs and examples of different model portfolios that you can easily adapt to your own investment endeavors. Whether you're just getting started or are a seasoned ETF investor, The ETF Book, Updated Edition will help enhance your understanding of this evolving field by:* Examining the fundamental differences between exchange-traded portfolios* Highlighting how to effectively implement a wide selection of ETFs from * Exploring specific ETF strategies from buy and hold to market timing and sector rotation* Introducing Index Strategy Boxes a new way to understand index construction and how a fund is investing your money* And much moreEach chapter of The ETF Book, Updated Edition offers concise coverage of various issues. It is filled with in-depth insights on different types of ETFs and practical advice on how to select and manage them. The appendixes are an added benefit, offering an ETF Resource List, which will point you to more places for information on these structures, and a detailed Glossary to help you with industry-specific definitions. The ETF Book, Updated Edition is an invaluable road map for developing a winning investment strategy. Armed with the knowledge found throughout these pages, you'll be prepared to build a solid portfolio of ETFs that will benefit you for years to come.
Sklep: Libristo.pl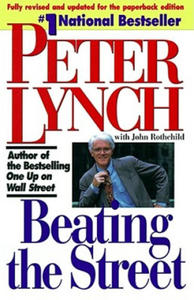 54,54 zł
Książki / Literatura obcojęzyczna
Legendary money manager Peter Lynch explains his own strategies for investing and offers advice for how to pick stocks and mutual funds to assemble a successful investment portfolio. Develop a Winning Investment Strategy--with Expert Advice from "The Nation's #1 Money Manager." Peter Lynch's "invest in what you know" strategy has made him a household name with investors both big and small. An important key to investing, Lynch says, is to remember that stocks are not lottery tickets. There's a company behind every stock and a reason companies--and their stocks--perform the way they do. In this book, Peter Lynch shows you how you can become an expert in a company and how you can build a profitable investment portfolio, based on your own experience and insights and on straightforward do-it-yourself research. In "Beating the Street, " Lynch for the first time explains how to devise a mutual fund strategy, shows his step-by-step strategies for picking stock, and describes how the individual investor can improve his or her investment performance to rival that of the experts. There's no reason the individual investor can't match wits with the experts, and this book will show you how.
Sklep: Libristo.pl 131,11 zł
Książki / Literatura obcojęzyczna
Your investing options aren't confined tostocks, bonds, and mutual funds. Thoseare merely the most common investmentsand, as recent history proves, certainly not thesafest or most profitable. How to Make Moneyin Alternative Investments introduces you tomore than 40 places to invest your moneyoutside the traditional avenues.Popular tax-strategist team Hubert and LisaBromma have written a prescriptive guide tohelp you take your portfolio to the next step.The key is to invest directly in an entity andto design your investment to be tax-free ortax-deferred. How to Make Money in AlternativeInvestments is your blueprint to enteringunique markets, including:Private LendingPrecious MetalsNatural Resources"Green" InvestingInternational SourcesReal EstateBusiness-to-Business Cash FlowsHow to Make Money in Alternative Investmentsprovides you with numerous success storiesthat illustrate exactly how it's done-from oneinvestor who makes private loans of $50,000that return 12.5 percent interest to anotherwho makes millions investing in water rightsin Wyoming.True financial freedom today begins and endswith you. No longer can you trust a third partyto make the wisest possible decisions regardingyour future. You need to reject the "standard"double-digit losses of your life savingsand take control of your own investments.How to Make Money in Alternative Investmentshelps you branch out on your own bymaking intelligent choices in the marketswhere you see potential. It's the only way toavoid losses in our struggling economy-andit's the best way to build wealth that will seeyou well into the future.
Sklep: Libristo.pl 113,74 zł
Książki / Literatura obcojęzyczna
Red Chameleons, is about The Agenda drawn up after the Russian revolution by The White Russians from the Ukraine, who supported the Czar. They are determined that The Agenda's goals will be achieved however long it takes. The Agenda's purpose is to bring back a new Czar to the throne by fair means or foul, while at the same time controlling the President of the USA, which they achieve after a trail of carnage. Because Stalin survives the Second World War, Devchenko the leader of The Whites, calls for a meeting of The Agenda's signatories in Helsinki, where together with two brilliant financiers, Isaac Greenbaum and Gerady Gerasimov, The Agenda is altered and detailed plans about how Czarist funds should be used to achieve their new aims are agreed. There are those that fail to comply who are summarily dealt with. Gradually, The Whites infiltrate the secret services of the USA, Great Britain, and their own KGB in Moscow, where a British defector from MI5 secretly arranges the building of a missile base in the Ural Mountains. The Whites also ensure that one of their number controls the NASA moon-based spy satellite. Greenbaum and Gerasimov take charge of undermining the American government to ensure the election of their own candidate as President, who they can blackmail into obeying their orders. They also begin illegally trading on the stock market and introduce farmers to a company that has invented a new seed that yields triple the grain crop they are used to, which they all use. However, The Czars successor nearly destroys The Whites' plan by commanding a test of the moon-based satellite which triggers two explosions killing 2000 people in London and more in America. When Devchenko dies, the commander of The Whites arranges the murder of the Czars heir and having manipulated his own bloodline, assumes he will be next to step into his shoes. The year before the election in the USA, The Whites remove the Soviet regime in a bloodless coup. They then deceive The West into agreeing mutual disarmament in return for the break-up of the Soviet Union and a guaranteed share in profit for financing the rebuilding their industries. The Americans also agree to release their grain reserves so that the Soviets can feed their starving millions. The American president is now sure that he will be re-elected Disarmament begins and the grain reserves arrive in the republics. Funds are then deposited in Moscow's central bank by eager western investors. Elections in the Soviet Republics are arranged, the results of which are to be announced in Moscow with all of the world's dignitaries present. But, while the world's leaders are on their way to Moscow, the FBI and MI5 have finally discovered the identities of The Whites spies, the whereabouts of a hidden missile base in Russia and much more. However, they decide to wait until the President returns from Moscow. The results of the elections reveal that each republic has returned a deputy who pledges allegiance to Moscow. This is a shock to those present, but not as much as the film footage showing a famine across the USA or the news that all the financial markets have collapsed, apart from that in the Soviet Union. The final live film they see is that of a nuclear missile being launched on-route to Hawaii. This is accompanied by a stark warning that if any country rearms they will receive the same treatment. Back in the USA and Britain, the culprits that the FBI an MI5 have identified have all flown the roost and their investigation is in tatters despite deaths and kidnaps, blackmail and more.
Sklep: Libristo.pl 118,73 zł
Książki / Literatura obcojęzyczna
A GOOD BOSS HITS HIS GOALS AND LEADS HIS TEAM.§A SUPERBOSS BLOWS AWAY HER GOALS BY BUILDING AN ARMY OF NEW LEADERS.§WHICH WOULD YOU RATHER BE?§§What do football coach Bill Walsh, restaurateur Alice Waters, television executive Lorne Michaels, technol ogy CEO Larry Ellison, and fashion pioneer Ralph Lauren have in common? On the surface, not much, other than consistent success in their fields. But below the surface, they share a common approach to finding, nurturing, leading, and even letting go of great people. The way they deal with talent makes them not merely success stories, not merely organization builders, but what Sydney Finkelstein calls superbosses. They've all transformed entire industries.§§After ten years of research and more than two hundred interviews, Finkelstein has concluded that superbosses exist in nearly every industry, from the glamorous to the mundane. If you study the top fifty leaders in any field, as many as one-third will have once worked for a superboss.§§While superbosses differ in their personal styles, they all focus on identifying promising newcomers, inspiring their best work, and launching them into highly successful careers-while also expanding their own networks and building stronger companies. Among the practices that distinguish superbosses:§§They Create Master-Apprentice Relationships.§Superbosses customize their coaching to what each protégé really needs, and also are constant founts of practical wisdom. Advertising legend Jay Chiat not only worked closely with each of his employees but would sometimes extend their discussions into the night.§§They Rely on the Cohort Effect. §Superbosses strongly encourage collegiality even as they simultaneously drive internal competition. Lorne Michaels set up Saturday Night Live so that writers and performers are judged by how much of their material actually gets on the air, but they can't get anything on the air without the support of their coworkers.§§They Say Good-Bye on Good Terms .§Nobody likes it when great employees quit, but super bosses don't respond with anger or resentment. They know that former direct reports can become highly valuable members of their network, especially as they rise to major new roles elsewhere. Julian Robertson, the billionaire hedge fund manager, continued to work with his former employees who started compet ing hedge funds, and he often profited by investing in them.§§By sharing the fascinating stories of superbosses and their protégés, Finkelstein explores a phenomenon that never had a name before. And he shows how each of us can emulate the best tactics of superbosses to create our own powerful networks of extraordinary talent.
Sklep: Libristo.pl
Sklepy zlokalizowane w miastach: Warszawa, Kraków, Łódź, Wrocław, Poznań, Gdańsk, Szczecin, Bydgoszcz, Lublin, Katowice
Szukaj w sklepach lub całym serwisie
2. Szukaj na wszystkich stronach serwisu
t1=0.035, t2=0, t3=0, t4=0, t=0.036