krainaksiazek way before investing in mutual funds 20045680
- znaleziono 7 produktów w 1 sklepie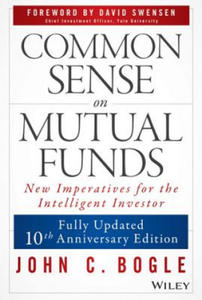 157,44 zł
Książki / Literatura obcojęzyczna
John C. Bogle shares his extensive insights on investing in mutual funds Since the first edition of Common Sense on Mutual Funds was published in 1999, much has changed, and no one is more aware of this than mutual fund pioneer John Bogle. Now, in this completely updated Second Edition, Bogle returns to take another critical look at the mutual fund industry and help investors navigate their way through the staggering array of investment alternatives that are available to them. Written in a straightforward and accessible style, this reliable resource examines the fundamentals of mutual fund investing in today's turbulent market environment and offers timeless advice in building an investment portfolio. Along the way, Bogle shows you how simplicity and common sense invariably trump costly complexity, and how a low cost, broadly diversified portfolio is virtually assured of outperforming the vast majority of Wall Street professionals over the long-term. Written by respected mutual fund industry legend John C. Bogle Discusses the timeless fundamentals of investing that apply in any type of market Reflects on the structural and regulatory changes in the mutual fund industry Other titles by Bogle: The Little Book of Common Sense Investing and Enough. Securing your financial future has never seemed more difficult, but you'll be a better investor for having read the Second Edition of Common Sense on Mutual Funds .
Sklep: Libristo.pl 141,55 zł
Książki / Literatura obcojęzyczna
Take control of your financial security today by managing those who manage your money§§Grow Your Investments With The Best Mutual Funds And ETFs frees your money from disconnected wealth-management practices to manage the managers approach to achieving the greatest returns with the least amounts of risk.§§Financial advisors sell you on their services by highlighting such benefits as low-fee investment vehicles, the long history of their company, and past performance. Unfortunately, none of these factors necessarily increases your personal wealth or reduces risk or increases return. With the evolutionary Comet System of investing, you can mine concrete numbers to identify the highest-performing funds relative to risk in a given time period to proactively allocate your investments into the leaders as they change. As secular bull and bear markets wax and wane, your money stays in the sectors best suited for the given environment to avoid wealth-killing losses that may take decades to recoup. Regardless of your experience level, you can start using this simple, intuitive system right away to:§§Build your portfolio of funds to monitor and invest in effectively to grow and protect your portfolio by staying with the leaders and avoiding the laggards§Boost the performance from your existing 401k fund choices and avoid devastating losses due to market declines§Make informed investing decisions as you account for your age and personal circumstances§Stop paying ongoing fees on investment vehicles that fail to produce impressive returns for the risk taken§Overcome the status quo and realize the wealth you deserve by choosing the right investment at the right time with Grow Your Investments With The Best Mutual Funds And ETFs .§§Stephen L. McKee is Managing Partner of Watercourse Way Holdings LLC, publishing No-Load Mutual Fund Selections & Timing Newsletter , ETF Selections & Timing, and Stock Selections & Timing. In addition, he publishes family specific newsletters and 401k specific newsletters. In the financial industry for more than 30 years, he has been mentioned as an expert on no-load mutual fund investing in Forbes, Barron's, The Hulbert Financial Digest , and Timer Digest . He speaks at various venues like radio, The MoneyShow and American Association of Individual Investors .§
Sklep: Libristo.pl 100,10 zł
Książki / Literatura obcojęzyczna
Investing is all about common sense. Owning a diversified portfolio of stocks and holding it for the long term is a winner's game. Trying to beat the stock market is theoretically a zero-sum game (for every winner, there must be a loser), but after the substantial costs of investing are deducted, it becomes a loser's game. Common sense tells us-and history confirms-that the simplest and most efficient investment strategy is to buy and hold all of the nation's publicly held businesses at very low cost. The classic index fund that owns this market portfolio is the only investment that guarantees you with your fair share of stock market returns. To learn how to make index investing work for you, there's no better mentor than legendary mutual fund industry veteran John C. Bogle. Over the course of his long career, Bogle-founder of the Vanguard Group and creator of the world's first index mutual fund-has relied primarily on index investing to help Vanguard's clients build substantial wealth. Now, with The Little Book of Common Sense Investing, he wants to help you do the same. Filled with in-depth insights and practical advice, The Little Book of Common Sense Investing will show you how to incorporate this proven investment strategy into your portfolio. It will also change the very way you think about investing. Successful investing is not easy. (It requires discipline and patience.) But it is simple. For it's all about common sense. With The Little Book of Common Sense Investing as your guide, you'll discover how to make investing a winner's game:* Why business reality-dividend yields and earnings growth-is more important than market expectations* How to overcome the powerful impact of investment costs, taxes, and inflation* How the magic of compounding returns is overwhelmed by the tyranny of compounding costs* What expert investors and brilliant academics-from Warren Buffett and Benjamin Graham to Paul Samuelson and Burton Malkiel-have to say about index investing* And much more You'll also find warnings about investment fads and fashions, including the recent stampede into exchange traded funds and the rise of indexing gimmickry. The real formula for investment success is to own the entire market, while significantly minimizing the costs of financial intermediation. That's what index investing is all about. And that's what this book is all about. JOHN C. BOGLE is founder of the Vanguard Group, Inc., and President of its Bogle Financial Markets Research Center. He created Vanguard in 1974 and served as chairman and chief executive officer until 1996 and senior chairman until 2000. In 1999, Fortune magazine named Mr. Bogle as one of the four "Investment Giants" of the twentieth century; in 2004, Time named him one of the world's 100 most powerful and influential people, and Institutional Investor presented him with its Lifetime Achievement Award.
Sklep: Libristo.pl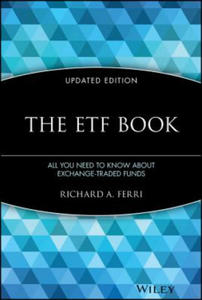 141,55 zł
Książki / Literatura obcojęzyczna
Exchange-traded funds (ETFs) are revolutionizing the investment industry. From their introduction in 1993, ETFs have expanded exponentially over the past fifteen years. You, as an informed investor, need to know what makes ETFs unique, how they work, and which funds may help you achieve your financial goals. The updated edition provides the most current look at the ETF market, where the number of funds has doubled since the book first published in December 2007. A huge number of bonds funds, commodities funds, currency funds, leverage and short funds have been introduced. In addition, actively managed ETFs are here now, and some major mutual fund companies, like Fidelity and PIMCO, are getting into the market. Remarkably, the terminology in the ETP marketplace is also evolving at a rapid pace. The acronym ETP for exchange-traded product has become an industry standard. The term did not exist two years ago. Written by veteran financial professional and experienced author Richard Ferri, The ETF Book, Updated Edition gives you a broad and deep understanding of this important investment vehicle and provides you with the tools needed to successfully integrate exchange-traded funds into any portfolio. This detailed, yet clearly articulated guide contains the most up-to-date information on navigating the growing number of ETFs available in today's marketplace. Divided into four comprehensive parts, this guide addresses everything from ETF basics and in-depth fund analysis to the tax benefits of using ETFs. Included are a variety of portfolio management strategies using ETFs and examples of different model portfolios that you can easily adapt to your own investment endeavors. Whether you're just getting started or are a seasoned ETF investor, The ETF Book, Updated Edition will help enhance your understanding of this evolving field by:* Examining the fundamental differences between exchange-traded portfolios* Highlighting how to effectively implement a wide selection of ETFs from * Exploring specific ETF strategies from buy and hold to market timing and sector rotation* Introducing Index Strategy Boxes a new way to understand index construction and how a fund is investing your money* And much moreEach chapter of The ETF Book, Updated Edition offers concise coverage of various issues. It is filled with in-depth insights on different types of ETFs and practical advice on how to select and manage them. The appendixes are an added benefit, offering an ETF Resource List, which will point you to more places for information on these structures, and a detailed Glossary to help you with industry-specific definitions. The ETF Book, Updated Edition is an invaluable road map for developing a winning investment strategy. Armed with the knowledge found throughout these pages, you'll be prepared to build a solid portfolio of ETFs that will benefit you for years to come.
Sklep: Libristo.pl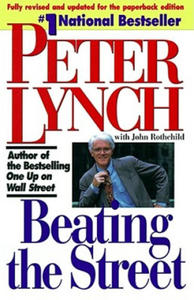 55,05 zł
Książki / Literatura obcojęzyczna
Legendary money manager Peter Lynch explains his own strategies for investing and offers advice for how to pick stocks and mutual funds to assemble a successful investment portfolio. Develop a Winning Investment Strategy--with Expert Advice from "The Nation's #1 Money Manager." Peter Lynch's "invest in what you know" strategy has made him a household name with investors both big and small. An important key to investing, Lynch says, is to remember that stocks are not lottery tickets. There's a company behind every stock and a reason companies--and their stocks--perform the way they do. In this book, Peter Lynch shows you how you can become an expert in a company and how you can build a profitable investment portfolio, based on your own experience and insights and on straightforward do-it-yourself research. In "Beating the Street, " Lynch for the first time explains how to devise a mutual fund strategy, shows his step-by-step strategies for picking stock, and describes how the individual investor can improve his or her investment performance to rival that of the experts. There's no reason the individual investor can't match wits with the experts, and this book will show you how.
Sklep: Libristo.pl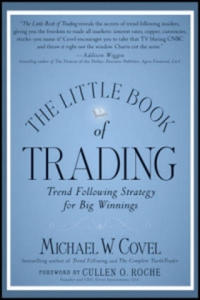 101,25 zł
Książki / Literatura obcojęzyczna
How to get past the crisis and make the market work for you again The last decade has left people terrified of even the safest investment opportunities. This fear is not helping would-be investors who could be making money if they had a solid plan. The Little Book of Trading teaches the average person rules and philosophies that winners use to beat the market, regardless of the financial climate. The market has always fluctuated, but savvy traders know how to make money in good times and bad. Drawing on author Michael Covel's own trading experience, as well as insights from legendary traders, the book offers sound, practical advice in an easy to understand, readily digestible way. The Little Book of Trading: Identifies tools, concepts, psychologies, and philosophies that keep people protected and making money when the next market bubble or surprise crisis occurs Features top traders in each chapter that have beaten the market for decades, providing readers with their moneymaking knowledge Shows how traders who beat mutual fund performance make money at different times, not just from stocks alone Most importantly, The Little Book of Trading explains why mutual funds should not be the investment vehicle of choice for people looking to secure retirement, a radical realization highlighting the changed face of investing today.
Sklep: Libristo.pl 126,15 zł
Książki / Literatura obcojęzyczna
A GOOD BOSS HITS HIS GOALS AND LEADS HIS TEAM.§A SUPERBOSS BLOWS AWAY HER GOALS BY BUILDING AN ARMY OF NEW LEADERS.§WHICH WOULD YOU RATHER BE?§§What do football coach Bill Walsh, restaurateur Alice Waters, television executive Lorne Michaels, technol ogy CEO Larry Ellison, and fashion pioneer Ralph Lauren have in common? On the surface, not much, other than consistent success in their fields. But below the surface, they share a common approach to finding, nurturing, leading, and even letting go of great people. The way they deal with talent makes them not merely success stories, not merely organization builders, but what Sydney Finkelstein calls superbosses. They've all transformed entire industries.§§After ten years of research and more than two hundred interviews, Finkelstein has concluded that superbosses exist in nearly every industry, from the glamorous to the mundane. If you study the top fifty leaders in any field, as many as one-third will have once worked for a superboss.§§While superbosses differ in their personal styles, they all focus on identifying promising newcomers, inspiring their best work, and launching them into highly successful careers-while also expanding their own networks and building stronger companies. Among the practices that distinguish superbosses:§§They Create Master-Apprentice Relationships.§Superbosses customize their coaching to what each protégé really needs, and also are constant founts of practical wisdom. Advertising legend Jay Chiat not only worked closely with each of his employees but would sometimes extend their discussions into the night.§§They Rely on the Cohort Effect. §Superbosses strongly encourage collegiality even as they simultaneously drive internal competition. Lorne Michaels set up Saturday Night Live so that writers and performers are judged by how much of their material actually gets on the air, but they can't get anything on the air without the support of their coworkers.§§They Say Good-Bye on Good Terms .§Nobody likes it when great employees quit, but super bosses don't respond with anger or resentment. They know that former direct reports can become highly valuable members of their network, especially as they rise to major new roles elsewhere. Julian Robertson, the billionaire hedge fund manager, continued to work with his former employees who started compet ing hedge funds, and he often profited by investing in them.§§By sharing the fascinating stories of superbosses and their protégés, Finkelstein explores a phenomenon that never had a name before. And he shows how each of us can emulate the best tactics of superbosses to create our own powerful networks of extraordinary talent.
Sklep: Libristo.pl
Sklepy zlokalizowane w miastach: Warszawa, Kraków, Łódź, Wrocław, Poznań, Gdańsk, Szczecin, Bydgoszcz, Lublin, Katowice
Szukaj w sklepach lub całym serwisie
2. Szukaj na wszystkich stronach serwisu
t1=0.071, t2=0, t3=0, t4=0, t=0.071