krainaksiazek we are not wealthy but we are very rich 20117852
- znaleziono 14 produktów w 1 sklepie 44,95 zł
Książki / Literatura obcojęzyczna
A spoiled brat from a wealthy Japanese family, Tsuyoshi is unceremoniously shipped off to Korea by his strict grandfather who tells him the family secret-they're Korean! Sparks fly when the resentful high schooler arrives at the airport and shares an impromptu cab ride with Kang Be-Ri, a plucky girl who happens to be his new neighbour. Will the two ever get past their differences? And will Tsuyoshi learn to accept his new destiny?
Sklep: Libristo.pl 193,40 zł
Książki / Literatura obcojęzyczna
The energy devoted by the ancient Egyptians to their tombs is legendary. The pyramids of Gizeh and the tomb of Tutankhamun are just two very spectacular examples, but no previous book has sought to use the tens of thousands of tombs excavated in Egypt, dating from 5000 BC to AD 200, across all classes of society, to build up a broad picture of burial as practised across the millennia. In this fascinating treatment, Wolfram Grajetzki sets out to remove some widespread misconceptions. Many imagine that few tombs survived undisturbed into modern times, but this is simply not true. In addition to the richest finds, there are numerous other tombs, devoid of gold and precious objects, which are key sources for reconstructing burial customs and Eygptian culture as a whole. This book sets the record straight, presenting evidence from each of the periods covered of poorer and average graves alongside the more famous wealthy tombs. The book is accessbily written and richly illustrated with over 150 illustrations, many specially prepared by the author.
Sklep: Libristo.pl 222,83 zł
Książki / Literatura obcojęzyczna
Many people express shock and horror when they hear of a wealthy or famous person killing another person. As a society, we seem to expect the rich and famous to behave better, to commit fewer crimes, to be immune to the passions that inspire other, less prominent people to kill. After all, the rich and famous have everything-why would they need to murder? But the rich and famous kill for the very same reasons others do: love, power, money, jealousy, greed, revenge, and rage. Here, Scott takes us on a tour of murders committed by the rich and famous during the last century, looking at the motives, the responses of the community and local law enforcement, the media, and the outcomes. She argues that the rich and famous may kill for the same reasons as others, but they receive vastly different treatment and are often able to get away with murder. Homicide by the rich and famous is not new in this country, nor is fascination with the crimes committed by our most revered citizens. But being among the upper echelon of society does afford such suspects with a greater ability to escape punishment. They have greater access to better respresentation, they have the means to flee the country, they have influential friends in high places willing to put themselves on the line, and they are generally treated better by law enforcement and the criminal justice system. This book profiles the many ways in which homicides committed by the rich and famous are similar to other murders in their motives, but differ from those committed by everyday citizens in their outcomes. Scott provides readers with a showcase of crimes that will infuriate and fascinate readers.
Sklep: Libristo.pl 29,92 zł
Książki / Literatura obcojęzyczna
The handsome and eligible Prince Ivan of Rusitania urgently needs to find a bride who is very young, very pretty and very rich. His cousin, Prince Peter of neighbouring Voskia, is determined to prevent him marrying as he intends to inherit Rusitania. He needs revenge on Ivan. Peter invaded Rusitania hoping for a quick victory, instead he suffered a disastrous defeat. Danger follows Ivan from Rusitania to Paris and then to London, where he meets Lady Cecilia Beaumont, who undertakes to help him find a suitable bride. Almost-on-the-shelf, Cecilia is intelligent, stylish and very wealthy. Wary of suitors after her fortune, she has given up on marriage and devotes herself both to her father, the Earl of Yarlington and the clinic she has founded to help the poor of London. Soon Cecilia finds her life threatened and her heart captured. Then she meets Peter's and Ivan's ex-mistress, the voluptuous Countess Natasha. Neither is what they seem on first sight. What happens as Ivan and Cecilia fight for happiness and their lives is told in this absorbing romance by BARBARA CARTLAND.
Sklep: Libristo.pl 64,36 zł
Książki / Literatura obcojęzyczna
Excerpt: ...it there had always been a belief of his that I was the sort of woman to take a great place in society, and that I should throw myself into it with enjoyment, and become a sort of personage and do him great credit-that was his idea; and the idea remained with him after other delusions had gone. I was a part of his ambition. That was his really bitter disappointment, that I failed him as a social success. I think he was too shrewd not to have known in his heart that such a man as he was, twenty years older than I, with great business responsibilities that filled every hour of his life, and caring for nothing else-he must have felt that there was a risk of great unhappiness in marrying the sort of girl I was, brought up to music and books and unpractical ideas, always enjoying myself in my own way. But he had really reckoned on me as a wife who would do the honours of his position in the world; and I found I couldn't.' Mrs Manderson had talked herself into a more emotional mood than she had yet shown to Trent. Her words flowed freely, and her voice had begun to ring and give play to a natural expressiveness that must hitherto have been dulled, he thought, by the shock and self-restraint of the past few days. Now she turned swiftly from the window and faced him as she went on, her beautiful face flushed and animated, her eyes gleaming, her hands moving in slight emphatic gestures, as she surrendered herself to the impulse of giving speech to things long pent up. 'The people,' she said. 'Oh, those people! Can you imagine what it must be for any one who has lived in a world where there was always creative work in the background, work with some dignity about it, men and women with professions or arts to follow, with ideals and things to believe in and quarrel about, some of them wealthy, some of them quite poor; can you think what it means to step out of that into another world where you have to be very rich, shamefully rich, to exist at...
Sklep: Libristo.pl 79,08 zł
Książki / Literatura obcojęzyczna
Sapphire Dubois is keeping a deadly secret. "Mia Thompson's Stalking Sapphire is packed with thrills and chills, carnage and couture. Serial killer hunter Sapphire Dubois is like a 'Dexter' of the debutante set ... An intriguing character in a unique story by an exciting new voice, it will keep your pulse racing to the very last page!" -Francine LaSala, author of The Girl, the Gold Tooth & Everything "[Sapphire Dubois] kicks butt and takes names. You wouldn't expect that from a spoiled, rich girl... I loved this book." -Ionia Martin, reafulthingsblog.com While the young and obscenely wealthy of Beverly Hills spend their nights with trendy celebs and drugs at the hottest clubs, 22-year-old Sapphire Dubois has a different hobby: she hunts serial killers. Luring, trapping, and anonymously handing over So-Cal's most wanted to the police is a better high than any drug. But Sapphire's secret may not be so safe, as one of the very people she hunts is watching her every move. Aware of her true identity and her unconventional activities, he's determined to put an end to Sapphire once and for all. Paired up with her involuntary crush Detective Aston Ridder for her own protection, Sapphire now has to rethink her strategy not only to keep Aston in the dark, but to figure out how to capture a killer who already knows she's coming.
Sklep: Libristo.pl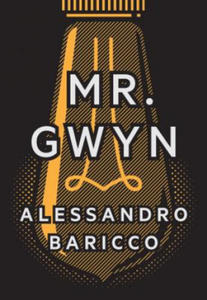 78,91 zł
Mr. Gwyn McSweeneys Publishing
Książki / Literatura obcojęzyczna
After celebrated author Jasper Gwyn suddenly and publicly announces that he will never write another book, he embarks on a strange new career path as a "copyist," holding thirty-day sittings in a meticulously appointed room and producing, at the end, brief but profoundly rich portraits in prose. The surprising, beautiful, and even frightening results are received with rapture by their subjects--among them Gwyn's devoted assistant, Rebecca; a beautiful fabric importer; a landscape painter; Gwyn's own literary agent; two wealthy newlyweds; a tailor to the Queen; and a very dangerous nineteen-year-old. Then Gwyn disappears, leaving behind only a short note to his assistant--and the portraits. As Rebecca studies his words, she realizes that the mystery is larger than the simple fact of Gwyn's whereabouts, and she begins to unravel a lifetime's worth of clues left by a man who saw so much but said so little, a man whose solitude masked a heart as hungry as hers.
Sklep: Libristo.pl 39,94 zł
Książki / Literatura obcojęzyczna
THE NEW GLOBAL PHENOMENON Roger Brown has it all: clever and wealthy, he's at the very top of his game. And if his job as a headhunter ever gets dull, he has his sideline as an art thief to keep him busy. At a gallery opening, his wife introduces him to Clas Greve. Not only is Greve the perfect candidate for a position that Brown is recruiting for; he is also in possession of one of the most sought-after paintings in modern art history. Roger sees his chance to become rich beyond his wildest dreams, and starts planning his biggest theft ever. But soon, he runs into trouble - and it's not long before the hunter becomes the hunted...
Sklep: Libristo.pl 306,60 zł
Książki / Literatura obcojęzyczna
Many probability books are written by mathematicians and have the built-in bias that the reader is assumed to be a mathematician coming to the material for its beauty. This textbook is geared towards beginning graduate students from a variety of disciplines whose primary focus is not necessarily mathematics for its own sake. Instead, A Probability Path is designed for those requiring a deep understanding of advanced probability for their research in statistics, applied probability, biology, operations research, mathematical finance and engineering. §A one-semester course is laid out in an efficient and readable manner covering the core material. The first three chapters provide a functioning knowledge of measure theory. Chapter 4 discusses independence, with expectation and integration covered in Chapter 5, followed by topics on different modes of convergence, laws of large numbers with applications to statistics (quantile and distribution function estimation) and applied probability. Two subsequent chapters offer a careful treatment of convergence in distribution and the central limit theorem. The final chapter treats conditional expectation and martingales, closing with a discussion of two fundamental theorems of mathematical finance. §Like Adventures in Stochastic Processes , Resnick s related and very successful textbook, A Probability Path is rich in appropriate examples, illustrations and problems and is suitable for classroom use or self-study. The present uncorrected, softcover reprint is designed to make this classic textbook available to a wider audience. §This book is different from the classical textbooks on probability theory in that it treats the measure theoretic background not as a prerequisite but as an integral part of probability theory. The result is that the reader gets a thorough and well-structured framework needed to understand the deeper concepts of current day advanced probability as it is used in statistics, engineering, biology and finance.... The pace of the book is quick and disciplined. Yet there are ample examples sprinkled over the entire book and each chapter finishes with a wealthy section of inspiring problems. § Publications of the International Statistical Institute §This textbook offers material for a one-semester course in probability, addressed to students whose primary focus is not necessarily mathematics.... Each chapter is completed by an exercises section. Carefully selected examples enlighten the reader in many situations. The book is an excellent introduction to probability and its applications. § Revue Roumaine de Mathématiques Pures et Appliquées §
Sklep: Libristo.pl 38,65 zł
Książki / Literatura obcojęzyczna
When Hugh MacCarrick was a young man he did something very reckless with Jane Weyland, the daughter of his superior. While she merely used him as a summer flirtation to practise her wiles on, he fell in love. This was ill-advised because Hugh's family harboured dangerous secrets and was shadowed by a deadly curse. Even if these obstacles were absent, Hugh knew a woman like Jane - heart-breakingly beautiful, rich, and from a prominent English family - would never marry a Scot with no title or prospects. So, to avoid the impossible temptation to kiss her and the misery of seeing her marry another, he left the country. Now ten years later, Hugh is wealthy, an assassin in Her Majesty's Service, and still secretly in love with Jane. When he receives a missive that her life is in danger and rushes to protect her, will he be able to resist the overwhelming need to make her his? Jane Weyland is furious when her father summons Hugh to London to protect her. Clearly her father has lost his mind, even with his assurances of a speedy annulment when things die down, but why would Hugh agree to this insanity after she all but begged him to say no? How dare he do this to her?Her fury stoked, she decides to torment him just as she had all those years ago with soft touches, whispers and seductive play - that he can do nothing about it without risking marriage to her, a consequence he'd made clear he didn't want. But she soon discovers that Hugh is not the gentle young man he used to be and that toying with the fever-pitched desires of a hardened warrior might get her burned.
Sklep: Libristo.pl 29,92 zł
Kiss of Love Printondemand-worldwide.com
Książki / Literatura obcojęzyczna
Malvina is young, beautiful - but most of all very rich. She dreams of marrying a man that loves her, and whom she in turn can love forever. Unfortunately her father has other ideas. Only too aware of the fortune hunters that prey on vulnerable young heiresses, he is determined she should marry the boy next door, Charles Arram, the son of the Marquis of Arramford. But Malvina has other ideas. Feisty and independent, she is horrified at the idea of marriage to a stranger, even a stranger that will unite their great families and ensure that their family estate becomes one of the most prestigious in England. Learning that the man her father intends for her is living a life of gaiety amongst the most beautiful women of the Beau Monde in Paris, Malvina becomes even more disillusioned. How can she possibly compete with the famous courtesans and actresses? More importantly does she want to even try? As her father leaves for Scotland, Malvina decides she will snatch the chance to travel incognito to Paris, where she will be able to see Charles Arram without him knowing he is being spied on. Taking her old Nanny along as a chaperone, she is sure that this will give her the opportunity to find out if this is a man she can love. Astounded at the decadence of Paris Society, a million miles away from her austere French Convent School, Malvina is soon learning a different kind of education amongst the wealthy men and famous cocottes. Are the salons of Paris really the place for an innocent abroad? Risking her fathers certain disapproval, and befriended by the Duc de Lavissé, the brother of her old school friend, Malvina will stop at nothing to discover the secrets of true love as she plunges headlong into the steamy world of the Beau Monde. If you like Downton Abbey you will love Barbara Cartland
Sklep: Libristo.pl 39,94 zł
Książki / Literatura obcojęzyczna
"See Delphi and Die" is the seventeenth book in Lindsey Davis' bestselling Falco series. With safe seas, good roads, and provinces rich in heritage sites, Marcus Didius Falco's fellow countrymen have become voracious tourists. Greece, home of the ancient Olympic Games, is a favourite destination for Seven Sights Travel, a seedy company which provides escorted tours for wealthy travellers. Falco and Helena hear that a young girl and a newly-wed woman, both Roman visitors, have been murdered at Olympia; the authorities will not investigate properly, so Falco steps in. After making himself unwelcome at the hidebound sanctuary, he soon finds himself up against Seven Sights, its absentee tour-guide and its mixed bunch of customers, some of whom have things to hide. The search for culture is far from genteel -- and it can be very dangerous. Both the bridegroom and Helena's brother go missing in the birthplace of myth, as Falco and Helena struggle with a case that may contain worse features than any they have dealt with yet.
Sklep: Libristo.pl 51,26 zł
Arch of Desire Grove Press / Atlantic Monthly Press
Książki / Literatura obcojęzyczna
A delectable novel of a man's lifelong devotion to erotic exploration, The Arch of Desire is based very loosely on the life of the artist Pierre Molinier, admired by the surrealists and creator of a many-layered erotic universe. As the novel opens, Pierre is a boy, raised by a wealthy family of Belgian wine-makers. Precociously curious about the opposite sex -- particularly the intimate garments he finds drying in the laundry room -- he is initiated into the erotic by a family servant and soon moves on to the more forbidden charms of his lovely, sophisticated half sister. As he comes of age -- attending art school, becoming an acclaimed painter, and settling in Bordeaux -- Pierre simultaneously pursues ever more complex pleasures, devouring his father's collection of de Sade, Restif de la Bretonne, and other erotic classics, sampling the varieties of women -- from a Senegalese prostitute, to a lesbian who works as a dominatrix to rich men, to a beautiful German who becomes his last, most perfect lover -- and exploring the limits of his fetishes for dressing up and the adoration of beautiful, feminine feet. A delightful recollection of sexual pleasure from the dawn to the twilight of life, The Arch of Desire will satisfy every erotic appetite.
Sklep: Libristo.pl 46,57 zł
Książki / Literatura obcojęzyczna
A knock on Spenser's office door can only mean one thing: a new case. This time the visitor is a local lawyer with an interesting story. Elizabeth Shaw specializes in wills and trusts, and over the years she's developed a friendship with wives of very wealthy men. However, these rich wives have a mutual secret: they've all had an affair with a man named Gary Eisenhower- and now he's blackmailing them for money. Shaw hires Spenser to make Eisenhower 'cease and desist,' so to speak, but when women start turning up dead, Spenser's assignment goes from blackmail to murder.
Sklep: Libristo.pl
Sklepy zlokalizowane w miastach: Warszawa, Kraków, Łódź, Wrocław, Poznań, Gdańsk, Szczecin, Bydgoszcz, Lublin, Katowice
Szukaj w sklepach lub całym serwisie
2. Szukaj na wszystkich stronach serwisu
t1=0.087, t2=0, t3=0, t4=0, t=0.087