krainaksiazek web applications with c asp 20110468
- znaleziono 14 produktów w 3 sklepach 129,99 zł
Książki Obcojęzyczne>Angielskie>Computing & information technology>Information technology: general issues
0x0043a41700000000
Sklep: Gigant.pl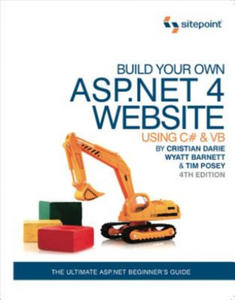 214,61 zł
Książki / Literatura obcojęzyczna
Build Your Own ASP.NET 4 Web Site Using C sharp & VB is aimed at beginner ASP.NET developers wanting to develop their skills, web designers wanting to move into server-side programming, and experienced developers making the leap from ASP to .NET.§Readers will learn:§§language and programming basics how to construct ASP.Net Web Pages how to build web applications to use validation controls database design and development how to use ADO.NET how to manage data and content how to integrate Ajax and jQuery the role of MVC§... all in the process of successfully developing and deploying a working intranet site for a fictional company.
Sklep: Libristo.pl 179,63 zł
Książki / Literatura obcojęzyczna
This book is for anyone who wants to learn how to build rich and interactive web sites that run on the Microsoft platform. With the knowledge you gain from this book, you create a great foundation to build any type of web site, ranging from simple hobby-related web sites to sites you may be creating for commercial purposes. Anyone new to web programming should be able to follow along because no prior background in web development is assumed although it helps if you do have a basic understanding of HTML and the web in general. The book starts at the very beginning of web development by showing you how to obtain and install Visual Web Developer. The chapters that follow gradually introduce you to new technologies, building on top of the knowledge gained in the previous chapters. Do you have a strong preference for Visual Basic over C# or the other way around? Or do you think both languages are equally cool? Or maybe you haven't made up your mind yet and want to learn both languages? Either way, you'll like this book because all code examples are presented in both languages! Even if you have some experience with prior versions of ASP.NET, you may gain a lot from this book. Although many concepts from previous versions are brought forward into ASP.NET 4, you'll discover there's a lot of new stuff to be found in this book, including an introduction to the ADO.NET Entity Framework, the inclusion of jQuery, ASP.NET AJAX, the many changes to the ASP.NET 4 Framework, and much more. This book teaches you how to create a feature-rich, data-driven, and interactive web site called Planet Wrox. Although this is quite a mouthful, you'll find that with Visual Web Developer 2010, developing such a web site isn't as hard as it seems. You'll see the entire process of building a web site, from installing Visual Web Developer 2010 in Chapter 1 all the way up to putting your web application on a live server in Chapter 19. The book is divided into 19 chapters, each dealing with a specific subject.* Chapter 1, "Getting Started with ASP.NET 4" shows you how to obtain and install Visual Web Developer 2010. You'll get instructions for downloading and installing the free edition of Visual Web Developer 2010, called the Express edition. You are also introduced to HTML, the language behind every web page. The chapter closes with an overview of the customization options that Visual Web Developer gives you.* Chapter 2, "Building an ASP.NET Web Site" shows you how to create a new web site and how to add new elements like pages to it. Besides learning how to create a well-structured site, you also see how to use the numerous tools in Visual Web Developer to create HTML and ASP.NET pages.* Chapter 3, "Designing Your Web Pages." Visual Web Developer comes with a host of tools that allow you to create well-designed and attractive web pages. In this chapter, you see how to make good use of these tools. Additionally, you learn about CSS, the language that is used to format web pages.* Chapter 4, "Working with ASP.NET Server Controls." ASP.NET Server Controls are one of the most important concepts in ASP.NET. They allow you to create complex and feature-rich web sites with very little code. This chapter introduces you to the large number of server controls that are available, explains what they are used for, and shows you how to use them.* Chapter 5, "Programming Your ASP.NET Web Pages." Although the built-in CSS tools and the ASP.N ET Server Controls can get you a long way in creating web pages, you are likely to use a programming language to enhance your pages. This chapter serves as an introduction to programming with a strong focus on programming web pages. Best of all: all the examples you see in this chapter (and the rest of the book) are in both Visual Basic and C#, so you can choose the language you like best.* Chapter 6, "Creating Consistent Looking Web Sites." ASP.NET helps you create consistent-looking pages through the use of master pages, which allow you to define the global look and feel of a page. Skins and themes help you to centralize the looks of controls and other visual elements in your site. You also see how to create a base page that helps to centralize programming code that you need on all pages in your site.* Chapter 7, "Navigation." To help your visitors find their way around your site, ASP.NET comes with a number of navigation controls. These controls are used to build the navigation structure of your site. They can be connected to your site's central site map that defines the pages in your web site. You also learn how to programmatically send users from one page to another.* Chapter 8, "User Controls." User controls are reusable page fragments that can be used in multiple web pages. As such, they are great for repeating content such as menus, banners, and so on. In this chapter, you learn how to create and use user controls and enhance them with some programmatic intelligence.* Chapter 9, "Validating User Input." A large part of interactivity in your site is defined by the input of your users. This chapter shows you how to accept, validate, and process user input using ASP.NET Server Controls. Additionally, you see how to send e-mail from your ASP.NET web application and how to read from text files.* Chapter 10, "ASP.NET AJAX." Microsoft ASP.NET AJAX allows you to create good-looking, flicker-free web pages that close the gap between traditional desktop applications and web applications. In this chapter you learn how to use the built-in Ajax features to enhance the presence of your web pages, resulting in a smoother interaction with the web site.* Chapter 11, "jQuery." jQuery is a popular, open source and cross-browser JavaScript library designed to make it easier to interact with web pages in the client's browser. In this chapter you learn the basics of jQuery and see how to add rich visual effects and animations to your web pages.* Chapter 12, "Introducing Databases." Understanding how to use a database is critical to building web sites, as most modern web sites require the use of a database. You'll learn the basics of SQL, the query language that allows you to access and alter data in a database. In addition, you are introduced to the database tools found in Visual Web Developer that help you create and manage your SQL Server databases.* Chapter 13, "Displaying and Updating Data." Building on the knowledge you gained in the previous chapter, this chapter shows you how to use the ASP.NET data-bound and data source controls to create a rich interface that enables your users to interact with the data in the database that these controls target.* Chapter 14, "LINQ and the ADO.NET Entity Framework." LINQ is Microsoft's solution for accessing objects, databases, XML, and more. The ADO.NET Entity Framework (EF) is Microsoft's new technology for database access. This chapter shows you what LINQ is all about, how to use the visual EF designer built into Visual Studio, and how to write LINQ to EF queries to get data in and out of your SQL Server database.* Chapter 15, "Working with Data-Advanced Topics." While earlier chapters focused mostly on the technical foundations of working with data, this chapter looks at the same topic from a front-end perspective. You see how to change the visual appearance of your data through the use of control styles. You also see how to interact with the data-bound controls and how to speed up your application by keeping a local copy of frequently accessed data.* Chapter 16, "Security in Your ASP.NET 4 Web Site." Although presented quite late in the book, security is a first-class, important topic. This chapter shows you how to make use of the built-in ASP.NET features related to security. You learn about a number of application services that facilitate security. You also learn how to let users sign up for an account on your web site, how to distinguish between anonymous and logged-on users, and how to manage the users in your system.* Chapter 17, "Personalizing Web Sites." Building on the security features introduced in Chapter 16, this chapter shows you how to create personalized web pages with content targeted at individual users. You see how to configure and use ASP.NET Profile that enables you to store personalized data for known and anonymous visitors.* Chapter 18, "Exception Handling, Debugging, and Tracing." In order to understand, improve, and fix the code you write for your ASP.NET web pages you need good debugging tools. Visual Web Developer ships with great debugging support that enables you to diagnose the state of your application at run time, helping you find and fix problems before your users do.* Chapter 19, "Deploying Your Web Site." By the end of the book, you should have a web site that is ready to be shown to the world. But how exactly do you do that? What are the things you need to know and understand to put your web site out in the wild? This chapter gives the answers and provides you with a good look at configuring different production systems in order to run your final web site. Note: CD-ROM/DVD and other supplementary materials are not included as part of eBook file.
Sklep: Libristo.pl
282,77 zł
Książki / Literatura obcojęzyczna
Now in its 7th edition, the best selling book on MVC is updated for ASP.NET Core MVC 2. It contains detailed explanations of the Core MVC functionality which enables developers to produce leaner, cloud optimized and mobile-ready applications for the .NET platform. This book puts ASP.NET Core MVC into context and dives deep into the tools and techniques required to build modern, cloud optimized extensible web applications. All the new MVC features are described in detail and the author explains how best to apply them to both new and existing projects. The ASP.NET Core MVC Framework is the latest evolution of Microsoft's ASP.NET web platform, built on a completely new foundation. It represents a fundamental change to how Microsoft constructs and deploys web frameworks and is free of the legacy of earlier technologies such as Web Forms. ASP.NET Core MVC provides a "host agnostic" framework and a high-productivity programming model that promotes cleaner code architecture, test-driven development, and powerful extensibility. Best-selling author Adam Freeman has thoroughly revised this market-leading book and explains how to get the most from ASP.NET Core MVC. He starts with the nuts-and-bolts and shows you everything through to advanced features, going in-depth to give you the knowledge you need. The book includes a fully worked case study of a functioning web application that readers can use as a template for their own projects. What's New in This Edition Fully updated for Visual Studio 2017, C# 7 and .NET Core 2 Coverage of new features such as view filters Wider platform and tooling coverage than ever before, with more on Visual Studio Code and working with .NET Core on non-Windows platforms Docker-based application deployment What You Will Learn Gain a solid architectural understanding of ASP.NET Core MVC Explore the entire ASP.NET MVC Framework as a cohesive whole See how MVC and test-driven development work in action Learn what's new in ASP.NET Core MVC 2 and how best to apply these new features to your own work See how to create RESTful web services and Single Page Applications Build on your existing knowledge of previous MVC releases to get up and running with the new programming model quickly and effectively Who This Book Is For This book is for web developers with a basic knowledge of ASP.NET and C# who want to incorporate the latest improvements and functionality in the ASP.NET Core MVC 2 Framework.
Sklep: Libristo.pl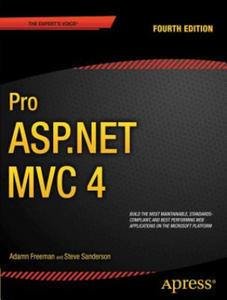 271,17 zł
Książki / Literatura obcojęzyczna
The ASP.NET MVC 4 Framework is the latest evolution of Microsoft's ASP.NET web platform. It provides a high-productivity programming model that promotes cleaner code architecture, test-driven development, and powerful extensibility, combined with all the benefits of ASP.NET.§ASP.NET MVC 4 contains a number of significant advances over previous versions. New mobile and desktop templates (employing adaptive rendering) are included together with support for jQuery Mobile for the first time. New display modes allow your application to select views based on the browser that's making the request while Code Generation Recipes for Visual Studio help you auto-generate project-specific code for a wide variety of situtations including NuGet support.§In this fourth edition, the core model-view-controller (MVC) architectural concepts are not simply explained or discussed in isolation, but are demonstrated in action. You'll work through an extended tutorial to create a working e-commerce web application that combines ASP.NET MVC with the latest C language features and unit-testing best practices. By gaining this invaluable, practical experience, you'll discover MVC's strengths and weaknesses for yourself; and put your best-learned theory into practice.§The book's authors, Steve Sanderson and Adam Freeman, have both watched the growth of ASP.NET MVC since its first release. Steve is a well-known blogger on the MVC Framework and a member of the Microsoft Web Platform and Tools team. Adam started designing and building web applications 15 years ago and has been responsible for some of the world's largest and most ambitious projects. You can be sure you are in safe hands.
Sklep: Libristo.pl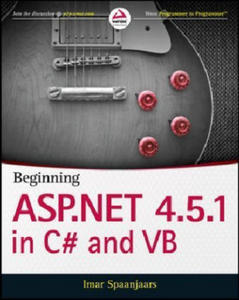 179,63 zł
Książki / Literatura obcojęzyczna
Build your ASP.NET 4.5.1 skills with real-world instruction In this comprehensive guide to getting started with ASP.NET 4.5.1, best-selling author Imar Spaanjaars provides a firm foundation for coders new to ASP.NET and key insights for those not yet familiar with the important updates in the 4.5.1 release. Readers learn how to build full-featured ASP.NET websites using Visual Studio Express 2013 for Web, Microsoft's free development tool for ASP.NET web applications. Beginning ASP.NET 4.5.1 guides you through the process of creating a fully functional, database-driven website, from creation of the most basic site structure all the way down to the successful deployment of the website to a production environment. Beginning ASP.NET 4.5.1: in C# and VB: Explains how to get started with ASP.NET 4.5.1, including an introduction to Microsoft's Visual Studio Express 2013 for Web Features helpful examples for designing websites with CSS and HTML and how to overcome common formatting problems Shares techniques for managing server controls in ASP.N ET, including standard controls, HTML controls, and data controls Provides real-world tips for creating consistent page layouts throughout your websites Covers practical functionality issues like validating user input, sending e-mail from your website, and processing data at the server Details what the ASP.NET state engine is and why it is important Shows how to access and modify data in a SQL Server database Includes coverage of jQuery, LINQ, and the entity framework Explores measures to take for optimal security
Sklep: Libristo.pl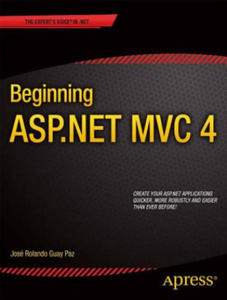 192,06 zł
Książki / Literatura obcojęzyczna
By now you'll have heard of ASP.NET MVC. This excitingnew approach to developing ASP.NET web applications has taken thedevelopment world by storm over the last few years. Now a mature technology suitable for mainstream use, its adoption has exploded in recent times.§Until recently, ASP.NET MVC was regarded as an advanced technology only suitable for experienced developers with a strong knowledge of classic ASP.NET and C sharp coding behind them. This book overturns that prejudice and shows that the beautiful simplicity of ASP.NET MVC is just as suitable for novice developers venturing into real-world application design for the first time.§With the aid of a fully worked demo application this bookexplains and demonstrates for you the three pillars of MVC in action. You'll see howthe Model, View and Controller patterns work together in a compliementarymanner to provide MVC's powerful results.§There's never been a better time to learn how to use ASP.NETMVC 4. The technology will speed your development times, reduce theverbosity of your code and simplify your application designs all at once. Takethe first step towards ASP.NET MVC mastery with Beginning ASP.NET MVC 4.
Sklep: Libristo.pl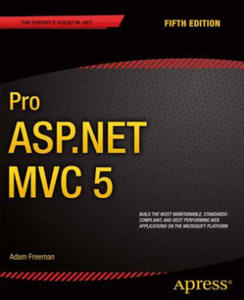 186,66 zł
Książki / Literatura obcojęzyczna
The ASP.NET MVC 5 Framework is the latest evolution of Microsoft's ASP.NET web platform. It provides a high-productivity programming model that promotes cleaner code architecture, test-driven development, and powerful extensibility, combined with all the benefits of ASP.NET.§ASP.NET MVC 5 contains a number of advances over previous versions, including the ability to define routes using C sharp attributes and the ability to override filters. The user experience of building MVC applications has also been substantially improved. The new, more tightly integrated, Visual Studio 2013 IDE has been created specifically with MVC application development in mind and provides a full suite of tools to improve development times and assist in reporting, debugging and deploying your code. §The popular Bootstrap JavaScript library has also now been included natively within MVC 5 providing you, the developer, with a wider range of multi-platform CSS and HTML5 options than ever before without the penalty of having to load-in third party libraries.§
Sklep: Libristo.pl 186,66 zł
Książki / Literatura obcojęzyczna
This new edition of Pro C sharp 6.0 and the .NET 5 Platform has been completely revised and rewritten to reflect the latest changes to the C sharp language specification and new advances in the .NET Framework. You'll find new chapters covering all the important new features that make .NET 5 the most comprehensive release yet, including:§§- .NET APIs for Windows 10 style UI apps§§- New chapters with coverage of ASP.NET Web API and Entity Framework§§- How HTML5 support is being wrapped into C sharp web applications§§This comes on top of award winning coverage of core C sharp features, both old and new, that have made the previous editions of this book so popular (you'll find everything from generics to pLINQ covered here).§§The mission of this text is to provide you with a comprehensive foundation in the C sharp programming language and the core aspects of the .NET platform plus overviews of older technologies (assemblies, remoting, Windows Forms, Web Forms, ADO.NET, XML web services, etc.). Once you digest the information presented in these chapters, you'll be in a perfect position to apply this knowledge to your specific programming assignments, and you'll be well equipped to explore the .NET universe on your own terms.§
Sklep: Libristo.pl 246,32 zł
Książki / Literatura obcojęzyczna
Intermediate to advanced technique coverage, updated for C sharp 2012 and .NET 4.5§This guide is geared towards experienced programmers looking to update and enhance their skills in writing Windows applications, web apps, and Metro apps with C sharp and .NET 4.5. Packed with information about intermediate and advanced features, this book includes everything professional developers need to know about C sharp and putting it to work.§Covers challenging .NET features including Language Integrated Query (LINQ), LINQ to SQL, LINQ to XML, WCF, WPF, Workflow, and Generics§Puts the new Async keyword to work and features refreshers on .NET architecture, objects, types, inheritance, arrays, operators, casts, delegates, events, strings, regular expressions, collections, and memory management§Explores new options and interfaces presented by Windows 8 development, WinRT, and Metro style apps§Includes traditional Windows forms programming, ASP.NET web programming with C sharp, and working in Visual Studio 2012 with C sharp §Professional C sharp 2012 and .NET 4.5 is a comprehensive guide for experienced programmers wanting to maximize these technologies.
Sklep: Libristo.pl 177,30 zł
Informatyka
Experience with C# programming in the .NET environment is one thing. Actually applying it is another. Issues can often creep up when you begin to apply your programming knowledge to a practical application and resources for troubleshooting are limited. Until now. C# Programming Evolution offers you reusable, real-world techniques through targeted activities. You'll work with a complete example .NET enterprise application to learn techniques that will help you not only customize the example application but also build new applications from beginning to end. You will cover the three main user interfaces: Windows Forms, ASP.NET Web Forms and Pocket PC, as well as how to make practical use of XML Web Services. The .NET environment is constantly changing. C# Programming Evolution will make sure that you won't get left behind.
Sklep: Albertus.pl 131,91 zł
Książki / Literatura obcojęzyczna
Real Solutions for C# 4.0 Programmers Need fast, robust, efficient code solutions for Microsoft C# 4.0? This book delivers exactly what you're looking for. You'll find more than 200 solutions, best-practice techniques, and tested code samples for everything from classes to exceptions, networking to XML, LINQ to Silverlight. Completely up-to-date, this book fully reflects major language enhancements introduced with the new C# 4.0 and .NET 4.0. When time is of the essence, turn here first: Get answers you can trust and code you can use, right now! Beginning with the language essentials and moving on to solving common problems using the .NET Framework, C# 4.0 How-To addresses a wide range of general programming problems and algorithms. Along the way is clear, concise coverage of a broad spectrum of C# techniques that will help developers of all levels become more proficient with C# and the most popular .NET tools. Fast, Reliable, and Easy to Use! * Write more elegant, efficient, and reusable code * Take advantage of real-world tips and best-practices advice * Create more effective classes, interfaces, and types * Master powerful data handling techniques using collections, serialization, databases, and XML * Implement more effective user interfaces with both WPF and WinForms * Construct Web-based and media-rich applications with ASP.NET and Silverlight * Make the most of delegates, events, and anonymous methods * Leverage advanced C# features ranging from reflection to asynchronous programming * Harness the power of regular expressions * Interact effectively with Windows and underlying hardware * Master the best reusable patterns for designing complex programs
Sklep: Libristo.pl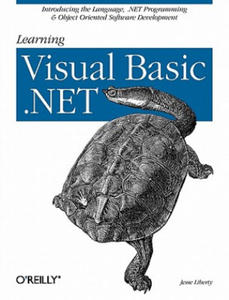 169,34 zł
Książki / Literatura obcojęzyczna
Most Visual Basic .NET books are written for experienced object-oriented programmers, but many programmers jumping on the .NET bandwagon are coming from non-object-oriented languages, such as Visual Basic 6.0 or from script programming, such as JavaScript. These programmers, and those who are adopting VB.NET as their first programming language, have been out of luck when it comes to finding a high-quality introduction to the language that helps them get started. That's why Jesse Liberty, author of the best-selling books Programming C# and Programming ASP.NET, has written an entry-level guide to Visual Basic .NET. Written in a warm and friendly manner, this book assumes no prior programming experience, and provides an easy introduction to Microsoft's most popular .NET language. Learning Visual Basic .NET is a complete introduction to VB.NET and object-oriented programming. This book will help you build a solid foundation in .NET, and show how to apply your skills by using hundreds of examples to help you become productive quickly. Learning Visual Basic .NET introduces fundamentals like Visual Studio .NET, a tool set for building Windows and Web applications. You'll learn about the syntax and structure of the Visual Basic .NET language, including operators, classes and interfaces, structs, arrays, and strings. Liberty then demonstrates how to develop various kinds of applications--including those that work with databases--and web services. By the time you've finished Learning Visual Basic .NET, you'll be ready to move on to a more advanced programming guide that will help you create large-scale web and Windows applications. Whether you have a little object-oriented programming experience or you are new to programming altogether, Visual Basic .NET will set you firmly on your way to mastering the essentials of the VB.NET language.
Sklep: Libristo.pl 239,46 zł
Książki / Literatura obcojęzyczna
The new edition of the ultimate comprehensive guide to Microsoft Visual Basic Where most VB books start with beginner level topics, Mastering Visual Basic 2010 vaults you right into intermediate and advanced coverage. From the core of the language and user interface design to developing data-driven applications, this detailed book brings you thoroughly up to speed and features numerous example programs you can use to start building your own apps right away. Covers Visual Basic 2010, part of Microsoft's Visual Studio integrated development environment (IDE), which includes C#, C++, Visual Web Developer, and ASP.NET, along with Visual Basic Explains topics in the thorough, step-by-step style of all books in the Mastering series, providing you ample instruction, tips, and techniques Helps you build your own applications by supplying sample code you can use to start development Includes review exercises in each chapter to reinforce concepts as you learn All the books in the Sybex Mastering series feature comprehensive and expert coverage of topics you can put to immediate use. Note: CD-ROM/DVD and other supplementary materials are not included as part of eBook file.
Sklep: Libristo.pl
Sklepy zlokalizowane w miastach: Warszawa, Kraków, Łódź, Wrocław, Poznań, Gdańsk, Szczecin, Bydgoszcz, Lublin, Katowice
Szukaj w sklepach lub całym serwisie
2. Szukaj na wszystkich stronach serwisu
t1=0.052, t2=0, t3=0, t4=0.021, t=0.053