krainaksiazek what is cancer everything you wanted to know about cancer 20053745
- znaleziono 6 produktów w 1 sklepie 44,68 zł
Książki / Literatura obcojęzyczna
When the woman he loved was diagnosed with a metastatic cancer, science-writer George Johnson embarked on a journey to learn everything he could about the disease and the people who dedicate their lives to understanding and combating it. What he discovered is that a revolution is now under way - an explosion of new ideas about what cancer really is and where it comes from. He combs through the realms of epidemiology, clinical trials, laboratory experiments and scientific hypotheses, to reveal what we know and don't know about cancer, showing why a cure remains such a slippery concept. His luminous accounts describe tumors that evolve like alien creatures inside the body, paleo-oncologists who uncover petrified tumors clinging to the skeletons of dinosaurs and ancient human ancestors, and the surprising reversals in science's comprehension of the causes of cancer, with the foods we eat and environmental toxins playing a lesser role. Perhaps most fascinating of all is how cancer borrows natural processes involved in the healing of a wound or the unfolding of a human embryo and turns them against the body. Throughout his pursuit, Johnson illuminates the human experience with elegiac grace, bearing witness to the punishing gauntlet of consultations, surgeries, targeted therapies and other treatments. Provocative and intellectually vibrant, The Cancer Chronicles will challenge everything you thought you knew about the disease - and provide hope for tomorrow and the future.
Sklep: Libristo.pl 34,78 zł
Książki / Literatura obcojęzyczna
Danny's mother died three weeks before his graduation. She had cancer for 5 years, and all she ever wanted to do was to make it to Danny's graduation, she said. But she couldn't even make it the last three weeks, like she promised. And now Danny is left alone, with the empty house and the memories, having to figure out what to do with her estate and what to say for his Valedictorian speech now that his mom is gone. When he gets a letter from his mom's property manager in Tokyo, where his mother had been going for treatment, it paints a picture of a side of his mother he never knew. And he knows, when he gets this letter, that the only way to ever settle his grief over her loss is to go to Tokyo and discover everything he can about her love affair with that city. Through all that, When You Were Here has humor and warmth, a great dog named Sandy Koufax, an estranged love, and a Japanese friend who is almost-but-definitely-not a Harijuku girl, and whose manic joy for life and sponge cake are the exact thing Danny needs to pull himself through the days and come to terms with his mother's death.
Sklep: Libristo.pl 53,91 zł
Książki / Literatura obcojęzyczna
The breast cancer guide every woman needs for herself, her best friend, and her sister-a warm, practical, relatable handbook, that dispels the terror, taking you step-by-step through the process, from diagnosis to post-treatment. When Andrea Hutton was diagnosed with breast cancer, she wanted to know everything. She voraciously read books, articles, and websites and talked to everyone she knew. But nothing prepared her for what the surgery, chemotherapy, and radiation would feel like. Were there tricks that could ease her pain and discomfort? What was "fatigue" and how would it affect her? At what exact moment would her hair fall out and how? Hutton wanted what she could not find: a clear how-to guide for the cancer girl she had become. Bald Is Better with Earrings is Hutton's answer for women diagnosed with breast cancer: a straightforward handbook, leavened with humor and inspiration, to shepherd them though the experience. Warm and down-to-earth, Hutton explains what to expect and walks you through this intense and emotional process: tests, surgery, chemo, losing your hair and shaving your head, being bald, radiation treatments. Hutton offers a wealth of invaluable advice-from tricks for surviving chemo, to treating your skin during radiation, to keeping track of meds-and includes a practical list of tips for each stage of the process at the end of every chapter. Compassionate, friendly, and shaped by Hutton's first-hand knowledge, Bald Is Better with Earrings is the comprehensive, essential companion for anyone dealing with breast cancer.
Sklep: Libristo.pl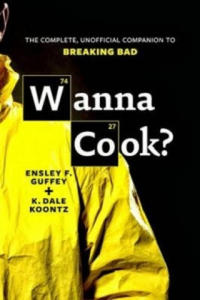 69,57 zł
Książki / Literatura obcojęzyczna
"I am not in danger ...I am the danger." With those words, Breaking Bad's Walter White solidified himself as TV's greatest antihero. Wanna Cook? explores the most critically lauded series on television with analyses of the individual episodes and ongoing storylines. From details like stark settings, intricate camerawork, and jarring music to the larger themes, including the roles of violence, place, self-change, legal ethics, and fan reactions, this companion book is perfect for those diehards who have watched the Emmy Award - winning series multiple times as well as for new viewers. Wanna Cook? elucidates without spoiling, and illuminates without nit-picking. A must have for any fan's collection. Excerpt. (c) Reprinted by permission. All rights reserved. From Wanna Cook's Episode Guide 1.01 Pilot/Breaking Bad Original air date: January 20, 2008 Written and directed by: Vince Gilligan "I prefer to see [chemistry] as the study of change ...that's all of life, right? It's the constant, it's the cycle. It's solution - dissolution, just over and over and over. It is growth, then decay, then - transformation! It is fascinating, really." - Walter White We meet Walter White, Jesse Pinkman, and Walt's family. Walt is poleaxed by some tragic news. With nothing to lose, Walt decides to try to make one big score, and damn the consequences. For that, however, he needs the help of Jesse Pinkman, a former student of Walt's turned loser meth cook and drug dealer. From the moment you see those khakis float down out of a perfectly blue desert sky, you know that you're watching a show like nothing else on television. The hard beauty and stillness of the American Southwest is shattered by a wildly careening RV driven by a pasty white guy with a developing paunch wearing only a gas mask and tighty-whities. What the hell? Like all pilots, this one is primarily exposition, but unlike most, the exposition is beautifully handled as the simple background of Walter's life. The use of a long flashback as the body of the episode works well, in no small part due to Bryan Cranston's brilliant performance in the opening, which gives us a Walter White so obviously, desperately out of his element that we immediately wonder how this guy wound up pantsless in the desert and apparently determined to commit suicide-by-cop. After the opening credits, the audience is taken on an intimate tour of Walt's life. Again, Cranston sells it perfectly. The viewer is presented with a middle-aged man facing the back half of his life from the perspective of an early brilliance and promise that has somehow imploded into a barely-making-ends-meet existence as a high school chemistry teacher. He has to work a lousy second job to support his pregnant wife and disabled teenage son and still can't afford to buy a hot water heater. Executive producer and series creator Vince Gilligan, along with the cast and crew (Gilligan & Co.), take the audience through this day in the life of Walt, and it's just one little humiliation after another. The only time Walt's eyes sparkle in the first half of the episode is when he is giving his introductory lecture to his chemistry class. Here Walt transcends his lower-middle-class life in an almost poetic outpouring of passion for this incredible science. Of course, even that brief joy is crushed by the arrogant insolence of the archetypal high school jackass who stays just far enough inside the line that Walt can't do a damn thing about him. So this is Walt and his life, as sad sack as you can get, with no real prospects of improvement, a brother-in-law who thinks he's a wuss, and a wife who doesn't even pay attention during birthday sex. Until everything changes. The sociologist and criminologist Lonnie Athens would likely classify Walt's cancer diagnosis as the beginning of a "dramatic self change," brought on by something so traumatic that a person's self - the very thoughts, ideas, and ways of understanding and interacting with the world - is shattered, or "fragmented," and in order to survive, the person must begin to replace that old self, those old ideas, with an entirely new worldview. (Athens and his theories are discussed much more fully in the previous essay, but since we warned you not to read that if you don't want to risk spoilage, the basic - and spoiler-free - parts are mentioned here.) Breaking Bad gives us this fragmentation beautifully. Note how from the viewer's perspective Walt is upside down as he is moved into the MRI machine, a motif smoothly repeated in the next scene with Walt's reflection in the top of the doctor's desk. Most discombobulating of all, however, is the consultation with the doctor. At first totally voiceless behind the tinnitus-like ambient soundtrack and faceless except for his chin and lips, the doctor and the news he is imparting are made unreal, out of place, and alien. As for Walt, in an exquisite touch of emotional realism, all he can focus on is the mustard stain on the doctor's lab coat. How many of us, confronted with such tragic news, have likewise found our attention focused, randomly, illogically, on some similar mundanity of life? It is from this shattered self that Walt begins to operate and things that would have been completely out of the question for pre-cancer Walt are now actual possibilities - things like finding a big score before he dies by making and selling pure crystal meth. Remember that Walt is a truly brilliant chemist, and knows full well what crystal meth is and what it does to people who use it. He may not know exactly what he's getting into, but he knows what he is doing. Enter Jesse Pinkman (Aaron Paul, best known previously for his role on Big Love), a skinny white-boy gangster wannabe, who under the name "Cap'n Cook" makes a living cooking and selling meth. He's also an ex-student of Walt's, and after being recognized by his former teacher during a drug bust, Walt has all the leverage he needs to coerce Jesse into helping him. Why does he need him? Because, as Walt says, "you know the business, and I know the chemistry." Symbolizing just how far beyond his old life Walt is moving, he and Jesse park their battered RV/meth lab in the desert outside of Albuquerque, far from the city and any signs of human life. All that is there is a rough dirt road and a "cow house" in the distance. The desert is a place without memory, a place outside of things, where secrets can be kept, and meth can be cooked. This is where Walt lives now. It is in this desert space that Walt becomes a killer, albeit in self defense. Ironically, the one thing that Walt views as holding the keys to the secret of life - chemistry - becomes the means to end lives. Walt, a father, teacher, and an integral part of an extended family - in other words, an agent of life and growth - has now become a meth cook, using chemical weapons to kill his enemies. Walter White has become an agent of death. The transformation is just beginning, but already Skyler (Anna Gunn, previously known for her roles on The Practice and Deadwood) is having some trouble recognizing her husband: "Walt? Is that you?" LAB NOTES Highlight: Jesse to Walt: "Man, some straight like you - giant stick up his ass all of a sudden at age what? Sixty? He's just going to break bad?" Did You Notice: This episode has the first (but not the last!) appearance of Walt's excuse that he's doing everything for his family. There's an award on the wall in Walt's house commemorating his contributions to work that was awarded the Nobel Prize back in 1985. The man's not a slouch when it comes to chemistry, so what's happened since then? At Walt's surprise birthday party, Walt is very awkward when he handles Hank's gun. Speaking of Hank (Dean Norris, whose other roles were in the TV series Medium, and the movies Total Recall, and Little Miss Sunshine), he waits until the school bus has left the neighborhood before ordering his team into the meth lab, showing what a good and careful cop he is. Maybe it's just us, but J.P. Wynne High School (where Walt teaches chemistry) seems to have the most well-equipped high school chemistry lab in the country. As Walt receives his diagnosis, the doctor's voice and all other sounds are drowned out by a kind of numbing ringing, signifying a kind of psychic overload that prevents Walt from being fully engaged with the external world. This effect will be used again several times throughout the series. Walt literally launders his money to dry it out, foreshadowing what's to come. Shooting Up: Thanks to John Toll, who served as cinematographer for the first season of Breaking Bad, the show has one of the most distinctive opening shots ever. Just watch those empty khaki pants flutter across a clear sky. Breaking Bad loves certain camera angles and this section is where we'll point out some of the shots that make the show stand out. Look at that taped non-confession Walt makes for his family when he thinks the cops are coming for him. We're used to watching recordings of characters - shows are filmed (or taped), but here, we're watching him recording himself on tape. Who's the real Walt? Title: Many pilot episodes share the name with the title of the show and Breaking Bad's pilot is no exception. Vince Gilligan, who grew up in Farmville, Virginia, has stated that "breaking bad" is a Southernism for going off the straight and narrow. When you bend a stick until it breaks, the stick usually breaks cleanly. But sometimes, sticks (and men) break bad. You can wind up in the hospital with a splinter in your eye, or you can wind up in Walter White's world. Either way, it's no kind of good. Interesting Facts: Show creator Vince Gilligan's early educational experience was at J. P. Wynne Campus School in Farmville, Virginia. He recycled the name for the high school in Breaking Bad. SPECIAL INGREDIENTS What Is Crystal Meth, Anyway? While there is some evidence that methamphetamine can be found naturally in several species of acacia plants, commercial meth making involves chemistry, not agriculture. The history of the drug dates back to 1893 when Japanese chemist Nagai Nagayoshi first synthesized the substance from ephedrine. The name "methamphetamine...
Sklep: Libristo.pl 53,91 zł
Książki / Literatura obcojęzyczna
How do you find your way through the broken pieces and the pain to peace? In this searingly honest and searching book, the "New York Times" bestselling author Iyanla Vanzant recounts the last decade of her profoundly human journey. Although Ilyanla had become an overnight nationwide success, few knew that her world was crumbling around her. Part metaphorical teaching story, part wrenching personal chronicle, this phoenix-rising-from-the-ashes tale is about men and money, love and work, mothers and daughters, and life and death. Her husband wanted out of their fairy-tale marriage. Her meteoric rise uncovered a debilitating personal lie. Her daughter was diagnosed with colon cancer. The only thing that sustained her was her commitment to know and serve God. Iyanla's journey from being broken, damaged, and desperate offered her new found knowledge that you can implement whatever your personal situation. Discover why everything you need to learn is reflected in your relationships. Gain a new understanding of the patterns and pathologies that families unconsciously pass down through the generations - until someone finally breaks through. Learn how to put your personal puzzle together, and dare to claim the peace that you truly deserve.
Sklep: Libristo.pl 59,18 zł
Książki / Literatura obcojęzyczna
A cross between Michael Pollan's "Food Rules" and Adam Richman's "Food vs. Man", "Raw Extreme Manifesto" is one man's journey into raw food extremism. With sensible tips, simple recipes, rules, and most importantly, results, Fred Ho's book tells you everything you need to know about going totally raw - without spending all your money on expensive juicers or fancy groceries. Driven by a desire to become healthier and solve a myriad of health issues, Fred Ho begins his journey into raw food extremism, overcoming his skepticism by resisting the psychological matrix of dependency and addiction to cooked and industrial food production; by developing a small community circle of raw food enthusiasts (Raw Fight Club) seeking to solve a variety of ailments and maladies (diabetes, asthma, hypertension, obesity, and even multiple sclerosis and cancer); by opposing the hyper-marketing of "raw chic" (going raw is often affordable only to the affluent); and by devising a raw food commitment that spends almost no money. After just two weeks, he feels extraordinary results. Much more than twenty-five original recipes and tips about going raw and staying raw, this is an indispensable handbook for everyone who ever wondered if they have what it takes to change their lives and ultimately their society for the better. In the author's own words about Raw Fight Club: "we make raw food dishes, share ideas, talk politics, and come up with strategies to change the world!" It includes 25 full-color photographs.
Sklep: Libristo.pl
Sklepy zlokalizowane w miastach: Warszawa, Kraków, Łódź, Wrocław, Poznań, Gdańsk, Szczecin, Bydgoszcz, Lublin, Katowice
Szukaj w sklepach lub całym serwisie
2. Szukaj na wszystkich stronach serwisu
t1=0.059, t2=0, t3=0, t4=0, t=0.059