krainaksiazek when is forever a quirky tale of family life 20122756
- znaleziono 11 produktów w 2 sklepach 10,24 zł
Książki & Multimedia > Książki
Opis - Pierwsze na świecie świadectwo ofiary zbrodni honorowej. Miała siedemnaście lat i zakochała się: zhańbiła rodzinę. Więc rodzina wydała na nią wyrok śmierci... Pokochała go pierwszą miłością. Myślała, że się z nią ożeni. Ale ukochany zniknął, a ona odkryła, że jest w ciąży. A w jej świecie to najcięższa zbrodnia... W zapomnianej przez Boga wiosce w Cisjordanii kobiety są warte mniej niż zwierzęta domowe. Tu mężczyzna jest panem życia i śmierci żony, córki, siostry. Brat może bezkarnie zabić siostrę, matka - córkę, kolejną bezużyteczną dziewczynkę, jaka się urodzi. Tu kobiecie odbiera się godność, a nawet życie zgodnie z odwiecznym obyczajem i uświęconą tradycją. A śmierć jest karą dla dziewczyny, która zhańbi rodzinę. Tak jak Souad. Wyrok wydaje jej ojciec. Szwagier dokonuje egzekucji. Oblewa Souad benzyną i podpala... SOUAD przeżyła - cudem, ale rodzina usiłowała zabić ją nawet w szpitalu. Na zawsze jednak pozostanie straszliwie okaleczona - na ciele i duszy. I wciąż musi się ukrywać; dopóki żyje, jej rodzinę okrywa hańba. Spalona żywcem, opublikowana pod pseudonimem szokująca opowieść o piekle, jakim było jej dzieciństwo i młodość, stała się międzynarodowym bestsellerem. Wydana w 37 w krajach książka przerywa tabu milczenia wobec istniejącej nadal w krajach muzułmańskich barbarzyńskiej tradycji. Nieludzkiego obyczaju, prawa mężczyzn, na mocy którego co najmniej pięć tysięcy kobiet pada co roku ofiarą zbrodni honorowej. Nazwa - Spalona Żywcem Wyd. Kieszonkowe Autor - Souad Oprawa - Miękka Wydawca - Amber Kod ISBN - 9788324159406 Kod EAN - 9788324159406 Wydanie - 1 Rok wydania - 2016 Tłumacz - 31182,maria rostworowska; Format - 110 x 175 x 14 Ilość stron - 224 Podatek VAT - 5% Premiera - 2016-06-23
Sklep: InBook.pl 83,19 zł
Książki / Literatura obcojęzyczna
When sensible schoolteacher Ella Lucas rides into her home town on a Harley and seduces the resident football hero, Jake Prince, she figures she can be forgiven and move on. After all, she's just buried her mother. Winner of the ARRA 2013 Favourite Contemporary Fiction Award Two years later, back in the city, their paths cross again but this time Jake is in the process of destroying her favourite dive bar. With her home facing a wrecker's ball, her school being closed down and her 15-year-old brother hell bent on self-destruction, it's the last straw. Throw in a dominatrix best friend who is dating a blue ribbon guy so straight he still lives at home with his mother, it's no wonder the sanest person in Ella's life is a dog. With all this to contend with, the last thing Ella needs is Jake back in her life. But, as fate would have it, Jake is the only chance she has to save her school. As the school football season heats up, old secrets threaten to surface and Ella takes on greedy developers, school boards and national tabloids. But can she save not just her home, her school and her brother, but also the reputation of the man she's never been able to forget? And, more importantly, does she want to? Holding Out for a Hero is a quirky, heartwarming tale of unlikely romance, friendship and family. Finalist in Romance Writers of Australia Ruby (Romantic Book of the Year) Award 2014
Sklep: Libristo.pl 58,66 zł
Książki / Literatura obcojęzyczna
The extraordinary story of how one family, and one young boy in particular, are changed forever when Zayda (Yiddish for "grandfather") comes to live with them. At first the young narrator, Bill, is resistant to all the changes in the house: Zayda spooks his friends, tries to get Bill to speak Yiddish, and demands strange foods like herring. But as Zayda starts telling Bill and his brother Danny the fascinating story of his life, a story filled with many extraordinary dangers and adventures, the boys begin to see their grandfather in a whole new light. From why, as a young boy, he was forced to flee his Russian village for America to how he eventually became a cowboy, Zayda holds the boys captive with his amazing tale. Like Zayda's grandsons, young readers -- and their parents and teachers -- will also be entranced by Zayda's saga. While the characters are fictional, Zayda's experiences are historically correct and are a colourful retelling of a fascinating yet little-known time of Jewish-American history. This book, like Zayda himself -- funny, touching, and memorable -- is destined to be a favourite of Jewish and non-Jewish children alike, teachers, librarians, and educators for many years to come.
Sklep: Libristo.pl 144,57 zł
Książki / Literatura obcojęzyczna
The author of Beyond Enkription and the rest of The Burlington Files series is Bill Fairclough who was born in England in 1950. In 1978 he founded a niche global intelligence organisation known as "Faire Sans Dire". The series is based on Bill Fairclough's life and some of Faire Sans Dire's activities. Beyond Enkription is the first novel in the series of six novels to be published. The series covers events involving Bill, his beguiling family and his double-dealing colleagues ranging from the First World War to 9/11, the related Nisha incidents and beyond. The series even covers new revelations about the Edward Snowden affair and has been or is being written with film adaptation in mind. Nevertheless each book is or will be a standalone novel albeit each one might comprise several films and/or television series. The first novel is set in 1974 in the heart of the Cold War. It is about a wayward accountant, Edward Burlington aka Bill Fairclough. In 1974 he is unwittingly working as an agent for MI6 by night whilst auditing beans during the day and is nearly murdered not just once but four times between March and June 1974. For his own safety Edward is underhandedly despatched to work as an accountant in Nassau only to be recruited by the CIA and face more death defying moments in the Bahamas, Brazil and Haiti before the year's end. Meanwhile his family are sucked inexorably into the perfidious mess and intrigue surrounding Edward's double life and their own machinations. The repercussions of the Burlington family's activities resonate from Kinshasa to Islamabad via Washington and Westminster and back. Nothing is what it seems to be in this treacherous novel where disinformation is the norm. Beyond Enkription is a family yarn and history; a spy novel and espionage reference book; a mystery and suspense thriller and more besides: a realistic tale of a dynastic duplicitous family that knows instinctively the knack of survival. The brutal opening contrasts well with the tantalising and duplicitous Prologue yet the physicality of the opening chapter is arguably far less vicious than the cerebral scheming that ensues. The book is a distinctive memorable and realistic read full of captivating characters. Its intertwined plots would have challenged Aristotle's intellect. So, when you read it, if you don't think so then you may have lost the plot! As one connoisseur put it succinctly ... "question everything you assume isn't disinformation". Critics described Beyond Enkription as "A compelling, provocative and beguiling spy novel: a must for connoisseurs ..." and "Brutal ab initio, cerebral thereafter but forever realistic ..." As for its realism you can always contrast Bill Fairclough's past on WikiTree or LinkedIn with Edward Burlington. Just how real can you get? We hope you enjoy reading it and succeed in differentiating between fact, fiction and disinformation. Please see http://www.theburlingtonfiles.org, http://www.fairesansdire.org, http://uk.linkedin.com/in/billfairclough and http://www.wikitree.com/index.php?title=Fairclough-119&public=1 for more information ... assuming the authorities haven't closed down our websites by now and the other websites haven't tried to extinguish all evidence of knowledge of The Burlington Files!
Sklep: Libristo.pl 37,51 zł
Książki / Literatura obcojęzyczna
Outside her home in Michoacan, Mexico, grows eight-year-old Isabel's greatest treasure: an oyamel tree. Every autumn, a miracle happens-for Isabel's tree is the wintering place for thousands upon thousands of monarch butterflies that migrate from the north. When they flutter down to roost, they transform Isabel's tree into La casa de las mariposas-The House of Butterflies. But this wonder is in danger of disappearing forever. Isabel's family is poor, and it has been a cruel, dry year for Papa's meager crop of corn and beans. Soon, chopping down the tree to sell its wood may be the family's only hope for survival. What will happen to the butterflies then? Tony Johnston's poignant tale, as brief and luminous as the lives of the butterflies themselves, is all the more compelling because of the real-life dilemma it presents. Lush paintings by Susan Guevara radiate with the warmth and tenderness between Isabel and her family, and capture Mexican rural life in all its vibrant color and natural beauty.
Sklep: Libristo.pl 83,03 zł
Książki / Literatura obcojęzyczna
When a family from New Zealand embark on their holiday of a lifetime little do they realise what they are letting themselves in for. A traffic accident changes everything as the children, Rory & Sarah, are catapulted into another world full of famous figures from the past. This tightly woven children's adventure story will appeal to young teenage readers, although adult readers will also enjoy author Sue Lowe-Lauri's use of maps, photos and biographies of the historical figures which bring her tale to life. Truly a unique feast of fantasy and fact. First-time novelist, Sue Lowe-Lauri, has created a unique, parallel fantasy dimension filled with the nation's favourite historical characters who have returned to earth to act as guardian angels to humans. As Malachis, they occupy their statues in central London and use the skills they acquired in their previous lives to rescue humans from tricky situations. Rory and Sarah, both in a coma, are fighting for their lives in the intensive care unit of the Evelina Children's Hospital whilst their parents look on helplessly. The children's spirits somehow arrive in the Malachi dimension. Meanwhile, the Malachis of London are preparing for their annual contest but the unexpected arrival of the two children means they have to change their plans to help them return to their own dimension with The Duke of Wellington, as witness to the children's accident, becoming their guardian angel. The children have to solve various clues in order to be transported from this mysterious dimension back to their human world; however, there is one Malachi who is determined to stop them. Will the children complete their quest in time or will they have to stay in the Malachi dimension forever? This novel provides the backdrop for some wonderfully comic interactions between the historical characters and also looks at how they cope with life in the 21st century. The reader is taken on a fascinating journey around central London and brings hitherto less well-known locations and features of London to life. Full of action and humour this novel is a real cliff-hanger.
Sklep: Libristo.pl 97,93 zł
Książki / Literatura obcojęzyczna
Shortlisted for both the BSFA and the British Fantasy Awards for best novel. Going to the circus will never be the same again... Hellequin, last of the HawkEye military elite, is desperate to escape the legacy of Soul Food, the miraculous plant supplement that leeched the soil, destroyed his family, and instigated a bloody civil war. For a man awaiting the inevitable madness brought on by his enforced biomorph implant, there's only one choice. Run away with the circus... Drifting above a poisoned landscape, Cyber Circus and her exotic acrobats and bioengineered freaks bring a welcome splash of colour into folk's drab lives. None more so than escaped courtesan turned-dancer Desirous Nim. When Nim's freedom and her very life are threatened, Hellequin is forced to fight again. But, even united, will the weird troupe and their strange skills be enough to save Nim and keep their home aloft? That's assuming, of course, that Zan City's Blood Worms, mute stowaways, or the swarms don't manage to bring them down first... Welcome to the greatest show on Sore Earth! "Kim Lakin-Smith is not just the real thing she has a real way with words. Cyber Circus is as honestly brutal a twisted cybernetic love story as anything I've read. She makes mixing emotion with action and world building look effortless." - Jon Courtenay Grimwood "Cyber Circus is surely beyond any previous perverse riff on a carnival set in an alternate surreality. Just beware the hallucinatory dementing seductions of Kim Lakin-Smithżs inventions. An astonishing piece of work." - Ian Watson "Exotic characters, roaming a Dust Bowl ambience of 30s America, surrounded by the pervading aroma of stomped grass and burning lamp oil bring a rich atmosphere to this unique and quirky tale." - Storm Constantine "Kim Lakin-Smith's dark, lyrical prose flows towards the poetic, making you sigh with pleasure." - Graham Joyce
Sklep: Libristo.pl 42,47 zł
Książki / Literatura obcojęzyczna
Mary Walton is the apple of her father's eye; his only comfort during the dark years of the Depression when he is faced with both unemployment and a nagging, ambitious wife. His only hope is that Mary will one day find a way to escape the grinding poverty of the Tyneside slums. But when a secret is revealed these dreams are shattered and the lives of the Walton family change forever...Spanning Mary's life from the 1930's to the 1970's, "Pure as the Lily" is a spellbinding, unforgettable tale from one of Britain's most cherished novelists.
Sklep: Libristo.pl 97,13 zł
Jessi-cat MICHAEL O´MARA BOOKS
Książki / Literatura obcojęzyczna
Lorcan Dillon was seven years old when his mother, Jayne, first heard him say 'I love you.' The words were not directed at her, but at Jessi-cat, the family pet. Lorcan suffers from autism and selective mutism, a condition that renders him unable to speak in certain situations, unable to express emotions or enjoy hugs and he has never told anyone he loves them. This all began to change with the arrival of a kitten named Jessi-cat. Jessi-cat is the stirring tale of how the affection and attention of a constant loving companion allowed a little boy to start to connect to the world around him. Lorcan spends hours playing with her, cuddling her and telling her how much he loves her. He has also begun opening up to others, making friends at school and is constantly making progress. Jessi-cat proved so inspiring that she was named Best Friend and National Cat of the Year 2012 by the Cats Protection Awards. This book charts the story of this great friendship and how the love between a young boy and his pet has changed his life forever.
Sklep: Libristo.pl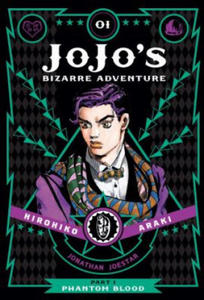 68,44 zł
Książki / Literatura obcojęzyczna
The legendary Shonen Jump series, now available in English for the first time, in a deluxe edition featuring color pages and newly drawn cover art! JoJo's Bizarre Adventure is a groundbreaking manga famous for its outlandish characters, wild humor and frenetic battles. A multigenerational tale of the heroic Joestar family and their never-ending battle against evil! Young Jonathan Joestar's life is forever changed when he meets his new adopted brother, Dio. For some reason, Dio has a smoldering grudge against him and derives pleasure from seeing him suffer. But every man has his limits, as Dio finds out. This is the beginning of a long and hateful relationship!
Sklep: Libristo.pl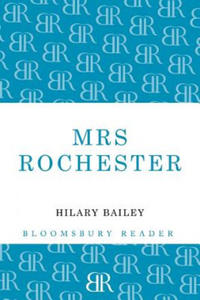 78,38 zł
Książki / Literatura obcojęzyczna
Have you ever wondered what happened after Jane found Mr Rochester, blinded and crippled by the fire that destroyed Thornfield Hall? After the death of his wife freed him to marry his young love, and the destruction of his home and estate forced the two of them to start life anew? Hilary Bailey answers these questions and brings in a plot of her own with this sequel to the Bronte classic. She builds a new world for the new Mrs Rochester, centred on her husband, whose sight is slowly healing and whose attitude is forever changed by being happy in love, and her young son, the joy of both his parents. For ten years after Thornfield Hall and all it stood for crumbled, Jane and Mr Rochester live in wedded bliss, spending their days in an idyllic family unit at the small manor of Ferndean. But when Mr Rochester decides to rebuild Thornfield Hall, Jane fears the ghosts that might be brought back with it, and her fears are not unfounded. Mrs Rochester rewrites Jane's 'Happily Ever After' as a twisted tale of interrupted bliss, haunting pasts, and frightening vendettas that follow the Rochesters to their newly rebuilt home. Old wounds are re-opened, grudges once thought buried resurface, and accusations abound, resulting in a mysterious, fast-paced re-imagining of a timeless favourite.
Sklep: Libristo.pl
Sklepy zlokalizowane w miastach: Warszawa, Kraków, Łódź, Wrocław, Poznań, Gdańsk, Szczecin, Bydgoszcz, Lublin, Katowice
Szukaj w sklepach lub całym serwisie
2. Szukaj na wszystkich stronach serwisu
t1=0.072, t2=0, t3=0, t4=0, t=0.072