krainaksiazek when is forever a quirky tale of family life 20122756
- znaleziono 11 produktów w 1 sklepie 81,39 zł
Książki / Literatura obcojęzyczna
When sensible schoolteacher Ella Lucas rides into her home town on a Harley and seduces the resident football hero, Jake Prince, she figures she can be forgiven and move on. After all, she's just buried her mother. Winner of the ARRA 2013 Favourite Contemporary Fiction Award Two years later, back in the city, their paths cross again but this time Jake is in the process of destroying her favourite dive bar. With her home facing a wrecker's ball, her school being closed down and her 15-year-old brother hell bent on self-destruction, it's the last straw. Throw in a dominatrix best friend who is dating a blue ribbon guy so straight he still lives at home with his mother, it's no wonder the sanest person in Ella's life is a dog. With all this to contend with, the last thing Ella needs is Jake back in her life. But, as fate would have it, Jake is the only chance she has to save her school. As the school football season heats up, old secrets threaten to surface and Ella takes on greedy developers, school boards and national tabloids. But can she save not just her home, her school and her brother, but also the reputation of the man she's never been able to forget? And, more importantly, does she want to? Holding Out for a Hero is a quirky, heartwarming tale of unlikely romance, friendship and family. Finalist in Romance Writers of Australia Ruby (Romantic Book of the Year) Award 2014
Sklep: Libristo.pl 57,27 zł
Książki / Literatura obcojęzyczna
The extraordinary story of how one family, and one young boy in particular, are changed forever when Zayda (Yiddish for "grandfather") comes to live with them. At first the young narrator, Bill, is resistant to all the changes in the house: Zayda spooks his friends, tries to get Bill to speak Yiddish, and demands strange foods like herring. But as Zayda starts telling Bill and his brother Danny the fascinating story of his life, a story filled with many extraordinary dangers and adventures, the boys begin to see their grandfather in a whole new light. From why, as a young boy, he was forced to flee his Russian village for America to how he eventually became a cowboy, Zayda holds the boys captive with his amazing tale. Like Zayda's grandsons, young readers -- and their parents and teachers -- will also be entranced by Zayda's saga. While the characters are fictional, Zayda's experiences are historically correct and are a colourful retelling of a fascinating yet little-known time of Jewish-American history. This book, like Zayda himself -- funny, touching, and memorable -- is destined to be a favourite of Jewish and non-Jewish children alike, teachers, librarians, and educators for many years to come.
Sklep: Libristo.pl 141,20 zł
Książki / Literatura obcojęzyczna
The author of Beyond Enkription and the rest of The Burlington Files series is Bill Fairclough who was born in England in 1950. In 1978 he founded a niche global intelligence organisation known as "Faire Sans Dire". The series is based on Bill Fairclough's life and some of Faire Sans Dire's activities. Beyond Enkription is the first novel in the series of six novels to be published. The series covers events involving Bill, his beguiling family and his double-dealing colleagues ranging from the First World War to 9/11, the related Nisha incidents and beyond. The series even covers new revelations about the Edward Snowden affair and has been or is being written with film adaptation in mind. Nevertheless each book is or will be a standalone novel albeit each one might comprise several films and/or television series. The first novel is set in 1974 in the heart of the Cold War. It is about a wayward accountant, Edward Burlington aka Bill Fairclough. In 1974 he is unwittingly working as an agent for MI6 by night whilst auditing beans during the day and is nearly murdered not just once but four times between March and June 1974. For his own safety Edward is underhandedly despatched to work as an accountant in Nassau only to be recruited by the CIA and face more death defying moments in the Bahamas, Brazil and Haiti before the year's end. Meanwhile his family are sucked inexorably into the perfidious mess and intrigue surrounding Edward's double life and their own machinations. The repercussions of the Burlington family's activities resonate from Kinshasa to Islamabad via Washington and Westminster and back. Nothing is what it seems to be in this treacherous novel where disinformation is the norm. Beyond Enkription is a family yarn and history; a spy novel and espionage reference book; a mystery and suspense thriller and more besides: a realistic tale of a dynastic duplicitous family that knows instinctively the knack of survival. The brutal opening contrasts well with the tantalising and duplicitous Prologue yet the physicality of the opening chapter is arguably far less vicious than the cerebral scheming that ensues. The book is a distinctive memorable and realistic read full of captivating characters. Its intertwined plots would have challenged Aristotle's intellect. So, when you read it, if you don't think so then you may have lost the plot! As one connoisseur put it succinctly ... "question everything you assume isn't disinformation". Critics described Beyond Enkription as "A compelling, provocative and beguiling spy novel: a must for connoisseurs ..." and "Brutal ab initio, cerebral thereafter but forever realistic ..." As for its realism you can always contrast Bill Fairclough's past on WikiTree or LinkedIn with Edward Burlington. Just how real can you get? We hope you enjoy reading it and succeed in differentiating between fact, fiction and disinformation. Please see http://www.theburlingtonfiles.org, http://www.fairesansdire.org, http://uk.linkedin.com/in/billfairclough and http://www.wikitree.com/index.php?title=Fairclough-119&public=1 for more information ... assuming the authorities haven't closed down our websites by now and the other websites haven't tried to extinguish all evidence of knowledge of The Burlington Files!
Sklep: Libristo.pl 129,30 zł
Książki / Literatura obcojęzyczna
Source: Wikipedia. Pages: 118. Chapters: Top Gear, Spooks, Dead Ringers, Popstars The Rivals, Pop Idol, The Forsyte Saga, Dick and Dom in da Bungalow, Big Brother 2002, Foyle's War, Saturday Night Takeaway, The Life of Mammals, Footballers' Wives, Ultimate Force, Fifth Gear, Wire in the Blood, Cutting It, Look Around You, Believe Nothing, Doctor Zhivago, Sport Relief, Soccer AM's All-Sports Show, The Falklands Play, Blackadder: Back & Forth, BrainTeaser, 100 Greatest Britons, Strange, Viva S Club, Celebrity Fit Club, I'm a Celebrity...Get Me Out of Here!, Fame Academy, The Jury, 15 Storeys High, Bo' Selecta!, College Girls, Wild West, The Gathering Storm, British Academy Television Awards 2002, Salvage Squad, Saturday Kitchen, The Vault, My Family, The Estate Agents, Bloody Sunday, Escape to the Country, Rescue Me, Celebrity Big Brother 2002, RI:SE, 8th National Television Awards, Inside Out, Born and Bred, Time Team Digs, Cash in the Attic, Flog It!, Lads' Army, All About Me, Double Act, Extr@, On the Course, UK Top 40, Live With Chris Moyles, Tikkabilla, Daniel Deronda, When Steptoe Met Son, Shackleton, Street Crime UK, Your Face or Mine?, Today with Des and Mel, V Graham Norton, UK Uncovered, The Commander, Shipman, The Dancer's Body, Life Laundry, Manchild, UK Uncovered : Full On, Rose and Maloney, River Cottage Forever, Gods in the Sky, Snoddy, Jeffrey Archer: The Truth, Essex Wives. Excerpt: Top Gear is a BAFTA and Emmy award winning British television series about motor vehicles, primarily cars. It began in 1977 as a conventional motoring magazine show. Over time, and especially since a relaunch in 2002, it has developed a quirky, humorous style. The show is currently presented by Jeremy Clarkson, Richard Hammond and James May, and has featured three different test drivers known as The Stig. The programme is estimated to have 350 million viewers worldwide and is heavily downloaded from peer to peer file sharing services, with roughly 300,000 downloads per episode via torrent programs. First run episodes are broadcast in the United Kingdom on BBC Two, and since Series 14, also on BBC HD. Sixteen series have aired, and a seventeenth is planned for June 2011. The show has received acclaim for its visual style and presentation, as well as criticism for its content and comments made by presenters. Columnist A. A. Gill, close friend of Clarkson and fellow Sunday Times columnist, described the show as "a triumph of the craft of programme making, of the minute, obsessive, musical masonry of editing, the French polishing of colourwashing and grading". British comedian and guest of the show Steve Coogan has criticized the show- albeit somewhat tongue-in-cheek- for its lazy, adolescent humour. Jeremy Clarkson, who helped the original series reach its peak in the 1990s, along with producer Andy Wilman, successfully pitched a new format for Top Gear to the BBC, reversing a previous decision to cancel the show in 2001. The new series was first broadcast in 2002. Top Gear's studio is located at Dunsfold Aerodrome and business park in Waverley, Surrey. Top Gear uses a temporary racing circuit which was designed for the show by Lotus and is laid out on parts of Dunsfold's runways and taxiways. A large hangar is used for studio recording with a standing audience. The new series format incorporates a number of major changes from the old show. The running time was extende
Sklep: Libristo.pl 76,47 zł
Książki / Literatura obcojęzyczna
Hope Springs is the epitome of small-town life-a place filled with quiet streets where families have been friends for generations, a place where not a lot changes ...until now. Janelle Evans hasn't gone back to Hope Springs for family reunions since losing her husband. But when she arrives for Christmas and learns that her grandmother is gravely ill, she decides to extend the stay. It isn't long before she runs into her first love, and feelings that have been dormant for more than a decade are reawakened. Becca Anderson is finally on the trajectory she's longed for. Having been in the ministry trenches for years, she's been recruited as the newest speaker of a large Christian women's conference. But her husband feels called to become the pastor of his late father's church in Hope Springs. Will small-town living affect her big ministry dreams? Stephanie London is married to a doctor in St. Louis and living an ideal life. When her cousin Janelle volunteers to stay in Hope Springs and care for their grandmother, she feels compelled to do the same. It's a decision that will forever change her. As these women come together, they soon recognize that healing is needed in their hearts, their families, and their churches that have long been divided along racial lines. God's plan for them in Hope Springs-and for Hope Springs itself-is bigger than they ever imagined. "Kim Cash Tate draws us into a world where the dreams, desires, missteps, and matters of the heart we discover mirror our own. She is a master at crafting characters who make you forget you're reading fiction. By the end of Hope Springs, you'll feel as if you're cheering on members of your extended family." -Stacy Hawkins Adams, bestselling author of Coming Home and The Someday List "Tate expertly crafts an intriguing narrative that explores unrequited love, true faith, and the complicated politics of change in the Christian church ...[an] affecting tale about forgiveness and following God's call." -Publishers Weekly
Sklep: Libristo.pl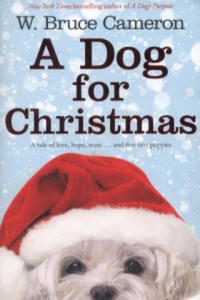 42,52 zł
Książki / Literatura obcojęzyczna
A tale of love, hope, trust ...and five tiny puppies **If you love A Christmas Carol and Marley and Me, this is the book for you.** When his girlfriend Amanda leaves him, Josh Michaels is broken-hearted and miserable at the thought of spending Christmas alone. A call from his neighbour out the blue, asking him to look after his dog Lucy, is the last thing he needs. But, like it or not, Lucy bounds into his life. And soon Josh realizes that Lucy is not only energetic, but also very pregnant. He suddenly finds himself looking after not just one dog, but five tiny, adventurous puppies too. Josh heads down to the local animal shelter, seeking advice, where he meets the beautiful, headstrong Kerri, who works to find homes for abandoned dogs. She says that the puppies are now his responsibility, but insists they must be adopted. As Christmas draws nearer, Josh can't help but be won over by his new, unruly family, with their joyous, unconditional love - he also finds himself falling for Kerri. Soon Josh realizes he wants nothing more than to give these dogs a home, and not only for Christmas ...Can Lucy and her puppies help Josh get over Amanda, win Kerri's heart, and stay with him for longer than just the holidays? A charming, unforgettable seasonal tale, bursting with love, A Dog for Christmas tells the story of how an unexpected arrival at Christmas made a family complete forever. *Published in the US as The Dogs of Christmas*
Sklep: Libristo.pl 81,23 zł
Książki / Literatura obcojęzyczna
When a family from New Zealand embark on their holiday of a lifetime little do they realise what they are letting themselves in for. A traffic accident changes everything as the children, Rory & Sarah, are catapulted into another world full of famous figures from the past. This tightly woven children's adventure story will appeal to young teenage readers, although adult readers will also enjoy author Sue Lowe-Lauri's use of maps, photos and biographies of the historical figures which bring her tale to life. Truly a unique feast of fantasy and fact. First-time novelist, Sue Lowe-Lauri, has created a unique, parallel fantasy dimension filled with the nation's favourite historical characters who have returned to earth to act as guardian angels to humans. As Malachis, they occupy their statues in central London and use the skills they acquired in their previous lives to rescue humans from tricky situations. Rory and Sarah, both in a coma, are fighting for their lives in the intensive care unit of the Evelina Children's Hospital whilst their parents look on helplessly. The children's spirits somehow arrive in the Malachi dimension. Meanwhile, the Malachis of London are preparing for their annual contest but the unexpected arrival of the two children means they have to change their plans to help them return to their own dimension with The Duke of Wellington, as witness to the children's accident, becoming their guardian angel. The children have to solve various clues in order to be transported from this mysterious dimension back to their human world; however, there is one Malachi who is determined to stop them. Will the children complete their quest in time or will they have to stay in the Malachi dimension forever? This novel provides the backdrop for some wonderfully comic interactions between the historical characters and also looks at how they cope with life in the 21st century. The reader is taken on a fascinating journey around central London and brings hitherto less well-known locations and features of London to life. Full of action and humour this novel is a real cliff-hanger.
Sklep: Libristo.pl 95,67 zł
Książki / Literatura obcojęzyczna
Shortlisted for both the BSFA and the British Fantasy Awards for best novel. Going to the circus will never be the same again... Hellequin, last of the HawkEye military elite, is desperate to escape the legacy of Soul Food, the miraculous plant supplement that leeched the soil, destroyed his family, and instigated a bloody civil war. For a man awaiting the inevitable madness brought on by his enforced biomorph implant, there's only one choice. Run away with the circus... Drifting above a poisoned landscape, Cyber Circus and her exotic acrobats and bioengineered freaks bring a welcome splash of colour into folk's drab lives. None more so than escaped courtesan turned-dancer Desirous Nim. When Nim's freedom and her very life are threatened, Hellequin is forced to fight again. But, even united, will the weird troupe and their strange skills be enough to save Nim and keep their home aloft? That's assuming, of course, that Zan City's Blood Worms, mute stowaways, or the swarms don't manage to bring them down first... Welcome to the greatest show on Sore Earth! "Kim Lakin-Smith is not just the real thing she has a real way with words. Cyber Circus is as honestly brutal a twisted cybernetic love story as anything I've read. She makes mixing emotion with action and world building look effortless." - Jon Courtenay Grimwood "Cyber Circus is surely beyond any previous perverse riff on a carnival set in an alternate surreality. Just beware the hallucinatory dementing seductions of Kim Lakin-Smithżs inventions. An astonishing piece of work." - Ian Watson "Exotic characters, roaming a Dust Bowl ambience of 30s America, surrounded by the pervading aroma of stomped grass and burning lamp oil bring a rich atmosphere to this unique and quirky tale." - Storm Constantine "Kim Lakin-Smith's dark, lyrical prose flows towards the poetic, making you sigh with pleasure." - Graham Joyce
Sklep: Libristo.pl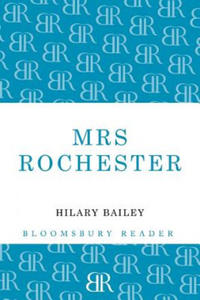 76,47 zł
Książki / Literatura obcojęzyczna
Have you ever wondered what happened after Jane found Mr Rochester, blinded and crippled by the fire that destroyed Thornfield Hall? After the death of his wife freed him to marry his young love, and the destruction of his home and estate forced the two of them to start life anew? Hilary Bailey answers these questions and brings in a plot of her own with this sequel to the Bronte classic. She builds a new world for the new Mrs Rochester, centred on her husband, whose sight is slowly healing and whose attitude is forever changed by being happy in love, and her young son, the joy of both his parents. For ten years after Thornfield Hall and all it stood for crumbled, Jane and Mr Rochester live in wedded bliss, spending their days in an idyllic family unit at the small manor of Ferndean. But when Mr Rochester decides to rebuild Thornfield Hall, Jane fears the ghosts that might be brought back with it, and her fears are not unfounded. Mrs Rochester rewrites Jane's 'Happily Ever After' as a twisted tale of interrupted bliss, haunting pasts, and frightening vendettas that follow the Rochesters to their newly rebuilt home. Old wounds are re-opened, grudges once thought buried resurface, and accusations abound, resulting in a mysterious, fast-paced re-imagining of a timeless favourite.
Sklep: Libristo.pl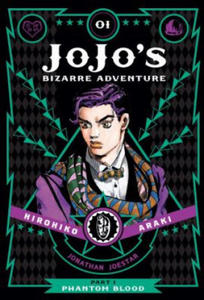 68,38 zł
Książki / Literatura obcojęzyczna
The legendary Shonen Jump series, now available in English for the first time, in a deluxe edition featuring color pages and newly drawn cover art! JoJo's Bizarre Adventure is a groundbreaking manga famous for its outlandish characters, wild humor and frenetic battles. A multigenerational tale of the heroic Joestar family and their never-ending battle against evil! Young Jonathan Joestar's life is forever changed when he meets his new adopted brother, Dio. For some reason, Dio has a smoldering grudge against him and derives pleasure from seeing him suffer. But every man has his limits, as Dio finds out. This is the beginning of a long and hateful relationship!
Sklep: Libristo.pl 55,53 zł
Gourlay Girls Black and White Publishing
Książki / Literatura obcojęzyczna
In Glasgow at the beginning of the 1930s, the lives of two very different families are about to be changed forever by the repercussions of a tragedy that seems to defy explanation. In their splendid home in the West End, everything seems perfect in the comfortable, privileged lives of bestselling novelist Nicholas Cartwright, his beautiful wife Virginia and their two children. Until one dreadful day, when their world is touched by tragedy and they find themselves struggling to come to terms with a mystery that will haunt them for years to come. Meanwhile, in the run-down tenements of Springburn, the Gourlay family are battling to make ends meet. The Depression has hit Glasgow hard, Erchie Gourlay is unemployed, and only the long hours his three daughters spend sewing and dressmaking keeps the spectre of poverty at bay. The future looks bleak for the Gourlays, until the arrival of a destitute young girl on their doorstep brings them new hope of a better life. The sequel to the bestselling Clydesiders, Margaret Thomson Davis' The Gourlay Girls is an enthralling tale of two families, skilfully evoking the life and times of the city of Glasgow in the 1930s-from the spectacular Empire Exhibition, to the coming of the Second World War.
Sklep: Libristo.pl
Sklepy zlokalizowane w miastach: Warszawa, Kraków, Łódź, Wrocław, Poznań, Gdańsk, Szczecin, Bydgoszcz, Lublin, Katowice
Szukaj w sklepach lub całym serwisie
2. Szukaj na wszystkich stronach serwisu
t1=0.077, t2=0, t3=0, t4=0, t=0.077