krainaksiazek when she screams 20116143
- znaleziono 9 produktów w 1 sklepie 40,01 zł
Książki / Literatura obcojęzyczna
Darkness lives within ...Cash-strapped, working for agencies and living in shared accommodation, Stephanie Booth feels she can fall no further. So when she takes a new room at the right price, she believes her luck has finally turned. But 82 Edgware Road is not what it appears to be. It's not only the eerie atmosphere of the vast, neglected house, or the disturbing attitude of her new landlord, Knacker McGuire, that makes her uneasy - it's the whispers behind the fireplace, the scratching beneath floors, the footsteps in the dark, and the young women weeping in neighbouring rooms. And when Knacker's cousin Fergal arrives, the danger goes vertical. But this is merely a beginning, a gateway to horrors beyond Stephanie's worst nightmares. And in a house where no one listens to the screams, will she ever get out alive?
Sklep: Libristo.pl 52,80 zł
Książki / Literatura obcojęzyczna
When Salma becomes pregnant before marriage in her small village in the Levant, her innocent days playing the pipe for her goats are gone for ever. She is swept into prison for her own protection. To the sound of her screams, her newborn baby daughter is snatched away. In the middle of the most English of towns, Exeter, she learns good manners from her landlady, and settles down with an Englishman. But deep in her heart the cries of her baby daughter still echo. When she can bear them no longer, she goes back to her village to find her. It is a journey that will change everything - and nothing. Slipping back and forth between the olive groves of the Levant and the rain-slicked pavements of Exeter, "My Name is Salma" is a searing portrayal of a woman's courage in the face of insurmountable odds.
Sklep: Libristo.pl 30,00 zł
Książki / Literatura obcojęzyczna
When Draculaura is led to believe she's the rightful heir to the vampire throne, she and her best ghoulfriends are whisked away to Transylvania for a royal coronation to die for. But they soon discover the hunt for the queen is not over yet. The Ghouls must locate an ancient artifact known as the Vampire's Heart in order to discover the identity of the true Vampire Queen. It's a fangtastic adventure that will lead them from the Tower of Londoom, to a haunted river boat in New Goreleans and finally to the glamorous boo-vie lots of Hauntlywood. Could this be the moment when Draculaura finally receives her vampire powers and discovers screams really can come true? Based on the Monster High movie: Frights, Camera, Action! Contains eight pages of full-colour images in addition to the story. Don't miss the other books based on Monster High movies: Haunted and Freaky Fusion.
Sklep: Libristo.pl 35,09 zł
Książki / Literatura obcojęzyczna
When Kaylee Cavanaugh screams, someone dies. So when teen pop star Eden croaks onstage and Kaylee doesn't wail, she knows something is dead wrong. She can't cry for someone who has no soul. The last thing Kaylee needs right now is to be skipping school, breaking her dad's ironclad curfew and putting her too-hot-to-be-real boyfriend's loyalty to the test. But starry-eyed teens are trading their souls: a flickering lifetime of fame and fortune in exchange for eternity in the Netherworld-a consequence they can't possibly understand. Kaylee can't let that happen, even if trying to save their souls means putting her own at risk...
Sklep: Libristo.pl 51,81 zł
Książki / Literatura obcojęzyczna
This book is based on a true story of two young people, whose lives were thrown into total devastation when they found out that a baby had been developing un-noticed in his mother's womb. It was only when Sophie was crippled with stomach pains and was admitted to hospital that she was given the wonderful but shocking news she was pregnant and about to give birth. However, this moment of joy was whipped away from both Sophie and David in a split second whilst they stared at the screen showing them their beautiful unborn child, when the doctor suddenly announced there was no heartbeat. As Sophie's and David's mothers' sat helplessly by their sides, the room was thrown into silence, only to be broken by Sophie's screams. This story takes you on their incredible rollercoaster of emotions and shares their devastating and hard journey as they struggle to rebuild their lives without their beautiful son. They share also the lives of all their family members, who have individually been affected by this terrible situation. With the statistics in this country of Still Born babies being so high, Sophie and David felt they wanted to share their experience with other people to hopefully raise awareness and share how at such a young age with the help of family and friends they learned to eventually live their young lives again. Their beautiful son, known to us all as "Baby David" will always remain in our hearts. He is and always will be our "Hidden Angel."
Sklep: Libristo.pl 33,28 zł
Książki / Literatura obcojęzyczna
The aging prophet Devora bolts awake in terror, gasping for air. In her dream she heard her mother's shrieks as the ravenous dead pulled her from the tent. Devora had been only a girl then, crying as she listened to her mother's screams and the tearing of her flesh. And in the morning, when her mother rose - undead and hungering - Devora slew her.
Sklep: Libristo.pl 63,29 zł
Książki / Literatura obcojęzyczna
April, 1914. Against his better judgement, Detective Inspector Silas Quinn is attending the premiere of the new motion picture by notorious Austrian film-maker Konrad Waechter. But the glamorous event is interrupted by the piercing screams of a young woman in the street outside. She has been viciously mutilated in a horrific attack which eerily echoes a macabre act of violence in Waechter's film. As he questions those who attended the premiere, Quinn's jaundiced view of the fledgling film industry as a business based on illusion and pretence, where no one is what they seem, appears to be justified. But when members of London's Establishment start to receive bizarre hand-delivered parcels containing the strangest of contents, the investigation takes a disturbing twist.
Sklep: Libristo.pl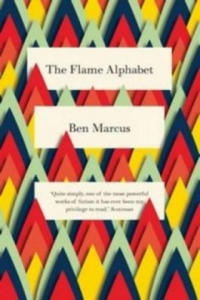 44,76 zł
Książki / Literatura obcojęzyczna
A terrible epidemic has struck the country and the sound of children's speech has become lethal. Radio transmissions from strange sources indicate that people are going into hiding. All Sam and Claire need to do is look around the neighbourhood: In the park, parents wither beneath the powerful screams of their children. At night, suburban side streets become routes of shameful escape for fathers trying to get outside the radius of affliction.With Claire nearing collapse, it seems their only means of survival is to flee from their daughter, Esther, who laughs at her parents' sickness, unaware that in just a few years she, too, will be susceptible to the language toxicity. But Sam and Claire find it isn't so easy to leave the daughter they still love, even as they waste away from her malevolent speech. On the eve of their departure, Claire mysteriously disappears, and Sam, determined to find a cure for this new toxic language, presses on alone into a world beyond recognition.The Flame Alphabet invites the question: what is left of civilization when we lose the ability to communicate with those we love? Both morally engaged and wickedly entertaining, a gripping page-turner as strange as it is moving, this intellectual horror story ensures Ben Marcus's position in the first rank of American novelists.
Sklep: Libristo.pl 39,68 zł
Książki / Literatura obcojęzyczna
After the death of her husband, Rose Trevelyan lives peacefully in Cornwall. But when she hears terrified screams, Rose finds herself suddenly caught at the centre of a police investigation.
Sklep: Libristo.pl
Sklepy zlokalizowane w miastach: Warszawa, Kraków, Łódź, Wrocław, Poznań, Gdańsk, Szczecin, Bydgoszcz, Lublin, Katowice
Szukaj w sklepach lub całym serwisie
2. Szukaj na wszystkich stronach serwisu
t1=0.061, t2=0, t3=0, t4=0, t=0.062