krainaksiazek when teachers are ready their students appear 20121776
- znaleziono 12 produktów w 2 sklepach 69,24 zł
Książki / Literatura obcojęzyczna
* Gives superb support for the new EBacc certificate by engaging a broader range of KS3 history students with GCSE skills at an earlier stage. * Supports both the Modern World History and Schools History Project GCSE specifications. * Following extensive research with teachers, targets development of the skills students typically find difficult when moving from KS3 to GCSE, such as source analysis. * Engages Year 9 students with 20th-century content and a range of interactive visual and written sources. * Prepares students for controlled assessment, taking them through two enquiries and helping them to understand how to work with representations.
Sklep: Libristo.pl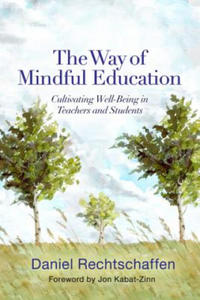 94,13 zł
Książki / Literatura obcojęzyczna
If you are a teacher, or an educator, or involved in school administration and curriculum development, the book you hold in your hands has the potential to transform your life, the lives of your students, and the life of the school itself, as well as education in America. Jon Kabat-Zinn, PhD, from the Foreword With attention spans waning and stress on the rise, many teachers are looking for new ways to help students concentrate, learn, and thrive. The Way of Mindful Education is a practical guide for cultivating attention, compassion, and well-being not only in these students, but also in teachers themselves. Packed with lesson plans, exercises, and considerations for specific age groups and students with special needs, this working manual demonstrates the real world application of mindfulness practices in K-12 classrooms. Part I, Why Mindful Education Matters, explains what mindfulness is, the science behind its benefits for students and educators, and the inspiring work that is already underway in the Mindful Education movement. In Part II, Begin with Yourself, we are reminded that in order to teach mindfully, we need to be mindful. Here teachers will learn the when, where, and how of mindfulness so they can effectively embody its practices with their students. Mindfulness practices offer teachers self-care and attention skills that prepare them to teach with greater energy and mastery. Discover how simple exercises can help manage stress, focus attention, develop compassion, and savor positive experiences in everyday life. Part III, Cultivating a Mindful Classroom, explores the qualities of a mindful teacher, the ingredients of a mindful learning environment, and helpful skills for appropriate, supportive work with cultural diversity, student stress and trauma, and varying age groups and developmental stages. Finally, in Part IV, Mindful Education Curriculum, we learn eighteen ready-to-use mindfulness lessons for use in schools. These practical exercises, designed to foster skills like embodiment, attention, heartfulness, and interconnectedness, can be readily adapted for any age group and population, and the author draws from his extensive personal experience to offer a wealth of tips for introducing them to students in real-time. Decades of research indicate the impressive benefits of mindfulness in social, emotional, and cognitive development, and as an antidote to emotional dysregulation, attention deficits, and social difficulties. This book invites teachers, administrators, and anyone else involved in education to take advantage of this vital tool and become purveyors of a mindful, compassionate, ethical, and effective way of teaching."
Sklep: Libristo.pl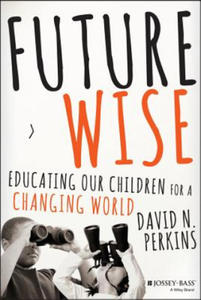 112,92 zł
Książki / Literatura obcojęzyczna
How to teach big understandings and the ideas that matter most Everyone has an opinion about education, and teachers face pressures from Common Core content standards, high-stakes testing, and countless other directions. But how do we know what today's learners will really need to know in the future? Future Wise: Educating Our Children for a Changing World is a toolkit for approaching that question with new insight. There is no one answer to the question of what's worth teaching, but with the tools in this book, you'll be one step closer to constructing a curriculum that prepares students for whatever situations they might face in the future. K-12 teachers and administrators play a crucial role in building a thriving society. David Perkins, founding member and co-director of Project Zero at Harvard's Graduate School of Education, argues that curriculum is one of the most important elements of making students ready for the world of tomorrow. In Future Wise , you'll learn concepts, curriculum criteria, and techniques for prioritizing content so you can guide students toward the big understandings that matter. Understand how learners use knowledge in life after graduation Learn strategies for teaching critical thinking and addressing big questions Identify top priorities when it comes to disciplines and content areas Gain curriculum design skills that make the most of learning across the years of education Future Wise presents a brand new framework for thinking about education. Curriculum can be one of the hardest things for teachers and administrators to change, but David Perkins shows that only by reimagining what we teach can we lead students down the road to functional knowledge. Future Wise is the practical guidebook you need to embark on this important quest.
Sklep: Libristo.pl 40,80 zł
Literatura faktu
'Only with the greatest of simplifications, for the sake of convenience, can we say Africa. In reality, except as a geographical term, Africa doesn't exist'. Ryszard Kapuscinski has been writing about the people of Africa throughout his career. In a study that avoids the official routes, palaces and big politics, he sets out to create an account of post-colonial Africa seen at once as a whole and as a location that wholly defies generalised explanations. It is both a sustained meditation on the mosaic of peoples and practises we call 'Africa', and an impassioned attempt to come to terms with humanity itself as it struggles to escape from foreign domination, from the intoxications of freedom, from war and from politics as theft. The Beginning: Collision, Ghana 1958 More than anything, one is struck by the light. Light everywhere. Brightness everywhere. Everywhere, the sun. Just yesterday, an autumnal London was drenched in rain. The airplane drenched in rain. A cold, wind, darkness. But here, from the morning
Sklep: Albertus.pl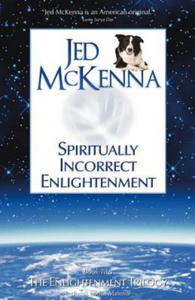 118,69 zł
Książki / Literatura obcojęzyczna
Spiritually Incorrect Enlightenment Isn't One Kind of Enlightenment - It's the Only Kind THE MARK OF A TRUE MASTER is that he can express a subject of the utmost complexity with uncanny simplicity. Jed McKenna is such a master, and spiritual enlightenment is his subject. His first book, Spiritual Enlightenment: The Damnedest Thing, was an instant classic and established him as a spiritual teacher of startling depth and clarity. Now, his second book, Spiritually Incorrect Enlightenment, takes us on a fascinating tour of the enlightened state - what it is and what it's not, who's there and who's not, how to get there and how to get somewhere better. Delightful surprises abound, including the dramatic unveiling of perhaps the greatest spiritual masterpiece of all time - long hidden in plain view and well known to all. Whitman, Melville, Thoreau, Mark Twain and U.G. Krishnamurti all appear, and a student from the first book returns to share her Spiritual Autolysis journals. Also surprising are the author's gentle efforts to guide the reader away from enlightenment toward a more desirable and accessible state. Failing to fetch me at first, keep encouraged, Missing me one place, search another, I stop somewhere, waiting for you. - Walt Whitman Jed McKenna's books aren't for everyone. They're for people who are tired of the spiritual merry-go-round and ready to confront the unadorned reality of the awakening process. If you like your teachers with all the spiritual trimmings and trappings, Jed may not be right for you, but when you're ready to jump off the merry-go-round and begin your journey, Jed McKenna is the guy you want to see standing there, waiting for you.
Sklep: Libristo.pl 37,92 zł
Książki / Literatura obcojęzyczna
Excerpt from Normal Herald The school year opened Sept. 11, with the largest attendance of any fall term in the history of the institution. The usual number of young men are with us in spite of the fact that the new dormitory is not ready for occupancy. The enrollment at this writing is five hundred and seven, with an attendance of two hundred in the Model School. The enlarged attendance is very encouraging in view of our increased rates. There has been an unusual number of changes in the Faculty of the school this year. In addition to the change of Principal, there are six new teachers and a new steward in the school. All the new comers show adaptability, and the work moves harmoniously. After thirteen years of service at Indiana, Dr. Waller has left us. And never did a Principal leave a school more deeply regretted by trustees, teachers, students and townspeople. We hesitate to say even a small part of what we feel toward the great and good Principal whom we have loved and followed. During these thirteen years he has stamped his own noble nature upon the character of thousands of youths who have assembled here, and he won the admiration, gratitude and friendship of all the teachers who ever worked with him. We approve his efficiency as an administrative officer, his character-making power as a teacher, his public spirit as a citizen; but above all we love and venerate him as a man. His kindness of heart, his strict sense of justice, his reserved and gentle speech are to his students an abiding memory. One of last year's class in writing of him says: "When you saw him for the first time, with his quick firm step, his easy poise, and his clean cut features, you recognized a man of refinement, culture and power. Although dignified in bearing, still in his position as head of the school, he was the best friend a student could have. Did any one ever find him too busy or too deeply engaged to answer a question, furnish information, or give advice? Though he put you at ease in his presence under all circumstances, yet there was a firmness and reserve which we respected and feared. To the student his slightest known wish was law. His home and social life was fascinating to the students. Always gentle and courteous, thinking of the enjoyment of others before himself, he sacrificed his own pleasures for the pleasures of his friends. To be with Dr. Waller was an education." Another writes: "We shall miss him in his dear accustomed places, - his prayers in chapel, his Bible classes, his instructive and stimulating talks in prayer-meeting - his pervading presence everywhere." About the Publisher Forgotten Books publishes hundreds of thousands of rare and classic books. Find more at www.forgottenbooks.com This book is a reproduction of an important historical work. Forgotten Books uses state-of-the-art technology to digitally reconstruct the work, preserving the original format whilst repairing imperfections present in the aged copy. In rare cases, an imperfection in the original, such as a blemish or missing page, may be replicated in our edition. We do, however, repair the vast majority of imperfections successfully; any imperfections that remain are intentionally left to preserve the state of such historical works.
Sklep: Libristo.pl 653,15 zł
Książki / Literatura obcojęzyczna
Elementary and Middle School Mathematics: Teaching Developmentally, Professional Development Edition provides unparalleled depth of ideas and discussion to help mathematics coaches and other teacher leaders foster teachers' understanding of the mathematics they will teach and the most effective teaching methods for the various mathematics topics. This text reflects the philosophy of the NCTM and Common Core State Standards and the benefits of problem-based mathematics instruction. The Coach/Teacher Leader Guide to this Book and Activities Matrix that appear at the front of the book and Professional Learning Opportunities sections, Coach/Teacher Leader Considerations boxes, and PDToolkit boxes that appear at the end of each chapter ensure this book is a valuable resource for all educators who facilitate mathematics professional development and support students making sense of mathematics. A complimentary access code for the online PDToolkit (http://pdtoolkit.pearson.com) inside every new book gives mathematics leaders access to: * Videos highlighting student mathematical thinking * Downloadable tools and templates * Expanded lessons * Blackline masters * Children's literature matrix To access PDToolkit for the first time: You will need to register online using a computer with an Internet connection and a web browser. The process takes just a couple of minutes and only needs to be completed once. * Go to http://pdtoolkit.pearson.com/ * Select your book. * Under Register, select your user type: K-12 Teacher, College Instructor, or College Student * Click Register Here. * If you have an existing Pearson account, enter it. If you do not, follow the prompts to make a Pearson account. * Enter your access code* found beneath the pull tab. Do not type the dashes. You can use lowercase or uppercase letters. * Follow the on-screen instructions. If you need help at any time during the online registration process, simply click the Need Help? Icon. * Once you have successfully registered, you can begin using the PDToolkit! You only need to register for the PDToolkit once. After that, you can log in any time at http://pdtoolkit.pearson.com/ by providing your Login Name and Password when prompted. *Important: Each access code can only be used once. The subscription is valid for six months upon activation and is not transferable. If the access code has already been revealed, it may no longer be valid. If this is the case, you can purchase a subscription by going to http://pdtoolkit.pearson.com/ and following the on-screen instructions
Sklep: Libristo.pl 107,98 zł
Książki / Literatura obcojęzyczna
Everyone agrees that reading is fundamental to education. Reading is the mechanism by which children gather new information about the world, learn to stretch their imaginations, come to appreciate the power and beauty of language, and learn to think critically. It's no wonder that parents and teachers want children to read and encourage leisure reading as a hobby. Despite the power and beauty of reading, despite the positive messages from adults, most kids lose interest in reading as they grow older. The average first grader enjoys reading, but by puberty this child does not enjoy reading and rarely chooses to read in his free time. Nevertheless, a small subset of kids do continue to read, and they remain dedicated readers into adulthood. Why? Why do Malik's parents find him sneaking books into bed, but Ella won't read books when her parents offer to pay her? Raising Kids Who Read helps parents and teachers make it more likely that children will be like Malik, rather than Ella. As in his previous bestseller, Why Don't Students Like School?, Willingham offers a perspective that is rooted in scientific research, but with a practical and engaging, ready-for-application sensibility. The first part of the book reviews the three elements that must be in place for children to become enthusiastic readers: decoding, comprehension, and motivation (especially in an age of video games, texting, and omnipresent television). Part Two considers the practical matter of supporting these three elements at a variety of age ranges (from birth and preschool through adolescence), since children's needs change as they grow. The book also addresses how to help kids with dyslexia and how the digital age has changed the reading landscape. This provocative book debunks myths and helps parents and teachers alike understand how to help kids learn to love reading.
Sklep: Libristo.pl 133,20 zł
Książki / Literatura obcojęzyczna
The Classic Guide for Educators of Any Denomination What mission calls us to teach? How do societal issues-social oppression, poverty, politics-affect what we teach, how we teach it, and how people learn? Who are our students? What and when are they ready to learn? Once we understand these foundations, how can we facilitate an educational experience that has the power to shape and transform people and communities in life-giving ways of faith? In this classic text, Thomas Groome asks and answers these central questions, providing a comprehensive integration of the history, theory, and practice of modern religious education for a new generation of educators. His self-reflective approach-shared praxis-will inspire school teachers, students of religious education, pastors, parents, and religious educators in local churches who want to understand themselves, their mission, and their surroundings-to inform, form, and transform their students' lives."Anyone tugged by the calling at the heart of education or religious life can only cheer for the republication of this classic book." -Robert Kegan, Harvard Graduate School of Education"Whether returning Christian Religious Education or reading it for the first time, readers will discover freshness leaping from the page; you will soon know why this formative book of the past is a beacon for the future-informative, inspiring, and wise!"-Mary Elizabeth Moore, professor of theology and Christian education, Claremont School of Theology
Sklep: Libristo.pl 147,54 zł
Książki / Literatura obcojęzyczna
This commentary brings to life the world portrayed in the stories in Judges and Ruth. The intention is to prepare the reader to understand social norms and customs, such as hospitality codes, marriage customs, inheritance laws, or agricultural practices when they appear in the stories. Having established a cultural and literary context for Judges and Ruth, the commentary then treats each episode separately and as a whole. It is written to be accessible for a wide audience - including clergy, scholars, teachers, seminarians, and interested lay people. A Suggested Reading List - a feature of all volumes in the New Cambridge Bible Commentary - serves as a point of entry for the new serious students of Judges and Ruth, and the entire NRSV translation is provided throughout the text as a convenience to the reader.
Sklep: Libristo.pl 720,74 zł
Książki / Literatura obcojęzyczna
Somatic genome manipulation is required when a sexual crossing approach cannot be used in breeding or genetic treatment of an individual organism. Examples can include gene- or cell-therapy of a person to correct disease, genetic improvement of vegetatively propagated plants, and genetic replacement of cytoplasm without significantly modifying the nuclear genome. The advantage of somatic genome manipulation is maintenance of the general genotype while correcting one or more traits. Somatic genome manipulation is also an option for genetic improvement of sexually propagated plants in polyploidy breeding or in overcoming issues of sexual incompatibility. Recent novel technologies in somatic genome manipulation are developing quickly but much of this literature is fragmented and difficult or inconvenient to access. This book represents the first attempt to assemble updated reviews, detailed protocols, and their applications in all fields in which somatic genome manipulation has thrived. This is a truely one-of-a-kind work that brings together the most important and relevant advances in somatic genome manipulation in plants, algae, microorganisms, humans and animals, and demonstrates where the science interacts and where it diverges. The chapters are written by experts on the topic with ready-to-use protocols that were originally developed or adapted from the literature in their laboratories. We expect that this book will be useful for students, researchers, and teachers in both plant and animal research as a resource for the latest information on somatic genome manipulation and for its useful laboratory methods.
Sklep: Libristo.pl 49,95 zł
Książki / Literatura obcojęzyczna
Penrose is back, and ready to usher young readers along as he encounters more amazing mathematical ideas in a sequence of adventure tales. At once demystifying and challenging, the book gives readers visuals to consider and things to do as they -- along with Penrose -- discover mathematical "rep-tiles"; meet x, the mathematical actor; find out when one and one do not equal two; help Sorry Snowflake find its symmetry; cross pi's path; learn that mathematical donuts are not for dunking; and more. Plus, Penrose tantalizes, teases, and perplexes with his puzzles and games around every corner. Like Pappas's other acclaimed mathematics books for children, these amusing and informative stories are designed to stimulate the imagination and motivate young minds to think about, grasp, and even marvel over concepts they might otherwise shy away from. A good bet for Pappas fans, Penrose fans, math buffs, teachers, students, and parents.
Sklep: Libristo.pl
Sklepy zlokalizowane w miastach: Warszawa, Kraków, Łódź, Wrocław, Poznań, Gdańsk, Szczecin, Bydgoszcz, Lublin, Katowice
Szukaj w sklepach lub całym serwisie
2. Szukaj na wszystkich stronach serwisu
t1=0.053, t2=0, t3=0, t4=0, t=0.054