krainaksiazek when the music stops 20131100
- znaleziono 10 produkty w 2 sklepach 46,99 zł
Książki Obcojęzyczne>Nieprzypisane
0x00c567d600000000
Sklep: Gigant.pl 119,99 zł
Książki Obcojęzyczne>Angielskie>The arts>Music>Composers & musicians, specific bands & groupsKsiążki Obcojęzyczne>Angielskie>The art...
0x00948ec200000000
Sklep: Gigant.pl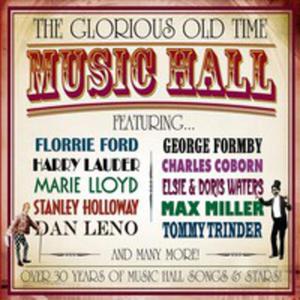 72,49 zł
Muzyka>Klasyczna>Easy
1. The Man Who Broke The Bank At Monte Carlo 2. I Belong To Glasgow 3. It's The First Time I've Ever Done That 4. Don't Have Any More, Missus Moore 5. Keep Right On To The End Of The Road 6. She Was Poor But She Was Honest 7. The Laughing Policeman 8. Down At The Old Bull And Bush 9. Any Old Iron? 10. When Father Papered The Parlour 11. Jolly Good Luck To The Girl Who Loves A Soldier 12. Lily Of Laguna 13. The Whistling Bowery Boy 14. The Grandfather's Clock 15. Joshua 16. A Little Of What You Fancy 17. Burlington Bertie From Bow 18. Hello Hello Who's Your Lady Friend 19. Silver Bell 20. On The Margate Boat 21. If It Wasn't For The 'Ouses In Between 22. Wait 'Til I'm His Father 23. Our Little Nipper 101. The Bee Song 102. The Lion And Albert 103. Joe Ramsbottom Buys A Piano 104. Mary From The Dairy 105. A Surrealist Alphabet 106. Walter, Walter (Lead Me To The Altar) 107. When I'm Cleaning Windows 108. Ain't It Grand To Be Bloomin' Well Dead! 109. Shirts 110. Cheeky Chappie 111. Leaning On A Lamp Post 112. Convict 99 113. Nobody Loves A Fairy When She's Forty 114. (We're Gonna Hang Out) The Washing On The Siegfried Line 115. I Don't Do Things Like That 116. Little Betty Bouncer 117. The Coronation Girls 118. Play The Game, You Cads 119. Underneath The Arches 120. With Her Head Tucked Underneath Her Arm 121. Everything Stops For Tea 122. Little Dolly Daydream 123. The Biggest Aspidistra In The World 201. We're In The Army Now 202. When You're In Love 203. The Home Guard (The Day War Broke Out) 204. Confidentially 205. Der Fuehrer's Face 206. Sid Plays Golf 207. Bless 'Em All 208. Me An' Old Charlie 209. Let Bygones Be Bygones 210. Fdr Jones 211. In The Deepest Shelter In Town 212. Blackout Bella 213. In A Shady Nook (By A Babbling Brook) 214. So Deep Is The Night 215. Who Is That Man...(who Looks Like Charlie Chaplin)? 216. Kiss Me Goodnight, Sergeant Major 217. Sam Goes To It 218. Tells A Couple 219. The Sound Of Silence 220. I Fell In Love With An Airman 221. Three Little Fishes
Sklep: Gigant.pl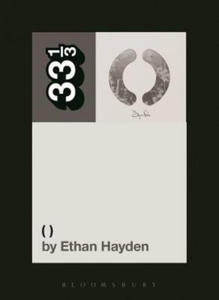 54,50 zł
Książki / Literatura obcojęzyczna
Words like "inspiring," "expansive," and "moving" are regularly used to describe Sigur Ros's ( ), and yet the only words heard on the record itself are a handful of meaningless nonsense syllables. The album has no title-or rather, its title is no title: just an empty pair of parentheses. The intention being that listeners will fill in the parentheses with their own title, their own interpretation of the sounds on the record. The CD sleeve consists of twelve pages that are essentially blank, lacking song titles, liner notes or production credits. Instead, it contains only semi-translucent frosted images of abstract natural scenes (tree branches, clouds, etc.), on which the listener is free to inscribe their own notes-or no notes at all. And then there are the lyrics, sung in a deliberately unintelligible tongue called "Hopelandic" which the band invites listeners to interpret freely. Ethan Hayden's book doesn't try to fill in the gaps between the album's parentheses, but instead explores the ways in which listeners might attempt to do so. Examining the communicative powers of asemantic language, the book asks whether music can bring sense to nonsense. What happens to the voice when it stops singing conventional language: does it simply become another musical instrument, or is it somehow more "human"? What role does space play on ( )? And how do we interpret music that we cannot possibly understand, but feel very deeply that we do?
Sklep: Libristo.pl 86,96 zł
Książki / Literatura obcojęzyczna
Fourteen-year-old Audrey Martin, with her Poindexter glasses and her head humming the 3/4 meter of gospel music, knows she ll never get out of Kentucky but when her fingers touch the piano keys, the whole church trembles. Her best friend, Caroline, daydreams about Hollywood stardom, but both girls feel destined to languish in a slow-moving stopover town in Montgomery County. That is, until chance intervenes and a booking agent offers Audrey a ticket to join the booming jazz scene in Harlem an offer she can t resist, not even for Caroline. And in New York City the music never stops. Audrey flirts with love and takes the stage at the Apollo, with its fast-dancing crowds and blinding lights. But fortunes can turn fast in the city young talent means tough competition, and for Audrey failure is always one step away. Meanwhile, Caroline sinks into the quiet anguish of a Black woman in a backwards country, where her ambitions and desires only slip further out of reach. Jacinda Townsend s remarkable first novel is a coming-of-age story made at once gripping and poignant by the wild energy of the Jazz Era and the stark realities of segregation. Marrying musical prose with lyric vernacular, Saint Monkey delivers a stirring portrait of American storytelling and marks the appearance of an auspicious new voice in literary fiction."
Sklep: Libristo.pl 170,61 zł
Książki / Literatura obcojęzyczna
In July 2007, the then chief executive of Citigroup, Charles Prince, captured the hubris of a market dangerously addicted to debt: 'when the music stops, in terms of liquidity, things will be complicated. But as long as music is playing, you have got to get up and dance. We're still dancing'. By the end of the year, Mr Prince was forced to resign along with some of the most influential bankers on Wall Street. Global investment houses in the United States and Europe were forced to turn to sovereign wealth funds for emergency funding.Their rescue comes at a significant material and reputational price. This book investigates the origins and implications of the securitization crisis, described by the chief executive of ANZ as a 'financial services bloodbath'. Based on extensive interviews, it offers an integrated series of case studies drawn from the United States, the United Kingdom and Australia. A central purpose is to not only chart what went wrong within the investment houses and why the regulatory systems failed, but also provide policy guidance. The book therefore combines the empirical with the normative. In so doing, it provides a route map to navigate one of the most significant financial and regulatory failures in modern times.
Sklep: Libristo.pl 36,44 zł
Książki / Literatura obcojęzyczna
Rose was left by her mother at the door of Campions Palace of Variety and Wonders as a baby. It is her home, and she loves it, but she never stops wondering who she really is. When murder threatens to destroy the music hall, Rose will need all her performance skills to crack the crime and delve into a murky past of blackmail, subterfuge and abduction...
Sklep: Libristo.pl 49,32 zł
Książki / Literatura obcojęzyczna
"A book like a fantastic party, as unshakeable as a child's faith...Astonishes to the very end."--Neue Zurcher Zeitung "A celebration of creation and all its wonders, full of the joy of life."--Der Spiegel "A work of unbridled imagination. Marjana Gaponenko is exuberantly talented, and here she pulls out all the stops."--Die Welt "A panorama of twentieth century Central European history."--Citation for the 2013 Adelbert von Chamisso Prize In this rollicking novel, 96-year-old ornithologist Luka Levadski foregoes treatment for lung cancer and moves from Ukraine to Vienna to make a grand exit in a luxury suite at the Hotel Imperial. He reflects on his past while indulging in Viennese cakes and savoring music in a gilded concert hall. Levadski was born in 1914, the same year that Martha -- the last of the now-extinct passenger pigeons -- died. Levadski himself has an acute sense of being the last of a species. He may have devoted much of his existence to studying birds, but now he befriends a hotel butler and another elderly guest, who also doesn't have much time left, to share in the lively escapades of his final days. This gloriously written tale, in which Levadski feels "his heart pounding at the portals of his brain," mixes piquant wit with lofty musings about life, friendship, aging and death. Marjana Gaponenko was born in 1981 in Odessa, Ukraine. She fell in love with the German language as a young girl, and began writing in German when she was sixteen. She now lives in Vienna and Mainz.
Sklep: Libristo.pl 22,99 zł
Muzyka>Pop
1. Curtains Up (Skit) 2. White America 3. Business 4. Cleanin Out My Closet 5. Square Dance 6. The Kiss (Skit) 7. Soldier 8. Say Goodbye Hollywood 9. Drips 10. Without Me 11. Paul Rosenberg (Skit) 12. Sing For The Moment 13. Superman 14. Hailie's Song 15. Steve Berman (Skit) 16. When The Music Stops 17. Say What You Say 18. 'Till I Collapse 19. My Dad's Gone Crazy 20. Curtains Close (Skit) 101. Bonus Dvd
Sklep: Gigant.pl 104,06 zł
Książki / Literatura obcojęzyczna
When Nobel laureate Wole Soyinka's The Open Sore of a Continent appeared in 1996, it received rave reviews in the national media. Now comes Soyinka's powerful sequel to that fearless and passionate book, The Burden of Memory. Where Open Sore offered a critique of African nationhood and a searing indictment of the Nigerian military and its repression of human and civil rights, The Burden of Memory considers all of Africa--indeed, all the world--as it poses the next logical question: Once repression stops, is reconciliation between oppressor and victim possible? In the face of centuries long devastations wrought on the African continent and her Diaspora by slavery, colonialism, Apartheid and the manifold faces of racism what form of recompense could possibly be adequate? In a voice as eloquent and humane as it is forceful, Soyinka examines this fundamental question as he illuminates the principle duty and "near intolerable burden" of memory to bear the record of injustice. In so doing, he challenges notions of simple forgiveness, of confession and absolution, as strategies for social healing. Ultimately, he turns to art--poetry, music, painting--as one source that may nourish the seed of reconciliation, art as the generous vessel that can hold together the burden of memory and the hope of forgiveness. Based on Soyinka's Stewart-McMillan lectures delivered at the Du Bois Institute at Harvard, The Burden of Memory speaks not only to those concerned specifically with African politics, but also to anyone seeking the path to social justice through some of history's most inhospitable terrain.
Sklep: Libristo.pl
Sklepy zlokalizowane w miastach: Warszawa, Kraków, Łódź, Wrocław, Poznań, Gdańsk, Szczecin, Bydgoszcz, Lublin, Katowice
Szukaj w sklepach lub całym serwisie
2. Szukaj na wszystkich stronach serwisu
t1=0.077, t2=0, t3=0, t4=0, t=0.077