krainaksiazek when time finally runs out second edition 20043386
- znaleziono 8 produktów w 3 sklepach 679,92 zł
Muzyka>Klasyczna
CD 1: SCHEHERAZADE Op.35 - SYMPHONIC SUITE AFTER A THOUSAND AND ONE NIGHTS 1 I. The Sea And Sinbad's Ship 9'26 2 II. The Story Of The Kalendar Prince 12'20 3 III. The Young Prince And The Young Princess 10'22 4 IV. Festival At Baghdad - The Sea - Shipwreck - Conclusion 11'27 5 Sadko - Musical Picture Op.5 11'26 6 Sadko - Song Of India 3'30 Total Time: 58'35 Armenian Philharmonic Orchestra - Loris Tjeknavorian CD 2: THE TSAR'S BRIDE - OVERTURE - FANTASIA ON SERBIAN THEMES SYMPHONIES NOS. 1 & 2 'ANTAR' 1 The Tsar's Bride - Overture 6'18 2 Fantasia On Serbian Themes Op.6 7'11 SYMPHONY NO.1 IN E MINOR Op.1 3 I. Largo Assai - Allegro 9'19 4 II. Andante Tranquillo 8'28 5 III. Scherzo: Vivace 5'02 6 IV. Allegro Assai 6'54 SYMPHONY NO.2 Op.9 'ANTAR' 7 I. Largo - Allegro Giocoso 11'59 8 II. Allegro - Molto Allegro - Allargando 5'11 9 III. Allegro Risoluto Alla Marcia 5'35 10 IV. Allegretto Vivace 8'51 Total Time: 75'15 Philharmonia Orchestra - Yondani Butt CD 3: 1 OVERTURE ON THREE RUSSIAN THEMES Op.28* 11'40 SYMPHONY NO.3 IN C Op.32 2 I. Moderato Assai - Allegro 12'06 3 II. Scherzo: Vivo 4'58 4 III. Andante 8'00 5 IV. Allegro Con Spirito 5'06 6 SKAZKA Op.29 (Fairytale) 15'54 Total Time: 58'06 London Symphony Orchestra *Philharmonia Orchestra - Yondani Butt CD 4: THE GOLDEN COCKEREL - SUITE (arr. Alexander Glazunov & Maximilian Steinberg) 1 I. King Dodon In His Palace 10'05 2 II. King Dodon On The Battlefield 3'52 3 III. King Dodon And The Queen Of Shemakha 7'02 4 IV. The Marriage Feast And Lamentable End Of King Dodon 5'17 TALE OF TSAR SALTAN - SUITE OP.57 5 I. The Tsar's Farewell And Departure 4'51 6 II. The Tsarina In A Barrel At Sea 5'27 7 III. The Three Wonders 8'00 8 Flight Of The Bumblebee (Tale Of Tsar Saltan) 1'13 Christmas Eve - Suite 9 I. Holy Night 5'40 10 II. Games And Dances Of The Stars - Mazurka - 5'49 The Sixth Comet - Csardas And Rain Of The Falling Stars 11 III. The Devil's Christmas 5'50 12 IV. Polonaise 6'07 13 V. Procession To Midnight Mass And Carols 6'05 Total Time: 76'00 Armenian Philharmonic Orchestra Loris Tjeknavorian CD 5: THE LEGEND OF THE INVISIBLE CITY OF KITEZH - SUITE 1 I. Prelude - Hymn To Nature 4'29 2 II. Bridal Procession 3'27 3 III. Tartar Invasion And The Battle Of Kerzenets 4'24 4 IV. Death Of Frevronya And Apotheosis 10'44 PAN VOYEVODA - SUITE Op.59 5 I. Introduction 3'30 6 II. Krakowiak 3'26 7 III. Nocturne 4'30 8 IV. Mazurka 4'53 9 V. Polonaise 6'23 PIANO CONCERTO IN C SHARP MINOR Op.30 10 I. Moderato - Allegretto Quasi Polacca - 6'17 11 II. Andante Mosso 4'11 12 III. Allegro 3'52 Total Time: 60'22 Leningrad Philharmonic Orchestra / Evgeny Mravinsky (1-4) Bolshoi Theatre Orchestra / Evgeny Svetlanov (5-9) Sviatoslav Richter Piano Moscow Youth Symphony Orchestra / Kirill Kondrashin (10-12) CD 6: PIANO TRIO IN C MINOR (completed In 1939 By Maximilian Steinberg) 1 I. Allegro 10'35 2 II. Allegro 4'25 3 III. Adagio 9'17 4 IV. Adagio - Allegro Assai 12'51 QUINTET IN B FLAT 5 I. Allegro Con Brio 7'29 6 II. Andante 8'13 7 III. Rondo: Allegretto 9'42 Total Time: 62,42 Oistrakh Trio (1-4) David Oistrakh Violin Sviatoslav Knushevitsky Cello Lev Oborin Piano Felicja Blumental Piano (5-7) Members Of The New Philharmonia Wind Ensemble, London Gareth Morris Flute John McCaw Clarinet Nicolas Busch Horn Gwydion Brook Bassoon CD 7: 4 SONGS Op.2 1 1. Lean Thy Cheek To Mine 1'04 Heine, Trans. M. Mikhaylov 2 2. Eastern Song: Enslaved By The Rose, The Nightingale A. Kol'tsov 3 3. Lullaby L. May 4 4. From My Tears Heine, Trans. Mikhaylov 4 SONGS Op.3 5 1. The Pine And The Palm Heine, Trans. Mikhaylov 6 2. Southern Night N. Shcherbina 7 3. The Golden Cloud Has Slept Lermontov 8 4. On The Hills Of Georgia Pushkin 4 SONGS Op.4 9 1. What Is My Name To Thee? Pushkin 10 2. The Messenger Heine, Trans. Mikhaylov 11 3. In The Dark The Nightingale Is Silent I. Nikitin 12 4. Quietly Evening Falls A. Fet 4 SONGS Op.7 13 1. My Voice For Thee Is Sweet And Languid Pushkin 14 2. Hebrew Song L. Mey 15 3. The Mermaid Of Lake Switez A. Mickiewicz, Trans. Mey 16 4. Thy Glance Is Radiant As The Heavens Lermontov 6 SONGS Op.8 17 1. Where Thou Art, My Thought Flies To Thee Unknown 18 2. Night A. Pleshcheyev 19 3. The Secret After Chamisso 20 4. Arise, Come Down Mey 21 5. In The Kingdom Of Roses And Wine 22 6. I Believe, I Am Loved Pushkin 2 SONGS Op.25 Heine, Trans. Mikhaylov 23 1. To My Song 24 2. When I Gaze Into Thy Eyes 4 SONGS Op.26 25 1. In Moment To Delight Devoted Byron, Trans. I. Kozlov 26 2. Evocation Pushkin 27 3. For The Shores Of Thy Native Land Pushkin 28 4. Zuleika's Song Byron, Trans. I. Kozlov Total Time: 63'43 Natalia Gerasimova Soprano Vladimir Skanavi Piano (2, 3, 12, 15, 19) Marina Choutova Mezzo-soprano Elena Tcheglakova Piano (5-6, 13-14, 17-18, 28) Alexei Martinov Tenor Aristote Konstantinidi Piano (4, 8, 9, 11, 21, 24-25) Mikhail Lanskoi Baritone Ilya Scheps Piano (1, 16, 20, 22, 26-27) Sergei Baikov Bass Ilya Scheps Piano (7, 10, 23) CD 8: 4 SONGS Op.27 1 1. Softly The Spirit Flew Up To Heaven A.K. Tolstoy 2 2. Echo F. Coppee, Trans. S. Andreyevsky 3 3. Thou And You Pushkin 4 4. Forgive! Remember Not These Tearful Days N. Nekrasov 4 SONGS Op.39 A.K. Tolstoy 5 1. Oh, If Thou Couldst For One Moment 6 2. The West Dies Out In The Pallid Rose 7 3. Silence Descends On The Golden Cornfields 8 4. Sleep, My Poor Friend 4 SONGS Op.40 9 1. When The Golden Cornfield Waves Lermontov 10 2. Across The Midnight Sky Lermontov 3'08 11 3. Of What I Dream In The Quiet Night A. Maykov 12 4. I Waited For Thee In The Grotto At The Appointed Hour A. Maykov 4 SONGS Op.41 13 1. Sun Of The Sleepless A.K. Tolstoy After Byron 14 2. I Am Unhappy Lermontov 15 3. I Love Thee, Moon (Melody From The Banks Of The Ganges) Maykov 16 4. Look In Thy Garden Maykov 4 SONGS Op.42 17 1. A Whisper, A Gentle Breath Fet 18 2. I Have Come To Greet Thee Fet 19 3. The Clouds Begin To Scatter (Elegy) Pushkin 20 4. My Spoiled Darling Mickiewicz, Trans. Mey 4 SONGS Op.43 'Vesnoy' (In Spring) 21 1. The Lark Sings Louder A.K. Tolstoy 22 2. Not The Wind, Blowing From The Heights A.K. Tolstoy 23 3. Cool And Fragrant Is Thy Garland Fet 24 4. Early Spring A.K. Tolstoy Total Time: 52'14 Natalia Gerasimova Soprano Vladimir Skanavi Piano (1, 4, 11, 19, 21-22) Alexei Martinov Tenor Aristote Konstantinidi Piano (3, 13, 15-18, 20, 23-24) Mikhail Lanskoi Baritone Ilya Scheps Piano Sergei Baikov Bass Ilya Scheps Piano CD 9: FIVE SONGS Op.45 'Poetu' (To The Poet) 1 1. The Echo Pushkin 2 2. Art Maykov 3 3. The Octave Maykov 4 4. Doubt Maykov 5 5. The Poet Pushkin 5 SONGS Op.46 'U Morya' (By The Sea) A.K. Tolstoy 6 1. The Wave Breaks Into A Spray 7 2. Not A Sound From The Sea 8 3. The Sea Is Tossing 9 4. Do Not Believe Me, Friend 10 5. The Waves Rise Up Like Mountains 4 SONGS Op.50 Maykov, After Modern Greek Poems 11 1. The Maiden And The Sun 12 2. The Singer 13 3. Quiet Is The Deep Blue Sea 14 4. I Am Still Filled, Dear Friend 5 SONGS Op.51 Pushkin 15 1. Slowly Drag My Days 16 2 Do Not Sing To Me, O Lovely One 17 3. Withered Flower 18 4. The Beauty 19 5. The Rainy Day Has Waned 4 SONGS Op.55 20 1. Awakening Pushkin 21 2. To A Grecian Girl Pushkin 22 3. The Dream Pushkin 23 4. I Died From Happiness L. Uhland, Trans. V. Zhukovsky 2 SONGS Op.56 Maykov 24 1. The Nymph 25 2. Summer Night's Dream Total Time: 55'07 Natalia Gerasimova Soprano Vladimir Skanavi Piano (3, 4, 11, 15, 17, 24-25) Alexei Martinov Tenor Aristote Konstantinidi Piano (1, 2, 5, 9, 12-14, 16, 18, 20-23) Mikhail Lanskoi Baritone Ilya Scheps Piano - Sergei Baikov Bass Ilya Scheps Piano CD 10: CHORAL WORKS 1 Poem About Aleksey, The Man Of God Op.20 For Chorus And Orchestra 2 Song Of Oleg The Wise Op.58 For Two Male Soloists, Male Chorus And Orchestra (Pushkin) 3 From Homer Op.60 Prelude-cantata For Three Voices, Female Chorus And Orchestra 4 Switezianka Op.44 (The Mermaid Of Lake Switez) Cantata For Two Solo Voices, Chorus And Orchestra (L.A. Mey After Mickiewicz) Total Time: 51'03 Dmitri Kortchak Tenor Nikolai Didenko Bass Svetlana Sizova Mezzo-soprano Tatiana Fedotova Soprano - Elena Mitrakova Soprano Dmitri Kortchak Tenor (4) Chorus Of The Moscow Academy Of Choral Art - Victor Popov - Moscow Symphony Orchestra - Vladimir Ziva CD 11: MAY NIGHT - OPERA IN THREE ACTS Libretto By Rimsky-Korsakov After Nikolai Gogol 1 Overture (Orchestra) Act One: 2 No.1: Round Of The Millet (Chorus) 3 No.2: Serenade (Levko) 4 No.3: Duet (Levko/Hanna) 5 No.4: Tale (Levko) 6 No.5: Recitative And Spring-Song (Hanna/Chorus Of Girls) 7 No.6: Hopak Scene (Kalenik/Chorus Of Girls) 8 No.7: Trio (Mayor/Levko/Hanna) 9 No.8: Recitative And Song About The Mayor (Levko/Chorus Of Youths) Act Two - Scene 1 10 No.9: Trio (Mayor/Distiller/Sister-in-Law) 11 No.10: Scene With Kalenik And The Distiller's Tale (Kalenik/Mayor/Distiller/Sister-in-Law 12 No.11: Song About The Mayor, Scene And Trio Beginning Total Time: 65'08 Levko: VITALY TARASCHENKO Hanna: NATALIA ERASOVA Pannochka: MARINA LAPINA The Mayor: VYACHESLAV POCHAPSKY The Distiller: ALEXANDER ARKHIPOV The Clerk: PIOTR GLUBOKY The Mayor's Sister-in-Law: ELENA OKOLYCHEVA Kalenik, The Village Drunkard: NIKOLAI RESHETNIAK Sveshnikov Academic Choir Chorus Master Evgeny Tytianko BOLSHOI THEATRE ORCHESTRA / ANDREY CHISTIAKOV CD 12: MAY NIGHT (conclusion) - Opera In Three Acts Libretto By Rimsky-Korsakov After Nikolai Gogol 1 No.11: Song About The Mayor, Scene And Trio Conclusion 7'03 (Sister-in-law/Mayor/Distiller/Levko/Chorus/Clerk) Scene 2 2 No.12: Finale 6'20 (Mayor/Clerk/Distiller/Sister-in-Law, Chorus/Kalenik) Act Three 3 No.13: Scene Of The Rusalki 33'15 (Chorus/Queen Of The Water Nymphs/Levko) 4 No.14: Scene And Ritual Songs 6'16 (Mayor/Levko/Clerk/Distiller/Chorus/Hanna) 5 No.15: Finale 5'30 (Hanna/Levko/Chorus Of Youths/Mayor/Clerk/Distiller/Chorus/Kalenik/Sister-in-Law) Total Time: 58'30 Levko: VITALY TARASCHENKO Hanna: NATALIA ERASOVA Pannochka: MARINA LAPINA The Mayor: VYACHESLAV POCHAPSKY The Distiller: ALEXANDER ARKHIPOV The Clerk: PIOTR GLUBOKY The Mayor's Sister-in-Law: ELENA OKOLYCHEVA Kalenik, The Village Drunkard: NIKOLAI RESHETNIAK Sveshnikov Academic Choir Chorus Master Evgeny Tytianko BOLSHOI THEATRE ORCHESTRA / ANDREY CHISTIAKOV CD 13: THE SNOW MAIDEN - OPERA IN A PROLOGUE AND FOUR ACTS Libretto By Rimsky-Korsakov After Alexander Ostrowskij Prologue 1 Scene 1. Winter Is Over! The Cocks Have Crowed (Forest Spirit) 2 Recitative: At The Appointed Hour (Spring Fairy) 3 Aria: Where Are Those Lovely Lands Of Sunshine? (Spring Fairy) 4 Recitative: Dear Birds Of Mine (Spring Fairy) 5 Song And Dance Of The Birds (Chorus Of Birds/Spring Fairy) 6 Ah, It Is Snowing! (Chorus Of Birds/Spring Fairy) 7 Scene 2. When The Cold Cracks The Roofs And Walls (King Frost) 8 Recitative: Your Holiday Has Lasted Long Enough (Spring Fairy/King Frost) 9 Scene 3. Hello... Poor Little Child (Snow Maiden/Spring Fairy/King Frost) 10 Aria: To Go Berry-picking In The Woods (Snow Maiden) Recitative: This Handsome Lel (King Frost/Snow Maiden/Spring Fairy) 11 Arietta: I Heard All Of The Loveliest Songs (Snow Maiden) 12 Trio: Do You Hear? (Snow Maiden/ Spring Fairy/King Frost) Appearance Of The Forest Spirit (Forest Spirit/Chorus) 13 Scene 4. Carnival Procession (Chorus) 14 This Summer Soon Will Pass (Carnival Puppet/Chorus) 15 Wait! Is It Already Over? (Cottager & Wife/ Puppet/Snow Maiden/Chorus Of Berendeyans) Act One 16 Introduction (Orchestra) 17 Scene 1. For Your Kind Welcome, Lel Can Offer Nothing (Lel/Cottager/Snow Maiden) 18 Lel's First Song (Lel) 19 Lel's Second Song (Lel) 20 Lel, Handsome Lel (Chorus Of Girls/Snow Maiden) Total Time: 63'55 Snow Maiden: ELENA ZEMENKOVA King Frost: NICOLA GHIUSELEV Spring Fairy: ALEXANDRINA MILCHEVA Tsar Berendei: AVRAM ANDREEV Lel, A Shepherd: STEFKA MINEVA Kupava, A Young Girl: STEFKA EVSTATIEVA Cottager: LYUBOMIR DYAKOVSKI His Wife: VESSELA ZOROVA Misgir, A Merchant: LYUBOMIR VIDENO Forest Spirit: LYUBOMIR DYAKOVSKI - BULGARIAN RADIO SYMPHONY ORCHESTRa & CHORUS / STOYAN ANGELOV CD 14: THE SNOW MAIDEN - (PART 2) OPERA IN A PROLOGUE AND FOUR ACTS Libretto By Rimsky-Korsakov After Alexander Ostrowskij 1 Scene 2. Arietta: Ah, How I Suffer (Snow Maiden) 2 Scene 3. The Snow Maiden Is All Alone (Kupava/Snow Maiden) 3 Scene 4. Wedding Ritual: Young Maidens, Dear Friends (Kupava/ Misgir/Chorus Of Girls) 4 Scene 5. Without Lel, The Snow Maiden Will Be Sad (Kupava/Misgir/ Snow Maiden/Cottager & Wife/Lel) 5 Scene 6. Friends, Aid Me In My Distress (Kupava/Lel/Misgir/Chorus) Act Two 6 Introduction (Orchestra) 7 Scene 1. The Vibrant Tone Of The Gusli (Chorus Of Blind Psalteries) 8 Scene 2. O Beloved Tsar... (Bermyata/Tsar/Page) 9 Scene 3. Duet: O Tsar, My Father! (Kupava/Tsar) 10 Scene 4. Hark My Words, Valiant And Noble Gentlemen (First & Second Criers) 11 Ceremonial Procession Of Tsar Berendey (Orchestra) 12 Hymn (Berendeyans/Kupava/Lel/First & Second Criers/Chorus) 13 Scene 5. I Thank You! (Kupava/Tsar/Misigir/Bermyata/Chorus) 14 Scene 6. Cavatina: Nature Is Almighty (Tsar) 15 My Child... O Great Tsar 7'49 (Tsar/Snow Maiden/Bermyata/Lel/Chorus) 16 Final Chorus: Almighty, All-wise Tsar (Chorus) Total Time: 66'36 Snow Maiden: ELENA ZEMENKOVA King Frost: NICOLA GHIUSELEV Spring Fairy: ALEXANDRINA MILCHEVA Tsar Berendei: AVRAM ANDREEV Lel, A Shepherd: STEFKA MINEVA Kupava, A Young Girl: STEFKA EVSTATIEVA Cottager: LYUBOMIR DYAKOVSKI His Wife: VESSELA ZOROVA Misgir, A Merchant: LYUBOMIR VIDENO Forest Spirit: LYUBOMIR DYAKOVSKI - BULGARIAN RADIO SYMPHONY ORCHESTRA & CHORUS / STOYAN ANGELOV CD 15: THE SNOW MAIDEN - (PART 3) OPERA IN A PROLOGUE AND FOUR ACTS Libretto By Rimsky-Korsakov After Alexander Ostrowskij Act Three: 1 Scene 1. Dance And Song Of The Beaver: Ah, A Linden-tree Grows In The Field (Chorus/Snow Maiden/Lel/Cottager) What Merry Festivities! (Tsar) 2 Cavatina: The Happy Day Fades (Tsar) 3 Recitative: Another Amusement (Tsar) 4 Dance Of The Tumblers (Orchestra) 5 Lel's Third Song (Lel) 6 Recitative: Thank You, Handsome Lel... O Father, Tsar (Tsar/Snow Maiden/Chorus) 7 Scene 2. How Is It, Lel, That Your Heart Is So Cold? (Snow Maiden/Misgir) 8 Andantino: On A Warm Blue Sea (Misgir/Snow Maiden) Wait, Do Not Hurry! (Forest Spirit) 9 Transformation Of The Forest Spirit: All Night He Shall Pursue Her Shadow (Forest Spirit/Misgir) 10 Scene 3. At Last, I Find You (Lel/Kupava/Snow Maiden) Act Four 11 Introduction (Orchestra) 12 Scene 1. O Mother, My Eyes Are Full Of Tears (Snow Maiden/Spring Fairy) 13 Flowers Of The Springtide Dawn(Spring Fairy/Chorus Of Flowers) 14 Oh Mother, What A Miracle (Snow Maiden/Spring Fairy) 15 Scene 2. Duet: Wait, Wait For Me, Snow Maiden (Misgir/Snow Maiden) 16 Scene 3. Finale (Snow Maiden/Misgir/Tsar/Chorus) 17 Hymn Of Praise To The Sun-god Yarilo: Life-giving Yarilo (Chorus) Total Time: 78'46 Snow Maiden: ELENA ZEMENKOVA King Frost: NICOLA GHIUSELEV Spring Fairy: ALEXANDRINA MILCHEVA Tsar Berendei: AVRAM ANDREEV Lel, A Shepherd: STEFKA MINEVA Kupava, A Young Girl: STEFKA EVSTATIEVA Cottager: LYUBOMIR DYAKOVSKI His Wife: VESSELA ZOROVA Misgir, A Merchant: LYUBOMIR VIDENO Forest Spirit: LYUBOMIR DYAKOVSKI - BULGARIAN RADIO SYMPHONY ORCHESTRA & CHORUS / STOYAN ANGELOV CD 16: MOZART AND SALIERI Op.48 Opera In One Act Libretto By Alexander Pushkin 1 Introduction 2 Scene 1 3 Scene 2 Total Time: 40'49 Mozart: ALEXEI MASLENNIKOV Salieri: EVGENY NESTERENKO BOLSHOI THEATRE SYMPHONY ORCHESTRA - GENNADY ROZHDESTVENSKY CD 17: THE NOBLEWOMAN VERA SHELOGA Op.54 - Opera In One Act Libretto By Rimsky-Korsakov After Lev Alexandrovich Mey 1 Overture (Orchestra) Scene 1 2 Look Boyarishnya, Dear, What A Fine String Of Beads! (Vlas'yevna) 3 Lullaby: Lulla, Lullaby, Lulla, Lulla... (Vera) Scene 2 4 Did Olenka Fall Asleep To Your Song (Nadezhda) 5 Who Is It, Then?... Do Not Ask, Nadezhda! (Nadezhda/Vera) 6 I Thought I Heard A Cuckoo... (Vera) Scene 3 7 Stop!... Were You Not Expecting Other Guests? (Vera/Boyar Sheloga) Total Time: 49'13 Vera: STEVKA EVSTATIEVA Nadezhda: ALEXANDRINA MILCHEVA Vlas'yevna: STEFKA MINEVA Boyar Sheloga: PETER BAKARDZHIEV Prince Tokmakov: DIMITER STANCHEV BULGARIAN RADIO SYMPHONY ORCHESTRA- STOYAN ANGELOV CD 18: THE TSAR'S BRIDE - OPERA IN FOUR ACTS Libretto: Il'ya Tyumenev After Lev Mey 1 Overture (Orchestra) Act One 2 Scene 1. Could I Somehow Forget (Gryaznoy) 3 Scene 2. Here Are My Guests! 4 Scene 3. Dear Host! May We Hear (Gryaznoy/Malyuta-Skuratov/Likov/Bomelius) 5 Song Of The Hops (Malyuta-Skuratov/Gryzanoy/Bomelius) 6 Scene 4. Hello, My Beautiful Child! (Gryaznoy/Malyuta-Skuratov/Lyubasha) 7 Scene 5. Bomelius... (Gryaznoy/Bomelius/Lyubasha) 8 Scene 6. What Do You Want? (Lyubasha/Gryaznoy) Act Two 9 Scene 1. There, The End Of The Vespers Has Arrived (Chorus) 10 Scene 2. How Calming This Autumn Evening Is (Marfa/Dunyasha/Petrovna) 11 Scene 3. Ah, What Is Wrong With Me, Why Am I Trembling So? (Marfa/Dunyasha/Likov/Sobakin) Total Time: 75'33 Marfa: EKATERINA KUDRIAVCHENKO Ivan Likov: ARKADY MISHENKIN Grigory Gryaznoy: VLADISLAV VERESTNIKOV Lyubasha: NINA TERENTIEVA Bomelius: VLADIMIR KUDRIASHOV Vasily Sobakin: PYOTR GLUBOKY Dunyasha: ELENA OKOLYSHEVA Saburova: IRINA UDALOVA Grigory Malyuta-Skuratov: NIKOLAI NIZIENKO Servant: NINA LARIONOVA Petrovna: TATIANA PECHURIA Coachman: VLADISLAV PASHINSKY Young Lad: YURI MARKELOV Sveshnikov Academic Choir - BOLSHOI THEATRE ORCHESTRA / ANDREY CHISTIAKOV CD 19: THE TSAR'S BRIDE - (PART 2) OPERA IN FOUR ACTS Libretto: Il'ya Tyumenev After Lev Mey 1 Symphonic Intermezzo (Orchestra) 2 Scene 4. Finally, I Have Managed To Find His Turtledove! (Lyubasha/Bomelius) 3 Scene 5. Ah, My God Forgive Me, Grigory! (Lyubasha/Likov/Sobakin/Bomelius) Act Three 4 Prelude (Orchestra) 5 Scene 1. I Must Thank God, Ivan Sergeyevich! (Likov/Gryaznoy/Sobakin) 6 Scene 2. Tell Me, Please, What Would You Do (Likov/Gryaznoy) 7 Scene 3. My Good Friends, Taste This Wine! (Likov/Gryaznoy/Sobakin/Saburova) 8 Dunishia Pleases The Prince? Not Possible! (Lyubasha/Bomelius) 9 Scenes 4 & 5. This Glass Is For You (Marfa/Dunyasha/Likov/Gryaznoy/Sobakin) Act Four 10 Prelude & Scene 1. A Long Sleep Will Restore The Strength (Sobakin/Saburova/Servant/Coachman) 11 Scene 2. Receive My Prayers, Powerful Boyar (Sobakin/Gryaznoy/Marfa/Saburova/Dunyasha) 12 Ah! (Marfa/Gryaznoy/Dunyasha/ Saburova/Sobakin) 13 Come To The Garden, Ivan Sergeyevich (Marfa) 14 Scene 3. No, No, This Is Enough (Gryaznoy/Lyubasha/Marfa/Malyuta-Skuratov/Saburova) Total Time: 70'41 Marfa: EKATERINA KUDRIAVCHENKO Ivan Likov: ARKADY MISHENKIN Grigory Gryaznoy: VLADISLAV VERESTNIKOV Lyubasha: NINA TERENTIEVA Bomelius: VLADIMIR KUDRIASHOV Vasily Sobakin: PYOTR GLUBOKY Dunyasha: ELENA OKOLYSHEVA Saburova: IRINA UDALOVA Grigory Malyuta-Skuratov: NIKOLAI NIZIENKO Servant: NINA LARIONOVA Petrovna: TATIANA PECHURIA Coachman: VLADISLAV PASHINSKY Young Lad: YURI MARKELOV Sveshnikov Academic Choir - BOLSHOI THEATRE ORCHESTRA / ANDREY CHISTIAKOV CD 20: THE LEGEND OF THE INVISIBLE CITY OF KITEZH AND THE MAIDEN FEVRONIYA Opera In Four Acts Libretto: Vladimir Belsky Act One: 1 Introduction: In Praise Of The Wilderness 2 Ah, You Forest, My Forest, Beautiful Wilderness (Fevroniya) 3 Oh Lord, What Is The Meaning Of This? (Prince Vsevolod/Fevroniya) 4 Whose Child Are You? Where Have You Come From? (Prince Vsevolod/Fevroniya) 5 Tell Me, Fair Maiden, Do You Go To Pray In God's Church? (Prince Vsevolod/Fevroniya) 6 Well Spoken, Fair Maiden! (Prince Vsevolod/Fevroniya) 7 Hail To Thee, Lips Of Honey (Prince Vsevolod/Fevroniya) 8 As Soon As The Marksmen Came Out Into The Open Field (Chorus/Prince Vsevolod/Fevroniya/Poyarok) Act Two: 9 Show Them, Mikhaylushka, Show Them Playful Bear (Bear Leader/Chorus/ Gusli Player/Well-off People) 10 So What Is That To Us? (Kuterma/ Well-off People/Chorus) 11 Hey Lads! I Can Hear Some Bells (Chorus/Poyarok/Well-off People) 12 Get Away, Clear Off, You Dog! (Chorus/Fevroniya/Poyarok/Kuterma) 13 Over The Bridges Of Guelder-tree (Chorus) 14 Gayda! Gay! Gayda! (Tatars/Bedyay/ Burunday/Chorus/Kuterma/Fevroniya) 15 Gayda! Gay! Stop, You Godless Heathens (Chorus/Kuterma) Total Time: 65'48 Prince Yury Vsevolodovich: IVAN PETROV Prince Vsevolod: VLADIMIR IVANOVSKY Fevroniya: NATALIA ROZHDESTVENSKAYA Grishka Kuterma: DIMITRI TARKHOV Fyodor Poyarok: ILJA BOGDANOV Page: LIDIA MELNIKOVA Two Well-off People: VENIARNIN SHEVTSOV, SERGEI KOLTYPIN Gusli Player: BORIS DOBRIN Bear Leader: TIHON CHERNYAKOV Singing Beggar: MIKHAIL SKAZIN Bedyay: LEONID KTITOROV Burunday: GENNADY TROITSKY Sirin: MARIA ZVEZDINA Alkonost: NINA KULAGINA, MOSCOW RADIO CHORUS & SYMPHONY ORCHESTRA / VASSILI NEBOLSIN CD 21: THE LEGEND OF THE INVISIBLE CITY OF KITEZH AND THE MAIDEN FEVRONIYA (PART 2) Opera In Four Acts Libretto: Vladimir Belsky Act Three: 1 Scene 1. Good Fortune To You, Citizens Of Kitezh (Poyarok/Chorus/Prince Vsevolod) 2 Oh Glory, Vain Wealth! (Prince Yury) 3 Wondrous Queen Of Heaven, Our Holy Protectress! (Poyarok/Prince Yury/ Chorus/Page) 4 Kitezh Looted And Us Taken Alive As A Tribute (Prince Yury/Chorus/Prince Vsevolod) 5 What Are We Standing About For, Sisters? (Chorus/Page/Prince Yury/ Poyarok) 6 Entr'acte To The Second Scene: The Battle Near Kerzhenets 7 Scene 2. Here Is The Oak Grove, And Here Is The Lake (Kuterma/Burunday/Bedyay/Chorus) 8 Oh, You Tartar Murzas! I Don't Need The Gold Or Silver (Burunday/Bedyay/Chorus) 9 Ah, My Dear Husband, My Hope! (Fevroniya) 10 Hear Me, Maiden... Lovely Princess! (Kuterma/Fevroniya) 11 Go, Servant Of The Lord! (Fevroniya/Kuterma/Chorus) Total Time: 62'36 Prince Yury Vsevolodovich: IVAN PETROV Prince Vsevolod: VLADIMIR IVANOVSKY Fevroniya: NATALIA ROZHDESTVENSKAYA Grishka Kuterma: DIMITRI TARKHOV Fyodor Poyarok: ILJA BOGDANOV Page: LIDIA MELNIKOVA Two Well-off People: VENIARNIN SHEVTSOV, SERGEI KOLTYPIN Gusli Player: BORIS DOBRIN Bear Leader: TIHON CHERNYAKOV Singing Beggar: MIKHAIL SKAZIN Bedyay: LEONID KTITOROV Burunday: GENNADY TROITSKY Sirin: MARIA ZVEZDINA Alkonost: NINA KULAGINA, MOSCOW RADIO CHORUS & SYMPHONY ORCHESTRA / VASSILI NEBOLSIN CD 22: THE LEGEND OF THE INVISIBLE CITY OF KITEZH AND THE MAIDEN FEVRONIYA (PART 3) Act Four: 1 Scene 1. Oh, I Can't Go On, Grishenka (Fevroniya/Kuterma) 2 Earth, Our Merciful Mother! (Fevroniya/Kuterma) 3 Grishenka!... He Will Not Listen (Fevroniya) 4 The Free Birds Are Toning Up Their Voices (Fevroniya/Voice Of Alkonost) 5 Is That You, Radiant Light Of My Eyes? (Fevroniya/Ghost) 6 The Bridegroom Has Come (Voice Of Sirin/Fevroniya/Ghost) 7 Entr'acte To The Second Scene 8 Scene 2. The Doors Of Paradise Have Opened For You (Alkonost/Sirin/Chorus) 9 Radiant Kingdom! O God! (Fevroniya/Chorus/Prince Vsevolod) 10 May The Grace Of God Be With You! (Prince Yury/Fevroniya/Prince Vsevolod/ Sirin/Alkonost) 11 Stay With Us Here For Ever More (Chorus/Fevroniya/Sirin/Alkonost/Prince Vsevolod/Prince Yury) 12 Grishenka, Even Though You Are Feeble In Mind (Fevroniya/Poyarok/Prince Yury/Chorus) Prince Yury Vsevolodovich: IVAN PETROV Prince Vsevolod: VLADIMIR IVANOVSKY Fevroniya: NATALIA ROZHDESTVENSKAYA Grishka Kuterma: DIMITRI TARKHOV Fyodor Poyarok: ILJA BOGDANOV Page: LIDIA MELNIKOVA Two Well-off People: VENIARNIN SHEVTSOV, SERGEI KOLTYPIN Gusli Player: BORIS DOBRIN Bear Leader: TIHON CHERNYAKOV Singing Beggar: MIKHAIL SKAZIN Bedyay: LEONID KTITOROV Burunday: GENNADY TROITSKY Sirin: MARIA ZVEZDINA Alkonost: NINA KULAGINA, MOSCOW RADIO CHORUS & SYMPHONY ORCHESTRA / VASSILI NEBOLSIN ROMANCES 13 The Rainy Day Has Waned Op.51 No.5 Pushkin 14 The Clouds Begin To Scatter Op.42 No.3 Pushkin 15 Oh, If Thou Couldst For One Moment Op.39 No.1 Tolstoy 16 Not The Wind, Blowing From The Heights Op.43 No.2 Tolstoy 17 The Octave Op.45 No.3 Maykov 18 The Messenger Op.4 No.2 Heine 19 The Upas Tree Op.49 No.1 Pushkin Total Time: 78'41 Ivan Petrov Bass - S. Stuchevsky Piano CD 23: THE GOLDEN COCKEREL - OPERA IN A PROLOGUE, THREE ACTS AND AN EPILOGUE Libretto By Vladimir Belsky After Alexander Pushkin Prologue: 1 Introduction: I Am The Master Magician (Astrologer) Act One: 2 The King's Monologue: I Have Summoned You Here (King Dodon) 3 Guidon's Plan: Great Father (Guidon/King Dodon/Chorus Of Boyars) 4 Afron's Plan (King Dodon/Boyars/Afron/Polkan/Guidon) 5 Hail, Majesty! Sire! (Astrologer) Oh, That's A Fairy Tale! (King Dodon/The Golden Cockerel) 6 Cock-a-doodle-do! The Coast Is Clear - The Parrot Scene (The Golden Cockerel/King Dodon/Amelfa) 7 Dodon's Siesta - Cock-a-doodle-do! Beware! (Chorus Of The People/Amelfa/The Golden Cockerel) Our King! Father Of The People! (Polkan/King Dodon/Afron/Chorus Of Boyars/Guidon) 8 King Dodon's Dream (The Golden Cockerel/King Dodon/Amelfa/Chorus) 9 The Cockerel's Sccene: Cock-a-doodle-do!... Oh! What Misfortune! (The Golden Cockerel/Chorus Of The People/Polkan/King Dodon) Total Time: 46'17 King Dodon: NIKOLAI STOILOV Prince Guidon: LYUBOMIR BODOUROV Afron: EMIL UGRINOV Polkan: KOSTA VIDEV Astrologer: LYUBOMIR DYAKOVSKI Queen Of Shemakha: ELENA STOYANOVA The Golden Cockerel: YAVORA STOILOVA Amelfa: EVGENIA BABACHEVA / SOFIA NATIONAL OPERA ORCHESTRA / DIMITER MANOLOV CD 24: THE GOLDEN COCKEREL - (PART 2) OPERA IN A PROLOGUE, THREE ACTS AND AN EPILOGUE Libretto By Vladimir Belsky After Alexander Pushkin Act Two: 1 Soldiers' Chorus: The Silent Night Is Whispering Fearful Things (Chorus Of Soldiers) What Terrible Sight Is This? - Behold, A Tent! (King Dodon/Polkan/Chorus Of Soldiers) 2 The Queen Of Shemakha's Entrance: Hail, O Ray Of Morning Sun (Queen Of Shemakha/King Dodon/Polkan) 3 Whose Heart Rich In Love (Queen Of Shemakha/King Dodon) 4 Dance Of The Queen Of Shemakha: At First I Shall Dance With A Lowered Veil (Queen Of Shemakha/King Dodon) 5 Sisters, Who Limps Beside The Resplendent Beauty? (Chorus Of Slaves) Ho! Polkan! Sound The Trumpets In Victory (King Dodon/Chorus Of Soldiers) 6 It Is Terrible, Brothers (Chorus Of The People/Amelfa) 7 Who Is That Stranger Standing There? (Queen Of Shemakha/King Dodon) Great King, It Is I (Astrologer) 8 King Dodon's Death: Ha, Ha, Ha! (Queen Of Shemakha) I've Beaten Him To Death (King Dodon/The Golden Cockerel/Chorus Of The People) Epilogue: 9 There, My Story's Ended! (Astrologer) Total Time: 72'24 King Dodon: NIKOLAI STOILOV Prince Guidon: LYUBOMIR BODOUROV Afron: EMIL UGRINOV Polkan: KOSTA VIDEV Astrologer: LYUBOMIR DYAKOVSKI Queen Of Shemakha: ELENA STOYANOVA The Golden Cockerel: YAVORA STOILOVA Amelfa: EVGENIA BABACHEVA / SOFIA NATIONAL OPERA ORCHESTRA / DIMITER MANOLOV CD 25: Historical Recordings SYMPHONY NO.3 IN C Op.32 1 I. Moderato Assai - Allegro 12'51 2 II. Scherzo: Vivo 6'01 3 III. Andante 8'22 4 IV. Allegro Con Spirito 6'18 SCHEHERAZADE Op.35 'Symphonic Suite After A Thousand And One Nights' 5 I. The Sea And Sinbad's Ship 10'09 6 II. The Story Of The Kalendar Prince 11'43 7 III. The Young Prince And The Young Princess 10'53 8 IV. Festival At Baghdad - The Sea - Shipwreck - Conclusion 11'16 Total Time: 77'38 USSR State TV And Radio Symphony Orchestra - Gennady Rozhdestvensky (1-4) David Oistrakh Violin - Bolshoi Theatre Symphony Orchestra - Nikolai Golovanov (5-8
Sklep: Gigant.pl 36,60 zł
Powieści i opowiadania
'When people ask me what I do for a crust and I tell them that I'm a novelist, they immediately assume that my life is a non-stop carousel of limos, television appearances, hair-dos, devoted fans, stalkers and all the glitzy paraphernalia of being a public figure. It's time to set the record straight. I write alone, in a darkened bedroom, wearing my PJs, eating bananas, my laptop on a pillow in front of me ...' Her novels are adored by millions around the world
Sklep: Albertus.pl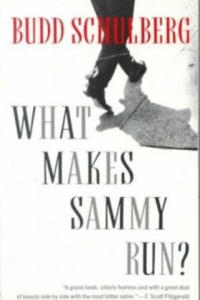 73,62 zł
Książki / Literatura obcojęzyczna
What Makes Sammy Run?§§Everyone of us knows someone who runs. He is one of the symp-toms of our times - from the little man who shoves you out of the way on the street to the go-getter who shoves you out of a job in the office to the Fuehrer who shoves you out of the world. And all of us have stopped to wonder, at some time or another, what it is that makes these people tick. What makes them run?§§This is the question Schulberg has asked himself, and the answer is the first novel written with the indignation that only a young writer with talent and ideals could concentrate into a manuscript. It is the story of Sammy Glick, the man with a positive genius for being a heel, who runs through New York's East Side, through newspaper ranks and finally through Hollywood, leaving in his wake the wrecked careers of his associates; for this is his tragedy and his chief characteristic - his congenital incapacity for friendship.§§An older and more experienced novelist might have tempered his story and, in so doing, destroyed one of its outstanding qualities. Compromise would mar the portrait of Sammy Glick. Schulberg has etched it in pure vitriol, and dissected his victim with a precision that is almost frightening.§§When a fragment of this book appeared as a short story in a national magazine, Schulberg was surprised at the number of letters he received from people convinced they knew Sammy Glick's real name. But speculation as to his real identity would be utterly fruitless, for Sammy is a composite picture of a loud and spectacular minority bitterly resented by the many decent and sincere artists who are trying honestly to realize the measureless potentialities of motion pictures. To this group belongs Schulberg himself, who has not only worked as a screen writer since his graduation from Dartmouth College in 1936, but has spent his life, literally, in the heart of the motion-picture colony. In the course of finding out what makes Sammy run (an operation in which the reader is spared none of the grue-some details) Schulberg has poured out everything he has felt about that place. The result is a book which the publishers not only believe to be the most honest ever written about Hollywood, but a penetrating study of one kind of twentieth-century success that is peculiar to no single race of people or walk of life.§§From the Hardcover edition.
Sklep: Libristo.pl 359,99 zł
Muzyka>Country
1. Wrong Side Of The World 2. As Long As I Live 3. The Poor Chinee 4. New Man In Town 5. Beneath Still Waters 6. The Green Grass Grows All Around 7. Let It Rain Let It Shine 8. I'll Sail My Ship Alone 9. Possum Holler 10. I Can't Go Home 11. How Wonderful A Poor Man's Life Can Be 12. Unwanted Babies 13. Tell Me Something I Don't Know 14. Even The Loser (Likes To Dream) 15. Between My House & Town 16. Mansion Hill 17. Your Angel Steps Out Of Heaven 18. On Second Thought 19. Barbara Joy 20. When The Grass Grows Over Me 21. Burn Another Honky Tonk Down 22. Same Old Boat 23. When The Wife Runs Off 24. I Don't Have Sense Enough (To Come In Out Of The P 25. Do What You Think's Best 26. Third Time Down 27. Our Happy Home 28. You've Become My Everything 29. My Mom & Santa Claus 30. Lonely Christmas Call 31. I Cried Myself Awake 32. Heartaches & Hangovers 33. Divorce Or Destroy 34. Great Big Spirit Of Love 35. Milwaukee Here I Come 101. Just An Average Couple 102. I'll See You While Ago 103. She's Mine 104. If Not For You 105. The Race Is On 106. I'll Share My World With You 107. The Hardest Part Of All 108. How Much Rain 109. Where Grass Won't Grow 110. Old Blue Tomorrow 111. Shoulder To Shoulder 112. The Fortune I've Gone Through 113. For Better Or For Worse (But Not For Long) 114. She's As Close As I Can Get 115. No Blues Is Good News 116. I Know 117. Among The Few 118. Papa's Wagon 119. Never Grow Cold 120. Mama Take Me Home 121. Playing Possum 122. I Just Got Tired Of Being Poor 123. You Can Always Come Back 124. Going Life's Way 125. Okie From Muskogee 126. Image Of Me 127. Love Me 128. I Stayed Long Enough 129. All I Have To Offer You Is Me 130. Mama's Hungry Eyes 131. Each Season Changes You 132. Will You Visit Me On Sunday 201. I'm Finally Over You 202. Rosie Bokay 203. These Hands 204. A Wound Time Can't Erase 205. Try 206. Where Could I Go? 207. Loving You Makes You Mine 208. Tell Me My Lying Eyes Are Wrong 209. Leaning On The Shoulder Of Love 210. A Good Year For The Roses 211. A Day In The Life Of A Fool 212. You & Your Sweet Love 213. A Good Year For The Roses 214. I'll Follow You (Up To Our Cloud) 215. With Half A Heart 216. A Good Old Fashioned Cry 217. Imitation Of Love 218. You're Still On My Mind 219. Open Pit Mine 220. Poor Little Rich Boy 221. My Favorite Lies 222. The Old, Old House 223. There's No Justice 224. I Made Leaving (Easy For You) 225. Brothers Of The Bottle 226. Late Getting Home 227. They'll Never Take Her Love From Me 228. Lifetime To Regret 229. You Put Living Back In Life 230. She's Lonesome Again 231. You Gotta Be My Baby 232. Wrong Number 301. I Wouldn't Know About That 302. Yearning 303. Would It Do Me Any Good 304. Someone Sweet To Love 305. Sometimes You Just Can't Win 306. Right Won't Touch A Hand 307. Getting Over The Storm 308. Wrapped Around Her Finger 309. I Can Still See Him In Your Eyes 310. Fightin' Side Of Me 311. Come Sundown 312. Knock Three Times 313. The Last One To Touch Me 314. Free As A Breeze 315. After You 316. Love Makes It Alright 317. Saginaw Michigan 318. Who'll Turn Out The Lights 319. Hello Darlin' 320. High On The Thought Of You 321. You Made A Believer Out Of Me 322. I Fall In Love Everyday 323. Get Some Loving Done 324. Our Love Is Forever 325. Everything's Gonna Be Alright 326. Will I Ever Love Again 327. I Had You 328. My Special Memory 329. Everytime I Think Of You 330. She's More Of A Woman 331. Heaven Made Women 332. I Can Love You Enough
Sklep: Gigant.pl 252,74 zł
Książki / Literatura obcojęzyczna
"Dear PHP, It's over between us. You can keep the kitchen sink, but I want my MVC. With TurboGears, I was able to shed the most heinous FileMaker Pro legacy 'solu-tion' imaginable. It has relationships based on fields that change frequently, causing 'disappearing data.' I replaced it with an easy to maintain TurboGears application. Defunkifying and normalizing many years worth of munged data took twice as long as developing the TurboGears's application itself. TurboGears's excellent set of tools and best-of-breed approach makes it so easy to build applications quickly." -Isaac Csandl, Manager of Information Technology, Chicago Legal Search, Ltd. "TurboGears has resulted in significant time savings for rPath. Before it was released, we ex-pected to spend significant time building a Web framework for our rPath Appliance Agent product. TurboGears sharpens our focus on building a quality application; it allows us to provide more value to our customers, rather than reinventing the Web wheel." -Michael K. Johnson, rPath Founding Engineer and Coauthor of Linux Application Development, Second Edition "I think this is the first time that a Web framework's functionality has been so obvious." -Bruce Eckel, Author of Thinking in Java and Thinking in C++ "TurboGears helped me build more complex Web applications more quickly and with fewer headaches than any other framework I've used. Just like Python itself, it made me more productive with a minimal learning curve." -Quentin Hartman, System Administrator "TurboGears has changed the way I develop Web applications, from model, to view, to controller. Thanks to the power of TurboGears, I was able to develop the first version of WhatWhat in less than a week of my spare time." -Jonathan LaCour, Development Team Lead, Optio "TurboGears has provided a way for me to greatly enhance my productivity by real-izing the potential of Web-based agile development with Python." -Brandon Goldfedder, Vice President of Engineering, Information Extraction and Transport (IET Inc.), and Author of The Joy of Patterns "TurboGears really changed the way I schedule project releases: It allows me to deliver them faster and with better quality than when I used to use GUI toolkits." -Jorge Godoy, Owner of G2C Tech Consultoria in Brazil, former Lead Developer for Conectiva documentation team "With TurboGears, I was able to transition my Python projects into Web applications as easily as possible." -Benjamin T. Hamilton, Software Engineer "Norwegian-based company Scanmine AS makes extensive use of Python and Turbo-Gears in all parts of its operation. TurboGears makes it a breeze to build highly sophis-ticated Web 2.0 applications with out-of-the-box features for multiple languages with full Unicode, REST, AJAX, RSS/Atom, and more. This enables Scanmine to put a face on their technology development in a minimal amount of time. "It has been said that there are as many Web frameworks as there are Python Web programmers. This apparent Web framework fragmentation has long been perceived as a weakness, until TurboGears came along and turned weakness into strength." -Rune Hansen, Senior Systems Designer, Scanmine AS "TurboGears is a well thought-out framework; the design choices it has made will help you be more productive. TurboGears will give you confidence with its foundation of stable best-of-breed Python components. If you are coming from other languages, consider working in TurboGears and Python to bring fun back into your Web develop-ment work." -Jeff Marshall, Partner with FrozenBear "When we started developing Oprius Foundations with TurboGears, we weren't sure if it really would help us develop quicker and higher-quality code. After two months, we had a task manager to rival Tada List. After seven months, we had an entire contact management system to compete with the big boys." -Jason Chu, Lead Developer, Oprius Software Inc. "Conventional programming wisdom states that rewriting any working project from scratch is a bad idea. TurboGears was good enough to convince me to do this anyway, and I have been nothing but thrilled with the results. With TurboGears, I was able to implement an AJAX-based Web site with a nice Web API more easily than I ever thought possible. If you are trying to do either of those in Python, you owe it to your-self to look at this project. Using TurboGears was one of the few times in my program-ming career where a task was significantly less complicated than I thought possible." -Adam Jones, Lead Programmer, RecursiveThought Software Master TurboGears: The Easy Python Framework for Rapid Web Development TurboGears harnesses the power of Python to provide a dynamic and easy-to-use Web development framework: one that dramatically increases developer productivity, and makes it far easier to create dynamic, user-friendly, Ajax-enabled Web applications. Now, for the first time, there's a definitive guide to TurboGears-coauthored by its creator, Kevin Dangoor. This book will help experienced Web developers get productive with TurboGears-fast. You'll quickly build your first TurboGears Web application-then extend it one step at a time, mastering the underlying libraries that make these enhancements possible. Next, the authors demonstrate TurboGears at work in a real-world application, by examining the code for "WhatWhat Status," an open source project status tracking application. Finally, you'll gain deep insight into the model, view, and controller technologies TurboGears is built upon: knowledge that will help you build far more robust and capable Python applications. Coverage includes * Understanding the architecture of a TurboGears application * Mastering SQLObject, customizing it, and using it with TurboGears models * Utilizing TurboGears view technologies, including dynamic templates and MochiKit for Ajax * Bringing CSS, XHTML, and JavaScript together in reusable components with TurboGears Widgets * Using CherryPy and TurboGears controller technologies: from decorators to deployment * Exploring the TurboGears toolbox * Ensuring security and managing user access permissions in TurboGears applications Preface xxiii Acknowledgments xxv Part I: TurboGears Fundamentals Chapter 1: Introduction to TurboGears 3 Chapter 2 Getting Started with TurboGears 13 Chapter 3: The Architecture of a TurboGears Application 25 Part II: Building a Simple TurboGears Application Chapter 4: Creating a Simple Application 43 Chapter 5: Enhancing Our Bookmark Application 59 Part III: Exploring a Real World TurboGears Application Chapter 6: Exploring More Complex Models in WhatWhat Status 83 Chapter 7: Controllers, Views, and JavaScript in the WhatWhat Status 97 Chapter 8: RSS, Cookies, and Dynamic Views in WhatWhat Status 115 Chapter 9: Ajax and WhatWhat Status Projects 133 Part IV: SQLObject and TurboGears Models Chapter 10: SQLObject Basics 151 Chapter 11: Mastering SQLObject 165 Chapter 12: Customizing SQLObject Behavior 183 Part V: TurboGears View Technologies Chapter 13: Dynamic Templates with Kid 209 Chapter 14: Creating Better JavaScript with MochiKit 225 Chapter 15: Effective Ajax with MochiKit 273 Chapter 16: TurboGears Widgets: Bringing CSS, XHTML, and JavaScript Together in Reusable Components . 309 Part VI: CherryPy and TurboGears Controller Technologies Chapter 17: CherryPy and TurboGears Decorators 335 Chapter 18: TurboGears Deployment 355 Part VII: TurboGears Extras Chapter 19 The TurboGears Toolbox and Other Tools 371 Chapter 20: Internationalization 383 Chapter 21: Testing a TurboGears Application 397 Chapter 22: TurboGears Identity and Security 417 Part VIII: Appendix Appendix: SQLAlchemy 431 Index 449
Sklep: Libristo.pl 45,85 zł
Książki / Literatura obcojęzyczna
Excerpt from Federalism: Hearing Before the Committee on the Budget, House of Representatives, One Hundred Fourth Congress, Second Session, Hearing Held in Washington, DC, March 5, 1996 The committee met, pursuant to call, at 10:05 a.m. in room 210, Cannon House Office Building, Hon. John R. Kasich (chairman of the committee) presiding. Members present: Representatives Kasich, Hobson, Kolbe, Shays, Herger, Allard, Miller, Lazio, Smith of Michigan, Nussle, Shadegg, Sabo, Slaughter, Coyne, Orton, Pomeroy, Woolsey, Roybal-Allard, and Doggett. Chairman Kasich. Good morning. This morning, as hard as it is to believe, I guess we are heading back into the budget process again; and, to that end, we wanted to have a hearing this morning that talks about - I guess really in some respects, Martin, it almost goes back to the Reagan years when we talked about who best runs government; and you might recall Reagan was way out in terms of sending things back to the States. The fear was that if you send them back, they would not have the money. I am not particularly interested in sending things back to the States because they save money. I am interested in sending things back to the States because I am hoping that - and believe - that the closer the government is to the people, the better it is. Frankly, I am not real enamored with sending a whole lot back to the States, because they become bureaucratic pencil-pushers as much as they do in Washington; but I got a sense I can get my - I know where they live. So I have a better chance to affect them. But, frankly, even when you get down to the township level, you even have the same kind of problems with bureaucracy. But my sense is that you have this one-size-fits-all philosophy, which I think it is time to end. Although I think that what we had done for about 40 years made an awful lot of sense. To that end, we have some witnesses here today. Steve Gold, who is a senior fellow at the Urban Institute; Nelson Lund, professor of law - congenital lawyer - from George Mason University; and we also have with us, to my pleasant surprise, an old friend of mine, Becky Norton Dunlop, who is one who swears off government, sure spends a lot of time in it. She used to work for Ronald Reagan, and she is now a big shot over there with George Allen and is doing a lot of innovative things for the State of Virginia. Martin and I talked about the schedule, just very briefly. We don't know what the schedule is, because we don't know - just so basically we can get this on the record. About the Publisher Forgotten Books publishes hundreds of thousands of rare and classic books. Find more at www.forgottenbooks.com This book is a reproduction of an important historical work. Forgotten Books uses state-of-the-art technology to digitally reconstruct the work, preserving the original format whilst repairing imperfections present in the aged copy. In rare cases, an imperfection in the original, such as a blemish or missing page, may be replicated in our edition. We do, however, repair the vast majority of imperfections successfully; any imperfections that remain are intentionally left to preserve the state of such historical works.
Sklep: Libristo.pl 78,85 zł
Książki / Literatura obcojęzyczna
Do you know someone who is overly arrogant, shows an extreme lack of empathy, or exhibits an inflated sense of entitlement? Do they exploit others, or engage in magical thinking? These are all traits of narcissistic personality disorder, and when it comes to dealing with narcissists, it can be difficult to get your point across. So how do you handle the narcissistic people in your life? You might interact with them in social or professional settings, and you might even love one-so ignoring them isn't really a practical solution. They're frustrating, and maybe even intimidating, but ultimately, you need to find a way of communicating effectively with them. Disarming the Narcissist, Second Edition, will show you how to move past the narcissist's defenses using compassionate, empathetic communication. You'll learn how narcissists view the world, how to navigate their coping styles, and why, oftentimes, it's sad and lonely being a narcissist. By learning to anticipate and avoid certain hot-button issues, you'll be able to relate to narcissists without triggering aggression. By validating some common narcissistic concerns, you'll also find out how to be heard in conversation with a narcissist. This book will help you learn to meet your own needs while side-stepping unproductive power struggles and senseless arguments with someone who is at the center of his or her own universe. This new edition also includes new chapters on dealing with narcissistic women, aggressive and abusive narcissists, strategies for safety, and the link between narcissism and sex addiction. Finally, you'll learn how to set limits with your narcissist and when it's time to draw the line on unacceptable behavior.
Sklep: Libristo.pl 252,74 zł
Książki / Literatura obcojęzyczna
Small, special-purpose computing devices and high-end core Internet servers need fast, reliable database management. Berkeley DB is an embedded database that provides high-performance, scalable, transaction-protected and recoverable data management services to applications. Extremely portable, this library runs under almost all UNIX and Windows variants, as well as a number of embedded, real-time operating systems. Berkeley DB is the ultimate resource for the world's most widely deployed embedded database engine. This book will aid software architects and engineers, product managers, and systems and network administrators without the overhead imposed by other database products. Designed by programmers for programmers, this classic library style toolkit provides a broad base of functionality to application writers. This book will help you to make intelligent choices about when and how to use Berkeley DB to meet your needs. You can visit the Sleepycat website to get the latest errata for this book. NOTE: The first printing of this book contained an error in the table of contents that caused the page numbers to be off. This will be corrected in the second printing. If you have an earlier edition, you can download a pdf of the correct table of contents that you can print out and use with your book. If you have any questions, please feel free to contact the editor of this book at stephanie.wall@newriders.com.
Sklep: Libristo.pl
Sklepy zlokalizowane w miastach: Warszawa, Kraków, Łódź, Wrocław, Poznań, Gdańsk, Szczecin, Bydgoszcz, Lublin, Katowice
Szukaj w sklepach lub całym serwisie
2. Szukaj na wszystkich stronach serwisu
t1=0.082, t2=0, t3=0, t4=0, t=0.082