krainaksiazek where is niagara falls 20111031
- znaleziono 8 produktów w 3 sklepach 139,99 zł
Muzyka>Pop
1. Niagara Falls Is Not Niagara Falls 2. Fiddler Crossed The Border 3. The Horse That Swam Across The Sea 4. Ode To The Morning Sky 5. Folk Art Cathedral 6. Butterfly Shadow 7. Women Are Disappearing 8. Irish Tree Alphabet 9. Where The Mountain Makes The Clouds 101. Hey I Got News For You 102. Weird Woman 103. If It Doesn't Please The Gods 104. Pretty Angel Girl 105. Poor Boy From Buffalo 106. Womb Of Time 107. Halloween Election 108. A Day In The Forest 109. She Is My Niagara Falls 110. Loving You
Sklep: Gigant.pl 217,94 zł
Książki / Literatura obcojęzyczna
"Pilgrimage" took Annie Leibovitz to places that she could explore with no agenda. She wasn't on assignment. She chose the subjects simply because they meant something to her. The first place was Emily Dickinson's house in Amherst, Massachusetts, which Leibovitz visited with a small digital camera. A few months later, she went with her three young children to Niagara Falls. 'That's when I started making lists', she says. She added the houses of Virginia Woolf and Darwin in the English countryside and Freud's final home, in London, but most of the places on the lists were American. The work became more ambitious as Leibovitz discovered that she wanted to photograph objects as well as rooms and landscapes. She began to use more sophisticated cameras and a tripod and to travel with an assistant, but the project remained personal. Leibovitz went to Concord to photograph the site of Thoreau's cabin at Walden Pond. Once she got there, she was drawn into the wider world of the Concord writers. Ralph Waldo Emerson's home and Orchard House, where Louisa May Alcott and her family lived and worked, became subjects. The Massachusetts studio of the Beaux Arts sculptor Daniel Chester French, who made the seated statue in the Lincoln Memorial, became the touchstone for trips to Gettysburg and to the archives where the glass negatives of Lincoln's portraits have been saved. Lincoln's portraitists - principally Alexander Gardner and the photographers in Mathew Brady's studio - were also the men whose work at the Gettysburg battlefield established the foundation for war photography. At almost exactly the same time, in a remote, primitive studio on the Isle of Wight, Julia Margaret Cameron was developing her own ultimately influential style of portraiture. Leibovitz made two trips to the Isle of Wight and, in an homage to the other photographer on her list, Ansel Adams, she explored the trails above the Yosemite Valley, where Adams worked for fifty years. The final list of subjects is perhaps a bit eccentric, featuring Georgia O'Keeffe and Eleanor Roosevelt but also Elvis Presley and Annie Oakley, among others. Figurative imagery gives way to the abstractions of Old Faithful and Robert Smithson's Spiral Jetty. "Pilgrimage" was a restorative project for Leibovitz, and the arc of the narrative is her own. 'From the beginning, when I was watching my children stand mesmerised over Niagara Falls, it was an exercise in renewal', she says. 'It taught me to see again'.
Sklep: Libristo.pl 36,58 zł
Książki / Literatura obcojęzyczna
Discover Eastern Canada with Marco Polo! This compact, straightforward guide is clearly structured for ease of use. It gets you right to the heart of the region, and provides you with all the latest information and lots of Insider Tips for a thrilling Canada adventure. - Includes a road atlas and an additional pull-out map - Clear, user-friendly structure and layout - Get your bearings with the 'Where to Start' panels and ensure you don't miss out on the key sights using the 'Highlights' section - The 'Best Of' pages feature unique aspects of the region and also suggest places to go for free, tips for things to do when it's raining and good places to relax. Insider Tips and much more besides: Marco Polo enables you to fully experience Eastern Canada, from the cities of Montreal, Toronto and Quebec to natural wonders of the world like the Niagara Falls. With this Marco Polo guide you'll arrive in the country and know immediately 'where to start'. Discover exciting attractions including a boat tour through the fjord of Western Brook Pond in Newfoundland and Canada's most beautiful fishing village Peggy's Cove on the south coast of Nova Scotia, where adrenaline junkies dare to do the 'Edge Walk' above the rooftops of Toronto on the thin steel cable with no railing! Also find out about the Huron-run restaurant on the outskirts of Quebec City where you can enjoy top-class Indian fare - with plenty of game, berries and other local ingredients. With the Marco Polo Excursions and Tours you can explore Eastern Canada along specific planned routes, and the Low Budget tips will help you to save money. The author's Insider Tips encourage you to experience the region in an individual and authentic way, to make the most out of your trip. Don't go on holiday without a Marco Polo guide!
Sklep: Libristo.pl 118,62 zł
Książki / Literatura obcojęzyczna
Weekends on the road The ultimate travel guide to the USA and Canada. To travel in North America is to face a delicious quandary: over these vast spaces with so many riches, from glittering cities to eccentric small towns and heart-stoppingly beautiful mountains and plains, how to experience as much as possible in limited time? The New York Times has the answer, and has been offering up dream weekends with practical itineraries in its popular weekly "36 Hours" column for over a decade. And since 2011, starting with the publication of 36 Hours: USA & Canada, TASCHEN has been collecting these stories into best-selling books, organized continent by continent. Now, after compiling volumes on Europe, Asia, and the rest of the world, editor Barbara Ireland has come home, with a fully revised and updated second edition of 36 Hours: USA & Canada. Marquee metropolises like New York, Montreal, and Los Angeles; world-famous natural wonders at Niagara Falls and the Grand Canyon; the hidden charm of Rust Belt cities like Duluth and Detroit - they're all here. And so are 29 new destinations not published in the first edition, from Banff, with its crystal blue glacier-fed lakes, to El Paso, where the border culture spans two states and two countries. For a taste of adventure and a veritable journey throughout the continent, explore 36 Hours in America. Features: 150 North American destinations, from metropolitan hot spots to unexpected hideaways; practical recommendations for over 600 restaurants and 450 hotels; color-coded tabs and ribbons to bookmark your favorite cities in each region; nearly 1,000 photos; all stories have been updated and adapted by Barbara Ireland, a veteran Times travel editor; illustrations by Olimpia Zagnoli of Milan, Italy; easy-to-reference indexes; and, detailed city-by-city maps that pinpoint every stop on your itinerary.
Sklep: Libristo.pl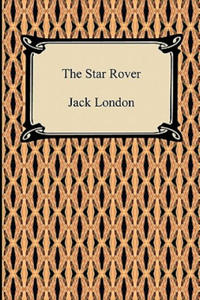 38,05 zł
Książki / Literatura obcojęzyczna
Jack London was born into abject poverty in the slums of San Francisco during the winter of 1876. His writing was to reflect the hard life he lived, perpetually chronicling men facing the wild as he did throughout his life. After his eighth grade year, poverty forced London to leave school. This did not stop him, as he furthered his literary knowledge and skill at the Oakland Public Library, borrowing books and educating himself. London faced great obstacles, even landing himself in a Niagara Falls prison as a vagrant just shortly after winning a prize from a newspaper for his piece on a Typhoon near Japan. Once he was released, London decided to go back to high school, finishing his education in just a year and got into the University of California. He left after only one semester and began his prolific writing career. "The Star Rover", also published as "The Jacket" tells a tale of torture at San Quentin State Prison, where a man is left no choice but to resort to mental tactics to endure physical pain.
Sklep: Libristo.pl 62,90 zł
Ameryka Pn > Kanada
The guide provides all the insider tips every visitor needs from where to watch the breathtaking spectacle at Niagara Falls to admiring the Toronto skyline from the CN Tower with comprehensive listings of the best hotels, resorts, restaurants and nightlife in each region for all budgets. You'll find 3D cutaways and floorplans of all the must-see sites plus street-by-street maps of Toronto, Montreal, Vancouver amongst other historic Canadian cities and towns. DK Eyewitness Canada explores the culture, history, architecture and art of this diverse country not missing the best scenic routes and the country's wildlife, magnificent mountains, the great Canadian lakes plus highlights and maps of Canada's astonishing national parks. With up-to-date information on getting around by train, car, walking in cities and all the sights and resorts listed town by town, DK Eyewitness Canada is your essential companion. Don't miss a thing on your holiday with DK Eyewitness Canada
Sklep: ArtTravel.pl 81,34 zł
Książki / Literatura obcojęzyczna
This book tells the remarkable story of a rare discovery: the uncovering of two lost paintings by the great Renaissance artist Michelangelo.§Like many stories of artistic loss, this one begins in a library in Italy, where Antonio Forcellino ? a distinguished Michelangelo scholar and restorer ? stumbled across some unpublished letters among the§papers of Cardinal Ercole Gonzaga, son of Isabella d'Este and an extremely important figure in the Italian Renaissance. These letters comment on the paintings of Michelangelo in a way that is completely§at odds with what was to become the dominant critical tradition of Michelangelo scholarship, an inconsistency that set Forcellino off on a journey that took him to Dubrovnik, Oxford, New York and Niagara§Falls and culminated in the discovery of two magnificent paintings: Pieta with Mary and Two Angels, now in a private collection in America,§and Cavalieri Crucifixion, now held by an educational institution in England. Through a combination of careful historical research, extensive restoration and meticulous radiographic analysis, Forcellino shows convincingly that these paintings can be traced back to the studio of Michelangelo.§This extraordinary story, brilliantly retold, calls into question the received view of Michelangelo's work and fills in a missing piece in our understanding of one of the greatest artists of all time.
Sklep: Libristo.pl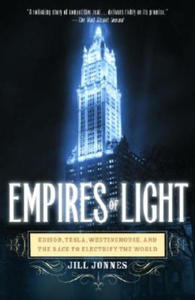 77,43 zł
Książki / Literatura obcojęzyczna
In the final decades of the nineteenth century, three brilliant and visionary titans of America's Gilded Age--Thomas Edison, Nikola Tesla, and George Westinghouse--battled bitterly as each vied to create a vast and powerful electrical empire. In "Empires of Light, historian Jill Jonnes portrays this extraordinary trio and their riveting and ruthless world of cutting-edge science, invention, intrigue, money, death, and hard-eyed Wall Street millionaires. At the heart of the story are Thomas Alva Edison, the nation's most famous and folksy inventor, creator of the incandescent light bulb and mastermind of the world's first direct current electrical light networks; the Serbian wizard of invention Nikola Tesla, elegant, highly eccentric, a dreamer who revolutionized the generation and delivery of electricity; and the charismatic George Westinghouse, Pittsburgh inventor and tough corporate entrepreneur, an industrial idealist who in the era of gaslight imagined a world powered by cheap and plentiful electricity and worked heart and soul to create it. Edison struggled to introduce his radical new direct current (DC) technology into the hurly-burly of New York City as Tesla and Westinghouse challenged his dominance with their alternating current (AC), thus setting the stage for one of the eeriest feuds in American corporate history, the War of the Electric Currents. The battlegrounds: Wall Street, the 1893 Chicago World's Fair, Niagara Falls, and, finally, the death chamber--Jonnes takes us on the tense walk down a prison hallway and into the sunlit room where William Kemmler, convicted ax murderer, became the first man to die in the electric chair. "Empires of Light is the grippinghistory of electricity, the "mysterious fluid," and how the fateful collision of Edison, Tesla, and Westinghouse left the world utterly transformed. "From the Hardcover edition.
Sklep: Libristo.pl
Sklepy zlokalizowane w miastach: Warszawa, Kraków, Łódź, Wrocław, Poznań, Gdańsk, Szczecin, Bydgoszcz, Lublin, Katowice
Szukaj w sklepach lub całym serwisie
2. Szukaj na wszystkich stronach serwisu
t1=0.023, t2=0, t3=0, t4=0.023, t=0.024