krainaksiazek where is niagara falls 20111031
- znaleziono 9 produktów w 3 sklepach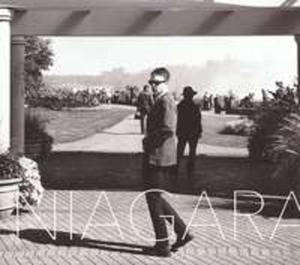 77,49 zł
Muzyka>Pop
1. Niagara Falls Is Not Niagara Falls 2. Fiddler Crossed The Border 3. The Horse That Swam Across The Sea 4. Ode To The Morning Sky 5. Folk Art Cathedral 6. Butterfly Shadow 7. Women Are Disappearing 8. Irish Tree Alphabet 9. Where The Mountain Makes The Clouds 101. Hey I Got News For You 102. Weird Woman 103. If It Doesn't Please The Gods 104. Pretty Angel Girl 105. Poor Boy From Buffalo 106. Womb Of Time 107. Halloween Election 108. A Day In The Forest 109. She Is My Niagara Falls 110. Help Yourself To Diamonds 111. Loving You
Sklep: Gigant.pl 134,99 zł
Muzyka>Pop
1. Niagara Falls Is Not Niagara Falls 2. Fiddler Crossed The Border 3. The Horse That Swam Across The Sea 4. Ode To The Morning Sky 5. Folk Art Cathedral 6. Butterfly Shadow 7. Women Are Disappearing 8. Irish Tree Alphabet 9. Where The Mountain Makes The Clouds 101. Hey I Got News For You 102. Weird Woman 103. If It Doesn't Please The Gods 104. Pretty Angel Girl 105. Poor Boy From Buffalo 106. Womb Of Time 107. Halloween Election 108. A Day In The Forest 109. She Is My Niagara Falls 110. Loving You
Sklep: Gigant.pl 176,48 zł
Książki / Literatura obcojęzyczna
"Pilgrimage" took Annie Leibovitz to places that she could explore with no agenda. She wasn't on assignment. She chose the subjects simply because they meant something to her. The first place was Emily Dickinson's house in Amherst, Massachusetts, which Leibovitz visited with a small digital camera. A few months later, she went with her three young children to Niagara Falls. 'That's when I started making lists', she says. She added the houses of Virginia Woolf and Darwin in the English countryside and Freud's final home, in London, but most of the places on the lists were American. The work became more ambitious as Leibovitz discovered that she wanted to photograph objects as well as rooms and landscapes. She began to use more sophisticated cameras and a tripod and to travel with an assistant, but the project remained personal. Leibovitz went to Concord to photograph the site of Thoreau's cabin at Walden Pond. Once she got there, she was drawn into the wider world of the Concord writers. Ralph Waldo Emerson's home and Orchard House, where Louisa May Alcott and her family lived and worked, became subjects. The Massachusetts studio of the Beaux Arts sculptor Daniel Chester French, who made the seated statue in the Lincoln Memorial, became the touchstone for trips to Gettysburg and to the archives where the glass negatives of Lincoln's portraits have been saved. Lincoln's portraitists - principally Alexander Gardner and the photographers in Mathew Brady's studio - were also the men whose work at the Gettysburg battlefield established the foundation for war photography. At almost exactly the same time, in a remote, primitive studio on the Isle of Wight, Julia Margaret Cameron was developing her own ultimately influential style of portraiture. Leibovitz made two trips to the Isle of Wight and, in an homage to the other photographer on her list, Ansel Adams, she explored the trails above the Yosemite Valley, where Adams worked for fifty years. The final list of subjects is perhaps a bit eccentric, featuring Georgia O'Keeffe and Eleanor Roosevelt but also Elvis Presley and Annie Oakley, among others. Figurative imagery gives way to the abstractions of Old Faithful and Robert Smithson's Spiral Jetty. "Pilgrimage" was a restorative project for Leibovitz, and the arc of the narrative is her own. 'From the beginning, when I was watching my children stand mesmerised over Niagara Falls, it was an exercise in renewal', she says. 'It taught me to see again'.
Sklep: Libristo.pl 134,99 zł
Muzyka>Pop
1. Flint (For The Unemployed & Underpaid) 2. All Good Naysayers, Speak Up! Or Forever Hold Your 3. For The Windows In Paradise, For The Fatherless In 4. Say Yes! To Michigan! 5. The Upper Peninsula 6. Tahquamenon Falls 7. Holland 8. Detroit, Lift Up Your Weary Head! (Rebuild! Restor 9. Romulus 10. Alanson, Crooked River 11. Sleeping Bear, Sault Saint Marie 12. They Also Mourn Who Do Not Wear Black (For The Hom 13. Oh God, Where Are You Now? (In Pickeral Lake? Pige 14. Redford (For Yia-yia & Pappou) 15. Vito's Ordination Song 16. Marching Band (Bonus Track) 17. Niagara Falls (Final) (Bonus Track) 18. Pickerel Lake (Bonus Track) 19. Presidents & Magistrates (Bonus Track) 20. Vito's Ordination Song (Demo) (Bonus Track) 21. Wolverine (Bonus Track)
Sklep: Gigant.pl 159,99 zł
Muzyka>Jazz
1. Street Player 2. Mama Take 3. Must Have Been Crazy 4. Window Dreamin' 5. Paradise Alley 6. Aloha Mama 7. Reruns 8. Loser With A Broken Heart 9. Life Is What It Is 10. Run Away 11. Closer To You 12. Street Player (Dance Mix) 101. Manipulation 102. Upon Arrival 103. Song For You 104. Where Did The Lovin' Go 105. Birthday Boy 106. Hold On 107. Overnight Cafe 108. Thunder & Lightning 109. I'd Rather Be Rich 110. The American Dream 111. Doin' Business 112. Live It Up 113. Soldier Of Fortune 201. What You're Missing 202. Waiting Fo Ryou To Decide 203. Bad Advice 204. Chains 205. Hard To Say I'm Sorry / Get Away 206. Follow Me 207. Sonny Think Twice 208. What Can I Say 209. Rescue You 210. Love Me Tommorow 211. Daddy's Favorite Fool 212. Hard To Say I'm Sorry 213. What You're Missing (Alternate Version) 214. Love Me Tommorrow (Alternate Version) 301. Stay The Night 302. We Can Stop The Hurtin' 303. Hard Habit To Break 304. Only You 305. Remember The Feeling 306. Along Comes A Woman 307. You're The Inspiration 308. Please Hold On 309. Prima Donna 310. Once In A Lifetime 311. Here Is Where We Begin 312. Only You (Alternate Version) 313. You're The Inspiration (Alternate Version) 314. Prima Donna (Alternate Version) 401. Niagara Falls 402. Forever 403. If She Would Have Been Faithful 404. 25 Or 6 To 4 405. Will You Still Love Me? 406. Over & Over 407. It's Alright 408. Nothin's Gonna Stop Us Now 409. I Believe 410. One More Day 411. 25 Or 6 To 4 (Alternate Version) 412. Will You Still Love Me? (Alternate Version) 501. Heart In Pieces 502. I Don't Wanna Live Without Your Love 503. I Stand Up 504. We Can Last Forever 505. Come In From The Night 506. Look Away 507. What Kind Of Man Would I Be? 508. Runaround 509. You're Not Alone 510. Victorious 511. Look Away (Single Version) 512. We Can Last Forever (Single Version) 513. What Kind Of Man Would I Be? (Single Version) 601. Explain It To My Heart 602. If It Were You 603. You Come To My Senses 604. Somebody, Somewhere 605. What Does It Take 606. One From The Heart 607. Chasin' The Wind 608. God Save The Queen 609. Man To Woman 610. Only Time Can Heal The Wounded 611. Who Do You Love 612. Holdin' On 613. Explain It To My Heart (Promo Single Version) 701. Chicago 702. Caravan 703. Dream A Little Dream Of Me 704. Goody Goody 705. Moonlight Serenade 706. Night & Day 707. Blues In The Night 708. Sing, Sing, Sing 709. Sophisticated Lady 710. In The Mood 711. Don't Get Around Much Anymore 712. Take The A Train 801. Feel (Hot Single Mix) 802. King Of Might Have Been 803. Caroline 804. Why Can't We 805. Love Will Come Back 806. Long Lost Friend 807. 90 Degrees & Freezing 808. Where Were You 809. Already Gone 810. Come To Me, Do 811. Lovin' Chains 812. Better 813. Feel (W/horns) 901. Stone Of Sisyphus 902. Bigger Than Elvis 903. All The Years 904. Mah-jong 905. Sleeping In The Middle Of The Bed 906. Let's Take A Lifetime 907. The Pull 908. Here With Me (A Cancle For The Dark) 909. Plaid 910. Cry For The Lost 911. The Show Must Go On 912. Love Is Forever (Demo) 913. Mah-jong (Demo) 914. Let's Take A Lifetime (Demo) 915. Stone Of Sisyphus (No Rhythm Loop)
Sklep: Gigant.pl 126,08 zł
Książki / Literatura obcojęzyczna
Weekends on the road The ultimate travel guide to the USA and Canada. To travel in North America is to face a delicious quandary: over these vast spaces with so many riches, from glittering cities to eccentric small towns and heart-stoppingly beautiful mountains and plains, how to experience as much as possible in limited time? The New York Times has the answer, and has been offering up dream weekends with practical itineraries in its popular weekly "36 Hours" column for over a decade. And since 2011, starting with the publication of 36 Hours: USA & Canada, TASCHEN has been collecting these stories into best-selling books, organized continent by continent. Now, after compiling volumes on Europe, Asia, and the rest of the world, editor Barbara Ireland has come home, with a fully revised and updated second edition of 36 Hours: USA & Canada. Marquee metropolises like New York, Montreal, and Los Angeles; world-famous natural wonders at Niagara Falls and the Grand Canyon; the hidden charm of Rust Belt cities like Duluth and Detroit - they're all here. And so are 29 new destinations not published in the first edition, from Banff, with its crystal blue glacier-fed lakes, to El Paso, where the border culture spans two states and two countries. For a taste of adventure and a veritable journey throughout the continent, explore 36 Hours in America. Features: 150 North American destinations, from metropolitan hot spots to unexpected hideaways; practical recommendations for over 600 restaurants and 450 hotels; color-coded tabs and ribbons to bookmark your favorite cities in each region; nearly 1,000 photos; all stories have been updated and adapted by Barbara Ireland, a veteran Times travel editor; illustrations by Olimpia Zagnoli of Milan, Italy; easy-to-reference indexes; and, detailed city-by-city maps that pinpoint every stop on your itinerary.
Sklep: Libristo.pl 45,44 zł
Książki / Literatura obcojęzyczna
Excerpt from The Ship-Yard of the Griffon: A Brigantine Built by Reneż Robert Cavelier, Sieur De La Salle, in the Year 1679, Above the Falls of Niagara Together With the Most Complete Bibliography of Hennepin That Has Ever Been Made in Any One List In the Illustrated Express of this city, date of January 26, 1890, I had the privilege, in an article, of showing a location supposed by me to be the place where the vessel of la Salle, the "Griffon," was constructed in the year 1679, and by which agency he intended to explore the Western Lakes, and if possible to find an outlet by water to China and the Indies. Since its publication I have been in receipt of several communications regarding this and other supposed sites, There being such a diversity of opinion, I have determined to re-write the article, in part, adding all the knowledge regarding this subject that I have been able to obtain from any source and in full, in order now to definitely determine the site, as the march of improvement is rapidly nearing this particular spot, and in a few years the few historical places of this section will have been entirely obliterated. This explanation, with the title page, gives sufficient reason for the appearance of this book. A word as to the Bibliography at the end, for to be exact, La Salle, separate from Hennepin, should not be included in the Bibliography of the latter ; but in history the two persons arc so closely allied that it seems natural and proper that the works treating of each, historical or legendary, should become as one. Upon this idea, they have been included in the list. As a matter of reference it is to be hoped that it may prove a help to the student of the history of those pioneers in the New France. About the Publisher Forgotten Books publishes hundreds of thousands of rare and classic books. Find more at www.forgottenbooks.com This book is a reproduction of an important historical work. Forgotten Books uses state-of-the-art technology to digitally reconstruct the work, preserving the original format whilst repairing imperfections present in the aged copy. In rare cases, an imperfection in the original, such as a blemish or missing page, may be replicated in our edition. We do, however, repair the vast majority of imperfections successfully; any imperfections that remain are intentionally left to preserve the state of such historical works.
Sklep: Libristo.pl 62,90 zł
Ameryka Pn > Kanada
The guide provides all the insider tips every visitor needs from where to watch the breathtaking spectacle at Niagara Falls to admiring the Toronto skyline from the CN Tower with comprehensive listings of the best hotels, resorts, restaurants and nightlife in each region for all budgets. You'll find 3D cutaways and floorplans of all the must-see sites plus street-by-street maps of Toronto, Montreal, Vancouver amongst other historic Canadian cities and towns. DK Eyewitness Canada explores the culture, history, architecture and art of this diverse country not missing the best scenic routes and the country's wildlife, magnificent mountains, the great Canadian lakes plus highlights and maps of Canada's astonishing national parks. With up-to-date information on getting around by train, car, walking in cities and all the sights and resorts listed town by town, DK Eyewitness Canada is your essential companion. Don't miss a thing on your holiday with DK Eyewitness Canada
Sklep: ArtTravel.pl 81,92 zł
Książki / Literatura obcojęzyczna
This book tells the remarkable story of a rare discovery: the uncovering of two lost paintings by the great Renaissance artist Michelangelo.§Like many stories of artistic loss, this one begins in a library in Italy, where Antonio Forcellino ? a distinguished Michelangelo scholar and restorer ? stumbled across some unpublished letters among the§papers of Cardinal Ercole Gonzaga, son of Isabella d'Este and an extremely important figure in the Italian Renaissance. These letters comment on the paintings of Michelangelo in a way that is completely§at odds with what was to become the dominant critical tradition of Michelangelo scholarship, an inconsistency that set Forcellino off on a journey that took him to Dubrovnik, Oxford, New York and Niagara§Falls and culminated in the discovery of two magnificent paintings: Pieta with Mary and Two Angels, now in a private collection in America,§and Cavalieri Crucifixion, now held by an educational institution in England. Through a combination of careful historical research, extensive restoration and meticulous radiographic analysis, Forcellino shows convincingly that these paintings can be traced back to the studio of Michelangelo.§This extraordinary story, brilliantly retold, calls into question the received view of Michelangelo's work and fills in a missing piece in our understanding of one of the greatest artists of all time.
Sklep: Libristo.pl
Sklepy zlokalizowane w miastach: Warszawa, Kraków, Łódź, Wrocław, Poznań, Gdańsk, Szczecin, Bydgoszcz, Lublin, Katowice
Szukaj w sklepach lub całym serwisie
2. Szukaj na wszystkich stronach serwisu
t1=0.032, t2=0, t3=0, t4=0.024, t=0.033