krainaksiazek white good cop bad cop live cop dead cop 20117992
- znaleziono 10 produkty w 2 sklepach 11,15 zł
Książki & Multimedia > Książki
Opis - Pierwsze na świecie świadectwo ofiary zbrodni honorowej. Miała siedemnaście lat i zakochała się: zhańbiła rodzinę. Więc rodzina wydała na nią wyrok śmierci... Pokochała go pierwszą miłością. Myślała, że się z nią ożeni. Ale ukochany zniknął, a ona odkryła, że jest w ciąży. A w jej świecie to najcięższa zbrodnia... W zapomnianej przez Boga wiosce w Cisjordanii kobiety są warte mniej niż zwierzęta domowe. Tu mężczyzna jest panem życia i śmierci żony, córki, siostry. Brat może bezkarnie zabić siostrę, matka - córkę, kolejną bezużyteczną dziewczynkę, jaka się urodzi. Tu kobiecie odbiera się godność, a nawet życie zgodnie z odwiecznym obyczajem i uświęconą tradycją. A śmierć jest karą dla dziewczyny, która zhańbi rodzinę. Tak jak Souad. Wyrok wydaje jej ojciec. Szwagier dokonuje egzekucji. Oblewa Souad benzyną i podpala... SOUAD przeżyła - cudem, ale rodzina usiłowała zabić ją nawet w szpitalu. Na zawsze jednak pozostanie straszliwie okaleczona - na ciele i duszy. I wciąż musi się ukrywać; dopóki żyje, jej rodzinę okrywa hańba. Spalona żywcem, opublikowana pod pseudonimem szokująca opowieść o piekle, jakim było jej dzieciństwo i młodość, stała się międzynarodowym bestsellerem. Wydana w 37 w krajach książka przerywa tabu milczenia wobec istniejącej nadal w krajach muzułmańskich barbarzyńskiej tradycji. Nieludzkiego obyczaju, prawa mężczyzn, na mocy którego co najmniej pięć tysięcy kobiet pada co roku ofiarą zbrodni honorowej. Nazwa - Spalona Żywcem Wyd. Kieszonkowe Autor - Souad Oprawa - Miękka Wydawca - Amber Kod ISBN - 9788324159406 Kod EAN - 9788324159406 Wydanie - 1 Rok wydania - 2016 Tłumacz - 31182,maria rostworowska; Format - 110 x 175 x 14 Ilość stron - 224 Podatek VAT - 5% Premiera - 2016-06-23
Sklep: InBook.pl 75,03 zł
Książki / Literatura obcojęzyczna
When a brutal murder rocks the sleepy seaside town of Westlake on Sea, the call goes out to maverick detective DCI Mick Mustard to lead the investigation. He assembles his tight band of men who begin to sift through a myriad of suspects. The devastated parents seek closure, but from the post mortem examination and the witness enquires, the shocking secret life of the victim begins to slowly unravel. DCI Mick Mustard's traditional approach is challenged by his newly appointed assistant chief who is keen to get a result. Likewise the new superintendent wants the case solved so she can bask in the reflected glory. This clash of 'street cop' and 'management cop' cultures leads to tensions. The arrival of criminal profiler Professor Black at the invitation of the assistant chief adds fuel to the fire. Mick Mustard's team rely on using his tried and tested 'bad cop/ good cop' techniques. By contrast Professor Black uses the analytical approach of profiling to try and solve the case. His findings lead to a shocking revelation that sends shockwaves through the village. The prolonged investigation takes the reader on a roller coaster ride of twists and turns. How will this clash of cultures be resolved and will innovation triumph over tradition? Will the true suspect be captured or will a miscarriage of justice occur? Who is travelling in the Dead man's curve and who will survive?
Sklep: Libristo.pl 59,41 zł
Książki & Multimedia > Muzyka
Lista utworów - Płyta 1 1. I Feel Love (Every Million Miles) 2. Buzzkill(er) 3. Let Me Through 4. Three Dollar Hat 5. Lose the Right 6. Rough Detective 7. Open Up (That's Enough) 8. Be Still 9. Mile Markers 10. Cop and Go 11. Too Bad 12. Impossible Winner Opis - Trzeci album dowodzonej przez Jacka White'a formacji The Dead Weather. Płyta nosi tytuł "Dodge And Burn". Wydawnictwo zapowiada singiel "I Feel Love (Every Million Miles)". Piosenki The Dead Weather nagrali w tym samym składzie, co pochodzący z 2010 roku album "Sea Of Cowards", czyli: Jack White, Alison Mosshart (The Kills), Dean Fertita (Queens Of The Stone Age) i Jack Lawrence (The Raconteurs).  , Album "Dodge And Burn" nagrano w Nashville, w należącym do Jacka Third Man Studio. Prace rozpoczęły się kilka lat temu. Sesje odbywały się wtedy, gdy członkowie The Dead Weather mieli chwile przerwy w napiętych grafikach. Efektem jest 12 kompozycji. Przypomnijmy, że supergrupa The Dead Weather powstała w 2009 roku. Na jej koncie są albumy "Horehound" (2009) oraz wspomniany "Sea Of Cowards" (2010). Nazwa - Dodge And Burn Autor - The Dead Weather Wydawca - Warner Music Group Kod EAN - 0813547021182 Rok wydania - 2015 Nośnik - Płyta CD Ilość elementów - 1 Podatek VAT - 23% Premiera - 2015-09-25
Sklep: InBook.pl 45,38 zł
Książki / Literatura obcojęzyczna
pIn the late nineties, a bad cop killed a good woman and DC Homicide detective Marty Singer got to watch as the murderer walked out of the courtroom a free man./ppTwelve years later, the victims daughter comes to Marty begging for help the killer is stalking her now./ppTheres just one problem Martys retired...and hes retired because hes battling cancer. But with a second shot at the killerand a first chance at redemptionMartys just found A Reason to Live./ppbRevised edition This edition of iA Reason to Live/i includes editorial revisions./b/p
Sklep: Libristo.pl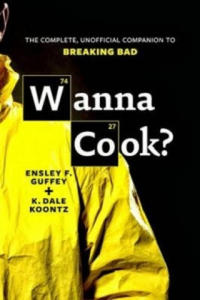 70,77 zł
Książki / Literatura obcojęzyczna
"I am not in danger ...I am the danger." With those words, Breaking Bad's Walter White solidified himself as TV's greatest antihero. Wanna Cook? explores the most critically lauded series on television with analyses of the individual episodes and ongoing storylines. From details like stark settings, intricate camerawork, and jarring music to the larger themes, including the roles of violence, place, self-change, legal ethics, and fan reactions, this companion book is perfect for those diehards who have watched the Emmy Award - winning series multiple times as well as for new viewers. Wanna Cook? elucidates without spoiling, and illuminates without nit-picking. A must have for any fan's collection. Excerpt. (c) Reprinted by permission. All rights reserved. From Wanna Cook's Episode Guide 1.01 Pilot/Breaking Bad Original air date: January 20, 2008 Written and directed by: Vince Gilligan "I prefer to see [chemistry] as the study of change ...that's all of life, right? It's the constant, it's the cycle. It's solution - dissolution, just over and over and over. It is growth, then decay, then - transformation! It is fascinating, really." - Walter White We meet Walter White, Jesse Pinkman, and Walt's family. Walt is poleaxed by some tragic news. With nothing to lose, Walt decides to try to make one big score, and damn the consequences. For that, however, he needs the help of Jesse Pinkman, a former student of Walt's turned loser meth cook and drug dealer. From the moment you see those khakis float down out of a perfectly blue desert sky, you know that you're watching a show like nothing else on television. The hard beauty and stillness of the American Southwest is shattered by a wildly careening RV driven by a pasty white guy with a developing paunch wearing only a gas mask and tighty-whities. What the hell? Like all pilots, this one is primarily exposition, but unlike most, the exposition is beautifully handled as the simple background of Walter's life. The use of a long flashback as the body of the episode works well, in no small part due to Bryan Cranston's brilliant performance in the opening, which gives us a Walter White so obviously, desperately out of his element that we immediately wonder how this guy wound up pantsless in the desert and apparently determined to commit suicide-by-cop. After the opening credits, the audience is taken on an intimate tour of Walt's life. Again, Cranston sells it perfectly. The viewer is presented with a middle-aged man facing the back half of his life from the perspective of an early brilliance and promise that has somehow imploded into a barely-making-ends-meet existence as a high school chemistry teacher. He has to work a lousy second job to support his pregnant wife and disabled teenage son and still can't afford to buy a hot water heater. Executive producer and series creator Vince Gilligan, along with the cast and crew (Gilligan & Co.), take the audience through this day in the life of Walt, and it's just one little humiliation after another. The only time Walt's eyes sparkle in the first half of the episode is when he is giving his introductory lecture to his chemistry class. Here Walt transcends his lower-middle-class life in an almost poetic outpouring of passion for this incredible science. Of course, even that brief joy is crushed by the arrogant insolence of the archetypal high school jackass who stays just far enough inside the line that Walt can't do a damn thing about him. So this is Walt and his life, as sad sack as you can get, with no real prospects of improvement, a brother-in-law who thinks he's a wuss, and a wife who doesn't even pay attention during birthday sex. Until everything changes. The sociologist and criminologist Lonnie Athens would likely classify Walt's cancer diagnosis as the beginning of a "dramatic self change," brought on by something so traumatic that a person's self - the very thoughts, ideas, and ways of understanding and interacting with the world - is shattered, or "fragmented," and in order to survive, the person must begin to replace that old self, those old ideas, with an entirely new worldview. (Athens and his theories are discussed much more fully in the previous essay, but since we warned you not to read that if you don't want to risk spoilage, the basic - and spoiler-free - parts are mentioned here.) Breaking Bad gives us this fragmentation beautifully. Note how from the viewer's perspective Walt is upside down as he is moved into the MRI machine, a motif smoothly repeated in the next scene with Walt's reflection in the top of the doctor's desk. Most discombobulating of all, however, is the consultation with the doctor. At first totally voiceless behind the tinnitus-like ambient soundtrack and faceless except for his chin and lips, the doctor and the news he is imparting are made unreal, out of place, and alien. As for Walt, in an exquisite touch of emotional realism, all he can focus on is the mustard stain on the doctor's lab coat. How many of us, confronted with such tragic news, have likewise found our attention focused, randomly, illogically, on some similar mundanity of life? It is from this shattered self that Walt begins to operate and things that would have been completely out of the question for pre-cancer Walt are now actual possibilities - things like finding a big score before he dies by making and selling pure crystal meth. Remember that Walt is a truly brilliant chemist, and knows full well what crystal meth is and what it does to people who use it. He may not know exactly what he's getting into, but he knows what he is doing. Enter Jesse Pinkman (Aaron Paul, best known previously for his role on Big Love), a skinny white-boy gangster wannabe, who under the name "Cap'n Cook" makes a living cooking and selling meth. He's also an ex-student of Walt's, and after being recognized by his former teacher during a drug bust, Walt has all the leverage he needs to coerce Jesse into helping him. Why does he need him? Because, as Walt says, "you know the business, and I know the chemistry." Symbolizing just how far beyond his old life Walt is moving, he and Jesse park their battered RV/meth lab in the desert outside of Albuquerque, far from the city and any signs of human life. All that is there is a rough dirt road and a "cow house" in the distance. The desert is a place without memory, a place outside of things, where secrets can be kept, and meth can be cooked. This is where Walt lives now. It is in this desert space that Walt becomes a killer, albeit in self defense. Ironically, the one thing that Walt views as holding the keys to the secret of life - chemistry - becomes the means to end lives. Walt, a father, teacher, and an integral part of an extended family - in other words, an agent of life and growth - has now become a meth cook, using chemical weapons to kill his enemies. Walter White has become an agent of death. The transformation is just beginning, but already Skyler (Anna Gunn, previously known for her roles on The Practice and Deadwood) is having some trouble recognizing her husband: "Walt? Is that you?" LAB NOTES Highlight: Jesse to Walt: "Man, some straight like you - giant stick up his ass all of a sudden at age what? Sixty? He's just going to break bad?" Did You Notice: This episode has the first (but not the last!) appearance of Walt's excuse that he's doing everything for his family. There's an award on the wall in Walt's house commemorating his contributions to work that was awarded the Nobel Prize back in 1985. The man's not a slouch when it comes to chemistry, so what's happened since then? At Walt's surprise birthday party, Walt is very awkward when he handles Hank's gun. Speaking of Hank (Dean Norris, whose other roles were in the TV series Medium, and the movies Total Recall, and Little Miss Sunshine), he waits until the school bus has left the neighborhood before ordering his team into the meth lab, showing what a good and careful cop he is. Maybe it's just us, but J.P. Wynne High School (where Walt teaches chemistry) seems to have the most well-equipped high school chemistry lab in the country. As Walt receives his diagnosis, the doctor's voice and all other sounds are drowned out by a kind of numbing ringing, signifying a kind of psychic overload that prevents Walt from being fully engaged with the external world. This effect will be used again several times throughout the series. Walt literally launders his money to dry it out, foreshadowing what's to come. Shooting Up: Thanks to John Toll, who served as cinematographer for the first season of Breaking Bad, the show has one of the most distinctive opening shots ever. Just watch those empty khaki pants flutter across a clear sky. Breaking Bad loves certain camera angles and this section is where we'll point out some of the shots that make the show stand out. Look at that taped non-confession Walt makes for his family when he thinks the cops are coming for him. We're used to watching recordings of characters - shows are filmed (or taped), but here, we're watching him recording himself on tape. Who's the real Walt? Title: Many pilot episodes share the name with the title of the show and Breaking Bad's pilot is no exception. Vince Gilligan, who grew up in Farmville, Virginia, has stated that "breaking bad" is a Southernism for going off the straight and narrow. When you bend a stick until it breaks, the stick usually breaks cleanly. But sometimes, sticks (and men) break bad. You can wind up in the hospital with a splinter in your eye, or you can wind up in Walter White's world. Either way, it's no kind of good. Interesting Facts: Show creator Vince Gilligan's early educational experience was at J. P. Wynne Campus School in Farmville, Virginia. He recycled the name for the high school in Breaking Bad. SPECIAL INGREDIENTS What Is Crystal Meth, Anyway? While there is some evidence that methamphetamine can be found naturally in several species of acacia plants, commercial meth making involves chemistry, not agriculture. The history of the drug dates back to 1893 when Japanese chemist Nagai Nagayoshi first synthesized the substance from ephedrine. The name "methamphetamine...
Sklep: Libristo.pl 36,04 zł
Książki / Literatura obcojęzyczna
They busted out of McAlester State Penitentiary--three escaped convicts going to ground in a world unprepared for anything like them.... Lamar Pye is prince of the Dirty White Boys. With a lion in his soul, he roars--for he is the meanest, deadliest animal on the loose....Odell is Lamar's cousin, a hulking manchild with unfeeling eyes. He lives for daddy Lamar. Surely he will die for him....Richard's survival hangs on a sketch: a crude drawing of a lion and a half-naked woman. For this Lamar has let Richard live... Armed to the teeth, Lamar and his boys have cut a path of terror across the Southwest, and pushed one good cop into a crisis of honor and conscience. Trooper Bud Pewtie should have died once at Lamar's hands. Now they're about to meet again. And this time, only one of them will walk away....
Sklep: Libristo.pl 44,89 zł
Książki / Literatura obcojęzyczna
Every cop has a personal 'White': a criminal who got away with murder - or worse - and was able to slip back into life, leaving the victim's family still seeking justice, the cop plagued by guilt. Back in the 1990s, Billy Graves was one of the Wild Geese: a tight-knit crew of young mavericks, fresh to police work and hungry for justice, looking out for each other and their 'family' of neighbourhood locals. But then Billy made some bad headlines by accidentally shooting a ten-year-old boy while bringing down an angel-dusted berserker in the street. Branded a loose cannon, he spent years in one dead-end posting after another. Now he has settled into his role as sergeant in the Night Watch, content simply to do his job and go home to his family. But when he is called to the 4 a.m. stabbing of a man in Penn Station, Billy discovers the victim is the 'White' of one of his oldest friends, a former member of the Wild Geese, who is now retired. As the past comes crashing into the present, the Wild Geese seemingly rise from the dead, and the bad old run-and-gun days of the 90s are back with a vengeance.
Sklep: Libristo.pl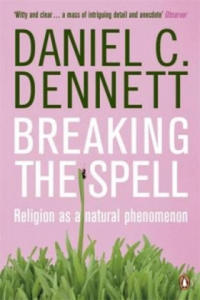 55,05 zł
Książki / Literatura obcojęzyczna
In "Breaking the Spell" Daniel C. Dennett explores how the great ideas of religion have enthralled us for thousands of years - and whether we could (or should) break free. What is religion and how did it evolve? Is it the product of blind evolutionary instinct or of rational choice? Is the only way to live a good life through religion? Few forces in the world are as potent as religion: it comforts people in their suffering and inspires them to both magnificent and terrible deeds. In this provocative and timely book, Daniel C. Dennett seeks to uncover the origins of religion and discusses how and why different faiths have shaped so many lives, whether religion is an addiction or a genuine human need, and even whether it is good for our health. Arguing passionately for the need to understand this multifaceted phenomenon, "Breaking the Spell" offers a truly original - and comprehensive - explanation for faith. "Packed with a mass of intriguing detail and anecdote ...witty and clear prose". ("Observer"). "He's the "good cop" among religion's critics (Richard Dawkins is the "bad cop"), but he still makes people angry". ("New Statesman"). "Dennett writes with brio and humour". ("Telegraph"). "Elegant, sharp-minded ...clear-eyed but courteous". ("Economist"). Daniel Dennett is one of the most original and provocative thinkers in the world. A brilliant polemicist and philosopher, he is famous for challenging unexamined orthodoxies, and an outspoken supporter of the Brights movement. His books include "Brainstorms", "Brainchildren", "Elbow Room", "Consciousness Explained", "Darwin's Dangerous Idea" and "Freedom Evolves".
Sklep: Libristo.pl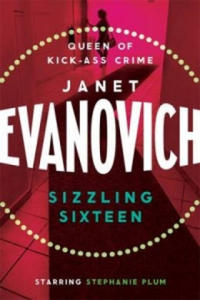 45,38 zł
Książki / Literatura obcojęzyczna
The sixteenth in the Stephanie Plum series, including SMOKIN' SEVENTEEN and EXPLOSIVE EIGHTEEN, from bestselling author JANET EVANOVICH. Trenton, New Jersey. Bounty hunter Stephanie Plum has inherited a 'lucky' bottle from her Uncle Pip. Problem is, Uncle Pip didn't specify if the bottle brought good luck or bad luck...Vinnie, of Vincent Plum Bail Bonds, owes a gambling debt to mobster Bobby Sunflower. It's up to Stephanie, office manager Connie, and file clerk Lula to raise the money if they want to save their jobs. Saving the business means Stephanie can keep being a bounty hunter. In Trenton, this involves hunting down a man wanted for polygamy, a Turnpike toilet paper bandit, and a drug dealer with a pet alligator named Mr Jingles. The job comes with perks in the guise of Trenton's hottest cop, Joe Morelli, and the dark and dangerous security expert, Ranger. With any luck at all, Uncle Pip's lucky bottle will have Stephanie getting lucky - the only question is...with whom?
Sklep: Libristo.pl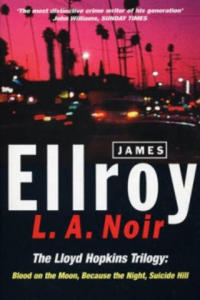 91,09 zł
Książki / Literatura obcojęzyczna
Three of Ellroy's most compelling novels featuring Detective Sergeant Lloyd Hopkins in one volume. Blood On The Moon: 20 random killings of women are unconnected in police files. But Det. Sgt. Lloyd Hopkins sees a pattern. As he is drawn to the murderer, the two men face a confrontation pitting icy intelligence against white-heated madness...Because The Night: Jacob Herzog, hero cop, has disappeared. A multiple murder committed with a pre-Civil War revolver remains unsolved. Are the two cases connected? As Det. Sgt. Lloyd Hopkins pieces the puzzle together he discovers the darker threat of John Haviland, a psychiatrist whose pleasure comes from the manipulation of the weak and lonely. Suicide Hill: Duane Rice leaves jail with good news and bad news: two adulterous bank managers are ripe for squeezing, but Vandy, who he is obsessed with making a rock star, has disappeared. An orgy of violence erupts as Duane's partner goes beserk and Duane settles scores with knife and bullet. Leading the manhunt Sgt. Lloyd Hopkins stumbles on a horrifying conspiracy of corruption and betrayal- among his own colleagues. Ellroy's three great early novels are available in one volume for the first time - the books that led up to his LA Quartet.
Sklep: Libristo.pl
Sklepy zlokalizowane w miastach: Warszawa, Kraków, Łódź, Wrocław, Poznań, Gdańsk, Szczecin, Bydgoszcz, Lublin, Katowice
Szukaj w sklepach lub całym serwisie
2. Szukaj na wszystkich stronach serwisu
t1=0.057, t2=0, t3=0, t4=0, t=0.057