krainaksiazek why life is awful 20117363
- znaleziono 9 produktów w 3 sklepach 36,60 zł
Powieści i opowiadania
'When people ask me what I do for a crust and I tell them that I'm a novelist, they immediately assume that my life is a non-stop carousel of limos, television appearances, hair-dos, devoted fans, stalkers and all the glitzy paraphernalia of being a public figure. It's time to set the record straight. I write alone, in a darkened bedroom, wearing my PJs, eating bananas, my laptop on a pillow in front of me ...' Her novels are adored by millions around the world
Sklep: Albertus.pl 32,40 zł
Powieści i opowiadania
Blood. That
Sklep: Albertus.pl 68,99 zł
Muzyka>Klasyczna
1. Instrumental Introduction 2. 'Great Parent, Hail!' 3. 'Another Century Commencing...' 4. 'After War's, Alarms Repeated...' 5. 'Awful Matron Take Thy Seat' 6. 'She Was The First Who Did Inspire' 7. 'Succeeding Princes Next Recite' 8. 'But Chiefly Recommend To Fame' 9. Symphony 10. 'If Ever I More Riches Did Desire' 11. 'Me, O Ye Gods On Earth Or Else So Near' 12. 'Here Let My Life With As Much Silence Slide' 13. 'To Him, Alas, To Him I Fear' 14. 'Why, Why Are All The Muses Mute?' 15. 'When Should Each Soul Exalted Be' 16. 'Britain, Thou Now Art Great, Art Great Indeed!' 17. 'Look Up, And To Our Isle Returning See...' 18. 'Accurs'd Rebellion Reared His Head' 19. 'So Jove, Scarce Settled In His Sky' 20. Ritornello 21. 'Caesar For Milder Virtues Honour'd More' 22. 'The Many-headed Beast Is Quelled At Home' 23. 'In The Equal Balance Laid...' 24. 'O How Blest Is The Isle To Which Caesar Is Given'
Sklep: Gigant.pl 36,60 zł
Inne 1
'She's mad. There has to be something wrong with her. She's insane.' Nobody wants Tulip in their gang. She skives off school, cheeks the teachers, and makes herself unpopular with her classmates by telling the most awful lies. None of this matters to Natalie. Natalie finds Tulip exciting, and at first she doesn't care that other people are so upset and unnerved by Tulip's bizarre games like Stinking Mackerel and Road of Bones. It's funny to watch their reactions, and there's always the delicious fear that the two girls might be caught. But as the games become increasingly sinister and dangerous, Natalie realizes that Tulip is going too far. Much too far. Natalie could try to change things. But deep inside she knows that, once crossed, Tulip won't rest until she's won the most dangerous game of all. In this compelling story Anne Fine explores the dark side of a friendship bordering on obsession, and sensitively depicts one girl's gradual decline into hostility and violence. The Tulip Touch is a powerful novel, gripping and mesmerizing. It is truly a story that touches the heart - I couldn't put it down, I had to know what happened next to Tulip and Natalie! A real read, recommended for all young readers from the age of about nine. Jade You shouldn
Sklep: Albertus.pl 39,56 zł
Książki / Literatura obcojęzyczna
"Celtic & Me - Confessions from the Jungle" is the funny, original story of Dominik Diamond's very public life as a Celtic supporter. Shockingly, he started out as a Rangers fan but later realised the error of his ways and controversially changed allegiance. His outspoken views on Rangers have made him more than a little unpopular on one side of Glasgow. In "Celtic & Me", find out what part he played in Martin O'Neill becoming Celtic manager. Why Seville was so awful. Why he was banned from Celtic TV. Which old firm manager is best at pub trivia machines. Which Rangers legend made Dominik weep with his kindness and which one threatened to out him on live TV for being a teenage Rangers fan. And what happened the night he was threatened outside a Glasgow kebab shop. From sickening bigotry to the joy he felt at being part of the Celtic family, "Celtic & Me" is the story of a man who refused to shut up and the price you pay when you do that as an Old Firm fan with a well-known face.
Sklep: Libristo.pl 39,56 zł
Książki / Literatura obcojęzyczna
In this paperback edition of his sensational best seller, one of Britain's favourite broadcasters details the thoughts and philosophies that have shaped his life. 'We're only here for a visit' is one of the Scottish firebrand's most determined mantras. Why worry about tomorrow when today can be so much fun. And if anybody tries to get in the way of the action, swat them away. Politicians? Forget it. They're in it for their own ends, not to improve our lives, according to the former Scottish football international who now addresses, in his own inimitable style, more than a million loyal talkSPORT listeners each weekday morning. Traffic wardens, ticket collectors, life-style 'experts' and a whole truckload of other 'jobsworths' are in Brazil's sights in this very funny follow-up to the bestselling "There's an Awful Lot of Bubbly in Brazil".
Sklep: Libristo.pl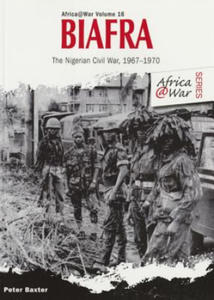 136,83 zł
Książki / Literatura obcojęzyczna
Nigeria was a unique concept in the formation of modern Africa. It began life as a highly lucrative if climatically challenging holding of the Royal Niger Company, a British Chartered Company under the control of Victorian capitalist Sir George Taubman Goldie. It was handed over to indigenous rule in 1960 with the best of intentions and a profound hope on the part of the British Crown that it would become the poster child of successful political transition in Africa. It did not. One of the signature failures of imperial strategists at the turn of the 19th century was to take little if any account of the traditional demographics of the territories and societies that were subdivided, and often joined together, into spheres of foreign influence, later evolving into colonies, and finally into nation states. Many of the signature crises in post-colonial Africa have owed their origins to this very phenomenon: incompatible and mutually antagonistic tribal and ethnic groupings forced to cohabit within the indivisible precincts of political geography. Congo, Rwanda/Burundi, Sudan and many others have suffered ongoing attrition within their borders as historic enmities surge and boil in restless and ongoing violence. Such was the case with Nigeria in the post-independence period. The traditions and practices of the Islamic north and the Christian/Animist south, and even within the multiplicity of ethnic division in the south itself, proved to be impossible to reconcile. The result was an immediate centrifuge away from the centre, complicated by the vast infusion of oil revenues and the inevitable explosion of corruption that followed. All of this created the alchemy of civil war and genocide, which erupted into violence in 1967 as the eastern region of Nigeria attempted to secede. The war that followed shocked the conscience of the world, and revealed for the first time the true depth of incompatibility of the four partners in the Nigerian federation. This book traces the early history of Nigeria from inception to civil war, and the complex events that defined the conflict in Biafra, revealing how and why this awful event played out, and the scars that it has since left on the psyche of the disunited federation that has continued to exist in the aftermath.
Sklep: Libristo.pl 54,57 zł
Książki / Literatura obcojęzyczna
My parents have always been there for me, ever since I was about seven - David Beckham. For Tony to admit he is an alcoholic took an awful lot of bottle - Ian Wright on Tony Adams. I've been playing in a golf day for a boy seriously injured in a car accident. I had to drive like a lunatic to get here - Ray Houghton, "TalkSport" football pundit, on why he was late on-air Reporter: What would you be if you weren't a footballer? Peter Crouch: A virgin. I've never been so certain about anything in my life. I want to be a coach. Or a manager. I'm not sure which - Phil Neville. Footballers may not be known for their profound insights, but it seems no one in the game is above a mixed metaphor or confused cliche. From Harry Redknapp to Martin O'Neill, Patrice Evra to Jason McAteer, see the funny side of the beautiful game with this hilarious collection of verbal own goals. Packed full of hilarious quotes, quips and misfires from the biggest names in football, "Tell Him He's Pele" is a must for everyone with a sense of humour.
Sklep: Libristo.pl 64,46 zł
Książki / Literatura obcojęzyczna
Ever told someone they looked 'great' when they really looked awful? Ever said you'd be 'there in a second' ...knowing it would be more like five minutes? Ever made up an excuse to get out of a difficult situation? Or claimed that you never told lies? Never? Liar! But don't feel bad - we all tell lies, all the time. Two to three times in a ten-minute conversation is the average according to the latest research. From the 'white lies' that help smooth over tricky social situations to lies told with intent to harm, lying plays a huge - and crucial - role in our society at every level. Drawing on mindboggling examples of real-life liars who were caught in the act as well as years of research into deception, Robert Feldman, one of the world's leading authorities in the field, reveals the truth about why we lie, including how children learn to do it, what it costs us, how we benefit and how it can fail with catastrophic consequences.
Sklep: Libristo.pl
Sklepy zlokalizowane w miastach: Warszawa, Kraków, Łódź, Wrocław, Poznań, Gdańsk, Szczecin, Bydgoszcz, Lublin, Katowice
Szukaj w sklepach lub całym serwisie
2. Szukaj na wszystkich stronach serwisu
t1=0.077, t2=0, t3=0, t4=0.024, t=0.077