krainaksiazek why not add color 20122458
- znaleziono 9 produktów w 2 sklepach 140,51 zł
Książki / Literatura obcojęzyczna
This book offers straight answers to every question you've ever had about how the economy works and how it affects your life. In this Collector's Edition of their celebrated How an Economy Grows and Why It Crashes, Peter Schiff, economic expert and bestselling author of Crash Proof and The Real Crash, once again teams up with his brother Andrew to spin a lively economic fable that untangles many of the fallacies preventing people from really understanding what drives an economy. The 2010 original has been described as a "Flintstones" take economics that entertainingly explains the beauty of free markets. The new edition has been greatly expanded in both quantity and quality. A new introduction and two new illustrated chapters bring the story up to date, and most importantly, the book makes the jump from black and white to full and vivid color. With the help of colorful cartoon illustrations, lively humor, and deceptively simple storytelling, the Schiff's bring the complex subjects of inflation, monetary policy, recession, and other important topics in economics down to Earth. The story starts with three guys on an island who barely survive by fishing barehanded. Then one enterprising islander invents a net, catches more fish, and changes the island's economy fundamentally. Using this story the Schiffs apply their signature take-no-prisoners logic to expose the glaring fallacies and gaping holes permeating the global economic conversation. The Collector's Edition: provides straight answers about how economies work, without relying on nonsensical jargon and mind-numbing doublespeak the experts use to cover up their confusion; includes a new introduction that sets the stage for developing a deeper, more practical understanding of inflation and the abuses of the monetary system; and adds two new chapters that dissect the Federal Reserve's Quantitative easing policies and the European Debt Crisis. It colorizes the original book's hundreds of cartoon illustrations. The improved images, executed by artist Brendan Leach from the original book, add new vigor to the presentation Has a larger format that has been designed to fit most coffee tables. While the story may appear simple on the surface, as told by the Schiff brothers, it will leave you with a deep understanding of How an Economy Grows and Why It Crashes.
Sklep: Libristo.pl 271,52 zł
Dyeing Wool Schiffer Publishing Ltd
Książki / Literatura obcojęzyczna
Popular workshop teacher shares her superb approach. Open your eyes to an explosion of color and creative techniques in the dye pans. Learn how to add fascinating dimension to your textile projects. Any textile artist or crafter will be inspired with new, exciting ways to add intensity and texture. Step-by-step lessons show how to create balance, using color on wool. The 20 techniques explored include spot dyeing, painting, overlay, shibori, and other great ways of playing with color. Find out why everyone has the skills to dye wool, learn color theory, and find their color voice.
Sklep: Libristo.pl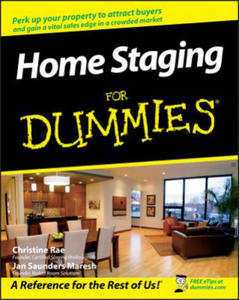 70,18 zł
Książki / Literatura obcojęzyczna
Want to have homebuyers knocking down your door? Home Staging For Dummies delivers all the secrets to making your home stand out, sell faster, and bring in more money! It shows you how to make improvements room by room and generate a higher profit in the most cost- and time-effective way. Featuring eight full-color pages of instructive before-and-after photos, this completely practical guide demonstrates how and why to eliminate clutter, make repairs, arrange furnishings, and pave the way for buyers to make an emotional connection to your house. You'll get a handle on what buyers want and how to show it to them, find plenty of do-it-yourself tasks that add real value to your home, and get tips on producing photos of your home that will have buyers craving to see more! Discover how to: See your home as prospective buyers will see it Know what needs doing and what doesn't Master the three-step home staging process Add real value to your home without breaking the bank Decide whether to DIY or call in the pros Create curb appeal Make a great first impression with a beautiful entryway Spruce up your kitchen, bathroom, living, and dining rooms Turn your bedrooms into a buyer's dream Whip your mechanicals into top shape Avoid staging nightmares Get top dollar for your home - all you need is a little help from Home Staging For Dummies!
Sklep: Libristo.pl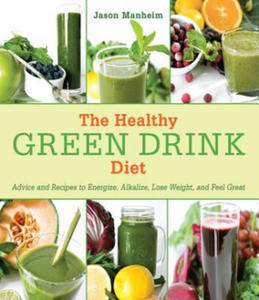 76,73 zł
Książki / Literatura obcojęzyczna
One juice or smoothie a day - made from green vegetables such as kale, cucumber, celery, and spinach - works wonders for organ health, immune system strength, and weight loss. Now the founder of heathygreendrink.com offers a persuasive argument for adding a green drink to your day, as well as recipes for dozens of different variations. Why drink green? Green leafy vegetables are extremely alkaline and great for lowering your blood pH and remedying many common ailments and diseases. By juicing or blending the vegetables into a delicious smoothie, you can enjoy the goodness of many more cups of greens that you could possibly eat in one sitting. The juicing process also breaks down or removes the fibers of the plants so their nutrients are able to get into your system quicker. The "green drink" approach offers dieters the chance to add something rather than take it away, without guilt. A cleansing detox drink is a fantastic, tasty way to consume all your necessary vitamins and minerals without having to resort to a processed multivitamin. Plus, green-drinkers quickly start to crave more fruits and vegetables, leading them to a healthier diet over all. "The Healthy Green Drink Diet" gives health enthusiasts all the tools they need to add green drinks to their daily routine and feel the wonderful, energizing results through and through. It features 80 color illustrations.
Sklep: Libristo.pl 54,10 zł
Powieści i opowiadania
Orlando Figes
Sklep: Albertus.pl 158,39 zł
Książki / Literatura obcojęzyczna
Governance, risk, and compliance-these three big letters can add up to one giant headache. But GRC doesn't have to be a boil on your corporate behind. SAP GRC For Dummies untangles the web of regulations that confronts your company and introduces you to software solutions the not only keep you in compliance, but also make your whole enterprise stronger. This completely practical guide starts with a big-picture look and GRC and explains how it can help your organization grow. You'll find out why these regulations were enacted; what you can do to ensure compliance; and how compliance can help you prevent fraud, bolster your corporate image, and envision and execute the best possible corporate strategy. This all-business handbook will help you: Understand the impact of Sarbanes-Oxley Control access effectively Color your company a greener shade of green Source or sell goods internationally Keep your employees safe and healthy Ensure that data is kept secret and private Manage information flow in all directions Enhance your public image through sustainability reporting Use GRC as the basis for a powerful new corporate strategy Complete with enlightening lists of best practices for successful GRC implementation and conducting global trade, this book also puts you in touch with thought leadership Web sights where you can deepen your understanding of GRC-based business strategies. You can't avoid dealing with GRC, but you can make the most of it with a little help from SAP GRC For Dummies .
Sklep: Libristo.pl 120,35 zł
Książki / Literatura obcojęzyczna
DIY hardware hacking...easy as Pi (r)! Raspberry Pi is taking off like a rocket! You can use this amazing, dirt-cheap, credit card-sized computer to learn powerful hardware hacking techniques as you build incredibly creative and useful projects! This complete, full-color guide requires absolutely no experience with either hardware hacking or computer programming. Colorful photos guide you through each project, and the step-by-step instructions are stunningly clear and easy! 1. Start with the absolute basics: * Discover why millions of people are so passionate about the Pi! * Tour the hardware, including storage, connections, and networking * Install and run Raspbian, Raspberry Pi's Linux-based operating system * Manage devices and configuration files * Network Raspberry Pi and add Wi-Fi * Program Raspberry Pi using Python, Scratch, XHTML, PHP, and MySQL 2. Next, build all these great projects: * Media Center * Retro Console Video Game Station * Minecraft Server * Web Server * Portable Webcam * Security & Privacy Device 3. Then, master all these cutting-edge techniques: * Overclock Raspberry Pi for better performance * Link Raspberry Pi to the Arduino and Arduino clones, including the AlaMode and the Gertboard * Use the Pi to build electronics prototypes using a breadboard
Sklep: Libristo.pl 135,43 zł
Książki / Literatura obcojęzyczna
Jessica Ortner, co-producer of the highly successful documentary on meridian tapping, The Tapping Solution, offers women a better choice. Why not lose the weight and create the life you've always dreamt of? In this groundbreaking book, Jessica uses tapping to help tackle the stress that leads to weight gain - including the personal stresses of low self-esteem and a lack of confidence. Using her own struggles with weight loss, along with success stories of some of the thousands of women she's worked with, Jessica walks readers through the process of discovering their personal power and self-worth. Her programme is based on extensive research into the benefits and success of tapping and the hormones involved in stress and weight gain and it covers everything from the emotional aspects of overeating and cravings, to how to find joy in exercise, the power of pleasure, and how our families and friends may inadvertently add to the problem.
Sklep: Libristo.pl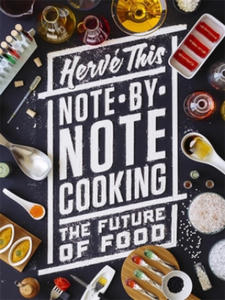 99,03 zł
Książki / Literatura obcojęzyczna
Note-by-Note Cooking is a landmark in the annals of gastronomy, liberating cooks from the constraints of traditional ingredients and methods through the use of pure molecular compounds. 1-Octen-3-ol, which has a scent of wild mushrooms; limonene, a colorless liquid hydrocarbon that has the smell of citrus; sotolon, whose fragrance at high concentrations resembles curry and at low concentrations, maple syrup or sugar; tyrosine, an odorless but flavorful amino acid present in cheese -- these and many other substances, some occurring in nature, some synthesized in the laboratory -- make it possible to create novel tastes and flavors in the same way that elementary sound waves can be combined to create new sounds. Note-by-note cooking promises to add unadulterated nutritional value to dishes of all kinds, actually improving upon the health benefits of so-called natural foods. Cooking with molecular compounds will be far more energy efficient and environmentally sustainable than traditional techniques of cooking. This new way of thinking about food heralds a phase of culinary evolution on which the long-term survival of a growing human population depends. Herve This clearly explains the properties of naturally occurring and synthesized compounds, dispels a host of misconceptions about the place of chemistry in cooking, and shows why note-by-note cooking is an obvious -- and inevitable -- extension of his earlier pioneering work in molecular gastronomy. An appendix contains a representative selection of recipes, vividly illustrated in color.
Sklep: Libristo.pl
Sklepy zlokalizowane w miastach: Warszawa, Kraków, Łódź, Wrocław, Poznań, Gdańsk, Szczecin, Bydgoszcz, Lublin, Katowice
Szukaj w sklepach lub całym serwisie
2. Szukaj na wszystkich stronach serwisu
t1=0.041, t2=0, t3=0, t4=0, t=0.041