krainaksiazek why she left a psychological crime thriller 20094872
- znaleziono 7 produktów w 3 sklepach 99,94 zł
Depraved Heart HarperCollins Publishers Ltd
Książki / Literatura obcojęzyczna
No. 1 New York Times bestselling author Patricia Cornwell delivers the twenty-third engrossing thriller in her high-stakes series starring medical examiner Dr. Kay Scarpetta. Dr. Kay Scarpetta is working a suspicious death scene in Cambridge, Massachusetts when an emergency alert sounds on her phone. A video link lands in her text messages and seems to be from her computer genius niece Lucy. But how can it be? It's clearly a surveillance film of Lucy taken almost twenty years ago. As Scarpetta watches she begins to learn frightening secrets about her niece, whom she has loved and raised like a daughter. That film clip and then others sent soon after raise dangerous legal implications that increasingly isolate Scarpetta and leave her confused, worried, and not knowing where to turn. She doesn't know whom she can tell - not her FBI husband Benton Wesley or her investigative partner Pete Marino. Not even Lucy. In this new novel, Cornwell launches these unforgettable characters on an intensely psychological odyssey that includes the mysterious death of a Hollywood mogul's daughter, aircraft wreckage on the bottom of the sea in the Bermuda Triangle, a grisly gift left in the back of a crime scene truck, and videos from the past that threaten to destroy Scarpetta's entire world and everyone she loves. The diabolical presence behind what unfolds seems obvious - but strangely, not to the FBI. Certainly that's the message they send when they raid Lucy's estate and begin building a case that could send her to prison for the rest of her life. In the latest novel in her bestselling series featuring chief medical examiner Dr. Kay Scarpetta, Cornwell will captivate readers with the shocking twists, high-wire tension, and cutting-edge forensic detail that she is famous for, proving yet again why she's the world's #1 bestselling crime writer.
Sklep: Libristo.pl 15,60 zł
Powieści i opowiadania
Many are the writers who tackle the field of the psychological thriller, but few create such a dark and compelling world as Nicci French. The Red Room inhabits the same sinister universe as such previous thrillers as The Memory Game and the book that many consider to be her finest to date, Killing Me Softly. French is concerned with the unstable surface of reality and the malign undercurrents of human behaviour forever threatening to disrupt the tenuous happiness of her characters. In The Red Room, her particular priority is the queasy attraction of the forbidden and the terrifying. Kit Quinn has a job that many would find too disturbing to tackle. Her beat is the world of crime scenes, hospitals for the criminally insane, the grimmer prisons. In her latest assignment, colleagues in the police ask for her help in what initially appears to be a straightforward murder inquiry, in which a youthful runaway has been killed near a London canal. At first, the evidence points to the killer being a man who wounded the murdered young woman, but Kit has learned that the appearance of things in a deceptive world may not be trusted. As she descends deeper and deeper into a brutal underworld of lost and exploited youngsters, she finds herself as at risk as the young victims she is dealing with.What makes this more than a conventional thriller is the author's fastidious examination of her heroine's tortured psyche. Kate has suffered terrible wounds in a savage attack, and there is something unhealthy about her immersion in the kind of life that left her with terrible scars. French is particularly sharp on her efforts to push her life back into some kind of conventional order. The Red Room has the customary dangerous voyage to the centre of a mystery that is par for the course for the genre, but this is also a study of the troubled psyche of a damaged heroine, and her dark world view: Beware of beautiful days. Bad things happen on beautiful days. It may be that when you get happy, you get careless. Beware of having a plan. Your gaze is focused on the plan, and that's the moment when things start happening just outside your range of vision ...
Sklep: Albertus.pl 72,45 zł
Książki / Literatura obcojęzyczna
"A thriller that grabs readers and doesn't let go, skillfully twisting, turning, and manipulating its plot for maximum impact." Donovan, eBook Reviewer, Midwest Book Review ~~~ Evolved Publishing presents a gripping glimpse of the near future, in which a twisted serial killer finds power in a corrupt political culture. [Thriller, Suspense, Crime, Serial Killer, Vigilante Justice, Psychological, Vengeance] ~~~ When her 19-year-old son Jack miraculously recovers from a serious head trauma, Maggie is sure her luck has changed. But when she's abducted by a shadow from her past - a phantom with dangerous sapphire eyes - it's up to Jack and his younger brother Tom to unravel the mystery and save their mom from a deadly psychological battle. ~ The brothers seek help from their colorful great aunt, who exposes them to a world of nefarious family secrets, explosive government conspiracies, and a series of horrific murders. Together they must navigate a dark underworld full of political subterfuge and class warfare. ~ Yet as they search for their mother, Jack changes-raked by skull splitting headaches and weird visions. How exactly did he recover from his coma, and how does this tie into the psychopath who's abducted their mother? ~ Will Jack and Tom save Maggie before her abductor reaches his shatter point? Does Jack have enough time left? ~~~ 'Shatter Point' is an exciting novel of suspense, action, drama and even a little bit of horror.... It's definitely one of the best novels out there right now." - Next Page Reviews ~~~ "When I reached the last 100 pages no one was going to be able to stop me reading until I knew the ending!" - Olivia's Catastrophe
Sklep: Libristo.pl 44,47 zł
Książki / Literatura obcojęzyczna
Forensic psychologist Paul Britton asks himself four questions when he is faced with a crime scene: what happened: who is the victim: how was it done, and why? Only when he has the answers to these questions can he address the fifth: who is responsible? An intensely private and unassuming man, Britton has an almost mythic status in the field of crime deduction because of his ability to 'walk through the minds' of those who stalk, abduct, torture, rape and kill other human beings. What he searches for at the scene of a crime are not fingerprints, fibres or blood stains - he looks for the 'mind trace' left behind by those responsible; the psychological characteristics that can help police to identify and understand the nature of the perpetrator. Over the past dozen years he has been at the centre of more than 100 headline-making investigations, from the murder of Jamie Bulger to the abduction of baby Abbie Humphries, the slaying of Rachel Nickell on Wimbledon Common, the pursuit of the Green Chain rapist and the Heinz baby food extortionist, the notorious Gloucester House of Horror and most recently, the murder of Naomi Smith. Told with humanity and insight, The Jigsaw Man is Paul Britton's absorbing first-hand account of those cases, and of his groundbreaking analysis and treatment of the criminal mind. It combines the heart-stopping tension of the best detective thriller with his unique and profound understanding of the dark side of the human condition.
Sklep: Libristo.pl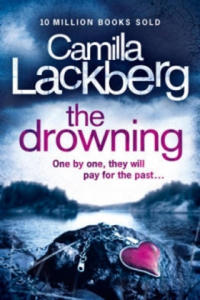 39,46 zł
Książki / Literatura obcojęzyczna
Swedish crime sensation and No. 1 international bestseller, Camilla Lackberg's new psychological thriller - for fans of Stieg Larsson and Jo Nesbo Christian Thydell's dream has come true: his debut novel, The Mermaid, is published to rave reviews. So why is he as distant and unhappy as ever? When crime writer Erica Falck, who discovered Christian's talents, learns he has been receiving anonymous threats, she investigates not just the messages but also the author's mysterious past...Meanwhile, one of Christian's closest friends is missing. Erica's husband, Detective Patrik Hedstrom, has his worst suspicions confirmed as the mind-games aimed at Christian and those around him become a disturbing reality. But, with the victims themselves concealing evidence, the investigation is going nowhere. Is their silence driven by fear or guilt? And what is the secret they would rather die to protect than live to see revealed? International bestseller Camilla Lackberg delivers a chilling and suspenseful mystery that will grip the reader right until its staggering final twist...
Sklep: Libristo.pl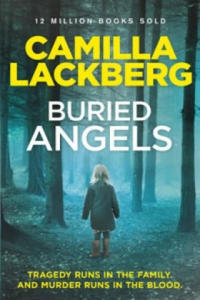 39,46 zł
Książki / Literatura obcojęzyczna
No. 1 international bestseller and Swedish crime sensation Camilla Lackberg's new psychological thriller featuring Detective Patrick Hedstrom and Erica Falck - irresistible for fans of Stieg Larsson and Jo Nesbo. YOU CANNOT CHANGE THE PAST Easter 1974. A family vanishes from their home on an idyllic island off the Swedish coast. They have left everything behind - including their one-year-old daughter, Ebba. Now, years later, Ebba has returned to the island. She and her husband have suffered the loss of their only child and are looking to make a fresh start. But within days, their house is the target of an arson attack. YOU CANNOT ESCAPE THE FUTURE Detective Patrik Hedstrom takes on the investigation, aided by his wife, crime writer Erica Falck, who has always been fascinated by the mystery of Ebba's abandonment and the family's tragic history. When dried blood is found under the floorboards of the old house, it seems that the cold case involving the missing family is about to be brought back to life. And soon, Patrik and Erica are consumed by the hunt for a killer who will stop at nothing to keep the past buried...
Sklep: Libristo.pl 61,99 zł
Książki Obcojęzyczne>Angielskie>Fiction & related items>Thriller / suspenseKsiążki Obcojęzyczne>Angielskie>Fiction & related items>C...
Twelve Years Ago Joycie Todd's Mother Abandoned Her. But What If She Never Really Left? A Tautly Written Psychological Suspense Novel, Perfect For Fans Of B.A Paris And Alex Lake.
Sklep: Gigant.pl
Sklepy zlokalizowane w miastach: Warszawa, Kraków, Łódź, Wrocław, Poznań, Gdańsk, Szczecin, Bydgoszcz, Lublin, Katowice
Szukaj w sklepach lub całym serwisie
2. Szukaj na wszystkich stronach serwisu
t1=0.051, t2=0, t3=0, t4=0.022, t=0.051