krainaksiazek why the information highway 20044418
- znaleziono 4 produkty w 1 sklepie 117,60 zł
Książki / Literatura obcojęzyczna
What Americans Build and Why examines five areas of Americans' built environment: houses, healthcare facilities, schools, workplaces, and shopping environments. Synthesizing information from both academic journals and the popular press, the book looks at the relationships of size and scale to the way Americans live their lives and how their way of life is fundamentally shaped by the highway system, cheap land, and incentives. This book is timely because although Americans say they crave community, they continue to construct buildings, such as McMansions and big box stores, that make creating community a challenge. Furthermore, in many ways the movement toward teleworking, discussed in the chapter on office environments, also challenges the traditional place-based formation of community. Although focused on the United States, the book also includes reference to other parts of the world, especially regarding the retail environment.
Sklep: Libristo.pl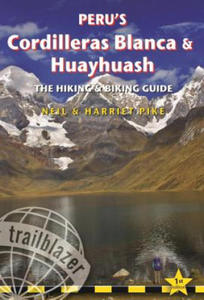 66,01 zł
Książki / Literatura obcojęzyczna
'...the definitive guide to how, where, why and what to do on a cycle expedition...' Adventure Travel Magazine (UK) Every cyclist dreams of making the Big Trip, the Grand Cycle Tour abroad. Whether that s a two-week trip or a year-long journey, the Adventure Cycle-Touring Handbook is the comprehensive manual that will make that dream a reality. Riding across Asia, cycling in Africa or pedaling from Patagonia to Alaska, whether you're planning your own Big Trip or just enjoy reading about other people's adventures, the Handbook is guaranteed to illuminate, entertain and above all, inspire. This fully revised 3rd edition includes: PART 1 Practical information How to prepare for a long-distance trip What to look for in a new bike with reviews of some of the world s best touring- and trekking-bikes Adapting a standard bike for the Big Ride Choosing components, equipment for the road and reviews of camping gear Health precautions, inoculations, visas, money and safety PART 2 Worldwide route outlines Across Europe, Asia, Australasia, North and South America and Africa; recommended routes within countries and overland. Everything from popular routes eg India s Leh-Manali Highway to lesser-known cycle-touring areas such as Mongolia. PART 3 Tales from the Saddle Ten first-hand accounts of spoke-bending biking adventures worldwide. Introduction Why are so many people going bike touring these days? A minority pastime during the heyday of the car, cycling has once again become a popular choice for travelling especially for long overseas trips. The first cycle-touring craze began in the 1870s. Then, as now, the bicycle offered a revolutionary way of touring: you go exactly where you want, when you want, and all under your own steam. This was before the age of the car and walking or riding a horse were the only other options until the bicycle. In 1885 the Rover Safety Bicycle came along, and for all the innovation since then, most modern touring bicycles would be recognizable to a Victorian, as would their derailleur gears. Bike touring is undergoing a boom at the moment but it is really one of many periodic rediscoveries. Bicycle design, components and gear are evolving to suit the changing needs and tastes of people. It s a combination of experimentation and using tried and tested designs, such as the 'diamond' frame of the Rover Safety Bicycle. The Adventure Cycle-Touring Handbook is all about looking at what people are choosing and using: what kind of bikes, what gear and what destinations are being chosen by today s bike tourers. There are many reasons for taking a bike on your next long trip. My own guess as to why bike touring is back in fashion is that many travellers get burned out by backpacking, which really amounts to travelling by bus and train for most of the time. Buses are certainly fast but they go from one noisy town to another, leaving little possibility of exploring the spaces in between, the places where the bus doesn t stop. Others use bikes to go even further off the beaten track: they want to go where buses don t go at all and perhaps where other vehicles cannot get to either. Paul Woloshansky built his own racks to carry extra gear after being told all too often: 'There s a prettier way to go but there s nothing out there at all.' Other adventurers, such as Sweden s Janne Corax (see p122), have said the same thing: there were times when there was no other way of getting to where they wanted to go. You couldn t get there on foot and you couldn t get there in a truck. It was possible only on a bicycle. Half the adventure, though, is in the riding itself. Being out in the fresh air and seeing much more than is possible from a bus or train window is always a good feeling, whether you are wandering around France or riding across India. A lot of today s cycle tourists are interested in the riding but not that interested in bikes. It s a means of transport and a way to carry bags comfortably, while sitting down and enjoying the view. Not everyone is drawn to the high passes of the Andes or the Himalaya but they are all enjoying that same sense of freedom and all that comes with it unexpected discoveries, off-route detours or an impromptu day off when you find a great place to stay. Trips like these are not as arduous as some expeditions but they are every bit as satisfying and they are still adventures, for they allow for spontaneity. And if you are carrying a tent and camping gear, you re prepared for just about any eventuality because you ve always got a place to spend the night. This book looks at the possibilities out there, the different styles of travelling and the basic gear and know-how that you need. We also look at some of the more exciting cycling destinations around the world, complete with suggestions as to which routes to take and what you need to plan a trip in that region. The Adventure Cycle-Touring Handbook does not set out to tell you exactly where to go: it s your adventure, after all. But it s good to have a general idea of a destination and what you re likely to find when you re there and this is what this book aims to do. In the final part of this book we include stories from all around the world, not just about the biking but also about the adventures cyclists had on their journeys. It s the old idea that a bike ride isn t just about the riding but also about the places you were able to get to and the people you got to meet and all because you decided to travel by bicycle."
Sklep: Libristo.pl 149,41 zł
Geekonomics Addison-Wesley Educational Publishers Inc
Książki / Literatura obcojęzyczna
The Real Cost of Insecure Software * In 1996, software defects in a Boeing 757 caused a crash that killed 70 people...* In 2003, a software vulnerability helped cause the largest U.S. power outage in decades...* In 2004, known software weaknesses let a hacker invade T-Mobile, capturing everything from passwords to Paris Hilton's photos...* In 2005, 23,900 Toyota Priuses were recalled for software errors that could cause the cars to shut down at highway speeds...* In 2006 dubbed "The Year of Cybercrime," 7,000 software vulnerabilities were discovered that hackers could use to access private information...* In 2007, operatives in two nations brazenly exploited software vulnerabilities to cripple the infrastructure and steal trade secrets from other sovereign nations...Software has become crucial to the very survival of civilization. But badly written, insecure software is hurting people-and costing businesses and individuals billions of dollars every year. This must change. In Geekonomics, David Rice shows how we can change it. Rice reveals why the software industry is rewarded for carelessness, and how we can revamp the industry's incentives to get the reliability and security we desperately need and deserve. You'll discover why the software industry still has shockingly little accountability-and what we must do to fix that. Brilliantly written, utterly compelling, and thoroughly realistic, Geekonomics is a long-overdue call to arms. Whether you're software user, decision maker, employee, or business owner this book will change your life...or even save it.
Sklep: Libristo.pl 33,08 zł
Książki / Literatura obcojęzyczna
Surfing the Web? If Billy had looked a Anyone can do that! Why not little more carefully at Try something really radical? the small ad, he might Access the departed by body-boarding the never have sold his Necronet. grandma's soul to science. But he didn't, so he did. Never has it been more Easy. All you have to do is The cheque from NECROSOFT Enter the Soul bounced and all Billy got Database by taking a left-hand turn off the Information left in the old girl's will Super-Highway and was the handbag. The Voodoo Handbag. The talking You're there. In the Land Voodoo Handbag. The tales Of the Virtual Dead. Send for details today. it told Billy would change U know it makes sense. his life forever - and the lives of other people too. Those few who still had lives. In what must surely rank as his most extraordinary work to date, the Teller of Tall Tales has combined his extensive knowledge of the occult with his unique brand of savage humour to produce a Techno-Gothic masterpiece guaranteed to send shivers down the spines of PC users everywhere.
Sklep: Libristo.pl
Sklepy zlokalizowane w miastach: Warszawa, Kraków, Łódź, Wrocław, Poznań, Gdańsk, Szczecin, Bydgoszcz, Lublin, Katowice
Szukaj w sklepach lub całym serwisie
2. Szukaj na wszystkich stronach serwisu
t1=0.024, t2=0, t3=0, t4=0, t=0.024