krainaksiazek winter evening tales 20119882
- znaleziono 12 produktów w 3 sklepach 463,27 zł
Książki / Literatura obcojęzyczna
Winter Evening Tales (1820; second edition 1821) was James Hogg's most successful work of prose fiction in his lifetime. Exhibiting the most complex genesis of any of Hogg's works, it is the outstanding example of a 'national' genre pioneered by him -- the miscellaneous collection of popular and traditional narratives. Hogg's experimental medley of novellas, tales, poems and sketches posed a lively alternative to the dominant form of the historical novel established by Walter Scott. The collection includes terse masterpieces of mystery and the uncanny, virtuoso improvisations on folktale themes, and -- the highlights of the edition -- two brilliant autobiographical novellas, The Renowned Adventures of Basil Lee and Love Adventures of Mr George Cochrane. Reprinted in incomplete and unreliable texts in Victorian editions of Hogg's works, Winter Evening Tales fell into almost total obscurity after the author's death. The Stirling/ South Carolina Edition of the Collected Works of James Hogg is delighted to republish this key work in Hogg's career in its entirety for the first time since the early nineteenth century.
Sklep: Libristo.pl 158,89 zł
Książki
Sklep: KrainaKsiazek.pl 50,36 zł 158,89 zł
Książki
Sklep: KrainaKsiazek.pl 79,33 zł
Książki / Literatura obcojęzyczna
Excerpt from Tales and Sketches by the Ettrick Shepherd, Vol. 5: Including the Brownie of Bodsbeck, Winter Evening Tales, Shepherd's Calendar, &C., &C. And Several Pieces Not Before Printed, With Illustrative Engravings, Chiefly From Real Scenes It appears from tradition, as well as some parish registers still extant, that the lands of Dalcastle (or Dalchastel, as it is often spelled) were possessed by a family of the name of Colwan, about one hundred and fifty years ago, and for at least a century previous to that period. That family was supposed to have been a branch of the ancient family of Colquhoun, and it is certain that from it spring the Cowans that spread towards the Border. I find, that in the year 1687, George Colwan succeeded his uncle of the same name, in the lands of Dalchastel and Balgrennan; and this being all I can gather of the family from history, to tradition I must appeal for the remainder of the motley adventures of that house. But of the matter furnished by the latter of these powerful monitors I have no reason to complain: it has been handed down to the world in unlimited abundance; and I am certain, that in recording the hideous events which follow, I am only relating to the greater part of the inhabitants of at least four counties of Scotland, matters of which they were before perfectly well informed. About the Publisher Forgotten Books publishes hundreds of thousands of rare and classic books. Find more at www.forgottenbooks.com This book is a reproduction of an important historical work. Forgotten Books uses state-of-the-art technology to digitally reconstruct the work, preserving the original format whilst repairing imperfections present in the aged copy. In rare cases, an imperfection in the original, such as a blemish or missing page, may be replicated in our edition. We do, however, repair the vast majority of imperfections successfully; any imperfections that remain are intentionally left to preserve the state of such historical works.
Sklep: Libristo.pl 114,99 zł
Muzyka>Klasyczna
1. 71 Tracks Of Classical Music Over 5 Cds London Philharmonic / Bernard Herrmann - Clair De Lune : Suite Bergamasque (Debussy) Joseph Cooper - Nocturne No.2 (Chopin) LSO / Stanley Black - Nocturne : Lyric Suite (Grieg) New Symphony Orchestra Of London / Raymond Agoult - Dream Children (Elgar) Radu Lupu - Moonlight Sonata : First Movement (Beethoven) LSO / Richard Bonynge - La Navarraise : Nocturne (Massenet) RPO / Stanley Black - Nocturne (Borodin) Ilana Vered - Nocturne No.15 (Chopin) Josef Sakonov / London Festival Orchestra - Much Ado About Nothing (Korngold) New Symphony Orchestra Of London / Raymond Agoult - Le Vierge : Last Sleep Of The Virgin (Massenet) Alicia De Larrocha - Lyric Pieces : Nocturne (Grieg) New Philharmonia / Rafael Fruhbeck De Burgos - A Midsummer Night S Dream : Nocturne (Mendelssohn) London Philharmonic / Bernard Herrmann - Pavane (Faure) Academy Of St Martin In The Fields / Neville Marriner - Water Music : Hornpipe / Air / Gigue (Handel) Pascal Roge - Images : Reflets Dans L Eau (Debussy) Alan Loveday / Academy Of St Martin In The Fields / Neville Marriner - The Four Seasons : Winter : Largo (Vivaldi) Vienna Philharmonic / Willi Boskovsky - Lagoon Waltz (Strauss II) Pascal Roge - Jeux D Eau (Ravel) Israel Philharmonic / Walter Weller - The Moldau - My Country (Smetana) Vladimir Ashkenazy - Raindrop Prelude (Chopin) Varda Nishry - The Trout (Schubert Trans Liszt) Mincho Minchev / Francisco Gabarro / National Philharmonic / Richard Bonynge - Swan Lake : Dance Of The Swans - Odette And The Prince - Second Dance Of The Swan Queen (Tchaikovsky) English Chamber Orchestra / Benjamin Britten - Gaily But Not Too Quick (Delius) Jorge Bolet - Auf Dem Wasser Zu Singen (Schubert Trans Liszt) Vienna Philharmonic / Boskovsky - The Blue Danube (Strauss II) William Bennett / Academy Of St Martin In The Fields / Neville Marriner - Fantasia On Greensleeves (Vaughan Williams) Kiri Te Kanawa / English Chamber Orchestra / Jeffrey Tate - Songs Of The Auvergne : Bailero (Canteloube) Vienna Philharmonic / Hans Schmidt-Isserstedt - Pastoral Symphony : Ny The Brook (Beethoven) Andras Schiff / Lukas Hagen / Veronika Hagen / Clemens Hagen / Alois Posch - Trout Quintet : Fourth Movement - Theme And Variations (Schubert) L Orchestre De La Suisse Romande / Ansermet - Suite Pastorale - Idylle (Chabrier) Joseph Cooper - To A Wild Rose (MacDowell) National Philharmonic / Boskovsky - Cowkeeper S Tune & Country Dance (Grieg) National Philharmonic / Bonynge - Scenes Alsaciennes : Sous Les Tilleuls (Massenet) Timothy Hutchins / Orchestre Symphonique De Montreal / Dutoit - Prelude A L Apres Midi D Un Faune (Debussy) Joseph Cooper - To A Water Lily (MacDowell) Vienna Philharmonic / Munchinger - Rosamunde : Shepherd S Melody / Shepherd S Chorus (Schubert) Anton Karas / Vienna Philharmonic / Boskovsky - Tales From The Vienna Woods (Strauss II) Vienna Philharmonic / Karajan - Romeo & Juliet : Love Theme (Tchaikovsky) Erich Gruenberg / Philharmonia Orchestra / Edgar Howarth - Liebesfreud (Kreisler) Academy Of St Martin In The Fields / Neville Marriner - A Village Romeo And Juliet : The Walk To Paradise Garden (Delius) Jorge Bolet - Liebestraum No.3 (Liszt) Frederica Von Stade / Chicago Symphony Orchestra / Solti - La Damnation De Faust : D Amour L Ardente Flamme (Berlioz) L Orchestre De La Suisse Romande / Ansermet - Romeo & Juliet : Balcony Scene (Prokofiev) Kyung Wha Chung / Philip Moll - Salut D Amour (Elgar) David Gray / LSO / Stokowski - Extase (Duparc) Kiri Te Kanawa / English Chamber Orchestra / Tate - Songs Of The Auvergne : Pastourelle (Canteloube) Vienna Philharmonic / Aram Khachaturian - Spartacus : Adagio Of Sparticus And Phrygia (Khachaturian) Ashkenazy - Fur Elise (Beethoven) Erich Gruenberg / Philharmonia Orchestra / Howarth - Liebesleid (Kreisler) Marilyn Horne / Wiener Opernorchester / Henry Lewis - Samson And Delilah : Mon Coeur S Ouvre A Ta Voix (Saint-Saens) Vienna Philharmonic / Maazel - Romeo & Juliet : Love Scene (Berlioz) Joan Sutherland / L Orchestre De La Suisse Romande / Bonynge - The Tales Of Hoffmann : Barcarolle (Offenbach) Academy Of St Martin In The Fields / Neville Marriner - Serenata Notturna : Second Movement Minuet & Trio (Mozart) London Philharmonic / Hogwood - Serenade For Strings : Fourth Movement Larghetto (Dvorak) Ashkenazy - Nocturne No.8 (Chopin) Los Angeles Chamber Orchestra / Marriner - Serenade For Strings : Third Movement Adagio (Suk) April Cantelo / Helen Watts / LSO / Colin Davis - Beatrice And Benedict : Vous Soupirez Madame? ... Nuit Paisible Et Sereine! (Berlioz) Marisa Robles - Prelude No.7 Mazurka No.5 (Chopin Trans Robles) Stuttgarter Kammerorchester / Munchinger - Serenade (Hoffstetter Attrib Haydn) Alan Feinberg - Dreaming (Beach) Stuttgarter Kammerorchester / Munchinger - Musette (Handel) Eduardo Fernandez - Recuerdos De La Alhambra (Tarrega) Lucia Popp / Brigitte Fassbaender / Vienna Philharmonic / Solti - Hansel And Gretel : Evening Prayer (Humperdinck) LSO / Kertesz - Serenade No.2 : Fourth Movement Quasi Menuetto Trio (Brahms) Detroit Symphony Orchestra / Dorati - Czech Suite - Fourth Movement Romanza (Dvorak) Marisa Robles - Chanson De La Nuit (Salzedo) Kiri Te Kanawa / English Chamber Orchestra / Tate - Songs Of The Auverge : Brezairola (Canteloube) .
Sklep: Gigant.pl 107,73 zł
Książki / Literatura obcojęzyczna
Quelle: Wikipedia. Seiten: 92. Kapitel: Tarkus, Tales from Topographic Oceans, Union, Pulse, 90125, The Dark Side of the Moon, Anderson Bruford Wakeman Howe, Absolutely Free, Freak Out!, Tormato, My Winter Storm, Relayer, Talk, What Lies Beneath, Drama, Open the Door, The Ladder, Over-Nite Sensation, Lumpy Gravy, Going for the One, The Wall, Big Generator, In the Court of the Crimson King, Aqua, Keys to Ascension 2, Asia, Open Your Eyes, The Final Cut, Jeff Wayne s Musical Version of the War of the Worlds, Mothermania, Is There Anybody Out There? The Wall Live 1980 81, Catch Without Arms, This Is War, Magnification, Brother Where You Bound, Free as a Bird, The Six Wives of Henry VIII, Fear of a Blank Planet, Uncle Meat, Time and a Word, Thick as a Brick, Crime of the Century, Animals, Hai Hai, In the Eye of the Storm, The Incident, Neu! 4, If then else, Paris Sessions, Atom Heart Mother, Slow Motion, Take the Long Way Home Live in Montreal, Wish You Were Here, Some Things Never Change, The Yes Album, Rites of Passage, Dialogue, The Word Is Live, Yessongs, Septober Energy, Even in the Quietest Moments , Crisis? What Crisis?, A Beautiful Lie, Nick Mason s Fictitious Sports, Ummagumma, Too Old to Rock n Roll: Too Young to Die!, Ommadawn, Meddle, 2112, Hergest Ridge, Supertramp, The Piper at the Gates of Dawn, Yesterdays, Spirit, 9012Live: The Solos, An Evening of Yes Music Plus..., Abacab, Mekan
Sklep: Libristo.pl 659,99 zł
Muzyka>Klasyczna
1. Masterson, Valerie - The Rhingold (Musikdrama In 4 2. Orchestral Prelude (1. Szene) 3. Weia! Waga! Wandering Waters' 4. He, He! You Nisxies! 5. Slimpy, Slippery, Slithery Smoothless! 6. Look, Sisters! The Sunlight Is Greeting The Gold 7. What's That, You Nixies...? 8. The World's Wealth Can Be Mine...? 9. Still Not Afraid? - Orchestral Interlude 10. Wotan, My Lord! Awaken! (2. Szene) 11. For I Wished You Faithful & True 12. Then Shelter Her Now 13. Soft Sleep Closed Your Eyes 14. God Of Light, Light Of Spirit! 15. To Me, Freia! Back Her, Giant! 101. This Bond Is Graved On My Spear's Strong Shaft 102. What? How Am I Concerned In A Contract? 103. Never One Word Of Praise Or Thanks! 104. But One I Found Then 105. So I Promised I'd Tell You The Story 106. A Toy, While It Was In The Waters 107. And I Should Posses It! 108. Hear, Wotan, I'll Speak My Last Word! 109. Over Rock & Stone They Stride 110. I See Now! Hear What Is Wrong! 111. Come, Loge, Descend With Me! 112. Hehe! Hehe! Come Here! Come Here! (3. Szene) 113. Ha, You Rogue! 114. Nibelheim Here 115. What Help For Me? 116. Better Take Care! Alberich's Near 117. What Brought You Here? 118. In The Clouds, You Great Ones 119. All Must Stand In Amazement 201. Ohe! Ohe! Terrible Dragon' 202. Now Swiftly Up! - Orchestral Interlude 203. There, Albrich, Sit On Your Throne! (4. Szene) 204. And Now The Niblungs Will Come To My Call 205. The Gold Lies There; Now Let Me Go 206. Am I Now Free? 207. Fasolt & Fafner Come This Way 208. Wait! Don't Touch Her Yet! 209. Far Too Loose You're Piling The Gold 210. Freia, The Fair One, See I No More 211. Yield It, Wotan, Yield It! 212. Hear, You Giants! 213. Stop, You Greedy One! 214. Your Luck, Wotan, What Could Surpass It? 215. Swelrering Mists Hang In The Air... Heda! Heda! He 216. The Bridge Leads You Homeward 217. Evening Rays Flood The Sky With Splendour 218. Rhinegold! Rhinegold! - Orchestral Postlude 301. Attfield, Helen - The Valkyrie (Musikdrama In 3 Ak 302. Prelude (1. Akt) 303. The Storm Drove Me Here (1. Szene) 304. This House & This Wife 305. Evil Fortune's Never Far From Me 306. There He Lay, Feeble & Faint (2. Szene) 307. Through Field & Forest 308. Friedmund No One Could Call Me 309. The Neidings Raided Again 310. So The Norn Who Dealt You This Fate 311. I Know A Troublesome Race 312. A Sword Was Pledged By My Father (3. Szene) 313. Are You Awake? 314. My Husband's Kinsmen 315. Yes, Loveliest Bride 316. Winter Storms Have Vanished 317. You Are The Spring 318. Oh Sweetest Enchantment 319. The Stream Has Shown My Reflected Face 320. Siegmund Call Me, & Siegmund Am I! 321. Siegmund, The Waelsung, Here You See! 401. Go Bridle Your Horse, Warrior Maid! (2. Akt, 1. Sz 402. Hoyotoho! Hoyotoho! 403. The Usual Storm, The Usual Strife! 404. Pretend That You Don't Understand!c 405. Now It's Come To Pass! 406. So This Is The End Of The Gods Amd Their Glory 407. You Never Learn What I Would Teach You 408. What Must I Do? 409. Hiaha! Hiaha! Hoyotoho! 410. Fricka Has Won The Fight (2. Szene) 411. When Youth's Delightful Pleasures Had Waned 412. She Refused To Reveal More About It 413. There's More To Tell 414. Yet One Can Accomplish What I May May Not 415. But The Waelsung, Siegmund 416. Then Siegmund Must Fall In His Fight? 417. I Give You My Bloessing, Niblung Son! 418. No, Have Mercy 501. So I Obey His Command 502. Rest Here For A While; Stay By My Side! (3. Szenew 503. Away! Away! 504. Where Are You, Siegmund? 505. Siegmund! Look At Me! (4. Szene) 506. And If I Come 507. Then Greet For Me Wallhall 508. Woe! Woe! Sister & Bride 509. Two Lives Now Lie In Your Power 510. Charmes Of Sleep Are Sent To Still (5. Szene) 511. I Hear Your Call 512. Wehwalt! Wehwalt! 601. Hoyotoho! Hoyotoho! (3. Akt, 1. Szene) 602. Shield Me & Help 603. Hear While I Tell 604. Pray Suffer No Sorrow For Me 605. Fly Him Swifly, Away To The East! 606. O Radiant Wonder! 607. Stay, Bruennhild! 608. Where Is Bruennhild? (2. Szene) 609. Weak-spirited, Womanish Brood! 610. Here Am I, Father 611. No More Will You Ride From Wallhall 612. Didi You Not Hear What I Decreed? 613. Was It So Shameful? (3. Szene) 614. I Know So Little 615. You, Who This Love Into My Heart Revealted 616. You Ingulged Your Love 617. Unworth Of You This Foolish Maid 618. You Fathered A Glorious Race 619. In Long, Deep Sleep 620. Farewell, My Valiant, Glorious Child! 621. These Eyes So Warm & So Bright 622. Loge, Hear! Come At My Call! 623. Magic Fire Music 701. Hunter, Rita - Siegfried (Musikdrama In 3 Akten) ( 702. Prelude (1. Akt) 703. Wearisome Labour! (1. Szene) 704. Hoiho! Hoiho! 705. Well, There Are The Pieces 706. A Whimpering Babe 707. Much You've Taught To Me, Mime 708. I Found Once In The Wood 709. And Now These Fragments 710. He Storms Away! 711. Hail There, Worthy Smith! (2. Szene) 712. I Sit By Your Hearth 713. What You Needed To Know 714. The Fragments! The Sword! 801. Accursed Light! (3. Szene) 802. Hey There! You Idler! 803. Have You Not Felt Within The Woods 804. Give Me These Pieces 805. Notung! Notung! Sword Of My Need! 806. Hoho! Hoho! Hohi! 807. Prelude (2. Akt) 808. In Gloomy Night By Fafner's Cave I Wait (1. Szene) 809. To Neidhohl By Night I Have Come 810. Not My Plan! 811. Fafner! Fafner! You Dragon, Wake! 812. Now, Alberich! That Plan Failed! 813. We Go No Further! (2. Szene) 814. So He's No Father Of Mine 901. Could I But Know 902. See My Mother 903. Ha Ha! At Last With My Call 904. Who Are You, Youthful Hero 905. The Deyad Can Tell No Tidings 906. Hehe! Sly & Slippery Knave (3. Szene) 907. Tarnhelm & Ring, Here They Are 908. Be Welcome, Siegfried! 909. You Lie There Too, Mighty Dragon 910. Prelude (3. Akt) 911. Waken, Wala! Wala! Awake! (1. Szene) 912. Strong Is Your Call 913. You Unwise One, Learn What I Will 914. I See That Siegfried's Near (2. Szene) 1001. My Woodbird Fluttered Away 1002. Young Man, Hear Me 1003. Child, If You Knew Who I Am 1004. With His Spear In Splinters 1005. Here In The Sunlight (3. Szene) 1006. Come, My Sword! 1007. Hail, Bright Sunlight! 1008. Siegfried! Siegfried! Glorious Hero! 1009. And There Is Grane, My Sacred Horse 1010. Oh! I Cared Always 1101. Curphey, Margaret - Twilight Of The Gods (Musikdra 1102. What Light Shines Down There? (Prelude) 1103. Wotan Made Holy Laws & Treaties 1104. That Mighty Hall The Giants Have Raised 1105. Now The God Will Seize The Spear That Was Shattere 1106. Dawn Music - To Deeds Of Glory 1107. Ah, But To Prove You Love Me 1108. Love, I Leave You Alone 1109. So By Your Daring I Am Fired 1110. O Heavenly Rulers! 1111. Siegfried's Rhine Journey 1112. Now Hear, Hagen (1. Akt, 1. Szene) 1113. What Woman Should I Wed 1114. At Neidhohle The Nibelung Gold Was Guarded 1115. You Mock Me, Wicked Hagen! 1116. Merrily Seeking Adventures & Fame 1117. Which Is Gibich's Son? (2. Szene) 1118. I Welcome You, My Friend 1119. That Treasure I Quite Forgot 1120. Welcome, O Guest, To Gibich's House! 1201. Flourishing Life's Refreshing Blood 1202. Now On Our Way! 1203. I Sit Here & Wait 1204. Sounds I Once Knew So Well (3. Szene) 1205. You've Come To Me? 1206. Fear & Dread I Read In Your Features! 1207. Hear Me With Care, & I Will Tell You! 1208. He Sits There, Speaks No Word 1209. These Tales Of Evil Fancies 1210. Upon Your Hand, The Ring 1211. Go Home To The Sacred Clan Of The Gods! 1212. Borne On The Wind 1213. Bruennhild! Your Husband Comes 1214. The Night Draws On 1215. Now Nothing Can Save Me 1216. With Your Brother I Promised To Serve 1217. I Fear Not The Flames 1301. Prelude (2. Akt, 1. Szene) 1302. Sleep You, Hagen, My Son? 1303. The Might Of The Gods 1304. Help Me! 1305. That Ring Shall Be Hangen's 1306. Hoiho! Hagen! Fast Asleep? (2. Szene) 1307. Yet My Siegfried Was With Bruennhild? 1308. I Can See A Sail In The Distance 1309. Hoiho! Hoihohoho! (3. Szene) 1310. Come To My Call, & Arm Yourselves! 1311. Glad Times Have Come 1312. Elcome, Gunther! (4. Szene) 1313. I Greet You, Noble Friend 1314. A Ring I Saw Upon Your Hand 1315. Ha! - Siegfried Stole It 1316. Hear In Wallhall, Mighty Immortals! 1317. Would You Defile Your Name So Lightly? 1318. Shining Steel! Holiest Weapon! 1319. Gunther, Look To Your Wife There 1320. Dark, Unholy Powers Lie Here Around Me! (5. Szene) 1321. Have Trust In Me, Offended Wife! 1322. Can No Weapon's Point Then Pierce Him? 1323. Deceived Am I - & Deceiver! 1324. He Betrayed You 1401. Since This Blow Must Be Dealt Her 1402. Prelude (3. Akt) 1403. Fair Sunlight, Shine On Us In Splendour (1. Szene) 1404. Fair Sunlight, Send To Us The Hero 1405. A Goblin Led Me Stray 1406. Siegfried, If We Find Your Bear 1407. Why Shuold I Let Them Laugh & Jeer? 1408. Siegfried!... Give Heed To Our Word'st 68 1409. Come, Sisters! Flee From This Madman! 1410. Hoiho! (2. Szene) 1411. You Drove The Game Away From Us 1412. Drink, Gunther, Drink 1413. Mime Was A Hideous Dwarf 1414. Now You Must Hear What Happened Next 1415. Ring & Tanrhelm - Both I Had Found 1416. In Grief I Watched The Branches Above 1501. Bruennhilde! Holiest Bride! 1502. Siegfried's Funeral March 1503. Was That His Horn? 1504. Ah, If Siegfried Were Back! 1505. Cast Not The Blame On Me 1506. Peace With Your Cries Of Useless Lament! 1507. Poor Creature, Peace! 1508. Sturday Branches, Building His Pyre 1509. The Sun In Radiance Shines From His Eyes 1510. O You, You Guardians 1511. My Heritage I Claim From The Hero 1512. Fly Home, You Ravens! 1513. Grane, My Horse! 1514. Give Back The Ring
Sklep: Gigant.pl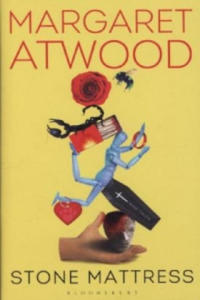 100,90 zł
Książki / Literatura obcojęzyczna
A recently widowed fantasy writer is guided through a stormy winter evening by the voice of her late husband. An elderly lady with Charles Bonnet syndrome comes to terms with the little people she keeps seeing, while a newly formed populist group gathers to burn down her retirement residence. A woman born with a genetic abnormality is mistaken for a vampire. And a crime committed long ago is revenged in the Arctic via a 1.9 billion-year-old stromatalite. In these nine tales, Margaret Atwood ventures into the shadowland earlier explored by fabulists and concoctors of dark yarns such as Robert Louis Stevenson, Daphne du Maurier and Arthur Conan Doyle - and also by herself, in her award-winning novel Alias Grace. In Stone Mattress, Margaret Atwood is at the top of her darkly humorous and seriously playful game.
Sklep: Libristo.pl
Sklepy zlokalizowane w miastach: Warszawa, Kraków, Łódź, Wrocław, Poznań, Gdańsk, Szczecin, Bydgoszcz, Lublin, Katowice
Szukaj w sklepach lub całym serwisie
2. Szukaj na wszystkich stronach serwisu
t1=0.047, t2=0, t3=0, t4=0, t=0.048