krainaksiazek wittgenstein s conception of philosophy 20049580
- znaleziono 12 produktów w 1 sklepie 219,27 zł
Książki / Literatura obcojęzyczna
John G. Gunnell argues that a distinctive feature of Ludwig Wittgenstein's work after 1930 was his turn to a conception of philosophy as a form of social inquiry and that Thomas Kuhn's approach to the philosophy of science exemplified this conception. He further contends that their work addresses foundational issues in the social and human sciences and particularly the vision of social inquiry as an interpretive endeavor, as well as the distinctive cognitive and practical relationship between social inquiry and its subject matter. Gunnell speaks directly to philosophers and practitioners of the social and human sciences. The issues he tackles include the demarcation between natural and social science; the nature of social phenomena; the concept and method of interpretation; the relationship between language and thought; the problem of knowledge of other minds; and the character of descriptive and normative judgments about practices that are the object of inquiry. Though Wittgenstein and Kuhn are often criticized as initiating a modern descent into relativism, this book shows that the true effect of their work was to undermine the basic assumptions of contemporary social and human science practice. It also problematized the authority of philosophy and other forms of social inquiry to specify the criteria for judging such matters as truth and justice. When Wittgenstein stated that "philosophy leaves everything as it is," he did not mean that philosophy would be left as it was or that philosophy would have no impact on what it studied, but rather that the activity of inquiry did not, simply by virtue of its performance, transform the object of inquiry.
Sklep: Libristo.pl 239,19 zł
Książki / Literatura obcojęzyczna
Wittgenstein: Comparisons and Context is a collection of P. M. S. Hacker's papers on Wittgenstein and Wittgensteinian themes written over the last decade. It presents Hacker's own (Wittgensteinian) conception of philosophy, and defends it against criticisms. Two essays compare Wittgenstein with Kant on transcendental arguments, and offer a Wittgensteinian critique of Kant's transcendental deduction. Two further essays trace the development of Wittgenstein's philosophy of psychology, and examine his anthropological and ethnological approach to philosophical problems. This leads naturally to a synoptic comparison of Wittgenstein's later philosophy of language with formal, truth-conditional conceptions of language. A further two clarificatory essays follow these comparative ones: the first concerns Wittgenstein's conception of grammar, and his exclusion of theses, doctrines, dogmas, and opinions in philosophy; the second concerns his treatment of intentionality. The penultimate essay examines Quine's epistemological naturalism, which is often presented as a more scientific approach to philosophical problems than Wittgenstein's. The final essay offers a synoptic view of analytic philosophy and its history, in which Wittgenstein played so notable a part. The volume complements Hacker's previous collection, Wittgenstein: Connections and Controversies (OUP, 2001), but stands as an independent contribution to work in the field.
Sklep: Libristo.pl 212,85 zł
Książki / Literatura obcojęzyczna
Gordon Graham presents a radically innovative study of Wittgenstein's philosophy, in relation to the age-old impulse to connect ordinary human life with the transcendent reality of God. He offers an account of its relevance to the study of religion that is completely different to the standard version of 'Wittgensteinian philosophy of religion' expounded by both its adherents and critics. Graham goes on to revitalize the philosophy of 'true religion', an alternative, though not a rival, to the lively philosophical theology of Plantinga and Swinburne that currently dominates the subject. This alternative style of philosophy of religion has equally deep historical roots in the philosophical works of Spinoza, Hume, Schleiermacher, and Mill. At the same time, it is more easily connected to the psychological, sociological, and anthropological studies of William James, Emile Durkheim, Max Weber, Mircea Eliade, and Mary Douglas. Graham uses Wittgenstein's conception of philosophy to argue in favour of the idea that 'true religion' is to be understood as human participation in divine life.
Sklep: Libristo.pl 117,77 zł
Książki / Literatura obcojęzyczna
Paul Horwich develops an interpretation of Ludwig Wittgenstein's later writings that differs in substantial respects from what can already be found in the literature. He argues that it is Wittgenstein's radically anti-theoretical metaphilosophy-and not (as assumed by most other commentators) his identification of the meaning of a word with its use-that lies at the foundation of his discussions of specific issues concerning language, the mind, mathematics, knowledge, art, and religion. Thus Horwich's first aim is to give a clear account of Wittgenstein's hyper-deflationist view of what philosophy is, how it should be conducted, and what it might achieve. His second aim is to defend this view against a variety of objections: that is, to display its virtues, not merely as an accurate reading of Wittgenstein, but as the correct conception of philosophy itself. And the third aim is to examine the application of this view to a variety of topics-but primarily to language and to experience. A further distinctive feature of this approach is its presupposition that Wittgenstein's ideas may be formulated with precision and that solid arguments may be found on their behalf. This pair of guiding assumptions-the centrality of Wittgenstein's metaphilosophy, and its susceptibility to rigorous articulation and rational support-are admittedly controversial but are vindicated, not just textually, but by the power and plausibility of the philosophy that results from them.
Sklep: Libristo.pl 220,94 zł
Książki / Literatura obcojęzyczna
This book approaches the philosophy of Ludwig Wittgenstein from various different angles. Wittgenstein as a background for the interpersonal pragmatic theory of communication by Paul Watzlawick et al. is dealt with as well as Wittgenstein's way of writing and in what sense the fragmentary
Sklep: Libristo.pl 193,97 zł
Książki / Literatura obcojęzyczna
Ludwig Wittgenstein (1889
Sklep: Libristo.pl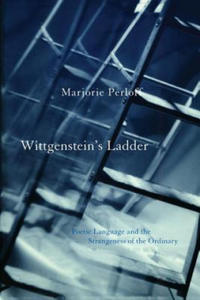 130,20 zł
Książki / Literatura obcojęzyczna
Marjorie Perloff, among our foremost critics of twentieth-century poetry, argues that Ludwig Wittgenstein provided writers with a radical new aesthetic, a key to recognizing the inescapable strangeness of ordinary language. Taking seriously Wittgenstein's remark that "philosophy ought really to be written only as a form of poetry", Perloff begins by discussing Wittgenstein the "poet". What we learn is that the poetics of everyday life is anything but banal."This book has the lucidity and the intelligence we have come to expect from Marjorie Perloff.--Linda Munk, "American Literature" "[Perloff] has brilliantly adapted Wittgenstein's conception of meaning and use to an analysis of contemporary language poetry".--Linda Voris, "Boston Review" " "Wittgenstein's Ladder" offers significant insights into the current state of poetry, literature, and literary study. Perloff emphasizes the vitality of reading and thinking about poetry, and the absolute necessity of pushing against the boundaries that define and limit our worlds".--David Clippinger, "Chicago Review" "Majorie Perloff has done more to illuminate our understanding of twentieth century poetic language than perhaps any other critic. . . . Entertaining, witty, and above all highly original".--Willard Bohn, "SubStance"
Sklep: Libristo.pl 397,38 zł
Książki / Literatura obcojęzyczna
This edition of G. E. Moore's notes taken at Wittgenstein's seminal Cambridge lectures in the early 1930s provides, for the first time, an almost verbatim record of those classes. The presentation of the notes is both accessible and faithful to their original manuscripts, and a comprehensive introduction and synoptic table of contents provide the reader with essential contextual information and summaries of the topics in each lecture. The lectures form an excellent introduction to Wittgenstein's middle-period thought, covering a broad range of philosophical topics, ranging from core questions in the philosophy of language, mind, logic, and mathematics, to illuminating discussions of subjects on which Wittgenstein says very little elsewhere, including ethics, religion, aesthetics, psychoanalysis, and anthropology. The volume also includes a 1932 essay by Moore critiquing Wittgenstein's conception of grammar, together with Wittgenstein's response. A companion website offers access to images of the entire set of source manuscripts.
Sklep: Libristo.pl 186,19 zł
Książki / Literatura obcojęzyczna
A new form of philosophizing known as ordinary language philosophy took root in England after the Second World War, promising a fresh start and a way out of long-standing dead-end philosophical debates. Pioneered by Wittgenstein, Austin, and others, OLP is now widely rumored, within mainstream analytic philosophy, to have been seriously discredited, and consequently its perspective is ignored. Avner Baz begs to differ. In "When Words Are Called For", he shows how the prevailing arguments against OLP collapse under close scrutiny. All of them, he claims, presuppose one version or another of the very conception of word-meaning that OLP calls into question and takes to be responsible for many traditional philosophical difficulties. Worse, analytic philosophy itself has suffered as a result of its failure to take OLP's perspective seriously. Baz blames a neglect of OLP's insights for seemingly irresolvable disputes over the methodological relevance of "intuitions" in philosophy and for misunderstandings between contextualists and anti-contextualists (or "invariantists") in epistemology. Baz goes on to explore the deep affinities between Kant's work and OLP and suggests ways that OLP could be applied to other philosophically troublesome concepts. "When Words Are Called For" defends OLP not as a doctrine but as a form of practice that might provide a viable alternative to work currently carried out within mainstream analytic philosophy. Accordingly, Baz does not merely argue for OLP but, all the more convincingly, practices it in this eye-opening book.
Sklep: Libristo.pl 336,45 zł
Książki / Literatura obcojęzyczna
This volume tracks Ramsey's philosophical development over the course of his short life, arguing that there runs throughout Ramsey's work a methodological commitment to philosophising in what he called 'the realistic spirit', a commitment which is only given that name by him in 1929, the final year of his life. This commitment is characterised by the rejection of various (though not all) forms of realism, not as false, but as nonsensical. A large part of the book is concerned with characterising this notion, and the attendant conception of philosophical enquiry, in more detail. Reading Ramsey's work with the realistic spirit in mind allows one to see that the philosophical puzzles with which Ramsey concerned himself relate almost entirely to his working through some commitments of Wittgenstein's Tractatus Logico-Philosophicus that he took to be distinctly unrealistic (in his sense), entailing as they do a number of realist (not realistic) commitments. It also allows us to see the degree to which that work was concerned with augmenting the theory of the Tractatus in order to improve it. Finally, it makes clearer the influence that Ramsey had on Wittgenstein's later work, and thus also on much of the philosophy of the late-20th century.
Sklep: Libristo.pl 127,46 zł
Książki / Literatura obcojęzyczna
Normativity concerns what we ought to think or do and the evaluations we make. For example, we say that we ought to think consistently, we ought to keep our promises, or that Mozart is a better composer than Salieri. Yet what philosophical moral can we draw from the apparent absence of normativity in the scientific image of the world? For scientific naturalists, the moral is that the normative must be reduced to the nonnormative, while for nonnaturalists, the moral is that there must be a transcendent realm of norms. Naturalism and Normativity engages with both sides of this debate. Essays explore philosophical options for understanding normativity in the space between scientific naturalism and Platonic supernaturalism. They articulate a liberal conception of philosophy that is neither reducible to the sciences nor completely independent of them--yet one that maintains the right to call itself naturalism. Contributors think in new ways about the relations among the scientific worldview, our experience of norms and values, and our movements in the space of reason. Detailed discussions include the relationship between philosophy and science, physicalism and ontological pluralism, the realm of the ordinary, objectivity and subjectivity, truth and justification, and the liberal naturalisms of Donald Davidson, John Dewey, John McDowell, and Ludwig Wittgenstein.
Sklep: Libristo.pl 131,03 zł
Książki / Literatura obcojęzyczna
Reason in Action collects John Finnis's work on the theory of practical reason and moral philosophy. The essays in the volume range from foundational issues of meta-ethics to the practical application of natural law theory to ethical problems such as nuclear deterrence, obscenity and free speech, and abortion and cloning. Defending the objectivity of some evaluative and moral judgments, the volume's meta-ethical papers debate with figures as diverse as Jurgen Habermas, Bernard Williams, David Hume, Max Weber, and Christine Korsgaard, and offer a new understanding of Wittgenstein's On Certainty. Further papers engage with Philippa Foot, Geoffrey Warnock, Leo Strauss, Terence Irwin, Matthew Kramer, neo-scholastic interpreters of Aquinas, utilitarians, game theorists, and Immanuel Kant on the shape of moral thought. John Rawls's conception of public reason, J.S. Mill's understanding of free speech, and Jacques Maritain's appeal to "connatural" knowledge are critically contested. Foundational questions addressed in the volume include: how legal reasoning differs from general practical reasoning; how aesthetic appreciation differs from erotic attraction; how subrational elements enter into the rational standard of fairness; how virtues depend upon principles and norms; and how incommensurabilities count in moral thought. These essays mark the development of Finnis's new classical theory of natural law, engaged with contemporary thinkers and problems. Several essays, including two previously unpublished, show the theory's emergence before Natural Law and Natural Rights. Other unpublished essays include a discussion of pornography, an analysis of freedom of speech, and a substantive introduction reflecting on the theory, its reception, and the convergence on it of capabilities theorists such as Amartya Sen and Martha Nussbaum.
Sklep: Libristo.pl
Sklepy zlokalizowane w miastach: Warszawa, Kraków, Łódź, Wrocław, Poznań, Gdańsk, Szczecin, Bydgoszcz, Lublin, Katowice
Szukaj w sklepach lub całym serwisie
2. Szukaj na wszystkich stronach serwisu
t1=0.043, t2=0, t3=0, t4=0, t=0.043