krainaksiazek words flow eternal 20039353
- znaleziono 3 produkty w 2 sklepach 67,58 zł
Książki / Literatura obcojęzyczna
The poet is a young mind exploring her own emotions and feelings as she observes various occurrences involving human actions and nature's reactions. Her sensitive and ever-curious mind questions everything - things to do with people, nature, wars, human atrocities, injustice etc. She knows there are no easy answers to her questions. She takes readers through the complete gamut of emotions, going from agony to ecstasy and back and forth. Thoughts and feelings flow unabated like an eternal spring from the very depths of her heart. There is a strong affinity between the poet and nature. She feels flashes of pain and sorrow inflicted upon nature by her fellow beings out of their avarice. This anthology is a testimony to the turmoil our world is going through. Using free verse with great abandon, she echoes the cry of humanity asking for succour and salvation. The poems are a treasure house of rich vocabulary with powerful words used to bare the poet's heart and soul. Given the poet's youth, it is remarkable for having created a work bursting with gentle beauty at one level and a true depiction of raw cruelty at another, as the poet's endeavours to awake man's conscience.
Sklep: Libristo.pl 74,91 zł
Książki / Literatura obcojęzyczna
"Toss out all other sex manuals. Meditate on not just the positions but the philosophy in "Kama"" Sutra 52." Think of it as a manual for your mind, not just your body. See how thoughtful sex can bring you to the edge where the sacred reveals itself. With this beautiful book, discover how pleasure is a doorway to spirit." -Thomas Moore, author of "Care of the Soul" and "The Soul of Sex" "Lisa Schrader has written a sumptuous and reverent modern interpretation of the Kama Sutra, showing lovers the full range of what is possible in the passionate embrace. She conveys a knowledge and love of these teachings that tantalizes and inspires. Read and enjoy." -Johanina Wikoff, Ph.D., author of "The Complete Idiot's Guide to the Kama Sutra" "Lisa Schrader's "Kama"" Sutra 52" gives us a celebration of what's possible in sexual intimacy when we invite the sacred back into the bedroom." -Susan Crain Bakos, bestselling author of "The Sex Bible," "The Sex Bible for Women," "The Orgasm Bible," and many more "A burning 'yes' to this book of ancient sexual wisdom made exquisitely engaging for today's lovers. More than a position book, "Kama"" Sutra 52 "inspires an eternal flow of heat, healing, and intentful loving between partners." - Charla Hathaway, author of "Erotic Massage" and "8 Erotic Nights," www.howintimacyworks.com "In "Kama"" Sutra 52," Schrader has crafted a work of art that marries the ancient Kama Sutra with a modern take on lovemaking. May her words instruct and inspire you as they did me!" -Eric Marlowe Garrison, author of "Mastering Multiple Position Sex" The best year of your life has arrived with Kama Sutra 52. Reach new levels of exotic and erotic bliss with a hot new position to try every week for 52 weeks! Each position, inspired by the ancient text of the Kama Sutra, maximizes pleasure and fun. Scintillating, full-color photographs illustrate all 52 positions and step-by-step instructions guide you through each move and pose. And with four fiery sections to choose from--Spark, Flame, Fire, and Wild Fire--you'll find positions to suit your every mood and inclination, from slow and sensual to red hot and ready to go. Are you ready to start the next chapter of your sex life? Are you ready to start your Kama Sutra year?
Sklep: Libristo.pl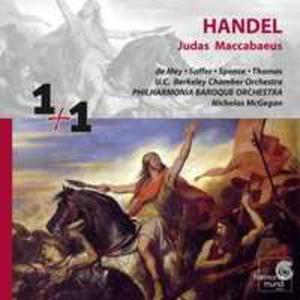 29,99 zł
Muzyka>Klasyczna
1. Saffer, Lisa - Judas Maccabaeus Hwv 63 (Oratorium) 2. Overture: Grave - Allegro - Lentement - Allegro 3. Chor: Mourn, Ye Afflicted Children (1. Akt) 4. Rezitativ: Well May Your Sorrows 5. Duett: From This Dread Scene 6. Chor: For Sion Lamentation Make 7. Rezitativ: Not Vain Is All This Storm Of Grief 8. Arie: Pious Orgies, Pious Airs 9. Chor: O Father, Whose Almighty Pow'r 10. Rezitativ: I Feel The Deity Within 11. Arie Und Chor: Arm, Arm, Ye Brave! 12. Rezitativ: 'Tis Well, My Friends 13. Arie: Call Forth Thy Pow'rs, My Soul 14. Rezitativ: To Heav'n's Almighty King 15. Arie: O Liberty, Thou Choicest Treasure 16. Arie: Come, Ever-smiling Liberty 17. Rezitativ: O Judas, May These Noble Views 18. Arie: 'Tis Liberty, Dear Liberty Alone 19. Duett: Come, Ever-smiling Liberty 20. Chor: Lead On, Lead On! 21. Rezitativ: So Will'd My Father 22. Chor: Disdainful Of Danger 23. Rezitativ: Ambition! 24. Arie: No, No Unhallow'd Desire 25. Chor: Hear Us, O Lord 26. Chor: Fall'n Is The Foe (2. Akt) 27. Rezitativ: Victorious Hero! 28. Arie: So Rapid Their Course Is 29. Rezitativ: Oh Let Eternal Honours 30. Arie: From Mighty Kings 31. Duett Und Chor: Hail, Hail, Judea 32. Rezitativ: Thanks To My Brethren 33. Arie: How Vain Is Man 34. Rezitativ: O Judas, O My Brethren! 35. Arie Und Chor: Ah! Wretched Israel! 101. Rezitativ: Be Comforted 102. Arie: The Lord Worketh Wonders 103. Rezitativ: My Arms! Against This Gorgias 104. Arie Und Chor: Sound An Alarm! 105. Rezitativ: Enough! To Heav'n We Leave The Rest 106. Arie: With Pious Hearts 107. Rezitativ: Ye Worshippers Of God 108. Duett Und Chor: Oh! Never, Never Bow We Down 109. Arie: Father Of Heav'n (3. Akt) 110. Rezitativ: See, See Yon Flames 111. Rezitativ: Oh Grant It, Heav'n 112. Arie: So Shall The Lute & Harp Awake 113. Rezitativ: From Capharsalama 114. Chor - Duett - Chor: See, The Conqu'ring Hero Come 115. Marsch 116. Duett Und Chor: Sing Unto God 117. Rezitativ: Sweet Flow The Strains 118. Arie: With Honour Let Desert Be Crown'd 119. Rezitativ: Peace To My Countrymen 120. Chor: To Our Great God Be All The Honour Giv'n 121. Rezitativ: Again To Earth 122. Duett: O Lovely Peace 123. Arie Und Chor: Rejoice, O Judah! Hallelujah! Amen 124. Saffer, Lisa - Judas Maccabaeus Hwv 63 (Oratorium) 125. Rezitativ: Well May We Hope 126. Duett Und Chor: Sion Now Her Head Shall Raise 127. Arie: Wise Men, Flatt'ring May Deceive Us 128. Arie: Far Brighter Than The Morning 129. Rezitativ: Sweet Are Thy Words 130. Arie: Great In Wisdom, Great In Glory 131. Rezitativ: Not Vain Is All This Storm O Fgrief 132. Arie: Pious Orgies, Pious Airs
Sklep: Gigant.pl
Sklepy zlokalizowane w miastach: Warszawa, Kraków, Łódź, Wrocław, Poznań, Gdańsk, Szczecin, Bydgoszcz, Lublin, Katowice
Szukaj w sklepach lub całym serwisie
2. Szukaj na wszystkich stronach serwisu
t1=0.038, t2=0, t3=0, t4=0, t=0.039