krainaksiazek you can share the faith reaching out one person at a time 20095565
- znaleziono 11 produktów w 4 sklepach 31,79 zł
Książki & Multimedia > Książki
Opis - "Fantastic ...I can't remember the last time I was simultaneously this entertained and this disturbed. The One is a clever story with great pacing but it's the characters that make this a standout thriller." (Hollie Overton, Sunday Times bestselling author of the Richard and Judy pick Baby Doll). How far would you go to find THE ONE? One simple mouth swab is all it takes. A quick DNA test to find your perfect partner - the one you're genetically made for. A decade after scientists discover everyone has a gene they share with just one other person, millions have taken the test, desperate to find true love. Now, five more people meet their Match. But even soul mates have secrets. And some are more shocking - and deadlier - than others..."Wonderful conceit, ridiculously entertaining ...an absolute pleasure." (T. A Cotterell, author of What Alice Knew). "Gripping from the start and full of surprises, this kept us up long after lights out." (Isabelle Broom, Heat). (Note: Previously published as A Thousand Small Explosions). Nazwa - The One Autor - John Marrs Oprawa - Miękka Wydawca - Ebury Press Kod ISBN - 9781785035623 Kod EAN - 9781785035623 Rok wydania - 2017 Język - angielski Format - 12.5x20.0cm Ilość stron - 416 Podatek VAT - 5% Premiera - 2017-05-25
Sklep: InBook.pl 45,80 zł
Nauki humanistyczne
Alain de Botton, best-selling author of How Proust can Change Your Life, has set six of the finest minds in the history of philosophy to work on the problems of everyday life. Here then are Socrates, Epicurus, Seneca, Montaigne, Schopenhauer and Nietzsche on some of the things that bother us all; lack of money, the pain of love, inadequacy, anxiety, the fear of failure and the pressure to conform.
Sklep: Albertus.pl 40,80 zł
Literatura faktu
'Only with the greatest of simplifications, for the sake of convenience, can we say Africa. In reality, except as a geographical term, Africa doesn't exist'. Ryszard Kapuscinski has been writing about the people of Africa throughout his career. In a study that avoids the official routes, palaces and big politics, he sets out to create an account of post-colonial Africa seen at once as a whole and as a location that wholly defies generalised explanations. It is both a sustained meditation on the mosaic of peoples and practises we call 'Africa', and an impassioned attempt to come to terms with humanity itself as it struggles to escape from foreign domination, from the intoxications of freedom, from war and from politics as theft. The Beginning: Collision, Ghana 1958 More than anything, one is struck by the light. Light everywhere. Brightness everywhere. Everywhere, the sun. Just yesterday, an autumnal London was drenched in rain. The airplane drenched in rain. A cold, wind, darkness. But here, from the morning
Sklep: Albertus.pl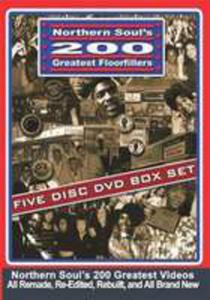 134,99 zł
Muzyka>Rhythm & Blues / Soul
1. Dobie Gray - Out On The Floor 2. Alfie Davsion - Love Is A Serious Business 3. Jimmy Conwell - Too Much 4. P.p. Arnold - Everything 'S Gonna Be Alright 5. Erma Franklin - I Get The Sweetest Feeling 6. The Artistics - I 'M Gonna Miss You 7. The Four Vandals - Wrong Side Of Town 8. Willie Hutch - Love Runs Out 9. Eddie Parker - Love You Baby 10. Bobby Hebb - You Want To Change Me 11. The Dynamics - Yes I Love You Baby 12. Tommy Ridgley - My Love Grows Stronger 13. Ronnie Mcneir - Lucky Number 14. The Vonettes - Touch My Heart 15. Cindy Scott - I Love You Baby 16. Kenny Bernard - Pity My Feet 17. Dean Parrish - Determination 18. Johnny Moore - Walk Like A Man 19. The Vel-vets - I Gotta Find Me Somebody 20. The Dells - Run For Cover 21. Eddie Holman - Whatever Happened To Our Melody 22. Frances Nero - Keep On Loving Me 23. Evie Sands - Picture Me Gone 24. Maxine Brown - One In A Million 25. Joe Stubbs - Just A Little Misunderstanding 26. The Apollas - Mister Creator 27. Gene Chandler - I Can Take Care Of Myself 28. The Lovetones - Fire Alarm 29. Melvin Davis - Find A Quiet Place 30. Jimmy Thomas - Where There's A Will There 'S A Way 31. Sam Ward - Sister Lee 32. Evelyn Thomas - Doomsday 33. Yvonne Vernee - Just Like You Did Me 34. The Carstairs - Stick By Me Baby 35. Saundra Edwards - There 'S Nothing Else To Say 36. Tony Middleton - Paris Blues 37. Ronnie Walker - You Got To Try Harder 38. Sandra Phillips - World Without Sunshine 39. Marvin Smith - Have More Time 40. Irma Thomas - What Are You Trying To Do 101. Venicia Wilson - This Time I'm Loving You 102. Doris Troy - I 'Ll Do Anything 103. Leon Haywood - Baby Reconsider 104. Sidney Barnes - I Hurt On The Other Side 105. The Montclairs - Hung Up On Your Love 106. Jo Armstead - I Got The Vibes 107. The Volcanos - Storm Warning 108. Angelo Starr - Stand On My Own Two Feet 109. Jimmy James - A Man Like Me 110. Edwin Starr - I Have Faith In You 111. The Four Vandals - One Picture 'S Worth A Thousand Words 112. Pat Lewis - It'll Never Be Over For Me 113. The Just Brothers - Sliced Tomatoes 114. L.j. Johnson - Your Magic Put A Spell On Me 115. Deon Jackson - That's What You Do To Me 116. J.j. Barnes - Our Love Is In The Pocket 117. The Three Degrees - Contact 118. Sam Dees - Lonely For You Baby 119. Earl Van Dyke - Six By Six 120. The United Four - She's Putting You On 121. The Shirelles - Last Minute Miracle 122. The Velours - I 'M Gonna Change 123. Bettye Lavette - Let Me Down Easy 124. Dean Courtney - I'll Always Need You 125. Richard Temple - That Beatin ' Rhythm 126. Lee Andrews & The Hearts - Nevertheless 127. Gwen Owens - You Better Watch Out 128. Bobby Sheen - Doctor Love 129. Sisters Love - I 'M Learning To Trust My Man 130. Tammi Lavette - Kiss My Love Goodbye 131. Bobby Paris - Night Owl 132. Bobby Hutton - Lend A Hand 133. Beverly Ann - You Got Your Mind On Other Things 134. The Dramatics - Inky Dinky Wang Dang Doo 135. Evelyn Thomas - My Head's In The Stars 136. Frank Wilson - Janice Don't Be So Blind To Love 137. The Sapphires - Gotta Have Your Love 138. The Sequins - A Case Of Love 139. Herbert Hunter - I Was Sent To Love You 140. Lorraine Chandler - I Can't Hold On 201. Frank Wilson - Do I Love You (Indeed I Do) 202. Robert Knight - Love On A Mountain Top 203. Tahira Jumah - Reaching For The Best 204. Bobby Hebb - Love Love Love 205. Bunny Sigler - Girl Don't Make Me Wait 206. Evelyn Thomas - Weak Spot 207. Barbara Lynn - You're Losing Me 208. Barbara Pennington - Twenty Four Hours A Day 209. William Bell - Happy 210. Richard Popcorn Wylie - Rosemary What Happened 211. Chuck Jackson - All Over The World 212. Bobby Hutton - Come See What 'S Left Of Me 213. Dean Parrish - I 'M On My Way 214. Winston Ward - Long After Tonight Is All Over 215. Pat Lewis - No One To Love 216. Tobi Lark - Happiness Is Here 217. Rose Battiste - Hit And Run 218. The Four Vandals - Without The Music 219. Bob Brady - More More More Of Your Love 220. Noel Mckoy - Determined Man 221. Sheila Ferguson - Heartbroken Memories 222. Frank Wilson - My Sugar Baby 223. Mary Love - You Turned My Bitter Into Sweet 224. Billy Harner - What About The Music 225. The Valadiers - No Competition 226. Carl Carlton - Competition Ain 'T Nothing 227. C.p. Spencer - This Man Needs You 228. The Royal Jokers - Love Game From A To Z 229. Tommy Hunt - Cracking Up Over You 230. Jimmy James & The Vagabonds - Looks Like Love Is Here.. 231. The Olympics - Baby Do The Philly Dog 232. J.j. Barnes - Talk Of The Grapevine 233. The Flirtations - Stronger Than Her Love 234. James Fountain - Seven Day Lover 235. Barbara Mills - Queen Of Fools 236. Pat Lewis - Funny How We Changed Places 237. Freddy Butler - That 'S Whan I Need You 238. Jimmy Burns - I Really Love You 239. Theresa Lindsay - I 'Ll Bet You 240. Ken Williams - Come Back 301. The Carstairs - It Really Hurts Me Girl 302. Eddie Parker - I'm Gone 303. Bob Relf - Blowing My Mind To Pieces 304. The Elgins - Don 'T Wait Around 305. The Platters - With This Ring 306. Nat Augustin - Love Is My Sanctuary 307. The Gems - I 'Ll Be There 308. The Blossoms - That 'S When The Tears Start 309. Edwin Starr - Back Street 310. Pat Lewis - Can 'T Shake It Loose 311. The Tymes - The Love That You 'Re Looking For 312. Ray Pollard - The Drifter 313. P.p. Arnold - I Go To Pieces Everytime 314. Jerry Williams - If You Ask Me 315. Jo Armstead - I Feel An Urge Coming On 316. Bob Brady - Everybody 'S Going To A Love In 317. Robert Banks - A Mighty Good Way 318. Maxine Brown - Let Me Give You My Loving 319. Kim Weston - You Hit Me Right Where It Hurt Me 320. J.j. Barnes - Please Let Me In 321. Noel Mckoy - My Claim To Fame 322. Willie Kendrick - Change Your Ways 323. Jackie Ross - Selfish One 324. Bobby Paris - I Walked Away 325. Jackie Day - Before It 'S Too Late 326. Jimmy Thomas - The Beautiful Night 327. Lee Andrews & The Hearts - I 'Ve Had It 328. Vanessa Haynes - Leaving The Scene Of The Crime 329. Jay And The Techniques - Are You Ready For This 330. Angelo Starr - Baby I 'M Still The Same Man 331. The Valadiers - What 'S Wrong With Me Baby 332. Holly Harrison - Bright Lights Of The City 333. The Carstairs - He Who Picks A Rose 334. Beverly Ann - He 'S Coming Home 335. Evelyn Thomas - Have A Little Faith In Me 336. Lorraine Chandler - I Can 'T Change 337. Jimmy James & The Vagabonds - Other Side Of The Street 338. Venicia Wilson - Further Down The Road 339. The Artistics - Hope We Have 340. The Four Larks - Grooving At The Go-go 401. Tobi Legend - Time Will Pass You By 402. Alexander Patton - A Little Lovin ' Sometimes 403. Garland Green - Ain 'T That Good Enough 404. Gwen Owens - Just Say You 'Re Wanted And Needed 405. Barbara Lewis - The Stars 406. Sandi Sheldon - You 'Re Gonna Make Me Love You 407. Lou Johnson - Unsatisfied 408. The Gypsies - It 'S A Woman 'S World 409. The Four Vandals - Big Strong Love In My Heart 410. Brenda Holloway - Reconsider 411. Louise Thomas - He 'S So Irreplaceable 412. The Tymes - What Would I Do 413. Jackie Ross - Keep Your Chin Up 414. The Volcanos - It 'S Against The Laws Of Love 415. Tammi Lavette - Take A Chance On Love 416. Rose Battiste - I Miss My Baby 417. J.j. Barnes - Sweet Sherry 418. Clifford Curry - I Can 'T Get Hold Of Myself 419. Venicia Wilson - I Can 'T Erase The Thoughts Of You 420. Diane Lewis - Keep A Hold On Me 421. Gerod Harris - Headaches And Heartaches 422. The Tempos - Countdown Here I Come 423. Marvin Cotterell - Try Walking In My Shoes 424. Jimmy Thomas - Dancing On The Edge Of A Dream 425. Tahira Jumah - What 426. Mary Love - Lay This Burden Down 427. Little Ann - Who Are You Trying To Fool 428. Tommy Hunt - Loving On The Losing Side 429. Noel Mckoy And Ebony Alleyne - Special Delivery 430. Billy Butler - The Right Track 431. Keni Burke Of The Five Stairsteps - Stay Close To Me 432. Shenton Dixon - I 'Ll Move A Mountain 433. Emanuel Lasky - Lucky To Be Loved By You 434. The Orlons - Spinning Top 435. Verna Francis - Because Of You 436. Bobby Paris - Personally 437. Carl Carlton - Nothing No Sweeter Than Love 438. Kim Weston - Helpless 439. Pat Lewis - Don 'T You Worry Baby The Best Is Yet To Come 440. Dee Dee Sharp - What Kind Of Lady
Sklep: Gigant.pl 67,47 zł
Książki & Multimedia > Książki
Opis - RSB 46 Nazwa - "Co Bóg złączył..." Geneza i znaczenie klauzul Mateuszowych. Studium egzegetyczno-historyczne Autor - Stanisław Jankowski SDB Oprawa - Miękka Wydawca - Vocatio Kod ISBN - 9788378290667 Kod EAN - 9788378290667 Rok wydania - 2016 Format - 145x208 Ilość stron - 458 Podatek VAT - 5%
Sklep: InBook.pl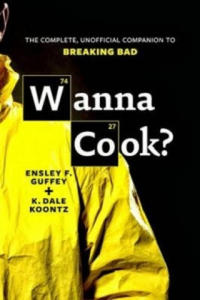 70,00 zł
Książki / Literatura obcojęzyczna
"I am not in danger ...I am the danger." With those words, Breaking Bad's Walter White solidified himself as TV's greatest antihero. Wanna Cook? explores the most critically lauded series on television with analyses of the individual episodes and ongoing storylines. From details like stark settings, intricate camerawork, and jarring music to the larger themes, including the roles of violence, place, self-change, legal ethics, and fan reactions, this companion book is perfect for those diehards who have watched the Emmy Award - winning series multiple times as well as for new viewers. Wanna Cook? elucidates without spoiling, and illuminates without nit-picking. A must have for any fan's collection. Excerpt. (c) Reprinted by permission. All rights reserved. From Wanna Cook's Episode Guide 1.01 Pilot/Breaking Bad Original air date: January 20, 2008 Written and directed by: Vince Gilligan "I prefer to see [chemistry] as the study of change ...that's all of life, right? It's the constant, it's the cycle. It's solution - dissolution, just over and over and over. It is growth, then decay, then - transformation! It is fascinating, really." - Walter White We meet Walter White, Jesse Pinkman, and Walt's family. Walt is poleaxed by some tragic news. With nothing to lose, Walt decides to try to make one big score, and damn the consequences. For that, however, he needs the help of Jesse Pinkman, a former student of Walt's turned loser meth cook and drug dealer. From the moment you see those khakis float down out of a perfectly blue desert sky, you know that you're watching a show like nothing else on television. The hard beauty and stillness of the American Southwest is shattered by a wildly careening RV driven by a pasty white guy with a developing paunch wearing only a gas mask and tighty-whities. What the hell? Like all pilots, this one is primarily exposition, but unlike most, the exposition is beautifully handled as the simple background of Walter's life. The use of a long flashback as the body of the episode works well, in no small part due to Bryan Cranston's brilliant performance in the opening, which gives us a Walter White so obviously, desperately out of his element that we immediately wonder how this guy wound up pantsless in the desert and apparently determined to commit suicide-by-cop. After the opening credits, the audience is taken on an intimate tour of Walt's life. Again, Cranston sells it perfectly. The viewer is presented with a middle-aged man facing the back half of his life from the perspective of an early brilliance and promise that has somehow imploded into a barely-making-ends-meet existence as a high school chemistry teacher. He has to work a lousy second job to support his pregnant wife and disabled teenage son and still can't afford to buy a hot water heater. Executive producer and series creator Vince Gilligan, along with the cast and crew (Gilligan & Co.), take the audience through this day in the life of Walt, and it's just one little humiliation after another. The only time Walt's eyes sparkle in the first half of the episode is when he is giving his introductory lecture to his chemistry class. Here Walt transcends his lower-middle-class life in an almost poetic outpouring of passion for this incredible science. Of course, even that brief joy is crushed by the arrogant insolence of the archetypal high school jackass who stays just far enough inside the line that Walt can't do a damn thing about him. So this is Walt and his life, as sad sack as you can get, with no real prospects of improvement, a brother-in-law who thinks he's a wuss, and a wife who doesn't even pay attention during birthday sex. Until everything changes. The sociologist and criminologist Lonnie Athens would likely classify Walt's cancer diagnosis as the beginning of a "dramatic self change," brought on by something so traumatic that a person's self - the very thoughts, ideas, and ways of understanding and interacting with the world - is shattered, or "fragmented," and in order to survive, the person must begin to replace that old self, those old ideas, with an entirely new worldview. (Athens and his theories are discussed much more fully in the previous essay, but since we warned you not to read that if you don't want to risk spoilage, the basic - and spoiler-free - parts are mentioned here.) Breaking Bad gives us this fragmentation beautifully. Note how from the viewer's perspective Walt is upside down as he is moved into the MRI machine, a motif smoothly repeated in the next scene with Walt's reflection in the top of the doctor's desk. Most discombobulating of all, however, is the consultation with the doctor. At first totally voiceless behind the tinnitus-like ambient soundtrack and faceless except for his chin and lips, the doctor and the news he is imparting are made unreal, out of place, and alien. As for Walt, in an exquisite touch of emotional realism, all he can focus on is the mustard stain on the doctor's lab coat. How many of us, confronted with such tragic news, have likewise found our attention focused, randomly, illogically, on some similar mundanity of life? It is from this shattered self that Walt begins to operate and things that would have been completely out of the question for pre-cancer Walt are now actual possibilities - things like finding a big score before he dies by making and selling pure crystal meth. Remember that Walt is a truly brilliant chemist, and knows full well what crystal meth is and what it does to people who use it. He may not know exactly what he's getting into, but he knows what he is doing. Enter Jesse Pinkman (Aaron Paul, best known previously for his role on Big Love), a skinny white-boy gangster wannabe, who under the name "Cap'n Cook" makes a living cooking and selling meth. He's also an ex-student of Walt's, and after being recognized by his former teacher during a drug bust, Walt has all the leverage he needs to coerce Jesse into helping him. Why does he need him? Because, as Walt says, "you know the business, and I know the chemistry." Symbolizing just how far beyond his old life Walt is moving, he and Jesse park their battered RV/meth lab in the desert outside of Albuquerque, far from the city and any signs of human life. All that is there is a rough dirt road and a "cow house" in the distance. The desert is a place without memory, a place outside of things, where secrets can be kept, and meth can be cooked. This is where Walt lives now. It is in this desert space that Walt becomes a killer, albeit in self defense. Ironically, the one thing that Walt views as holding the keys to the secret of life - chemistry - becomes the means to end lives. Walt, a father, teacher, and an integral part of an extended family - in other words, an agent of life and growth - has now become a meth cook, using chemical weapons to kill his enemies. Walter White has become an agent of death. The transformation is just beginning, but already Skyler (Anna Gunn, previously known for her roles on The Practice and Deadwood) is having some trouble recognizing her husband: "Walt? Is that you?" LAB NOTES Highlight: Jesse to Walt: "Man, some straight like you - giant stick up his ass all of a sudden at age what? Sixty? He's just going to break bad?" Did You Notice: This episode has the first (but not the last!) appearance of Walt's excuse that he's doing everything for his family. There's an award on the wall in Walt's house commemorating his contributions to work that was awarded the Nobel Prize back in 1985. The man's not a slouch when it comes to chemistry, so what's happened since then? At Walt's surprise birthday party, Walt is very awkward when he handles Hank's gun. Speaking of Hank (Dean Norris, whose other roles were in the TV series Medium, and the movies Total Recall, and Little Miss Sunshine), he waits until the school bus has left the neighborhood before ordering his team into the meth lab, showing what a good and careful cop he is. Maybe it's just us, but J.P. Wynne High School (where Walt teaches chemistry) seems to have the most well-equipped high school chemistry lab in the country. As Walt receives his diagnosis, the doctor's voice and all other sounds are drowned out by a kind of numbing ringing, signifying a kind of psychic overload that prevents Walt from being fully engaged with the external world. This effect will be used again several times throughout the series. Walt literally launders his money to dry it out, foreshadowing what's to come. Shooting Up: Thanks to John Toll, who served as cinematographer for the first season of Breaking Bad, the show has one of the most distinctive opening shots ever. Just watch those empty khaki pants flutter across a clear sky. Breaking Bad loves certain camera angles and this section is where we'll point out some of the shots that make the show stand out. Look at that taped non-confession Walt makes for his family when he thinks the cops are coming for him. We're used to watching recordings of characters - shows are filmed (or taped), but here, we're watching him recording himself on tape. Who's the real Walt? Title: Many pilot episodes share the name with the title of the show and Breaking Bad's pilot is no exception. Vince Gilligan, who grew up in Farmville, Virginia, has stated that "breaking bad" is a Southernism for going off the straight and narrow. When you bend a stick until it breaks, the stick usually breaks cleanly. But sometimes, sticks (and men) break bad. You can wind up in the hospital with a splinter in your eye, or you can wind up in Walter White's world. Either way, it's no kind of good. Interesting Facts: Show creator Vince Gilligan's early educational experience was at J. P. Wynne Campus School in Farmville, Virginia. He recycled the name for the high school in Breaking Bad. SPECIAL INGREDIENTS What Is Crystal Meth, Anyway? While there is some evidence that methamphetamine can be found naturally in several species of acacia plants, commercial meth making involves chemistry, not agriculture. The history of the drug dates back to 1893 when Japanese chemist Nagai Nagayoshi first synthesized the substance from ephedrine. The name "methamphetamine...
Sklep: Libristo.pl 65,50 zł
Książki / Literatura obcojęzyczna
Faith Lane is the girl who has everything. At least, that's what everyone thinks when they see her rocking a killer dress while laughing with her best friend, Tiffany. But Faith's life is far from flawless. Her peers torment her relentlessly, and her parents expect her to be the epitome of perfection. Criticized and pressured at school and home, Faith retreats into silent acceptance and finds an escape in her passion of dancing. Then she meets Alex - popular, forever with a pass, and concealing a mysterious secret of his own. And through his encouragement, Faith starts believing in her gift for dance and gains courage to stand up for herself. But will she be able to keep her footing when the events of one night consume her with the need to jump off the rocky cliffs near her coastal home? And what has pushed her to the edge of reason? About the Author: K.P Gazelle has been connected with young adults in some way for as long as she can remember. She's obsessed with books, coffee, and big dreams. Excerpt: "CRAP!" I YELPED in pain, rubbing my bruised toes. Attempt number 100: fail. I took a deep breath and pushed myself up again. Closing my eyes, I leapt, tossing my arms and head back and pointing one leg straight in front. I tried arching the other leg behind me to complete the firebird leap. Instead, I came tumbling down onto my bedroom floor and bruised my toes again. Crappity crap crap! I wiped the sweat off my forehead with the back of my hand and rolled my eyes at the dance instructor in the video that I kept replaying on my laptop. She made it seem so easy when it clearly was not. "I hate you, firebird leap!" I yelled at my screen before slamming it shut and pushing it further back on my desk. I flopped backward onto my bed beside the desk, burned out from practicing. "Faith, Tiffany's here!" Mama announced from downstairs. Tiffany had been my best friend since sixth grade. We'd met in gym class during a game of badminton. Being the world's most uncoordinated person, Tiffany sent her racket flying over the net along with the birdie. The impact of the handle hitting my head was blinding, making me dizzy and causing me to fall to the floor within seconds. She had rushed over, apologizing profusely -- being the kind of person who wouldn't even hurt an ant -- and instead of turning into sworn enemies we became best friends. "Give me ten minutes!" I yelled back, before jumping into the shower and changing into a powder blue sundress. Grabbing my handbag, I jogged downstairs, so ready to finally get out of the house. "Hey, you ready?" Tiffany asked while tying her blonde hair back with a hair tie. She was half Chinese, but you would never have been able to guess that unless you'd looked closely at the monolid of her small, wide-set brown eyes. "You don't even know," I answered under my breath as I made my way to the kitchen, drawn by the smell of cinnamon. Mama was at the island flipping over some French toast. She was already dressed in a beige day dress and nude wedges. She was the poster girl for a 1950's housewife, always cooking or cleaning, but with her dark shoulder length locks and makeup perfectly done. I forked a piece into my mouth, savoring the maple syrup for a moment before kissing her cheek goodbye. "I want a call every thirty minutes, young lady," she reminded me for the millionth time since morning. "Kind of hard when I don't have a cell phone." "Mrs. Lane, Faith needs a cell. She has to be the only sophomore at Liberty High who doesn't have one," Tiffany advocated on my behalf. She'd had a cell phone since eighth grade -- which was totally annoying, yet convenient. "Nice try, girls. Now, off you go, out of my kitchen."
Sklep: Libristo.pl 49,08 zł
Książki / Literatura obcojęzyczna
Losing a dearly loved family member or friend suddenly, unexpectedly, and tragically jars us at our very core. We shudder at the thought of it. When that loss results from a suicide it defies and assaults everything in us. The unthinkable is often considered not survivable. In Surviving the Unthinkable theology professor Don J. Payne exits the classroom and invites you into the chambers of his personal experience of that indescribable loss. This intensely personal narrative traces his process through shock, grief, anger, fear, and a host of unexpected sensations to redemption and hope. Yet, he offers no psychological analysis or formula to make it all OK. Here you will find hope--gritty, realistic hope that will deepen the resources of anyone who walks the unthinkable path of losing someone they love to suicide. Life on the other side of such a nightmare will never be the same, but there is life and it can be good. Don Payne gives voice to the experience in a way that extends a healing hand to any who wonder if they can survive. ""Having been one of Don's mentors, having sat with him as this tragedy unfolded, I am grateful that the powerful insights in this book will mentor and guide all of us when the painful, unexpected moments may happen in our own lives. I welcome reading this again, and passing it on to many others in their pain-filled times of needing a voice that has been there and lives to tell about it, with honest grace."" --Wes Roberts, Founder/CCO/Master Mentor, Leadership Design Group ""Wow! An amazing primer on grief and grieving. Written by a suicide survivor who reports in depth about how his brother's unthinkable and unsuspected death shocks Payne's soul, mind, heart, and body. I highly valued the author before I received this classic resource for people who try to recover from loss. My careful reading increased my regard for him. If given permission, I will share copies with every client, colleague, and relative who grieves. I will ask if we can promote this book on both of our mentoring websites. I admire Dr. Payne's transparency and vulnerability. In Don, I see the balance of masculine and feminine shared from a seminary professor's perspective and based on his acceptance of energy-draining emotions such as anger, fear, and hurt. Throughout, his insights are provocative, invariably tied to Bible passages and promises. This textbook acknowledges Don Payne who consistently uses metaphors, analogies, and stories to expedite our learning. Before studying this impressive account, I knew him as a trainer. Now I can add that he is a magnificent writer who has been broken by his brother's untimely death. He is embracing a recovery process by acknowledging that 'My journey with the aftermath of a suicide will never entirely end' (page 45). He shares and models brilliant insights, practical tools, and caring strategies that encourage all of us who grieve. I like the peace he is experiencing in Jesus. I will strive to be a better person and Christian psychologist because of this gem and its author."" --G. Brian Jones, CEO/Psychologist, CCC/The Mentoring Group, CCC/Faith Mentoring and More ""Surviving the Unthinkable is a first person glimpse into a 'club membership' no one wants to join--being a survivor of a loved one's suicide. Readers travel with Payne on his journey of trying to make sense out of his brother's suicide. He names the raw pain of a survivor caught up in the whirlwind of those who are left behind. Yet there is also realistic hope as he leans on, and into, his Christian faith without sugarcoating the struggle. Survivors will recognize a fellow 'Club member' and find a companion for their journey; caregivers will find insights for joining survivors as they navigate the unthinkable."" --Jan McCormack, Director, Chaplaincy and Pastoral Counselin
Sklep: Libristo.pl 127,62 zł
Książki / Literatura obcojęzyczna
A groundbreaking book that sheds new light on the vital importance of teams as the fundamental unit of organization and competition in the global economy. Teams-we depend on them for both our professional success and our personal happiness. But isn't it odd how little scrutiny we give them? The teams that make up our lives are created mostly by luck, happenstance, or circumstance-but rarely by design. In trivial matters-say, a bowling team, the leadership of a neighborhood group, or a holiday party committee-success by serendipity is already risky enough. But when it comes to actions by fast-moving start-ups, major corporations, nonprofit institutions, and governments, leaving things to chance can be downright dangerous. Offering vivid reports of the latest scientific research, compelling case studies, and great storytelling, Team Genius shows managers and executives that the planning, design, and management of great teams no longer have to be a black art. It explores solutions to essential questions that could spell the difference between success and obsolescence. Do you know how to reorganize your subpar teams to turn them into top performers? Can you identify which of the top-performing teams in your company are reaching the end of their life span? Do you have the courage to shut them down? Do you know how to create a replacement team that will be just as effective-without losing time or damaging morale? And, most important, are your teams the right size for the job? Throughout, Rich Karlgaard and Michael S. Malone share insights and real-life examples gleaned from their careers as journalists, analysts, investors, and globetrotting entrepreneurs, meeting successful teams and team leaders to reveal some "new truths": * The right team size is usually one fewer person than what managers think they need. * The greatest question facing good teams is not how to succeed, but how to die. * Good "chemistry" often makes for the least effective teams. * Cognitive diversity yields the highest performance gains-but only if you understand what it is. * How to find the "bliss point" in team intimacy-and become three times more productive. * How to identify destructive team members before they do harm. * Why small teams are 40 percent more likely to create a successful breakthrough than a solo genius is. * Why groups of 7 (+- 2), 150, and 1,500 are magic sizes for teams. Eye-opening, grounded, and essential, Team Genius is the next big idea to revolutionize business.
Sklep: Libristo.pl 55,04 zł
Książki / Literatura obcojęzyczna
The book you hold resonates with this conviction: that leaders such as you have the potential to be the most influential forces on planet Earth. Yours is the staggering responsibility and the matchless privilege of rallying believers and mobilizing their spiritual gifts in order to help people who are far from God become fully devoted followers of Christ. Life transformation and the eternal destinies of real people depend on the redemptive message entrusted to the local church. Are you willing to do whatever it takes to lead your church effectively so God's message of hope can change the world? Then this book is for you. Courageous Leadership is Bill Hybels' magnum opus, a book far too important to be written before its time. Only now, after nearly thirty years leading his own church from a handful of people with a burning vision into a globe-spanning kingdom force--only after almost three decades of victories and setbacks, of praying hard and risking big--is Hybels ready at last to share the lessons he has learned, and continues to learn, about Christian leadership. Too much is at stake for you not to maximize your spiritual gift of leadership, insists Hybels. In this passionate, powerful book, he unpacks the tools, tasks, and challenges of your calling. You'll discover the power of vision and how to turn it into action. You'll gain frontline insights for developing a kingdom dream team, discovering your leadership style, developing other leaders, making decisions, walking with God, embracing change, staying your God-given course, and much, much more. Drawing on his own richly varied life experiences, Hybels fleshes out vital principles with riveting firsthand stories. This is far more than another book on leadership strategies and techniques. You'll find those topics in here, to be sure. But beyond them, you'll find the very essence of one of today's foremost Christian leaders--his fervent commitment to evangelism and discipleship and his zeal to inspire fellow church leaders even as he seeks to keep growing as a leader himself. If unchurched people matter to you . . . if you love seeing believers serve passionately with their spiritual gifts . . . if God's heartbeat for the church is your heartbeat as well . . . then this book is a must. Courageous Leadership will convince you to lead with all your might, all your skill, and all your faith. And it will give you the tools to do just that.
Sklep: Libristo.pl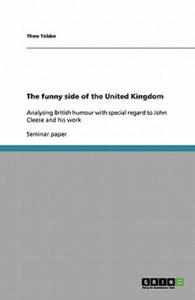 76,92 zł
Książki / Literatura obcojęzyczna
Seminar paper from the year 2007 in the subject English Language and Literature Studies - Linguistics, grade: 1,7, University of Osnabrück, course: British Life and Times , 21 entries in the bibliography, language: English, abstract: If people who are living outside the United Kingdom are asked to characterise British humour, many of them will probably mention the jokes of one of the Monty Python series or maybe famous quotes from the British sitcom Fawlty Towers; and if you ask these people which person they would associate with the shows, the answer will probably be: John Cleese. He is well known in nearly all European countries and even in the United States. But how did he become that famous or maybe even a label for today s view on English humour?In my research paper I want to point out Cleese s significance for British Comedy and humour. At first, I would like to give a general definition of the term and at the same time look at different types of humour in order to investigate why people start grinning or laughing in certain situations. I will present some criteria which can detect different types of humour and consider humour on phonological and syntactical levels.Then I want to work out if there is a special concept of humour in the United Kingdom and if this humour even characterises the British culture. In a next step I will compare the stereotypical concept of British and German humour to show that they are at least rated as being contradictory.After I have shown some typical styles and techniques of the British humour, my central focus will be on John Cleese. I want to give an overview of his life and introduce people who are close to him or supported him in his career. In doing so I will also concentrate on his major achievements: e.g. Monty Python s Flying Circus and their films and Fawlty Towers. Their popularity throughout the world is really remarkable and shows that Cleese and his friends possibly managed to broadcast a new sense of humour. I will therefore finally analyse their and particular Cleese s share in British sense of humour.
Sklep: Libristo.pl
Sklepy zlokalizowane w miastach: Warszawa, Kraków, Łódź, Wrocław, Poznań, Gdańsk, Szczecin, Bydgoszcz, Lublin, Katowice
Szukaj w sklepach lub całym serwisie
2. Szukaj na wszystkich stronach serwisu
t1=0.155, t2=0, t3=0, t4=0, t=0.155