krainaksiazek you can share the faith reaching out one person at a time 20095565
- znaleziono 13 produktów w 3 sklepach 11,15 zł
Książki & Multimedia > Książki
Opis - Pierwsze na świecie świadectwo ofiary zbrodni honorowej. Miała siedemnaście lat i zakochała się: zhańbiła rodzinę. Więc rodzina wydała na nią wyrok śmierci... Pokochała go pierwszą miłością. Myślała, że się z nią ożeni. Ale ukochany zniknął, a ona odkryła, że jest w ciąży. A w jej świecie to najcięższa zbrodnia... W zapomnianej przez Boga wiosce w Cisjordanii kobiety są warte mniej niż zwierzęta domowe. Tu mężczyzna jest panem życia i śmierci żony, córki, siostry. Brat może bezkarnie zabić siostrę, matka - córkę, kolejną bezużyteczną dziewczynkę, jaka się urodzi. Tu kobiecie odbiera się godność, a nawet życie zgodnie z odwiecznym obyczajem i uświęconą tradycją. A śmierć jest karą dla dziewczyny, która zhańbi rodzinę. Tak jak Souad. Wyrok wydaje jej ojciec. Szwagier dokonuje egzekucji. Oblewa Souad benzyną i podpala... SOUAD przeżyła - cudem, ale rodzina usiłowała zabić ją nawet w szpitalu. Na zawsze jednak pozostanie straszliwie okaleczona - na ciele i duszy. I wciąż musi się ukrywać; dopóki żyje, jej rodzinę okrywa hańba. Spalona żywcem, opublikowana pod pseudonimem szokująca opowieść o piekle, jakim było jej dzieciństwo i młodość, stała się międzynarodowym bestsellerem. Wydana w 37 w krajach książka przerywa tabu milczenia wobec istniejącej nadal w krajach muzułmańskich barbarzyńskiej tradycji. Nieludzkiego obyczaju, prawa mężczyzn, na mocy którego co najmniej pięć tysięcy kobiet pada co roku ofiarą zbrodni honorowej. Nazwa - Spalona Żywcem Wyd. Kieszonkowe Autor - Souad Oprawa - Miękka Wydawca - Amber Kod ISBN - 9788324159406 Kod EAN - 9788324159406 Wydanie - 1 Rok wydania - 2016 Tłumacz - 31182,maria rostworowska; Format - 110 x 175 x 14 Ilość stron - 224 Podatek VAT - 5% Premiera - 2016-06-23
Sklep: InBook.pl
26,54 zł
Książki / Literatura obcojęzyczna
Praise for Three Can Keep a Secret... "In this second Stella Crown mystery, Clemens has a winner." -Publishers Weekly When Stella Crown hires a new farmhand to help run her Pennsylvania dairy business, she gets more than she bargained for. Her new helper is a Mennonite widow who arrives burdened not only with grief, but with rumors of infidelity and murder...and a young child. Before you know it, Stella, battling her own deep sorrow over the loss of her long-time friend and employee Hank as well as worries over her shaky finances, copes with an influx of nasty in-laws, heartbroken beaus, and spiteful vandalism. Determined to protect herself and her farm, Stella sets out to discover the truth while trying to give her new employee a respectful benefit of the doubt. Meanwhile, Stella's good friend and fellow biker, Lenny, is riding a crisis. At one moment jovial, the next angry and suspicious, Lenny is haunted by pain and secrets he won't share with Stella. His bizarre behavior is soon complimented by vicious attacks on his home and his business. Judy Clemens was born into the Mennonite faith, but discovered her motorcycle leanings later in life. At home in rural Ohio, she lives with her husband, two children, and three housecats. Three Can Keep a Secret is the second novel of the Stella Crown series after the Anthony and Agatha Award-nominated Till the Cows Come Home. www.judyclemens.com
Sklep: Libristo.pl 34,26 zł
Książki & Multimedia > Książki
Opis - "Fantastic ...I can't remember the last time I was simultaneously this entertained and this disturbed. The One is a clever story with great pacing but it's the characters that make this a standout thriller." (Hollie Overton, Sunday Times bestselling author of the Richard and Judy pick Baby Doll). How far would you go to find THE ONE? One simple mouth swab is all it takes. A quick DNA test to find your perfect partner - the one you're genetically made for. A decade after scientists discover everyone has a gene they share with just one other person, millions have taken the test, desperate to find true love. Now, five more people meet their Match. But even soul mates have secrets. And some are more shocking - and deadlier - than others..."Wonderful conceit, ridiculously entertaining ...an absolute pleasure." (T. A Cotterell, author of What Alice Knew). "Gripping from the start and full of surprises, this kept us up long after lights out." (Isabelle Broom, Heat). (Note: Previously published as A Thousand Small Explosions). Nazwa - The One Autor - John Marrs Oprawa - Miękka Wydawca - Ebury Press Kod ISBN - 9781785035623 Kod EAN - 9781785035623 Rok wydania - 2017 Język - angielski Format - 12.5x20.0cm Ilość stron - 416 Podatek VAT - 5% Premiera - 2017-05-25
Sklep: InBook.pl 45,80 zł
Nauki humanistyczne
Alain de Botton, best-selling author of How Proust can Change Your Life, has set six of the finest minds in the history of philosophy to work on the problems of everyday life. Here then are Socrates, Epicurus, Seneca, Montaigne, Schopenhauer and Nietzsche on some of the things that bother us all; lack of money, the pain of love, inadequacy, anxiety, the fear of failure and the pressure to conform.
Sklep: Albertus.pl 40,80 zł
Literatura faktu
'Only with the greatest of simplifications, for the sake of convenience, can we say Africa. In reality, except as a geographical term, Africa doesn't exist'. Ryszard Kapuscinski has been writing about the people of Africa throughout his career. In a study that avoids the official routes, palaces and big politics, he sets out to create an account of post-colonial Africa seen at once as a whole and as a location that wholly defies generalised explanations. It is both a sustained meditation on the mosaic of peoples and practises we call 'Africa', and an impassioned attempt to come to terms with humanity itself as it struggles to escape from foreign domination, from the intoxications of freedom, from war and from politics as theft. The Beginning: Collision, Ghana 1958 More than anything, one is struck by the light. Light everywhere. Brightness everywhere. Everywhere, the sun. Just yesterday, an autumnal London was drenched in rain. The airplane drenched in rain. A cold, wind, darkness. But here, from the morning
Sklep: Albertus.pl 67,47 zł
Książki & Multimedia > Książki
Opis - RSB 46 Nazwa - "Co Bóg złączył..." Geneza i znaczenie klauzul Mateuszowych. Studium egzegetyczno-historyczne Autor - Stanisław Jankowski SDB Oprawa - Miękka Wydawca - Vocatio Kod ISBN - 9788378290667 Kod EAN - 9788378290667 Rok wydania - 2016 Format - 145x208 Ilość stron - 458 Podatek VAT - 5%
Sklep: InBook.pl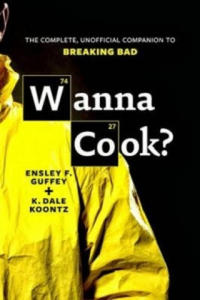 70,77 zł
Książki / Literatura obcojęzyczna
"I am not in danger ...I am the danger." With those words, Breaking Bad's Walter White solidified himself as TV's greatest antihero. Wanna Cook? explores the most critically lauded series on television with analyses of the individual episodes and ongoing storylines. From details like stark settings, intricate camerawork, and jarring music to the larger themes, including the roles of violence, place, self-change, legal ethics, and fan reactions, this companion book is perfect for those diehards who have watched the Emmy Award - winning series multiple times as well as for new viewers. Wanna Cook? elucidates without spoiling, and illuminates without nit-picking. A must have for any fan's collection. Excerpt. (c) Reprinted by permission. All rights reserved. From Wanna Cook's Episode Guide 1.01 Pilot/Breaking Bad Original air date: January 20, 2008 Written and directed by: Vince Gilligan "I prefer to see [chemistry] as the study of change ...that's all of life, right? It's the constant, it's the cycle. It's solution - dissolution, just over and over and over. It is growth, then decay, then - transformation! It is fascinating, really." - Walter White We meet Walter White, Jesse Pinkman, and Walt's family. Walt is poleaxed by some tragic news. With nothing to lose, Walt decides to try to make one big score, and damn the consequences. For that, however, he needs the help of Jesse Pinkman, a former student of Walt's turned loser meth cook and drug dealer. From the moment you see those khakis float down out of a perfectly blue desert sky, you know that you're watching a show like nothing else on television. The hard beauty and stillness of the American Southwest is shattered by a wildly careening RV driven by a pasty white guy with a developing paunch wearing only a gas mask and tighty-whities. What the hell? Like all pilots, this one is primarily exposition, but unlike most, the exposition is beautifully handled as the simple background of Walter's life. The use of a long flashback as the body of the episode works well, in no small part due to Bryan Cranston's brilliant performance in the opening, which gives us a Walter White so obviously, desperately out of his element that we immediately wonder how this guy wound up pantsless in the desert and apparently determined to commit suicide-by-cop. After the opening credits, the audience is taken on an intimate tour of Walt's life. Again, Cranston sells it perfectly. The viewer is presented with a middle-aged man facing the back half of his life from the perspective of an early brilliance and promise that has somehow imploded into a barely-making-ends-meet existence as a high school chemistry teacher. He has to work a lousy second job to support his pregnant wife and disabled teenage son and still can't afford to buy a hot water heater. Executive producer and series creator Vince Gilligan, along with the cast and crew (Gilligan & Co.), take the audience through this day in the life of Walt, and it's just one little humiliation after another. The only time Walt's eyes sparkle in the first half of the episode is when he is giving his introductory lecture to his chemistry class. Here Walt transcends his lower-middle-class life in an almost poetic outpouring of passion for this incredible science. Of course, even that brief joy is crushed by the arrogant insolence of the archetypal high school jackass who stays just far enough inside the line that Walt can't do a damn thing about him. So this is Walt and his life, as sad sack as you can get, with no real prospects of improvement, a brother-in-law who thinks he's a wuss, and a wife who doesn't even pay attention during birthday sex. Until everything changes. The sociologist and criminologist Lonnie Athens would likely classify Walt's cancer diagnosis as the beginning of a "dramatic self change," brought on by something so traumatic that a person's self - the very thoughts, ideas, and ways of understanding and interacting with the world - is shattered, or "fragmented," and in order to survive, the person must begin to replace that old self, those old ideas, with an entirely new worldview. (Athens and his theories are discussed much more fully in the previous essay, but since we warned you not to read that if you don't want to risk spoilage, the basic - and spoiler-free - parts are mentioned here.) Breaking Bad gives us this fragmentation beautifully. Note how from the viewer's perspective Walt is upside down as he is moved into the MRI machine, a motif smoothly repeated in the next scene with Walt's reflection in the top of the doctor's desk. Most discombobulating of all, however, is the consultation with the doctor. At first totally voiceless behind the tinnitus-like ambient soundtrack and faceless except for his chin and lips, the doctor and the news he is imparting are made unreal, out of place, and alien. As for Walt, in an exquisite touch of emotional realism, all he can focus on is the mustard stain on the doctor's lab coat. How many of us, confronted with such tragic news, have likewise found our attention focused, randomly, illogically, on some similar mundanity of life? It is from this shattered self that Walt begins to operate and things that would have been completely out of the question for pre-cancer Walt are now actual possibilities - things like finding a big score before he dies by making and selling pure crystal meth. Remember that Walt is a truly brilliant chemist, and knows full well what crystal meth is and what it does to people who use it. He may not know exactly what he's getting into, but he knows what he is doing. Enter Jesse Pinkman (Aaron Paul, best known previously for his role on Big Love), a skinny white-boy gangster wannabe, who under the name "Cap'n Cook" makes a living cooking and selling meth. He's also an ex-student of Walt's, and after being recognized by his former teacher during a drug bust, Walt has all the leverage he needs to coerce Jesse into helping him. Why does he need him? Because, as Walt says, "you know the business, and I know the chemistry." Symbolizing just how far beyond his old life Walt is moving, he and Jesse park their battered RV/meth lab in the desert outside of Albuquerque, far from the city and any signs of human life. All that is there is a rough dirt road and a "cow house" in the distance. The desert is a place without memory, a place outside of things, where secrets can be kept, and meth can be cooked. This is where Walt lives now. It is in this desert space that Walt becomes a killer, albeit in self defense. Ironically, the one thing that Walt views as holding the keys to the secret of life - chemistry - becomes the means to end lives. Walt, a father, teacher, and an integral part of an extended family - in other words, an agent of life and growth - has now become a meth cook, using chemical weapons to kill his enemies. Walter White has become an agent of death. The transformation is just beginning, but already Skyler (Anna Gunn, previously known for her roles on The Practice and Deadwood) is having some trouble recognizing her husband: "Walt? Is that you?" LAB NOTES Highlight: Jesse to Walt: "Man, some straight like you - giant stick up his ass all of a sudden at age what? Sixty? He's just going to break bad?" Did You Notice: This episode has the first (but not the last!) appearance of Walt's excuse that he's doing everything for his family. There's an award on the wall in Walt's house commemorating his contributions to work that was awarded the Nobel Prize back in 1985. The man's not a slouch when it comes to chemistry, so what's happened since then? At Walt's surprise birthday party, Walt is very awkward when he handles Hank's gun. Speaking of Hank (Dean Norris, whose other roles were in the TV series Medium, and the movies Total Recall, and Little Miss Sunshine), he waits until the school bus has left the neighborhood before ordering his team into the meth lab, showing what a good and careful cop he is. Maybe it's just us, but J.P. Wynne High School (where Walt teaches chemistry) seems to have the most well-equipped high school chemistry lab in the country. As Walt receives his diagnosis, the doctor's voice and all other sounds are drowned out by a kind of numbing ringing, signifying a kind of psychic overload that prevents Walt from being fully engaged with the external world. This effect will be used again several times throughout the series. Walt literally launders his money to dry it out, foreshadowing what's to come. Shooting Up: Thanks to John Toll, who served as cinematographer for the first season of Breaking Bad, the show has one of the most distinctive opening shots ever. Just watch those empty khaki pants flutter across a clear sky. Breaking Bad loves certain camera angles and this section is where we'll point out some of the shots that make the show stand out. Look at that taped non-confession Walt makes for his family when he thinks the cops are coming for him. We're used to watching recordings of characters - shows are filmed (or taped), but here, we're watching him recording himself on tape. Who's the real Walt? Title: Many pilot episodes share the name with the title of the show and Breaking Bad's pilot is no exception. Vince Gilligan, who grew up in Farmville, Virginia, has stated that "breaking bad" is a Southernism for going off the straight and narrow. When you bend a stick until it breaks, the stick usually breaks cleanly. But sometimes, sticks (and men) break bad. You can wind up in the hospital with a splinter in your eye, or you can wind up in Walter White's world. Either way, it's no kind of good. Interesting Facts: Show creator Vince Gilligan's early educational experience was at J. P. Wynne Campus School in Farmville, Virginia. He recycled the name for the high school in Breaking Bad. SPECIAL INGREDIENTS What Is Crystal Meth, Anyway? While there is some evidence that methamphetamine can be found naturally in several species of acacia plants, commercial meth making involves chemistry, not agriculture. The history of the drug dates back to 1893 when Japanese chemist Nagai Nagayoshi first synthesized the substance from ephedrine. The name "methamphetamine...
Sklep: Libristo.pl 18,27 zł
Książki & Multimedia > Książki
Opis - Seria podręczników do nauki języka angielskiego przeznaczona dla uczniów klas 1-3 szkoły podstawowej. Kurs jest w pełni zgodny z wymaganiami podstawy programowej i odpowiednio dostosowany do zróżnicowanych możliwości edukacyjnych najmłodszych uczniów. Nazwa - Tiger 3 Zeszyt ćwiczeń Autor - Praca zbiorowa Oprawa - Miękka Wydawca - Macmillan Kod ISBN - 9788376213767 Kod EAN - 9788376213767 Rok wydania - 2016 Język - angielski, polski Format - 21.0x30.0cm Ilość stron - 88 Szkoła - Szkoła podstawowa Typ podręcznika - Podręcznik Przedmiot - Język angielski Podatek VAT - 5%
Sklep: InBook.pl 44,52 zł
Książki & Multimedia > Książki
Opis - Książką tą autorzy chcieli wywołać dyskusję i o istniejących teoriach w zakresie city users, i o ich mocy sprawczej wyjaśniania, i o metodach badania tych zjawisk, i wreszcie o rzeczywistości w przedmiotowym zakresie w latach 2012-2016 w kontekście dwóch poligonów empirycznych: Poznania i Trójmiasta. Nazwa - Przyjezdni w strukturze miasta - miasto wobec przyjezdnych: studenci i turyści w mieście w kontekście koncepcji city users Autor - Jacek Kotus Oprawa - Twarda Wydawca - Bogucki Wydawnictwo Naukowe S.C. Kod ISBN - 9788379860845 Kod EAN - 9788379860845 Rok wydania - 2015 Ilość stron - 292 Podatek VAT - 5%
Sklep: InBook.pl 96,17 zł
Książki / Literatura obcojęzyczna
A groundbreaking book that sheds new light on the vital importance of teams as the fundamental unit of organization and competition in the global economy. Teams-we depend on them for both our professional success and our personal happiness. But isn't it odd how little scrutiny we give them? The teams that make up our lives are created mostly by luck, happenstance, or circumstance-but rarely by design. In trivial matters-say, a bowling team, the leadership of a neighborhood group, or a holiday party committee-success by serendipity is already risky enough. But when it comes to actions by fast-moving start-ups, major corporations, nonprofit institutions, and governments, leaving things to chance can be downright dangerous. Offering vivid reports of the latest scientific research, compelling case studies, and great storytelling, Team Genius shows managers and executives that the planning, design, and management of great teams no longer have to be a black art. It explores solutions to essential questions that could spell the difference between success and obsolescence. Do you know how to reorganize your subpar teams to turn them into top performers? Can you identify which of the top-performing teams in your company are reaching the end of their life span? Do you have the courage to shut them down? Do you know how to create a replacement team that will be just as effective-without losing time or damaging morale? And, most important, are your teams the right size for the job? Throughout, Rich Karlgaard and Michael S. Malone share insights and real-life examples gleaned from their careers as journalists, analysts, investors, and globetrotting entrepreneurs, meeting successful teams and team leaders to reveal some "new truths": * The right team size is usually one fewer person than what managers think they need. * The greatest question facing good teams is not how to succeed, but how to die. * Good "chemistry" often makes for the least effective teams. * Cognitive diversity yields the highest performance gains-but only if you understand what it is. * How to find the "bliss point" in team intimacy-and become three times more productive. * How to identify destructive team members before they do harm. * Why small teams are 40 percent more likely to create a successful breakthrough than a solo genius is. * Why groups of 7 (+- 2), 150, and 1,500 are magic sizes for teams. Eye-opening, grounded, and essential, Team Genius is the next big idea to revolutionize business.
Sklep: Libristo.pl 55,54 zł
Książki / Literatura obcojęzyczna
The book you hold resonates with this conviction: that leaders such as you have the potential to be the most influential forces on planet Earth. Yours is the staggering responsibility and the matchless privilege of rallying believers and mobilizing their spiritual gifts in order to help people who are far from God become fully devoted followers of Christ. Life transformation and the eternal destinies of real people depend on the redemptive message entrusted to the local church. Are you willing to do whatever it takes to lead your church effectively so God's message of hope can change the world? Then this book is for you. Courageous Leadership is Bill Hybels' magnum opus, a book far too important to be written before its time. Only now, after nearly thirty years leading his own church from a handful of people with a burning vision into a globe-spanning kingdom force--only after almost three decades of victories and setbacks, of praying hard and risking big--is Hybels ready at last to share the lessons he has learned, and continues to learn, about Christian leadership. Too much is at stake for you not to maximize your spiritual gift of leadership, insists Hybels. In this passionate, powerful book, he unpacks the tools, tasks, and challenges of your calling. You'll discover the power of vision and how to turn it into action. You'll gain frontline insights for developing a kingdom dream team, discovering your leadership style, developing other leaders, making decisions, walking with God, embracing change, staying your God-given course, and much, much more. Drawing on his own richly varied life experiences, Hybels fleshes out vital principles with riveting firsthand stories. This is far more than another book on leadership strategies and techniques. You'll find those topics in here, to be sure. But beyond them, you'll find the very essence of one of today's foremost Christian leaders--his fervent commitment to evangelism and discipleship and his zeal to inspire fellow church leaders even as he seeks to keep growing as a leader himself. If unchurched people matter to you . . . if you love seeing believers serve passionately with their spiritual gifts . . . if God's heartbeat for the church is your heartbeat as well . . . then this book is a must. Courageous Leadership will convince you to lead with all your might, all your skill, and all your faith. And it will give you the tools to do just that.
Sklep: Libristo.pl 72,90 zł
Książki / Literatura obcojęzyczna
Like any new parent, Joshua Gans felt joy mixed with anxiety upon the birth of his first child. Who was this blanket-swaddled small person and what did she want? Unlike most parents, however, Gans is an economist, and he began to apply the tools of his trade to raising his children. He saw his new life as one big economic management problem-- and if economics helped him think about parenting, parenting illuminated certain economic principles. Parentonomics is the entertaining, enlightening, and often hilarious fruit of his "research." Incentives, Gans shows us, are as risky in parenting as in business. An older sister who is recruited to help toilet train her younger brother for a share in the reward given for each successful visit to the bathroom, for example, could give the trainee drinks of water to make the rewards more frequent. (Economics later offered another, better toilet training solution: outsourcing. For their third child, Gans and his wife put it in the hands of professionals--the day care providers.) Gans gives us the parentonomic view of delivery (if the mother shares her pain by yelling at the father, doesn't it really create more aggregate pain?) , sleep (the screams of a baby are like an offer: "I'll stop screaming if you give me attention"), food (a question of marketing), travel ("the best thing you can say about traveling with children is that they are worse than baggage"), punishment (and threat credibility), birthday party time management, and more. Parents: if you're reading Parentonomics in the presence of other people, you'll be unable to keep yourself from reading the funny parts out loud. And if you're reading it late at night and wake a child with your laughter--well, you'll have some guidelines for negotiating a return to bed.
Sklep: Libristo.pl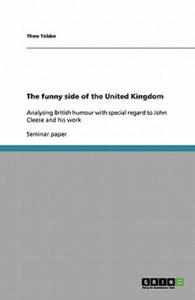 79,29 zł
Książki / Literatura obcojęzyczna
Seminar paper from the year 2007 in the subject English Language and Literature Studies - Linguistics, grade: 1,7, University of Osnabrück, course: British Life and Times , 21 entries in the bibliography, language: English, abstract: If people who are living outside the United Kingdom are asked to characterise British humour, many of them will probably mention the jokes of one of the Monty Python series or maybe famous quotes from the British sitcom Fawlty Towers; and if you ask these people which person they would associate with the shows, the answer will probably be: John Cleese. He is well known in nearly all European countries and even in the United States. But how did he become that famous or maybe even a label for today s view on English humour?In my research paper I want to point out Cleese s significance for British Comedy and humour. At first, I would like to give a general definition of the term and at the same time look at different types of humour in order to investigate why people start grinning or laughing in certain situations. I will present some criteria which can detect different types of humour and consider humour on phonological and syntactical levels.Then I want to work out if there is a special concept of humour in the United Kingdom and if this humour even characterises the British culture. In a next step I will compare the stereotypical concept of British and German humour to show that they are at least rated as being contradictory.After I have shown some typical styles and techniques of the British humour, my central focus will be on John Cleese. I want to give an overview of his life and introduce people who are close to him or supported him in his career. In doing so I will also concentrate on his major achievements: e.g. Monty Python s Flying Circus and their films and Fawlty Towers. Their popularity throughout the world is really remarkable and shows that Cleese and his friends possibly managed to broadcast a new sense of humour. I will therefore finally analyse their and particular Cleese s share in British sense of humour.
Sklep: Libristo.pl
Sklepy zlokalizowane w miastach: Warszawa, Kraków, Łódź, Wrocław, Poznań, Gdańsk, Szczecin, Bydgoszcz, Lublin, Katowice
Szukaj w sklepach lub całym serwisie
2. Szukaj na wszystkich stronach serwisu
t1=0.116, t2=0, t3=0, t4=0.012, t=0.116