krainaksiazek young adult purpose of a christian life young adult 20094669
- znaleziono 6 produktów w 1 sklepie 74,26 zł
Książki / Literatura obcojęzyczna
Port Winston, Texas--home to sun, sand, and shopping. What's not to like? Everything, to 14 year-old Elizabeth Barker. It's the middle of her 9th grade year and Dad's uprooted the family, returning to his Gulf coast hometown. A once-bustling fishing community, Port Winston is pushing every boundary, vying to be the state's premier tourist destination. A far cry from quiet, Coulter City, Missouri where Elizabeth used to be somebody and family meant something a whole lot different. Between Mom's story assignment in Mexico, Dad's 14-hour workdays and weekends minding Grandpa at the docks, their once close-knit life is in shreds. Taunted as the newbie camera geek at school, Elizabeth's given up trying to fit in. When Grandpa, who's got more judgments than the Old Testament, pronounces her 10˘ shy of worthless and headed for trouble, Elizabeth bolts for Wayward Landing beach--the county's last wild haven. Her impulsive defense of an endangered, nesting sea turtle against a trio of bullies ignites new purpose, a challenging friendship, and troubles even Grandpa couldn't predict. Her fight to save the Landing unearths complex family ties to the powerful developer and a long-buried tragedy that catapults Elizabeth against those she loves. When the Deepwater Horizon oil slick threatens the Louisiana coast and the turtles' feeding grounds, Elizabeth's journalist mom hits the front lines. And Elizabeth's fears and plans hit overdrive. Elizabeth's Landing is a compelling environmental and family saga, bridging risk and loss with hope and hearts--human to human, human to animal, human to world. A portion of book sale profits supports sea turtle conservation and education programs. Awards: 2014 Nautilus Book Awards SILVER-Young Adult Fiction; Mom's Choice Award-GOLD Young Adult Fiction; 2014 Next Generation Indie Book Awards-CATEGORY WINNER-Children's/Juvenile Fiction; 2013-Writer's Digest Self-Published e-book Awards-FIRST PLACE in Fiction.
Sklep: Libristo.pl 157,95 zł
Książki / Literatura obcojęzyczna
This book is autobiographical in nature. It's content contains an abbreviated recounting of the author's life from his youth, through his adolescence, into military life as a young adult, through to his retirement and beyond in his adult life. It is unapologetically Christian in it's flavor and is a testimonial to the power of God at work in the life of one lost soul who did not know he needed a Savior. Through sundry and bitter experiences, he presented it to the public only after much prayer and prompting by the Holy Spirit. It is written with the hope that any reader who may be going through similar experiences might know that they are not alone and that Jesus can free them from the chains of such addictions, if they allow him to. His personal prayer is that there be few in the Christian community who have to go through these degrading experiences, but that if there is, hope is as close as a heartfelt cry to God for liberation from the vices that enslaves them. May God bless you. Amen. Michael C. Wright, Ordained Chaplain-IdDPMI
Sklep: Libristo.pl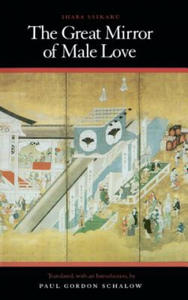 140,04 zł
Książki / Literatura obcojęzyczna
The first complete translation of Nanshoku okagami by Ihara Saikaku (1642-93), this is a collection of 40 stories describing homosexual love affairs between samurai men and boys and between young kabuki actors and their middle-class patrons. Seventeenth-century Kyoto was the center of a flourishing publishing industry, and for the first time in Japan's history it became possible for writers to live exclusively on their earnings. Saikaku was the first to actually do so. As a popular writer, Saikaku wanted to entertain his readership. When he undertook the writing of Nanshoku okagami in 1687, it was with the express purpose of extending his readership and satisfying his ambition to be published in the three major cities of his day, Kyoto, Osaka, and Edo. He chose the topic of male homosexual love because it had the broadest appeal both to the samurai men of Edo and to the townsmen of Kyoto and Osaka, his regular audience. Homosexual relations between a man and a boy were a regular feature of premodern Japanese culture and carried no stigma. When a boy reached the age of nineteen, he underwent a coming-of-age ceremony, after which he took the adult role in relations with boys. The first twenty stories in Nansoku okagami feature boys from the samurai class whose lives exemplified the ideals of boy love; the second group of twenty stories shifts its focus to young kabuki actors who exemplified boy love in their own way, serving as prostitutes in the theater districts of the three major cities. The stories, which eschew the explicitly erotic, touch on many interesting aspects of life in premodern Japan, notably samurai connoisseurship of boy love, with its emphasis on loyalty between lover and beloved, the Buddhist tradition of love between priests and acolytes as a means of spiritual enlightenment, the life and pleasures of the urban classes, and the world of the kabuki theater.
Sklep: Libristo.pl 77,35 zł
Książki / Literatura obcojęzyczna
Georgianne Whitley's beloved father and brothers died in the war against Napoleon Bonaparte. While she is grieving for them, she must deal with her unpredictable mother's sorrow, and her younger sisters' situation caused by it. Georgianne's problems increase when the arrogant, wealthy but elderly Earl of Pennington, proposes marriage to her for the sole purpose of being provided with an heir. At first she is tempted by his proposal, but something is not quite right about him. She rejects him not suspecting it will lead to unwelcome repercussions. Once, Georgianne had wanted to marry an army officer. Now, she decides never to marry 'a military man' for fear he will be killed on the battlefield. However, Georgianne still dreams of a happy marriage before unexpected violence forces her to relinquish the chance to participate in a London Season sponsored by her aunt. Shocked and in pain, Georgianne goes to the inn where her cousin Sarah's step-brother, Major Tarrant, is staying, while waiting for the blacksmith to return to the village and shoe his horse. Recently, she has been reacquainted with Tarrant-whom she knew when in the nursery-at the vicarage where Sarah lives with her husband Reverend Stanton. The war in the Iberian Peninsula is nearly at an end so, after his older brother's death, Tarrant, who was wounded, returned to England where his father asked him to marry and produce an heir. To please his father, Tarrant agreed to marry, but due to a personal tragedy he has decided never to father a child. When Georgianne, arrives at the inn, quixotic Tarrant sympathises with her unhappy situation. Moreover, he is shocked by the unforgivable, brutal treatment she has suffered. Full of admiration for her beauty and courage Tarrant decides to help Georgianne. Reviews: J. Pittam "Maythorn" (Hertfordshire, England I was looking forward to another novel from Rosemary Morris and this one I couldn't put down. The author seems to have found her voice in this story which is set just after the Napoleonic Campaign.
Sklep: Libristo.pl 109,75 zł
Książki / Literatura obcojęzyczna
Dr Christiane Northrup is one of today's most trusted and visionary experts on every aspect of being a woman. In Mother-Daughter Wisdom she introduces an entirely new map of female development, including the 'five facets of feminine power' that range from the basics of physical care to the discovery of passion and purpose in life. This blueprint allows any woman - whether or not she has children - to repair the gaps in her own upbringing and create a better adult relationship with her mother. It is also invaluable guidance for mothers of young daughters. Drawing on patient case histories and revealing personal history, Dr Northrup discusses: Mother-daughter bonds; How this relationship affects our emotional and physical health; How to repair our relationships with our mothers; How to ensure a healthy future for our daughters and more.
Sklep: Libristo.pl 77,19 zł
Książki / Literatura obcojęzyczna
Touring Girls tells the story of Jacob Mbuy a young Cameroonian whose primary objective in life is having affairs with as many women as possible. He is obsessed with abusing young girls as well as instilling hopeless hope in adult women. His demise comes when he changes his world from the Christian to the Moslem world where he confronts a new type of women who behave strangely and cannot dance to his tunes. Protected by Islamic traditions and strict government laws, Jacob lands into a hell of unprecedented problems.
Sklep: Libristo.pl
Sklepy zlokalizowane w miastach: Warszawa, Kraków, Łódź, Wrocław, Poznań, Gdańsk, Szczecin, Bydgoszcz, Lublin, Katowice
Szukaj w sklepach lub całym serwisie
2. Szukaj na wszystkich stronach serwisu
t1=0.073, t2=0, t3=0, t4=0, t=0.073