krainaksiazek your dog a food and health guide to a happy longer life 20041049
- znaleziono 8 produktów w 2 sklepach 9,10 zł
Książki & Multimedia > Książki
Opis - Pierwsze na świecie świadectwo ofiary zbrodni honorowej. Miała siedemnaście lat i zakochała się: zhańbiła rodzinę. Więc rodzina wydała na nią wyrok śmierci... Pokochała go pierwszą miłością. Myślała, że się z nią ożeni. Ale ukochany zniknął, a ona odkryła, że jest w ciąży. A w jej świecie to najcięższa zbrodnia... W zapomnianej przez Boga wiosce w Cisjordanii kobiety są warte mniej niż zwierzęta domowe. Tu mężczyzna jest panem życia i śmierci żony, córki, siostry. Brat może bezkarnie zabić siostrę, matka - córkę, kolejną bezużyteczną dziewczynkę, jaka się urodzi. Tu kobiecie odbiera się godność, a nawet życie zgodnie z odwiecznym obyczajem i uświęconą tradycją. A śmierć jest karą dla dziewczyny, która zhańbi rodzinę. Tak jak Souad. Wyrok wydaje jej ojciec. Szwagier dokonuje egzekucji. Oblewa Souad benzyną i podpala... SOUAD przeżyła - cudem, ale rodzina usiłowała zabić ją nawet w szpitalu. Na zawsze jednak pozostanie straszliwie okaleczona - na ciele i duszy. I wciąż musi się ukrywać; dopóki żyje, jej rodzinę okrywa hańba. Spalona żywcem, opublikowana pod pseudonimem szokująca opowieść o piekle, jakim było jej dzieciństwo i młodość, stała się międzynarodowym bestsellerem. Wydana w 37 w krajach książka przerywa tabu milczenia wobec istniejącej nadal w krajach muzułmańskich barbarzyńskiej tradycji. Nieludzkiego obyczaju, prawa mężczyzn, na mocy którego co najmniej pięć tysięcy kobiet pada co roku ofiarą zbrodni honorowej. Nazwa - Spalona Żywcem Wyd. Kieszonkowe Autor - Souad Oprawa - Miękka Wydawca - Amber Kod ISBN - 9788324159406 Kod EAN - 9788324159406 Wydanie - 1 Rok wydania - 2016 Tłumacz - 31182,maria rostworowska; Format - 110 x 175 x 14 Ilość stron - 224 Podatek VAT - 5% Premiera - 2016-06-23
Sklep: InBook.pl 80,64 zł
Książki / Literatura obcojęzyczna
Is this the right book for me? A flexible guide that will add ten happy and healthy years to your life This book is designed as a ten-step guide that will add ten (healthy, happy) years to your life. It offers sound advice on health and fitness issues, and will cover diet and relaxation, in addition to such emotional issues as happiness, love and spirituality. It is all based, not on guru driven theories of bizarre diets or exercise routines, but on common sense and positive thinking, twinned with information that is both practical and supported widely by the scientific and medical communities. The tone is positive and encouraging throughout; there are also plenty of opportunities for you to interact with the book through features such as quizzes, self-test boxes and exercises. Help Yourself to Live Longer includes: Chapter 1: Why we age The gene theory of ageing The free radical theory of ageing Making the most of this book Chapter 2: Food How some foods fight ageing An a-z of longevity wonderfoods Crash diets Restrict calories, live longer The live-longer meal planner Chapter 3: Supplements The great supplement debate Combining vitamin and mineral supplements Chapter 4: Exercise Up to ten more years How exercise makes you feel more happier How fit are you? Exercising for fitness Do what you enjoy Exercising for strength Exercising for flexibility Devising a weekly program for fitness, strength and flexibility Chapter 5: Your brain How your brain works Dementia Physical activity Avoiding stress Avoiding neurotoxicants Avoiding head injury Mental activity Increasing your brain power Chapter 6: Relaxation The slow movement Good and bad stress Downsizing Relaxation techniques Meditation Give yourself some cognitive self-therapy Sleep Muscular relaxation Laughter - the stress breaker . .Chapter 7: Happiness Be grateful Getting rid of negative thoughts How negative emotions can poison you Applying the lessons to your past Enough money for a happy future? Chapter 8: Prudence Avoiding cancer Smoking - please stop Viruses Alcohol Drugs Sunshine Driving Avoid head injury Sex Is it worth having medical check-ups Body scans Chapter 9: Love That special someone Love is the food of health More love, less stress Psychoneurosexuality Oxytocin Improving your relationship If your partner has died Relatives and friends Pets How well connected are you? Chapter 10: Sex The normal developments of ageing Managing the effects of ageing Men's problems Women's problems A lifetime of sex with the same partner Chapter 11: Spirituality Gratitude and acceptance Optimism Coping skills Giving life a point Choosing what to believe Prayer How to be more spiritual if you don't believe in God Developing spirituality . Learn effortlessly with a new easy-to-read page design and added features: - Personal insights, tips, and summaries throughout the book - Extension articles online - 1, 5 and 10-minute bites of learning to get you started - Designed for readers of all ages, backgrounds and abilities - Lots of interactive exercises and sample tips
Sklep: Libristo.pl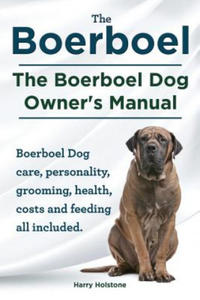 61,44 zł
Książki / Literatura obcojęzyczna
The Boerboel is a very majestic dog who was given immense recognition and respect by some of the greatest rulers in the history of mankind; including Assurbanipal of Assyria and Alexander the Great. Now, if you want to feel like royalty, too, it is a good idea to bring home a Boerboel. However, before you do that, make sure you know everything about taking care of this rather unique breed. Having a giant dog like the Boerboel at home is no easy task. For anybody who has even owned a dog before understanding the right way to care for a dog like the Boerboel seems like a challenge. Most Mastiff owners would agree that the docile nature of the breed reduces the burden to a large extent. So if you are bringing home a Boerboel you must worry mostly about giving the dog proper care to ensure that he has a long, comfortable and healthy life, this book is all that you will need to refer to. With the wrong care, this dog can sometimes become aggressive. With the right care, he will be the most incredible addition to your family. This book is a complete pet owner's guide that covers all the concerns that a new Mastiff owner may have. This manual contains all the information you need, from birth to the Rainbow Bridge, including introducing the puppy to your family, transitioning through house breaking, care, feeding, training secrets and end of life, so that you can make a well-informed decision about whether or not the Neapolitan Mastiff is the breed for you. If you already have a Boerboel, this book will tell you how to keep your dog happy and how to make you a happy dog owner. Harry Holstone, the author, is a dog lover and Boerboel owner.
Sklep: Libristo.pl 66,24 zł
Książki / Literatura obcojęzyczna
The French Bulldog Owners Guide has the answers you need when researching this small and sturdy purebred canine with the big ears. Learn about this playful companion dog and find out whether or not this stubborn and loveable breed will be the best choice for you and your family. This guide contains all the information you need to make your French Bulldog a happy dog and you a happy dog owner. The author Edward Ealing is a true dog lover and has been a dog owner all his life. He enjoys writing dog books and advising others how to take care of their dog to give them a happy home. Co-Author Asia Moore is a professional Dog Whisperer, Cynologist and Author, living on Vancouver Island, off the west coast of British Columbia, in Canada, who believes that all humans and dogs can live together in harmony. She and her dog whispering team, which includes an 8-year-old French Bulldog named Boris, teach dog psychology to humans, to help alleviate problem behaviors that arise between humans and their canine counterparts so that everyone can live a happy and stress-free life together. Covered in this book: - Temperament - Vital statistics - Before you buy - Choosing the right dog - Health - Daily care - Feeding - House training - Medical care & safety - Grooming - Training - Poisonous Foods & Plants - Caring for your aging dog .... and much more.
Sklep: Libristo.pl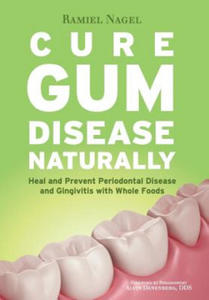 94,72 zł
Książki / Literatura obcojęzyczna
Free yourself from the downward spiral of scaling, root planing, gum grafts, flap surgery, chemicals, and the inevitable extractions and implants and cure gum disease (periodontitis) naturally. Ramiel Nagel's bestselling guide, Cure Tooth Decay, has inspired tens of thousands of readers to discover hidden and effective means to reduce dental cavities by at least 90 percent. In Cure Gum Disease Naturally, Nagel expands upon his original work and shows you the forgotten and suppressed cure for gum disease. The CDC now reports that about half of all adult Americans suffer from periodontal disease, with 8.5 percent of all adults having severe gum disease. And even worse, 23 percent of all adults aged sixty-five and older have lost all of their teeth. Despite the prevalence of periodontal disease, dentistry has not found the "cure" as it continues to allow adults to lose their teeth only to primarily offer the expensive and often painful alternative of dental implants. This is not a book that advocates for gum surgery, or for other chemical or harsh overpriced treatments with dubious results. This is a truly natural, holistic approach that primarily focuses on how you can use the food that you eat as medicine for your body, to give it specific and targeted nutrition, and to make your sad gums happy again. It will show you how to turn the frequent dreadful dental visits into a delight, and to help you stop worrying about the health of your teeth and gums so you can start living life-as you deserve to-once again. Take a bite out of life, improve how you feel, reduce your level of stress, and finally, at last, read a book that was truly written with a goal that you can align with, to get you out of the endless and unnecessary cycle of gum disease treatments that do not provide results that last because they never address the root cause. Cure Gum Disease Naturally is about you and your health. It begins with the story of how conventional dentistry no longer advocates and prescribes treatments based upon the agreed upon and proven cause of gum disease. You will learn how enlightened dentists Melvin Page and Harold Hawkins applied the research of esteemed dentist Weston Price in their practices to prevent the tragic loss of teeth by restoring gum health in their patients. You will then be led, step by step, through the evidence and the information that gives you a precise and detailed road map, using whole foods, to stop gum disease and to rebuild and repair your gums. Finally, you will be given essential information to navigate the dangerous waters of gum treatments, and find new ways to care for your teeth and gums that until now, few knew were even possible. Read Cure Gum Disease Naturally and learn how loose teeth can be firmed up and become rooted like a strong tree once again into your jaw bone, inflamed gums can become healthy, and bleeding can be greatly reduced and stopped. You will at last see clearly why you have succumbed to gum disease and know specific steps to take, by eating certain foods, to keep your gums healthy and thus keep your teeth for the rest of your life.
Sklep: Libristo.pl 65,44 zł
Książki / Literatura obcojęzyczna
Known for its great strength, endurance, and protectiveness, the Rottweiler can be a good-natured, playful pet. It can also be a highly challenging breed. In the right hands, a Rottweiler can be the best security system in town, and at the same time, an affectionate friend to the whole family, always ready for fun and games. The well-bred, well-trained Rottweiler has the courage of a lion and is happy to obey. In the wrong hands, a Rottweiler just as easily can become an unruly beast, a menace to all that come near. Is the Rottweiler the right breed for you and your family? Rottweilers For Dummies provides the answer to this and all your questions about getting, caring for and living with this big dog. Long-time Rottweiler breeder and trainer Richard G. Beauchamp gets you up and running with what you need to know to: Choose the right Rottweiler for you Socialize your new puppy Educate yourself and your dog Maintain good health, proper exercise and diet Handle behavioral problems Participate in dog competitions In friendly, down-to-earth language, Rick provides insights into the Rottweiler temperament and loads of sensible, easy-to-follow advice on everything a Rottweiler owner should know - along with fun facts and tips on how to have a great time with your Rottie. Discover how to: Decide on whether a male or female is right for you Find and choose your new friend and bring him or her home Understand how to communicate with your Rottweiler Train your Rottweiler Finding a good trainer and attend classes Deal with emotional conflicts Feed and exercise your Rottweiler Recognize, prevent, and treat common health problems Have loyal friend for life The indispensable guide for you and your Rottweiler, Rottweilers For Dummies is the only book you'll need to help you have the best possible experience with this admirable and loveable breed.
Sklep: Libristo.pl 101,76 zł
Książki / Literatura obcojęzyczna
Indulge yourself with tasty and satisfying foods like pasta dishes, stir-fries, curries, risottos, noodle dishes, and sushi, all washed down with a glass of wine or beer. Stay active but don't bother with a formal exercise regimen, and set aside time every day to relax and unwind. You may find it hard to believe, but eating and living this way can help you stay lean and healthy, substantially reduce your risk of heart disease and cancer, and increase your chances of living longer. People from Mediterranean and Asian cultures have been living like this-and reaping the rewards-for more than 5,000 years. Now, in this unique cookbook and guide, Ric Watson and his wife, Trudy Thelander, demonstrate just how easy it is to realize the benefits of the MediterrAsian way-benefits that numerous scientific studies have documented over the last half century. They explain the common features of Mediterranean and Asian lifestyles-abundant amounts of plant foods and fish, small amounts of red meat, moderate alcohol consumption, physical activity, and time set aside to relax-and show you step by step how to make them part of your life. When you eat the MediterrAsian way, there's no skimping on taste-or satisfaction. You'll feast on more than 150 delicious recipes, including favorites like Pasta Primavera, Thai Chicken Stir-Fry, and Ham, Mushroom, and Tomato Pizza. You'll savor the intriguing flavors of Vietnamese Shrimp and Vegetable Rice Paper Rolls, Moroccan Stew with Couscous, and Teriyaki Chicken Noodles. And if you're in the mood for a burger or hot dog, Watson and Thelander offer several deliciously healthy versions. The book walks you through MediterrAsian food basics, shows you how to substitute daily activities for time at the gym, and explains how to take time out to enjoy life and relax. To help you plan your meals, it provides an easy-to-follow five-step MediterrAsian Balanced Meal System. There's even a fourteen-day MediterrAsian plan as well as example lifestyle scenarios to help you get into the swing of things. Complete with 50 tempting color food photographs, The MediterrAsian Way is all you need to enjoy the benefits of MediterrAsian living-starting today!
Sklep: Libristo.pl 104,32 zł
Książki / Literatura obcojęzyczna
Revised and fully updated with more than 50 new and easy recipes The world of weight loss changed forever when "The Eat-Clean Diet" burst on the scene in January 2007. With help from author Tosca Reno, millions of people who had given up hope for permanent weight loss cleaned up their acts and rediscovered their true, leaner selves. The best part? They did it without starving, without counting calories, and without obsessing over the scale. "The Eat-Clean Diet Recharged!" is the next generation of Eating Clean. Updated and revised, it's got all the facts from "The Eat-Clean Diet"--plus much more. Look inside for in-depth information on - how to get--and stay--motivated - living a longer, happier, more productive life - how to take the plunge into an exercise program - solutions for cellulite, saggy bits, and loose skin - using food to raise your metabolism and burn fatPlus! - 50 new recipes - more menus, including vegan and gluten-free plans - how to Eat Clean anywhere, from parties to restaurants to on the road - more FAQs than ever before - the Eat-Clean Diet at a Glance quick reference section "Getting strong and into peak health physically is essential to creating all excellence. This valuable book will help you."--Robin Sharma, author of the #1 bestsellers "The Greatness Guide" and "The Monk Who Sold His Ferrari"" "At age 40, Tosca Reno found herself miserable, overweight, trapped in an unhappy marriage and living an unfulfilled life. Her self-esteem at an all-time low, she barely recognized the woman she had become. Realizing she was the architect of her own destiny, Tosca was reborn. She embraced health and accepted fitness challenges, transforming her life and her body in the process. Tosca reinvented herself--going from fat and frumpy to lean and purposeful. Her past struggles served to inspire and motivate her in her career as a writer, motivational speaker, and fitness celebrity. Her work encourages others to embrace life, find their inner passions, and live the rest of their lives in the best shape possible. Tosca writes monthly columns for "Oxygen "and" Clean Eating" magazines and has written many books, including the bestselling "Eat-Clean Diet" series.
Sklep: Libristo.pl
Sklepy zlokalizowane w miastach: Warszawa, Kraków, Łódź, Wrocław, Poznań, Gdańsk, Szczecin, Bydgoszcz, Lublin, Katowice
Szukaj w sklepach lub całym serwisie
2. Szukaj na wszystkich stronach serwisu
t1=0.056, t2=0, t3=0, t4=0, t=0.057