krainaksiazek zero zero zero englische ausgabe 20104352
- znaleziono 8 produktów w 2 sklepach 78,88 zł
Książki / Literatura obcojęzyczna
Zero zero zero is the nickname among narcotraffickers for the purest, highest quality cocaine on the market. And it is the title of Roberto Savianos unforgettable exploration of how the cocaine trade knits the world into its dark economy and imposes its own vicious rules and moral codes on its armies and, through them, on us all.
Sklep: Libristo.pl 42,12 zł
Książki
Sklep: KrainaKsiazek.pl 146,40 zł
Książki / Literatura obcojęzyczna
Una redazione raccogliticcia che prepara un quotidiano destinato, piů che all'informazione, al ricatto, alla macchina del fango, a bassi servizi per il suo editore. Un redattore paranoico che, aggirandosi per una Milano allucinata (o allucinato per una Milano normale), ricostruisce la storia di cinquant'anni sullo sfondo di un piano sulfureo costruito intorno al cadavere putrefatto di uno pseudo Mussolini. E nell'ombra Gladio, la P2, l'assassinio di papa Luciani, il colpo di stato di Junio Valerio Borghese, la Cia, i terroristi rossi manovrati dagli uffici affari riservati, vent'anni di stragi e di depistaggi, un insieme di fatti inspiegabili che paiono inventati sino a che una trasmissione della BBC non prova che sono veri, o almeno che sono ormai confessati dai loro autori. E poi un cadavere che entra in scena all'improvviso nella piů stretta e malfamata via di Milano. Un'esile storia d'amore tra due protagonisti perdenti per natura, un ghost writer fallito e una ragazza inquietante che per aiutare la famiglia ha abbandonato l'universitŕ e si č specializzata nel gossip su affettuose amicizie, ma ancora piange sul secondo movimento della Settima di Beethoven. Un perfetto manuale per il cattivo giornalismo che il lettore via via non sa se inventato o semplicemente ripreso dal vivo. Una storia che si svolge nel 1992 in cui si prefigurano tanti misteri e follie del ventennio successivo, proprio mentre i due protagonisti pensano che l'incubo sia finito.
Sklep: Libristo.pl 120,32 zł
Książki / Literatura obcojęzyczna
1992 gründet eine kleine Mailänder Journalistengruppe ein investigatives Zeitungsorgan. Als sie damit beginnen längst vergessene Affären aus noch Mussolinis Zeiten ausgraben, geraten sie unter massiven Druck bis schließlich ein Journalistenkollege umgebracht wird.
Sklep: Libristo.pl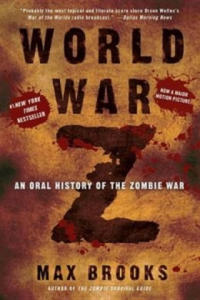 37,44 zł
Książki / Literatura obcojęzyczna
NOW A MAJOR MOTION PICTURE§§The Zombie War came unthinkably close to eradicating humanity. Max Brooks, driven by the urgency of preserving the acid-etched first-hand experiences of the survivors from those apocalyptic years, traveled across the United States of America and throughout the world, from decimated cities that once teemed with upwards of thirty million souls to the most remote and inhospitable areas of the planet. He recorded the testimony of men, women, and sometimes children who came face-to-face with the living, or at least the undead, hell of that dreadful time. World War Z is the result. Never before have we had access to a document that so powerfully conveys the depth of fear and horror, and also the ineradicable spirit of resistance, that gripped human society through the plague years.§§Ranging from the now infamous village of New Dachang in the United Federation of China, where the epidemiological trail began with the twelve-year-old Patient Zero, to the unnamed northern forests where untold numbers sought a terrible and temporary refuge in the cold, to the United States of Southern Africa, where the Redeker Plan provided hope for humanity at an unspeakable price, to the west-of-the-Rockies redoubt where the North American tide finally started to turn, this invaluable chronicle reflects the full scope and duration of the Zombie War.§§Most of all, the book captures with haunting immediacy the human dimension of this epochal event. Facing the often raw and vivid nature of these personal accounts requires a degree of courage on the part of the reader, but the effort is invaluable because, as Mr. Brooks says in his introduction, "By excluding the human factor, aren't we risking the kind of personal detachment from history that may, heaven forbid, lead us one day to repeat it? And in the end, isn't the human factor the only true difference between us and the enemy we now refer to as 'the living dead'?"§§Note: Some of the numerical and factual material contained in this edition was previously published under the auspices of the United Nations Postwar Commission.§§Eyewitness reports from the first truly global war§§"I found 'Patient Zero' behind the locked door of an abandoned apartment across town. . . . His wrists and feet were bound with plastic packing twine. Although he'd rubbed off the skin around his bonds, there was no blood. There was also no blood on his other wounds. . . . He was writhing like an animal; a gag muffled his growls. At first the villagers tried to hold me back. They warned me not to touch him, that he was 'cursed.' I shrugged them off and reached for my mask and gloves. The boy's skin was . . . cold and gray . . . I could find neither his heartbeat nor his pulse." - Dr. Kwang Jingshu, Greater Chongqing, United Federation of China§§"'Shock and Awe'? Perfect name. . . . But what if the enemy can't be shocked and awed? Not just won't, but biologically can't! That's what happened that day outside New York City, that's the failure that almost lost us the whole damn war. The fact that we couldn't shock and awe Zack boomeranged right back in our faces and actually allowed Zack to shock and awe us! They're not afraid! No matter what we do, no matter how many we kill, they will never, ever be afraid!" - Todd Wainio, former U.S. Army infantryman and veteran of the Battle of Yonkers§§"Two hundred million zombies. Who can even visualize that type of number, let alone combat it? . . . For the first time in history, we faced an enemy that was actively waging total war. They had no limits of endurance. They would never negotiate, never surrender. They would fight until the very end because, unlike us, every single one of them, every second of every day, was devoted to consuming all life on Earth." - General Travis D'Ambrosia, Supreme Allied Commander, Europe§§From the Hardcover edition.
Sklep: Libristo.pl 34,88 zł
Książki / Literatura obcojęzyczna
(Previously published as There Are No Spies .)§§SOON TO BE A MAJOR MOTION PICTURE STARRING PIERCE BROSNAN!§§The classic thriller featuring the lethally cool U.S. government spy code-named The November Man§§The president learned long ago that the CIA could not be trusted. And so he created his own group of deadly efficient men to gather independent intelligence: a watchdog organization to keep the CIA in check. R Section was born.§§"There are no spies . . . "§§Until he heard those four simple words, Devereaux thought he'd left his days in R Section behind. He was no longer The November Man, an American field officer in the vice-grip of duty and danger--and the most brilliant agent R Section had ever produced. When he receives the cryptic message from Hanley, his former handler, Devereaux has no idea he's about to be reactivated into a mission to save both his life and R Section itself. He's not aware that a beautiful KGB agent has been ordered to stalk and kill him-or that Hanley is now in a government-subsidized asylum for people with too many secrets. And he doesn't know that zero hour ticks closer for an operation to catch a master spy . . . with Devereaux the designated pawn.§§What The November Man doesn't know can kill him.
Sklep: Libristo.pl 31,84 zł
Książki / Literatura obcojęzyczna
College freshman Claire Danvers has had enough of her nightmarish dorm situation, where the popular girls never let her forget just where she ranks in the school's social scene: somewhere less than zero. §When Claire heads off-campus, the imposing old house where she finds a room may not be much better. Her new roommates don't show many signs of life. But they'll have Claire's back when the town's deepest secrets come crawling out, hungry for fresh blood.§Watch a Windows Media trailer for this book. §
Sklep: Libristo.pl 170,24 zł
Książki / Literatura obcojęzyczna
Bachelorarbeit aus dem Jahr 2011 im Fachbereich Touristik / Tourismus, Note: 1,3, Hochschule Deggendorf, Sprache: Deutsch, Abstract: Ein der Wirtschaftskrise ähnliches Szenario musste der Tourismus 2001 erleben, als Amerika von den Terroranschlägen des 9/11 erschüttert wurde. Bereits im Folgejahr des Anschlages besuchten mehr als 3,5 Millionen Menschen Ground Zero und verdoppelten somit beinahe die jährliche Besucheranzahl, welche die Aussichtsplattform des World Trade Centers aufsuchte. Mittlerweile knapp zehn Jahre nach 9/11 zählt Ground Zero zu den Hauptattraktionen von New York City und ist fester Bestandteil jeder Sightseeing-Tour. Der Autor Philip R. Stone konstatiert an dieser Stelle: there appears to be an increasing number of people keen to promote or profit from dark events as tourist attractions . Mit anderen Worten gibt es offensichtlich Menschen, die wissen wie sich aus Katastrophen bzw. Verbrechen Kapital schlagen lässt und diese als touristische Attraktionen auch bewusst promoten. Auf der anderen Seite gibt es zweifellos jedoch auch eine äußerst große Anzahl an Touristen, die daran interessiert sind diese Orte aufzusuchen und viel mehr noch, dafür Eintritt zu bezahlen. 9/11 ist hierfür nur ein Beispiel. Tatsächlich gibt es eine Vielzahl an weiteren, an welchen sich dieses Phänomen wiederspiegelt (z.B. das KZ-Lager Auschwitz, Chernobyl, Pearl Harbor oder Hiroshima). Im Allgemeinen scheint Teil des menschlichen Naturells die makabere Faszination des Todes, von Gewalt und Horror zu sein. Betrachtet man beispielsweise den Fakt, dass die Ausstellung Körperwelten weltweit bereits mehr als 30 Millionen Besucher angelockt hat. Das Phänomen, welches hier beschrieben wird, ist das des Schwarzen Tourismus und obwohl ein immer breiteres Interesse seitens Recherche und der Medien besteht, bleibt die Literatur über dieses Thema weiterhin fragmentarisch und somit unvollständig. So ist zum Beispiel auch keine suffiziente deutsche Definition zu finden. Die offizielle englische Definition lautet: Dark tourism is the act of travel, and visitation to sites, attractions and exhibitions which have real or recreated death, suffering or the seemingly macabre as a main theme . Aber warum ist der Schwarze Tourismus so attraktiv, faszinierend und anziehend? Und sind die Erfahrungen wirklich mit der Realität zu vergleichen? Machen sich Schwarze Touristen gar über die gegenwärtigen/vergangenen Probleme lustig? Oder handelt es sich sogar nur um Geldmacherei?Diese Bachelorarbeit analysiert diese zentralen Fragen in ihrem Verlauf.
Sklep: Libristo.pl
Sklepy zlokalizowane w miastach: Warszawa, Kraków, Łódź, Wrocław, Poznań, Gdańsk, Szczecin, Bydgoszcz, Lublin, Katowice
Szukaj w sklepach lub całym serwisie
2. Szukaj na wszystkich stronach serwisu
t1=0.037, t2=0, t3=0, t4=0.017, t=0.037