krainaksiazek the law of love the other law of god 20169831
- znaleziono 129 produktów w 12 sklepach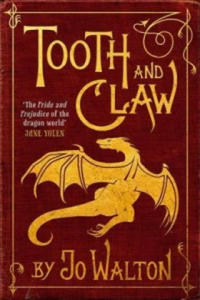 39,41 zł
Książki / Literatura obcojęzyczna
A family of dragons gathers on the occasion of the death of their father, the elder Bon Agornin. As is custom, they must eat the body. But even as Bon's last remains are polished off, his sons and daughters must all jostle for a position in the new hierarchy. While the youngest son seeks greedy remuneration through the courts of law, the eldest son - a dragon of the cloth - agonises over his father's deathbed confession. While one daughter is caught between loyalty to her family by blood and her family by marriage, another daughter follows her heart - only to discover the great cost of true love...Here is a Victorian story of political intrigue, family ties and political intrigue, set in a world of dragons - a world, quite literally, red in tooth and claw. Full of fiery wit, this is a novel unlike any other.
Sklep: Libristo.pl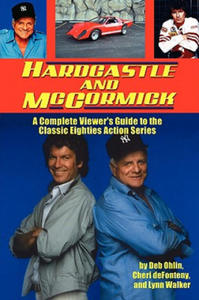 164,08 zł
Książki / Literatura obcojęzyczna
Milton C. Hardcastle was a law and order judge. Mark McCormick was an ex-con, an ex-racecar driver, and Hardcastle's last case. On the eve of his retirement, Hardcastle chose an unwilling McCormick to be the fast gun (and even faster driver) for his post-retirement career as a modern day Lone Ranger. Would they get the bad guys, or kill each other, first? Return with us now, to those thrilling days of yesteryear-1983-1986, to be exact-when Stephen J. Cannell and Patrick Hasburgh combined car chases, humor, and unforgettable characters for sixty-five episodes of action-packed entertainment. We'll look at the stars, the plots, and the trivia, plus the people behind the scenes who made it all happen. What's inside- . Scene by scene summaries of every episode with cast lists, screen captures, and quotes. . Who was who: production staff, actors, and crew members. . Behind the scene details and set photos. . Coyote and stunt details. . Lots of trivia. . An unproduced script by writer Carol Mendelsohn, "Love, Pain, and All That Stuff". . And a look at where they are now. "Hardcastle and McCormick was a terrific series with great stars and writing. My co-creator, Patrick Hasburgh, and I heartily endorse this book. It tells more about the series than either of us could have hoped for." - Stephen J. Cannell
Sklep: Libristo.pl 376,32 zł
Książki / Literatura obcojęzyczna
An interpersonal relationship is an association between two or more people that may range from fleeting to enduring. This association may be based on limerence, love and liking, regular business interactions, or some other type of social commitment. Interpersonal relationships take place in a great variety of contexts, such as family, friends, marriage, associates, work, clubs, neighborhoods, and churches. They may be regulated by law, custom, or mutual agreement, and are the basis of social groups and society as a whole. Although humans are fundamentally social creatures, interpersonal relationships are not always healthy. Examples of unhealthy relationships include abusive relationships and codependence. A relationship is normally viewed as a connection between two individuals, such as a romantic or intimate relationship, or a parent-child relationship. Individuals can also have relationships with groups of people, such as the relation between a pastor and his congregation, an uncle and a family, or a mayor and a town.
Sklep: Libristo.pl 472,79 zł
Książki / Literatura obcojęzyczna
In this original and provocative book, Colin Dayan tackles head on the inexhaustible world, at once tender and fierce, of dogs and humans. We follow the tracks of dogs in the bayous of Louisiana, the streets of Istanbul, the humane societies of the United States, and the memories and myths of the humans who love them. Dayan reorients our ethical and political assumptions through a trans-species engagement that risks as much as it promises. She makes a powerful case for questioning what we think of as our deepest-held beliefs and, with dogs in the lead, unsettles the dubious promises of liberal humanism. Moving seamlessly between memoir, case law, and film, Dayan takes politics and animal studies in a new direction--one that gives us glimpses of how we can think beyond ourselves and with other beings. Her unconventional perspective raises hard questions and renews what it means for any animal or human to live in the twenty-first century. Nothing less than a challenge for us to confront violence and suffering even in the privileged precincts of modernity, this searing and lyrical book calls for another way to think the world. Theoretically sophisticated yet aimed at a broad readership, With Dogs at the Edge of Life illuminates how dogs--and their struggles--take us beyond sentimentality and into a form of thought that can make a difference to our lives.
Sklep: Libristo.pl 43,87 zł
Książki / Literatura obcojęzyczna
The long-awaited reissue of the final part of the classic spy trilogy, HOOK, LINE and SINKER, when the Berlin Wall divided not just a city but a world. Bernard Samson is surrounded by puzzles and none more complex than Fiona, his wife and the mother of his children. But as a mystery, she is by no means alone. Can a man love two women at the same time? Can a man serve two masters? Tessa Kosinski, Bernard's socialite sister-in-law, is not the 'other woman'. She is as faithful to Bernard and Fiona as she is unfaithful to her doting husband. But she is vulnerable, and slowly she is drawn from the bright lights of London to the murkiest and bizarre corners of Berlin.
Sklep: Libristo.pl 70,09 zł
Recovery New Generation Publishing
Książki / Literatura obcojęzyczna
Imagine leading a law abiding life and suddenly becoming the victim of serious crime. How would you react? How would you cope with the event and its aftermath? These were questions that the Hartwell family had never had to consider until one dark winter's night when four men brutally intruded on their lives and the nightmare began... From the incident, through the police investigation and subsequent court case, pressures on the family and their relationships mount, exposing difficult and painful flaws. As they grapple with their unfolding circumstances their tolerance, love and faith in each other and humanity are tested to breaking point as they attempt to emerge from the dark events, to adjust and to seek recovery...
Sklep: Libristo.pl 116,92 zł
Książki / Literatura obcojęzyczna
In early 20th-century China, age-old traditions of homosocial and homoerotic relationships between women suddenly became an issue of widespread public concern. Discussed formerly in terms of friendship and sisterhood, these relations came to be associated with feminism, on the one hand, and psychobiological perversion, on the other - a radical shift whose origins have long been unclear. In this first ever book-length study of Chinese lesbians, Tze-lan D. Sang convincingly ties the debate over female same-sex love in China to the emergence of Chinese modernity. As women's participation in social, economic and political affairs grew, Sang argues, so too did the social significance of their romantic and sexual relations. Focusing especially on literature by or about women-preferring women, Sang traces the history of female same-sex relations in China from the late imperial period (1600-1911) through the Republiican era (1912-1949). She ends by examining the reemergence of public debate on lesbians in China after Mao and in Taiwan after martial law, including the important roles played by globalization and identity politics.
Sklep: Libristo.pl 77,84 zł
Książki / Literatura obcojęzyczna
Prophet or messiah, the figure of Jesus serves as both the bridge and the barrier between Christianity and Islam. In this accessible and thoughtful book, Muslim scholar and popular commentator Mona Siddiqui takes her reader on a personal, theological journey exploring the centrality of Jesus in Christian-Muslim relations. Christain and Muslim scholars have used Jesus and Christological themes for polemical and dialogical conversations from the earliest days to modern times. The author concludes with her own reflections on the cross and its possible meaning in her Muslim faith. Through a careful analysis of selected works by major Christian and Muslim theologians during the formative, medieval, and modern periods of both religions, Siddiqui focuses on themes including revelation, prophecy, salvation, redemption, sin, eschatology, law, and love. How did some doctrines become the defining characteristics of one faith and not the other? What is the nature of the theological chasm between Christianity and Islam? With a nuanced and carefully considered analysis of critical doctrines the author provides a refreshingly honest counterpoint to contemporary polemical arguments and makes a compelling contribution to reasoned interfaith conversation.
Sklep: Libristo.pl 103,73 zł
Książki / Literatura obcojęzyczna
"Mirror of Dew" introduces one of Iran's outstanding female poets, whose work has not previously been available in English. Zh le Q 'em-Maq mi (1883-1946) was a witness to pivotal social and political developments in Iran during its transition to modernity. Persian poetry at that time was often used polemically and didactically, for a mass audience, but Zh le did not write to be published. The poems, like the mirror, samovar, and other familiar objects we find in them, appear to be the author's intimate companions. Her poetry is deeply personal but includes social critique and offers a rare window into the impact of a modern awareness on private lives. Zh le is biting in her condemnation of traditional Persian culture, and even of aspects of Islamic law and custom. She might be called the Emily Dickinson of Persian poetry, although Zh le was married, against her will. Zh le is far from the first female poet in Persian literature but is the first we know of to write with an interior, intimate voice about private life, her anxieties, her frustrated love, her feelings about her husband, and many topical issues. This volume presents the Persian text of Zh le's poems on pages facing the English translations."
Sklep: Libristo.pl
Sklepy zlokalizowane w miastach: Warszawa, Kraków, Łódź, Wrocław, Poznań, Gdańsk, Szczecin, Bydgoszcz, Lublin, Katowice
Szukaj w sklepach lub całym serwisie
2. Szukaj na wszystkich stronach serwisu
t1=0.114, t2=0, t3=0, t4=0.014, t=0.114