libristo crises in economic and social history 9335802
- znaleziono 14 produktów w 4 sklepach 139,99 zł
Książki Obcojęzyczne>Angielskie>Humanities>History>Specific events & topics>Social & cultural historyKsiążki Obcojęzyczne>Angielskie...
0x01769c6100000000
Sklep: Gigant.pl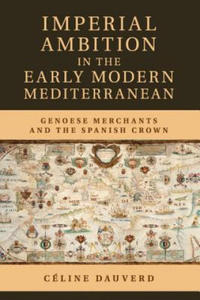 174,70 zł
Książki / Literatura obcojęzyczna
Distinguishing four sources of power
Sklep: Libristo.pl 524,92 zł
Książki / Literatura obcojęzyczna
Distinguishing four sources of power
Sklep: Libristo.pl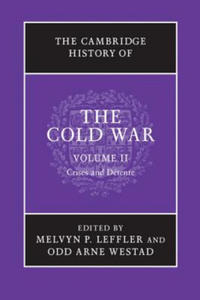 192,79 zł
Książki / Literatura obcojęzyczna
Volume II of The Cambridge History of the Cold War examines the developments that made the Cold War a long-lasting international system during the 1960s and 1970s. A team of leading scholars explains how the Cold War seemed to stabilize after the Cuban Missile Crisis in 1962 and how this sense of increased stability evolved into the détente era of the early 1970s. The authors outline how conflicts in the Third World, as well as the interests and ideologies of the superpowers, eroded the détente process. They delve into the social and economic roots of the conflict, illuminate processes of integration and disintegration, analyze the arms race and explore the roles of intelligence, culture and national identities. Discussing the newest findings on US and Soviet foreign policy and examining crises inside and outside of Europe, this authoritative volume will define Cold War studies for years to come.
Sklep: Libristo.pl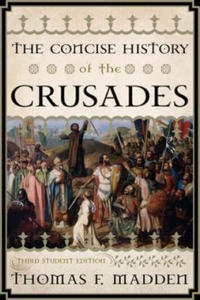 146,57 zł
Książki / Literatura obcojęzyczna
What is the relationship between the medieval crusades and the problems of the modern Middle East? Were the crusades the Christian equivalent of Muslim jihad? In this sweeping yet crisp history, Thomas F. Madden offers a brilliant and compelling narrative of the crusades and their contemporary relevance. Placing all of the major crusades within their medieval social, economic, religious, and intellectual environments, Madden explores the uniquely medieval world that led untold thousands to leave their homes, families, and friends to march in Christ's name to distant lands. From Palestine and Europe's farthest reaches, each crusade is recounted in a clear, concise narrative. The author gives special attention as well to the crusades' effects on the Islamic world and the Christian Byzantine East.
Sklep: Libristo.pl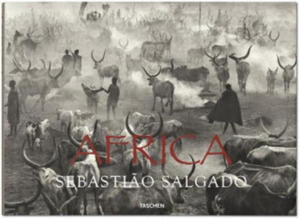 225,86 zł
Książki / Literatura obcojęzyczna
Empathy and ecstasy An homage to Africa's people and wildlife Sebastiao Salgado is one the most respected photojournalists working today, his reputation forged by decades of dedication and powerful black-and-white images of dispossessed and distressed people taken in places where most wouldn
Sklep: Libristo.pl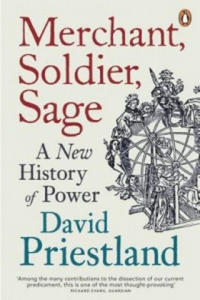 51,65 zł
Książki / Literatura obcojęzyczna
From historian David Priestland, this is remarkable book proposes a radical approach to how we see our world and who runs it. We live in an age ruled by merchants. Competition, flexibility and profit are still the common currency, even at a time when Western countries have been driven off a cliff by these very values. But will it always be this way? David Priestland argues for the predominance in any society of one of three broad value systems - that of the merchant (commercial and competitive); the soldier (aristocratic and militaristic); and the sage (bureaucratic or creative). These 'castes' struggle alongside the worker (egalitarian and artisanal) for power, and when they achieve supremacy, they can have such a strong hold over us that it is almost impossible to imagine life outside their grip. And yet there does come a point of drastic change, usually because one caste becomes too dominant. The result is economic crisis, war or revolution, and eventually a new caste takes over. Priestland argues, we are now in the midst of a period with all the classic signs of imminent change. As the history of the last century shows, there is good reason to be fearful of the forces that this failure may unleash. Merchant, Soldier, Sage is both a masterful dissection of our current predicament and a brilliant piece of history. The world will not look the same after you read this book. Reviews: "We have here a gripping, argument-led history, effortlessly moving between New York, Tokyo and Berlin, from the Reformation to the 2008 economic crisis ...dazzling ...here, at last, is a work that places the current crisis in a longer history of seismic shifts in the balance of social power". (Frank Trentman, BBC History Magazine). "Concise but extremely ambitious ...well worth pondering and reflecting on ...among the many contributions to the dissection of our current predicament, this is surely one of the most thought-provoking". (Sir Richard J Evans, Guardian). "Stimulating...In illustrating these larger processes of caste conflict and caste collaboration, the author offers crisp portraits of entrepreneurs, economists and warriors...Sparkling prose and ...arresting comparisons". (Ramachandra Guha, Financial Times). About the author: David Priestland has studied Communism in all its forms for many years, in both Oxford and Moscow State Universities. He is University Lecturer in Modern History at Oxford and a Fellow of St. Edmund Hall, and the author of Stalinism and the Politics of Mobilization. The Red Flag was shortlisted for the Longman/History Today prize.
Sklep: Libristo.pl 96,67 zł
Medycyna > English Division
Obesity represents one of the major global health challenges of the 21st century. Its occurrence has now reached epidemic proportions, not only in industrialized nations, but increasingly in less developed countries too. Written by world-leading specialists in public health nutrition, "Globesity" cuts straight to the underlying nature and causes of this devastating trend. It shows that the causes of obesity are primarily socio-economic and the result of a distorted agricultural and food production and supply system. To address this problem, we must learn how to better manage the physical, social and economic environment rather than simply focusing on individual lifestyle choices. The authors draw startling parallels between the obesity crisis and climate change, both of which are characterized by the over-consumption of increasingly scarce resources and require radical, urgent and sustainable solutions. The authors argue that if we are to deal with the twin crises of our climate and our waistlines, action must be taken now. Drawing on a wide range of sources and disciplines, including anthropology, economics, sociology, epidemiology, medicine and nutrition, "Globesity" provides a vital treatment of the issues for general readers, health professionals, policy-makers and students alike. i? This book shows how closely interwoven are the forces which shape our dietary health and our environmental and economic security. It recognizes that world history is at a point of transition, and that there is hope that we can yet avoid future disaster.i? Tim Lobstein, International Association for the Study of Obesity, UK i? Readers of Globesity may be dismayed to discover that obesity is not a problem exclusive to Americans. It affects Europeans and people throughout the world. This thorough and well written book provides all the evidence needed to convince anyone that the health threats are real and demand immediate action from governments as well as individuals.i? Marion Nestle, Professor of Nutrition, Food Studies, and Public Health at New York University, and author of Food Politics and What to Eat i? The threats posed by obesity, and the rate at which the incidence has been rising, are unsustainable. The authors provide a compelling analysis of the causes and consequences of obesity, and set out the conditions under which the problems can be addressed.i? Erik Millstone, Professor of Science Policy, University of Sussex 'Focusing mainly on the overconsumption of our planet's resources as well as the culture in the western world of 'fast food' over healthy food, the conclusion of this highly topical title relates to the 'odd couple' that is obesity and climate change. Arguing that many of the solutions to obesity would also help to combat climate change, the loudest argument within the book is that we must act now if we have any hope of avoiding a two-fold global crisis.' The Environmentalist 'Despite being an easy read, this is a serious book that takes a genuinely cross-disciplinary approach to obesity as a disease. Even the most knowledgeable readers will find new facts and slants on fatness, and perhaps be encouraged to think more deeply about global public health.' HealthMatters 'The book is transformative. It should be read and debated by students and educators; parents; practitioners in pediatrics, public health, and general medicine; and leaders in government, business, city planning, marketing, and international relations. Essential.' J. M. Lacey, Choice. 'Gobesity is an excellent eye-opener; written in a very accessible style and including many interesting examples and anecdotes, it provides a useful overview of the obesity crisis, its causes and its repercussions. It is to be hoped that many policy-makers and citizens wake up and start developing anti-obestiy policies' Axel Michaelowa, International Affairs
Sklep: Ksiazki-medyczne.eu 591,87 zł
Książki / Literatura obcojęzyczna
Hamilton provides an interdisciplinary explication and assessment of Marxism, of Marxist revisionism, and of Leninism, and delineates the major propositions of the three theories. Because the propositions cover a wide range of subjects, including the growth of cities and large factories, the changing quality of work, declining real incomes, economic crises, working-class organizations, and revolutions, Hamilton assesses them from the viewpoints of urban and industrial sociology, economic and political history, and social movements. Hamilton concludes that little empirical support is found for the claims of Marxism and Leninism, while modest support is found for the revisionist claims. Where others texts fail to provide serious reviews of evidence or references to critical studies or to relevant appropriate sources, this book remedies those deficiencies in a brief, clear, and thoroughly documented format. The 20th century has been dominated by a clash between capitalism and communism or, put differently, between the underlying theories, liberalism and Marxism. Although central to the recent history, these contending theories are poorly understood. To remedy this misunderstanding, the book begins with brief straightforward explications of liberalism, Marxism, and two variants of the latter, revisionism and Leninism. It then moves on to a more detailed examination of each theory, offering an assessment of the propositions from a variety of social science perspectives. Hamilton completes the work with his conclusions regarding the validity and adequacy of these theories.
Sklep: Libristo.pl 436,75 zł
Książki / Literatura obcojęzyczna
There have been many studies on the forced relocation and internment of nearly 120,000 Japanese Americans during World War II. But An Absent Presence is the first to focus on how popular representations of this unparalleled episode in U.S. history affected the formation of Cold War culture. Caroline Chung Simpson shows how the portrayal of this economic and social disenfranchisement haunted - and even shaped - the expression of American race relations and national identity throughout the middle of the twentieth century. Simpson argues that when popular journals or social theorists engaged the topic of Japanese American history or identity in the Cold War era they did so in a manner that tended to efface or diminish the complexity of their political and historical experience. As a result, the shadowy figuration of Japanese American identity often took on the semblance of an "absent presence." Individual chapters feature such topics as the case of the alleged Tokyo Rose, the Hiroshima Maidens Project, and Japanese war brides. Drawing on issues of race, gender, and nation, Simpson connects the internment episode to broader themes of postwar American culture, including the atomic bomb, McCarthyism, the crises of racial integration, and the anxiety over middle-class gender roles. By recapturing and reexamining these vital flashpoints in the projection of Japanese American identity, Simpson fills a critical and historical void in a number of fields including Asian American studies, American studies, and Cold War history.
Sklep: Libristo.pl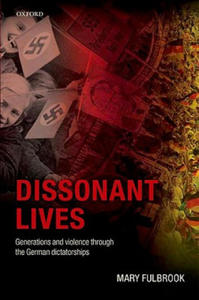 348,74 zł
Książki / Literatura obcojęzyczna
Dissonant Lives traces the ways in which Germans of different generations lived through periods of total war, radical social transformation, and the clash of competing ideologies, as Nazism was succeeded by Communism in East Germany. Mary Fulbrook explores the experiences and perceptions of selected individuals, analysing the ways in which major historical events, and changing structures of constraint and opportunity, affected the course of their lives and their outlooks. How did those who lived through this terrible period in German history interpret, confront, and respond to the multiple challenges of their times? How were they affected by the major economic, social, and political crises they lived through? How did living through Germany's 'second dictatorship', the German Democratic Republic, dominated by the communist power against whom the Germans had fought, affect behaviour patterns and social identities? And what implications did these experiences have for interpretations of the Nazi past? Dissonant Lives explores these important questions, seeking to view the dictatorial regimes of twentieth-century Germany 'from within'. Taking a deeper look at the life stories of individual Germans from a range of periods and backgrounds, it provides a new understanding of the ways in which not only the character of the German state, economy, and social structure changed over the century, but also the very character of people themselves.
Sklep: Libristo.pl
106,60 zł
Książki / Literatura obcojęzyczna
For a reader unfamiliar with the history of Libya, Muammar Qaddafi might be mistaken for a character in fiction. His eccentric leadership as the nation's "Brother Leader", his repressive regime, sponsorship of terrorist violence, unique vision of the state, and relentless hold on power all seem implausibly extreme. This riveting book documents the extraordinary reality of Qaddafi's rise and 42-year reign. It also explores the tenacious popular uprising that finally defeated him and the possibilities for Libya as the future unfolds. Alison Pargeter, an author with deep understanding of Libya's history and people, explains what led up to Qaddafi's bloodless coup in 1969 and how he proceeded to translate his highly personalized vision into political, economic, and social policy. She discusses his tight-knit networks, the crises he overcame - including sanctions after the Lockerbie bombing in 1988 - as well as his astounding maneuverings in the early 2000s to restore tattered relations with the West. Pargeter provides a thoroughly fascinating analysis of the 2011 revolt and uncovers the full details of Qaddafi's downfall. She concludes by introducing the new power brokers in post-Qaddafi Libya as well as the variety of knotty challenges that now confront them.
Sklep: Libristo.pl 74,30 zł
Sztuka
Compared to the 1960s, the 1970s is a neglected decade. This is a history of radical political art in Britain during the 1970s, art that sought to re-establish a social purpose. It argues that what was unique about the visual fine art of the decade was the impact of left-wing politics, women's liberation and the gay movement. Artists discussed include: Rashid Araeen, Conrad and Terry Atkinson, Joseph Beuys, Derek Boshier, Stuart Brisley, Victor Burgin, John Drugger, Gilbert and George, Margaret Harrison, Derek Jarman, John Latham, Mary Kelly, Bruce McLean, David Madalla, Jamie Reid, Jo Spence, John Stezaker and Stephen Willats who responded to the historical events of a period marked by economic and political crises. A wide variety of art forms is covered: banners, drawing, film, community murals, painting, performance, photography, photomontage, posters, sculpture and video. Many radical artists challenged prevailing art institutions, such as the Arts Council, often establishing alternatives, like the Artist's Union. The book, which is set out on a year-by-year basis, also examines key conferences, exhibitions, galleries, magazines, organizations and critics; art theory and the various views of artists and critics meant that the 1970s was a decade of intellectual ferment.
Sklep: Albertus.pl 82,49 zł
Książki Obcojęzyczne>Angielskie>Society & social sciences>Society & culture: generalKsiążki Obcojęzyczne>Angielskie>Economics, finance,...
0x0067f46700000000
Sklep: Gigant.pl
Sklepy zlokalizowane w miastach: Warszawa, Kraków, Łódź, Wrocław, Poznań, Gdańsk, Szczecin, Bydgoszcz, Lublin, Katowice
Szukaj w sklepach lub całym serwisie
2. Szukaj na wszystkich stronach serwisu
t1=0.1, t2=0, t3=0, t4=0.023, t=0.1