libristo global energy governance 4727213
- znaleziono 14 produktów w 5 sklepach 226,88 zł
Książki
Sklep: KrainaKsiazek.pl 1224,71 zł
Książki / Literatura obcojęzyczna
"ASEAN Environmental Law, Policy and Governance: Selected Documents," in two volumes, contains a judicious compilation of relevant ASEAN environmental instruments. These documents deal with ASEAN's progressive development of environmental law, policy and governance. Volume II covers sectoral areas including natural resources and biodiversity, forestry, agriculture and food, cultural heritage, coastal and marine environment, water resources management, zoonotic diseases and the environment, energy and climate change, environmental disaster management and environmental education. ASEAN has grown in stature and has an important role to play in developing global environmental sustainability. Regional organizations such as the European Union and governments of countries like the United States, Australia, China and India are partners in ASEAN's endeavours to develop a green planet. This book will be of interest in an interconnected environmental world.
Sklep: Libristo.pl 72,05 zł
Książki / Literatura obcojęzyczna
żGlobal Trends 2015 should be seen as a work-in-progress, a flexible framework for thinking about the futureż[T]he judgments flow from our best efforts to produce a comprehensive picture of the world in 2015. [This] analysis will helpżleaders better cope with, for example, the uncertainties involved with the decline of Russia, the emergence of China, or the political, economic and societal dynamics in the Middle East.ż Originally issued by the Central Intelligence Agency in July 2001, Global Trends 2015: A Dialogue About the Future identifies the factors that will be central in shaping the global demographic landscape in 2015 and beyond. Several Key Findings Include: Declining birthrates and a steady increase of an aging population will combine to increase health care and pension costs. Expansion of the żyouth bulgeż in several developing countries will increase the potential for economic growth and political stability. Food, energy and water scarcities will pose significant challenges to the Middle East, North Africa, South Asia and Northern China. Effective governance will increasingly be determined by the ability to form partnerships to increase information flows, create new technologies and manage population migration. This research was originally approved for publication by the National Foreign Intelligence Board under the authority of the Director of Central Intelligence and prepared under the direction for the National Intelligence Council.
Sklep: Libristo.pl 1274,88 zł
Książki / Literatura obcojęzyczna
This§Handbook is the first volume to analyse the International Political Economy,§the who-gets-what-when-and-how, of global energy. Divided into five sections,§it features 28 contributions that deal with energy institutions, trade,§transitions, conflict and justice. The chapters span a wide range of energy§technologies and markets - including oil and gas, biofuels, carbon capture and§storage, nuclear, and electricity - and it cuts across the§domestic-international divide. Long-standing issues in the IPE of energy such§as the role of OPEC and the 'resource curse' are combined with emerging issues§such as fossil fuel subsidies and carbon markets. IPE perspectives are§interwoven with insights from studies on governance, transitions, security, and§political ecology. The Handbook serves as a potent reminder that energy systems§are as inherently political and economic as they are technical or§technological, and demonstrates that the field of IPE has much to offer to studies§of the changing world of energy.§
Sklep: Libristo.pl 153,64 zł
Książki / Literatura obcojęzyczna
In life, delegation is fundamental. But it is difficult, especially when attempted internationally, as in the long delegation chains to the United Nations family and other global governance structures. There, much hinges on the design of delegation relationships. What prompts another entity to fall in line - and if it does not, what can be done? For international organizations, the conventional answer is simple: when designing institutions, member-states endow themselves with stringent control mechanisms, such as monopolization of financing or vetoes over decision-making in the new body. But as Tana Johnson shows, the conventional answer is outdated. States rarely design international organizations alone. Instead, negotiations usually involve international bureaucrats employed in pre-existing organizations. To unveil these overlooked but pivotal players, Organizational Progeny uses new data on nearly 200 intergovernmental organizations and detailed accounts of the origins of prominent and diverse institutions - the World Food Program, United Nations Development Program, International Energy Agency, Intergovernmental Panel on Climate Change, Financial Action Task Force, Joint United Nations Program on HIV/AIDS. When international bureaucrats have a say, they often strive to insulate new institutions against the usual control mechanisms by which states steer, monitor, or reverse organizational activities. This increases control costs for states, is difficult to roll back, and even produces bodies that powerful countries initially opposed. The result is a proliferation of organizational progeny over which national governments are literally losing "control". Johnson explores what this means for the democratic nature of global governance and how practitioners can encourage or staunch this phenomenon. Transformations in Governance is a major new academic book series from Oxford University Press. It is designed to accommodate the impressive growth of research in comparative politics, international relations, public policy, federalism, environmental and urban studies concerned with the dispersion of authority from central states up to supranational institutions, down to subnational governments, and side-ways to public-private networks. It brings together work that significantly advances our understanding of the organization, causes, and consequences of multilevel and complex governance. The series is selective, containing annually a small number of books of exceptionally high quality by leading and emerging scholars. The series targets mainly single-authored or co-authored work, but it is pluralistic in terms of disciplinary specialization, research design, method, and geographical scope. Case studies as well as comparative studies, historical as well as contemporary studies, and studies with a national, regional, or international focus are all central to its aims. Authors use qualitative, quantitative, formal modeling, or mixed methods. A trade mark of the books is that they combine scholarly rigour with readable prose and an attractive production style. The series is edited by Liesbet Hooghe and Gary Marks of the University of North Carolina, Chapel Hill, and the VU Amsterdam, and Walter Mattli of the University of Oxford.
Sklep: Libristo.pl 77,80 zł
Książki & Multimedia > Filmy Video
Opis - Pierwszy z filmowej trylogii - opartej na ponadczasowym arcydziele Hobbit, czyli tam i z powrotem autorstwa J.R.R. Tolkiena - Hobbit: Niezwykła podróż podąża śladami Bilbo Bagginsa, który wyrusza na epicką wyprawę by odzyskać legendarne królestwo Krasnoludów i pokonać smoka Smauga. W drodze Hobbit nie tylko odkryje w sobie odwagę i pomysłowość, ale zdobędzie też pierścień, który wpłynie na losy całego Śródziemia. Hobbit: Niezwykła podróż to największe wydarzenie filmowe od czasu ekranizacji serii Władca Pierścieni. Prawdziwa uczta kinowa, genialne efekty specjalne, niesamowite dodatki oraz najwyższa jakość obrazu i dźwięku tylko na Blu-ray!Dźwięk (format dźwięku; wersje językowe):DTS angieslki; polski dubbing Nazwa - HOBBIT: NIEZWYKŁA PODRÓŻ (2BD) EDYCJA SPECJALNA LENTICULAR Obsada - Martin Freeman, Ian McKellen, Richard Armitage Kod EAN - 7321996325131 Rok wydania - 2013 Nośnik - Płyta BluRay Ilość elementów - 2 Podatek VAT - 23% Premiera - 2013-04-09
Sklep: InBook.pl 724,63 zł
Książki / Literatura obcojęzyczna
The main focus of this book is sustainable management of water resources in a changing climate. The book also addresses the question of how to define and measure the sustainability of Integrated Water Resources Management (IWRM). The sustainability of IWRM is an important issue when planning and/or developing policies that consider the impact of climate change, water governance and ecohydrology in the context of a more holistic approach to ensure sustainable management of water resources. Sustainable IWRM is more about processes, and relatively little systematic or rigorous work has been done to articulate what components are the most essential to ensure the ongoing sustainability of IWRM efforts. The chapters cover topics including global prospective of IWRM; allocation of environmental flows in IWRM; echohydrology, water resources and environmental sustainability; climate change and IWRM; IWRM and water governance including social, economic, public health and cultural aspects; climate change resiliency actions related to water resources management sustainability and tools in support of sustainability for IWRM. This book will be of interest to researchers, practitioners, water resources mangers, policy and decision makers, donors, international institutions, governmental and non-governmental organizations, educators, as well as graduate and undergraduate students. It is a useful reference for Integrated Water Resources Management (IWRM), ecohydrology, climate change impact and adaptations, water governance, environmental flows, geographic information system and modeling tools, water and energy nexus and related topics.
Sklep: Libristo.pl 319,79 zł
Książki / Literatura obcojęzyczna
Today's oil and gas are at record prices, whilst global energy demand is increasing from population and economic development pressures. Climate change, resulting in large part from the burning of fossil fuels, is exacerbating the impacts of the excelerated exploitation of our natural resources. Therefore, anxieties over energy, water, and climate security are at an all-time high. Global action is needed now in order to address this set of urgent challenges and to avoid putting the future of our civilization at risk. This book examines the powerful interconnections that link energy, water, climate and population, exploring viable options in addressing these issues collectively. Difficult political decisions and major reforms in resource governance, policies, market forces, and use are needed and this book provides excellent introductory material to begin to understand and to address these problems.
Sklep: Libristo.pl 182,43 zł
Książki / Literatura obcojęzyczna
The global economic crisis of 2008-2009 exposed systemic failings at the core of economic policy making worldwide. The crisis came on top of several other crises, including skyrocketing and highly volatile world food and energy prices and climate change. This book argues that new policy approaches are needed to address such devastating global development challenges and to avoid the potentially catastrophic consequences to livelihoods worldwide that would result from present approaches. The contributors to the book are independent development experts, brought together by the UN to identify a development strategy capable of promoting a broad-based economic recovery and at the same time guaranteeing social equity and environmental sustainability both within countries and internationally. This new development approach seeks to promote the reforms needed to improve global governance, providing a more equitable distribution of global public goods. The contributors offer a critical evaluation of past development experiences and report on their creative search for new and well-thought out answers for the future. They suggest that economic progress, fairer societies and environmental sustainability can be compatible objectives, but only when pursued simultaneously by all.
Sklep: Libristo.pl 629,38 zł
Książki / Literatura obcojęzyczna
Meeting today's energy and climate challenges require not only technological advancement but also a good understanding of stakeholders' perceptions, political sensitivity, well-informed policy analyses and innovative interdisciplinary solutions. This book will fill this gap. This is an interdisciplinary informative book to provide a holistic and integrated understanding of the technology-stakeholder-policy interactions of smart grid technologies. The unique features of the book include the following: (a) interdisciplinary approach - by bringing in the policy dimensions to smart grid technologies; (b) global and Asian perspective and (c) learning from national case studies. This book is organised into five sections. Part 1 discusses the historical and conceptual aspects of smart grids. Part 2 introduces the technological aspects and showcase the state of the art of the technologies. Part 3 explores the policy and governance dimensions by bringing in a stakeholder perspective. Part 4 presents a collection of national case studies. Part 5 shares insights and lesson learnt and provide policy recommendations. This book showcases the state-of-the-art R&D developments and policy experiences. This book contributes to a better understanding of governance institution and policy challenges and helps formulate policy recommendations for successful smart grid deployment.
Sklep: Libristo.pl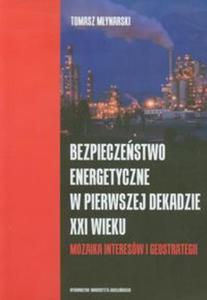 35,50 zł
Energetyka. ElektrykaPolityka międzynarodowa. DyplomatykaSzkoły policealne. Szkoły wyższe
Bezpieczeństwo energetyczne w pierwszej dekadzie XXI wieku bardzo dobrze się wpisuje w modny ostatnio problem bezpieczeństwa energetycznego świata, regionu i państwa. Zwięzły tytuł jest zapowiedzią dobrej książki. Publikacja będzie szczególnie przydatna jako rodzaj w pełni udanego podręcznika dla studentów i doktorantów ze względu na brak jakiegokolwiek odpowiednika tego typu w polskiej literaturze, a także wartościowa dla specjalistów.Jak pisze Autor, ?[...] złożoność relacji i powiązań między ekonomią, biznesem i polityką rodzi potrzebę większej odpowiedzialności za wizję przyszłości energetycznej świata. [...] Wiek XXI będzie testem dla wypracowania formuły globalnego zrównoważonego systemu bezpieczeństwa energetycznego.Podejście multilateralne i stworzenie mechanizmów global energy governance wymaga jednak woli politycznej i wspólnoty interesów państw eksporterów i importerów energii. W świetle prezentowanych wniosków cel ten będzie jednak bardzo trudny do osiągnięcia, o ile możliwy". Nic dodać, nic ująć! Moje uznanie budzi fakt, że Autor mimo braku czasowego dystansu pozwalającego na spokojną, naukową analizę zagadnienia nie tylko podjął wyzwanie, lecz także - co pragnę podkreślić - sprostał trudnościom wynikającym z aktualności tematu.Prof. zw. dr hab. Ryszard M. Czarny
Sklep: Booknet.net.pl 138,84 zł
Książki / Literatura obcojęzyczna
Preventing risks of severe damage from climate change not only requires deep cuts in developed country greenhouse gas emissions, but enormous amounts of public and private investment to limit emissions while promoting green growth in developing countries. While attention has focused on emissions limitations commitments and architectures, the crucial issue of what must be done to mobilize and govern the necessary financial resources has received too little consideration. In "Climate Finance", a leading group of policy experts and scholars shows how effective mitigation of climate change will depend on a complex mix of public funds, private investment through carbon markets, and structured incentives that leave room for developing country innovations. This requires sophisticated national and global regulation of cap-and-trade and offset markets, forest and energy policy, international development funding, international trade law, and coordinated tax policy. Thirty-six targeted policy essays present a succinct overview of the emerging field of climate finance, defining the issues, setting the stakes, and making new and comprehensive proposals for financial, regulatory, and governance mechanisms that will enrich political and policy debate for many years to come. The complex challenges of climate finance will continue to demand fresh insights and creative approaches. The ideas in this volume mark out starting points for essential institutional and policy innovations. This book, and additional resources, are available online.
Sklep: Libristo.pl 67,40 zł
Inne 1
Drawing on data from the World Bank's Private Participation in Infrastructure (PPI) database, this new book provides an overview of the nearly 2500 private infrastructure projects that were implemented between the period 1990-2001 in 132 developing countries and mobilized investment of some USD754 billion. It covers projects in the transport, energy (electricity and gas), telecoms, and water and sewerage sectors that received private investment through management and lease contracts, concessions, greenfield projects, or divestitures. Overall, the trend in PPI illustrates a dramatic increase in investment flows between 1990-1997 as governments around the world turned to the private sector for innovative and cost-effective solutions to increasing coverage, raising quality standards, and aiming for cost recovery and sustainability in infrastructure service provision. However, since the economic crises of the late 1990s, a few (but high-profile) cases of canceled projects, visible corporate governance and accounting problems, and a general global economic slowdown led to a chilling effect on investors and resulted in declines in investment so that 2001 levels paralleled that of the mid-1990s.
Sklep: Albertus.pl 510,45 zł
Książki / Literatura obcojęzyczna
This book discusses climate change as a social issue by analysing its development in parallel with capitalism. By integrating political economy and environmental economics, it examines the incompatibility of the imperatives of capitalist development and the physical limits of the earth. The regulation approach is used to make an empirical analysis of the links between accumulation regimes, modes of consumption, energy regimes and climate change during the two most recent growth periods: Fordism and finance-driven capitalism. It also assesses the potential of the global governance network for dealing with climate change. It provides a critique of free-market environmental economics and special emphasis is given to international inequalities. The book concludes that real climate change mitigation is impossible within the framework of finance-driven capitalism. Far-reaching changes comparable to the postwar re-regulation of economy and society are required to avoid life threatening climate change.
Sklep: Libristo.pl
Sklepy zlokalizowane w miastach: Warszawa, Kraków, Łódź, Wrocław, Poznań, Gdańsk, Szczecin, Bydgoszcz, Lublin, Katowice
Szukaj w sklepach lub całym serwisie
2. Szukaj na wszystkich stronach serwisu
t1=0.06, t2=0, t3=0, t4=0.015, t=0.06