libristo helping children with autism learn 4517633
- znaleziono 6 produktów w 1 sklepie 125,90 zł
Książki / Literatura obcojęzyczna
Children with autistic spectrum disorders have unique learning styles, or "autistic learning disabilities". These pose unique challenges to parents seeking the best educational path for their autistic child, and for educators shaping educational programs for children with autism and related disorders. In Helping Children with Autism Learn, Dr Siegel, a developmental psychologist and director of a large university clinic for autistic children, provides concrete guidance for dealing with these challenges. The book not only enumerates the "autistic learning disabilities", but critiques all of the available educational programs for these children, pointing out the strengths and weaknesses of each program and the appropriateness of a program for specific "disabilities". Helping Children with Autism Learn is structured so that the parent and teacher can use it as a program planner and can evaluate the success and appropriateness of each strategy, refining the program as necessary. Key areas of concentration are language, academic skills, social skills, as well as adapting the child to independence and day-to-day needs. Throughout, Siegel emphasises the need to tailor programs to fit each child's unique needs, and to adapt programs as the child matures and ages. Dr Siegel pulls together a wealth of long-needed information. She provides a superb guide and resource for parents, teachers, clinicians, and other educators who work with autistic children.
Sklep: Libristo.pl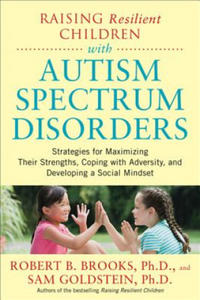 91,28 zł
Książki / Literatura obcojęzyczna
New hope for parents raising a child with autism spectrum disorders In Raising Resilient Children with Autism Spectrum Disorders, noted psychologists and bestselling authors Dr. Goldstein and Dr. Brooks teach you the strategies and mindset necessary to help your child develop strength, hope, and optimism. This is the first approach for autism spectrum disorders based in the extremely popular field of positive psychology.Drs. Brooks and Goldstein--world-renowned experts on child psychology and, specifically, resilience--offer you practical tips for long-term solutions rather than just quick fixes. Featuring dozens of stories and an easy-to-follow, prescriptive narrative, Drs. Brooks and Goldstein demonstrate how to apply resilience to every parenting practice when raising a child with autism spectrum disorders, preparing him or her for the challenges of today's complicated, ever-changing world and helping your child develop essential social skills.Learn how to:Empower your child to problem-solve on his or her own Teach your child to learn from mistakes rather than feel defeated by themDiscipline your child while instilling self-worthBuild an alliance with your child's school
Sklep: Libristo.pl 292,84 zł
Książki / Literatura obcojęzyczna
Autism Spectrum Disorder: Perspectives from Psychoanalysis is written by practicing child psychoanalysts with extensive experience treating children with autistic spectrum disorders (ASD) and uneven development. The authors bridge the gap between a psychodynamic approach to ASD and burgeoning data from the fields of neurobiology and neurofunction. Based on current research showing neuroplasticity of the brain, the authors posit that treating ASD through intensive engagement of caregiver and child makes possible the successful psychoanalytic treatment of a neurobiological disorder. To this end, the authors examine both the clinical dynamics of their treatments and the possible impact of the treatment on neurobiological processes. Detailed case studies of children treated by the authors comprise the heart of the book. The cases emphasize the importance of engaging these young children intensively with the social world, first of their caregivers and then their peers, while also helping child and caregiver make sense of the child's "nonsense" behavior through insight into their inner worlds. The authors explain how and why such treatment works through examining the processes by which infant and caregiver learn to know each other and how a baby comes to know the world. This approach emphasizes the intimate connection between infant and caregiver in forming the emotional, cognitive, attentional, and interpersonal experiences that give a child the ability to make meaning and grow. In addition, this volume presents a selective summary of the neurobiological research in the area of ASD to provide the reader with the related neurobiological and psychological factors. This underscores the thesis that ASD is a potentially reversible neurodevelopmental disorder with experiential and psychological consequences, and lays groundwork for an integrated treatment approach with psychoanalysis at its core.
Sklep: Libristo.pl 77,27 zł
Książki / Literatura obcojęzyczna
More than 90 percent of children diagnosed with ADHD or autism have nutritional or metabolic inefficiencies. Find out if your child is one of those suffering from this condition today, and learn how you can drastically improve your child's symptoms and wellbeing with The ADHD and Autism Nutritional Supplement Handbook. In this groundbreaking new book, doctor-nutritionist team Pamela Compart, M.D. and Dana Laake, R.D.H., M.S., L.D.N., authors of the bestselling Kid-Friendly ADHD and Autism Cookbook, reveal how to properly and safely implement supplements and dietary changes to affect and counter the symptoms of autism. Through their proven, symptom-by-symptom treatment method, you'll learn exactly what regimens work best in helping your child's brain and body thrive, resulting in improved behavior, attention, mood, language, cognition, and social interaction.
Sklep: Libristo.pl 248,80 zł
Książki / Literatura obcojęzyczna
Help children develop language and verbal functions! "This is definitely a book I will be purchasing for my professional use. I supervise student teachers in home-based programs as well as school programs and this book will be a perfect fit for the program implementation we currently present. Greer and Ross have produced an excellent accumulation of research compilation, assessment and program descriptions for implementation by professionals training and working with autistic children and adults." -Dr. Irfa Karmali, Shelby Residential and Vocational Services "Overall, a very technically accurate book and one well suited to accompany a practicum component in verbal behavior. Very comprehensive and [does] a good job of covering most questions, concerns and issues [for] training others to implement verbal behavior strategies. I thoroughly enjoyed reading it." -Janet Goodman, University of West Georgia Responding to the overwhelming demand for effective language development tools for children with no language and severe language delays related to autism and other disabilities, Douglas Greer and Denise Ross present newly identified methods to assist teachers and parents in their efforts to provide verbal capabilities to children. In their book Verbal Behavior Analysis, Doug and Denise describe how to help children produce novel and spontaneous verbal functions, acquire language incidentally, and become socially verbal. They carefully integrate the latest research, including many new findings, and present readers with a clear outline of the current state of the science of verbal behavior and its application to children with real needs. Behavior analysts, parents, and teachers will find the procedures applicable to all forms of language (signs, pictures, and voice-generating devices) while maintaining a strong emphasis on the vocal production of a child's speech. * Describes how to teach children to be literate listeners, reducing the number of instructional times required to teach basic skills from four to ten times. (Chapter 3). * Presents the necessary procedures to teach children to become observational learners. (Chapter 5 and 7). * Offers practitioners methods for teaching children to acquire novel language and language usage incidentally, allowing children to expand their language without direct instruction. (Chapters 3, 5, and 6). * Demonstrates helping children to move from emergent speakers to readers, and learn to enjoy books in free time, and to read. (Chapter 6). * Introduces a verbal developmental scheme to guide instruction and aid practitioners in determining which children need particular interventions and when they need them, along with alternative tactics and strategies for solving learning problems. (Chapters 2 and 7).
Sklep: Libristo.pl 108,13 zł
Książki / Literatura obcojęzyczna
The Thinking Moms' Revolution (TMR) is a group of twentythree moms (and one awesome dad) from Montana to Malaysia who all have children with developmental disabilities. Initially collaborating online about therapies, biomedical intervention, alternative medicine, special diets, and doctors on the cutting edge of approaches to an array of chronic and developmental disabilities, such as autism, sensory processing disorders, food allergies, ADHD, asthma, and seizures, they've come together into something far more substantial. Suspecting that some of the main causes may be overused medicines, vaccinations, environmental toxins, and processed foods, they began a mission to help reverse the effects. In the process, they became a tight-knit family dedicated to helping their kids shed their diagnoses. Here collected by Helen Conroy and Lisa Joyce Goes are the stories of the moms and their fights to recover their kids from autism and related disorders. These parents share how they discovered each other, what they learned from each other, and why it's important to have close friends who understand what it's like to parent a child with special needs. You'll read about their experiences and learn how their determination and friendships have become daily motivation for parents worldwide.
Sklep: Libristo.pl
Sklepy zlokalizowane w miastach: Warszawa, Kraków, Łódź, Wrocław, Poznań, Gdańsk, Szczecin, Bydgoszcz, Lublin, Katowice
Szukaj w sklepach lub całym serwisie
2. Szukaj na wszystkich stronach serwisu
t1=0.049, t2=0, t3=0, t4=0, t=0.049