modna classic brown satin 69426
- znaleziono 14 produktów w 4 sklepach 203,97 zł
iPhone/Akcesoria/Akcesoria ochronne/EtuiProducent/Richmond & FinchiPhone/Akcesoria/Akcesoria ochronneiPhone/AkcesoriaiPhone
Richmond & Finch Classic Satin Brown - etui dla iPhone 6/6S, brązowe Przegląd   Serię Classic wyróżnia nowoczesny design będący połączeniem modnego stylu i funkcji ochronnych. Na jedwabiście gładkiej, matowej powierzchni etui znajdują się złote akcenty. Dopasowana do smartfona, lekka konstrukcja zapewnia łatwy dostęp do wszystkich przycisków i gniazd. Najważniejsze cechy   Jedwabiście gładka, matowa powierzchnia Pochłania wstrząsy Zapewnia pewny chwyt Złote akcenty Zgodność   iPhone 6/6s
Sklep: I-Buy 203,97 zł
iPhone/Akcesoria/Akcesoria ochronne/EtuiProducent/Richmond & FinchiPhone/Akcesoria/Akcesoria ochronneiPhone/AkcesoriaiPhone
Richmond & Finch Classic Satin Red - etui dla iPhone 6/6S, czerwone Przegląd   Serię Classic wyróżnia nowoczesny design będący połączeniem modnego stylu i funkcji ochronnych. Na jedwabiście gładkiej, matowej powierzchni etui znajdują się złote akcenty. Dopasowana do smartfona, lekka konstrukcja zapewnia łatwy dostęp do wszystkich przycisków i gniazd. Najważniejsze cechy   Jedwabiście gładka, matowa powierzchnia Pochłania wstrząsy Zapewnia pewny chwyt Złote akcenty Zgodność   iPhone 6/6s
Sklep: I-Buy 203,97 zł
Etui i torbyProducent/Richmond & FinchEtui i torby/dla iPhone'a/Etui dla iPhone 5/5s/SEEtui i torby/dla iPhone'a
Richmond & Finch Classic Satin Black - etui dla iPhone 5/5s/SE, czarne Przegląd   Serię Classic wyróżnia nowoczesny design będący połączeniem modnego stylu i funkcji ochronnych. Na jedwabiście gładkiej, matowej powierzchni etui znajdują się złote akcenty. Dopasowana do smartfona, lekka konstrukcja zapewnia łatwy dostęp do wszystkich przycisków i gniazd. Najważniejsze cechy   Jedwabiście gładka, matowa powierzchnia Pochłania wstrząsy Zapewnia pewny chwyt Złote akcenty Zgodność   iPhone 5/5s/SE
Sklep: I-Buy 203,97 zł
iPhone/Akcesoria/Akcesoria ochronne/EtuiProducent/Richmond & FinchiPhone/Akcesoria/Akcesoria ochronneiPhone/AkcesoriaiPhone
Richmond & Finch Classic Satin Blue - etui dla iPhone 6/6S, niebieskie Przegląd   Serię Classic wyróżnia nowoczesny design będący połączeniem modnego stylu i funkcji ochronnych. Na jedwabiście gładkiej, matowej powierzchni etui znajdują się złote akcenty. Dopasowana do smartfona, lekka konstrukcja zapewnia łatwy dostęp do wszystkich przycisków i gniazd. Najważniejsze cechy   Jedwabiście gładka, matowa powierzchnia Pochłania wstrząsy Zapewnia pewny chwyt Złote akcenty Zgodność   iPhone 6/6s
Sklep: I-Buy 203,97 zł
iPhone/Akcesoria/Akcesoria ochronne/EtuiProducent/Richmond & FinchiPhone/Akcesoria/Akcesoria ochronneiPhone/AkcesoriaiPhone
Richmond & Finch Classic Satin Black - etui dla iPhone 6/6S, czarne Przegląd   Serię Classic wyróżnia nowoczesny design będący połączeniem modnego stylu i funkcji ochronnych. Na jedwabiście gładkiej, matowej powierzchni etui znajdują się złote akcenty. Dopasowana do smartfona, lekka konstrukcja zapewnia łatwy dostęp do wszystkich przycisków i gniazd. Najważniejsze cechy   Jedwabiście gładka, matowa powierzchnia Pochłania wstrząsy Zapewnia pewny chwyt Złote akcenty Zgodność   iPhone 6/6s
Sklep: I-Buy 10,79 zł
Książki & Multimedia > Książki
Opis - Duża drewniana kostka, gdzie każda ściana ma inną funkcję.Rozmiar: 20x20x36 cmWiek: od 18 miesięcy Nazwa - ARTandamp;FUN Bajkowe Malowanie po numerkach Marka - Simba Kod EAN - 4006592678449 Wydawca - SIMBA Kod producenta - 106337844 Podatek VAT - 23%
Sklep: InBook.pl 37,99 zł
Muzyka>Inne
1. One Kiss Leads To Another 2. Brazil 3. Turtle Dovin' 4. Smokey Joe's Cafe 5. Wrap It Up 6. Riot In Cell Block #9 7. Young Blood 8. Loop De Loop Mambo 9. One Kiss 10. I Must Be Dreamin' 11. Lola 12. Framed 13. Down In Mexico 14. Whataya Want 15. If Teardrops Were Kisses 16. I Love Paris 17. The Hatchet Man 18. Just Like A Fool 101. Poison Ivy 102. Along Came Jones 103. The Shadow Know's 104. I'm A Hog For You 105. Charlie Brown 106. Yakety Yak 107. Zing Went The Strings Of My Heart 108. That Is Rock & Roll 109. Sweet Georgia Brown 110. Idol With The Golden Head 111. (When She Wants Good Lovin') My Baby Comes To M 112. What Is The Secret Of Your Success? 113. Gee, Golly 114. Dance! 115. Sorry But I'm Gonna Have To Pass 201. But Beautiful 202. Satin Doll 203. Gee Baby Ain't I Good To You 204. Autumn Leaves 205. You'd Be So Nice To Come Home To 206. Moonlight In Vermont 207. Moonglow 208. Easy Living 209. The Way You Look Tonight 210. Don't Get Around Much Anymore 211. Willow Weep For Me 212. On The Sunny Side Of The Street 213. Three Cool Cats 214. Besame Mucho Part 1 215. Besame Mucho Part 2 216. Shoppin' For Clothes 217. Thumbin' A Ride 301. (Ain't That) Just Like Me 302. Keep On Rollin' 303. Wait A Minute 304. Stewball 305. The Snake And The Bookworm 306. What About Us 307. Little Egypt (Ying-yang) 308. Wake Me, Shake Me 309. Run Red Run 310. My Babe 311. Bad Blood 312. Girls Girls Girls Part 1 313. Girls Girls Girls Part 2 314. Ridin' Hood 315. Teach Me How To Shimmy 316. The Climb
Sklep: Gigant.pl 49,99 zł
Muzyka>Jazz
1. Bass Introduction / Blues For Sylvia 2. All Of You 3. Everything I Have Is Yours 4. Will You Still Be Mine 5. Little Toe 6. Alone Together 7. Solo For Unaccompanied Bass 8. My Foolish Heart 9. Blues For Lorraine / Bass Conclusion 10. I'm An Old Cowhand (From The Rio Grande) 11. Solitude 12. Come, Gone 13. Wagon Wheels 101. There Is No Greater Love 102. Way Out West 103. Jordu 104. Satin Doll 105. It Could Happen To You 106. Mean To Me 107. Don't Worry 'Bout Me 108. On Green Dolphin Street 109. You Go To My Head 110. Minor Mood 111. Bric-a-brac 112. Upstairs Blues 113. Indiana 114. The Nearness Of You 201. Take The 'A' Train 202. Cool Walk 203. Jim 204. Tangerine 205. Almost Like Being In Love 206. That Old Feeling 207. Ain't Misbehavin' 208. Alice Blue Gown 209. Rosalie 210. But Beautiful 211. Poor Butterfly 212. Memories Of You 213. Rock-a-bye Your Baby With A Dixie Melody 214. Work Song 215. It Happened In Monterey 216. My One And Only Love 217. Tricrotism 301. Thumbstring 302. Cannon Bilt 303. Two For The Blues 304. Day In, Day Out 305. Baubles, Bangles And Beads 306. Blues For Big Scotia 307. West Coast Blues 308. Here's That Rainy Day 309. I Love You 310. Daahoud 311. Tricrotism 312. I'm Old Fashioned 313. Young And Foolish 314. Manteca
Sklep: Gigant.pl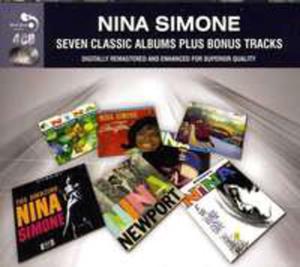 39,99 zł
Muzyka>Jazz
1. Mood Indigo 2. Don't Smoke In Bed 3. He Needs Me 4. Little Girl Blue 5. Love Me Or Leave Me 6. My Baby Just Cares For Me 7. Good Bait 8. Plain Gold Ring 9. You'll Never Walk Alone 3.47 10. I Loves You Porgy 11. Central Park Blues 12. My Baby Just Cares For Me 13. He's Got The Whole World In His Hands 14. For All We Know 15. African Mailman 101. Blue Prelude 102. Children Go Where I Send You 103. Tomorrow (We Will Meet Once More) 104. Stompin' At The Savoy 105. It Might As Well Be Spring 106. You've Been Gone Too Long 107. That's Him Over There 108. Chilly Winds Don't Blow 109. Theme From 'Middle Of The Night' 110. Can't Get You Out Of This Mood 111. Willow Weep For Me 112. Solitaire 113. Black Is The Colour Of My True Loves Hair 114. Exactly Like You 115. The Other Women 116. Under The Lowest 117. I Don't Want Him Anymore 118. Summertime (Instrumental) 119. Summertime (Vocal) 120. Cotton Eyed Joe 121. Return Home 122. Wild Is The Wind 123. Fine And Mellow 201. Rags And Old Iron 202. No Good Man 203. Gin House Blues 204. I'll Look Around 205. I Love To Love 206. Work Song 207. Where Can I Go Without Him 208. Just Say I Love Him 209. Memphis In June 210. Forbidden Fruit 211. Trouble In Mind 212. Blues For Porgy 213. Li'l Liza Jane (Version 1) 214. You'd Be So Nice To Come Home To 215. Flo Me La 216. Nina's Blues 217. In The Evening By The Moonlight 301. Just In Time 302. He Was Too Good To Me 303. House Of The Rising Sun 304. Bye Bye Blackbird 305. Brown Baby 306. Zungo 307. If He Changed My Name 308. Children Go Where I Send You 309. Do Nothin' Till You Hear From Me 310. I Got It Bad (And That Ain't Good) 311. Hey Buddy Bolden 312. Merry Mending 313. Something To Live For 314. You Better Know It 315. I Like The Sunrise 316. Solitude 317. The Gal From Joe's 318. Satin Doll 319. It Don't Mean A Thing (If It Ain't Got That Swin
Sklep: Gigant.pl 9,24 zł
Książki & Multimedia > Książki
Opis - taśmy samoprzylepne o uniwersalnym zastosowaniudoskonałe do pakowania woreczków Nazwa - Taśma pakowa 12x66 czerwona 6szt Kod EAN - 5907791840356 Wydawca - PAKARX Podatek VAT - 23%
Sklep: InBook.pl 6,96 zł
Książki & Multimedia > Książki
Opis - Wadowice jest miastem położonym w dolinie rzeki Skawy, na skrzyżowaniu ważnych dróg z Cieszyna do Krakowa i z Zatora do Nowego Sącza. Dobra lokalizacja miasta, bliskość gór a nade wszystko rozsławiająca Wadowice postać papieża Jana Pawła II sprawiają, że miasto jest ważnym ośrodkiem turystycznym i pielgrzymkowym. Na stronie opisowej mapy znajduje się duża ilość informacji o przedstawionym terenie, informator krajoznawczy, barwne fotografie oraz plan Wadowic w skali 1:15'000 i plan dróżek pielgrzymkowych w Kalwarii Zebrzydowskiej. Nazwa - Okolice Wadowic Mapa turystyczna 1:50 000 Autor - Praca zbiorowa Oprawa - Miękka Wydawca - Compass Kod ISBN - 9788376053714 Kod EAN - 9788376053714 Rok wydania - 2015 Język - polski Format - 12.0x24.0cm Ilość stron - 2 Podatek VAT - 5%
Sklep: InBook.pl 879,99 zł
Muzyka>Rock
1. Couch, Orville - Wild Girl 2. Davis, Link - Rice & Gravy 3. Davis, Link - Johnny B Goode 4. Boyd, Bill The Cowboy Rambler - Rockin' & Rollin' 5. Dallas, Jackie & The Tiaras - Bull Moose 6. James, Daniel - Rock, Moon, Rock 7. Watson, Johnny - Come To The Party 8. Mansel, Red - My Only One 9. Williams, Rocky - Rock Cinderella 10. Trent, Tommy - Just For Tonight 11. Trent, Tommy - A Mile To The Mailbox 12. Walker, Hank - Reckless Romance 13. Pettit, Mike & The Stags - It's A Reamer 14. Barton, Dick's Rebels - Take This Message, Darling 15. Barton, Dick's Rebels - Yes Baby, I'm Scared 16. Barton, Dick & The Rebels - I Get The Blues 17. Tune Masters, The - Down The Line 18. Wilcox, Coye - You Gotta Quit Cheatin' 19. Country Dudes, The - Have A Ball 20. Atkins, Dave & His Offbeats - Shake-um-down 21. Catalinas, The - Speechless 22. Doyle, Bobby - Hot Seat 23. Reynolds, Jo Ann - Ring A Ding Dong Dandy 24. Blackwell Twins, The / The Charles Blackwell Co - 25. Blackwell Twins, The / The Charles Blackwell Co - 26. Roland, Danny - Shockwave 27. Sheather & The Stardusters - Orbit With Me Sonny 28. Landon, Bud & The Rhythm Masters - Get Away 29. Landon, Bud & The Rhythm Masters - Six Mile Climb 30. Landon, Bud & The Rhythm Masters - Running Man 31. Landon, Bud & The Rhythm Masters - Walking 32. Brown, Johnny & The Plainsmen - Shame 101. Faulk, Roland - My Baby's Gone 102. Phillips, Don / Dorton, Bill - Milkshake Mademoise 103. Martin, Ronnie - Baby, You're Mine 104. Reynolds, Wes - Forty Days 105. Gray, Bobby - Dixie Doodle Dandy 106. Neal, Meredith - Gertrude 107. Mills, Hank - Just A Mean, Mean Mama 108. Hanson, Jerry - When I Was A Little Boy 109. Knightsmen, The / Black, Sue - Pistol Packin' Mama 110. Blake, Tommy & The Rhythm Rebels - Koolit 111. Boggs, Lucky & The Tune Toppers - You Can't Stop H 112. Boots, Don & The Western Swing Band - Big Foot Ann 113. Hadley, Jim & Drifter's Rangers - Midnight Train 114. Hadley, Jim & Drifter's Rangers - Midnight Train ( 115. Richie, Joe - Across The Bay 116. Rash, Curley & His South Texas Playboys - Bubble G 117. Don Eee - Stop At The Hop 118. Alexander, Max & The Hi-fi Combo - Little Rome 119. Smith, Bob & His Bobcats - Honky Tonkin' Baby 120. Stoney, Johnny Kilroy & La-sabers - Goodbye 121. Hall, Ben & The Country Drifters - Moo Mama 122. Wilson, Johnny - Twilight Zone 123. Turnage, Al & The Turnpikes - Hollywood Rock 124. Rose, Lee - I've Got The Downhearted Blues 125. Ray, Gene / Miller, Dusty & His Colorado Wrangl - 126. Sloan, Chuck & The Dukes Of Greenville - Too Old T 127. Lane, Ralph & The Whitey Four - You Gotta Show Me 128. Ray, Gene - Rock'n'roll Fever 129. Peppel, Harry & His Shenandoah Valley Rangers - Th 130. La Pointe, Perry & The Orange Playboys - Bo Rock 131. Canida, Carl & His Canadians - Party Date 132. Wright, Earl & Texas Oldtimers - Married Man Blues 201. Duncan, Bill - Whirlin' Twerlin' Rock 202. King, Claude - Run, Baby, Run 203. Kubiak, Dan & The Sound Waves - Finding You 204. Mendieta, Alfredo - Chicken Run 205. Fender, Freddie - Mean Woman 206. Chancellers, The - Judy 207. Feger, Don - Date On The Corner 208. Feger, Don - Don't Be Mad 209. Feger, Don & The Embers - Look Out, Baby 210. Fowler, Buck - She's Just That Kind 211. Brown, Guy / Campi, Ray & His Band - Uh-uh 212. Smith, Betty / Maxwell, Johnny & The Rhythm Mas - 213. Smith, Betty / Maxwell, Johnny & The Rhythm Mas - 214. Eddie Eay / Frankie & The Rocks - Dancin' Girl 215. Beard, Dean & The Crew Cats - Rakin' & Scrapin' 216. Morris, Gene & The Pages - Lovin Honey 217. Fox, Orville & The Harmony Masters - Honey, You Ta 218. Schurb, Duane - Rolly Polly 219. Easley, Clyde - Drive-in Baby 220. Lee, Floyd - Go Boy 221. Roberts, Cookie - Draggin' The Drive-in's 222. J Gale & The Games - Suds 223. Taylor, 'Wild' Bill & The Clefs - Little Jewel 224. Christie, Gaylon & The Downbeats - Hootchie Cootch 225. Newland, Dickie 'Bird' - Don't Be Funny, Honey 226. Morgan, Joe - What Do We Do Now 227. Mcbride, Dale & The Jimmy Heap Orchestra - Prissy 228. Newland, Dickie 'Bird' & The Jimmy Heap Orchest - 229. Taylor, Billy & The Tear Drops - Wombie Zombie 230. Crown, Bobby & The Kapers - One Way Ticket 231. Twisters, The - Countdown 1-2-3 232. Twisters, The - Speed Limit 233. Russ, Irvin - Crazy Alligator 234. Twisters, The - Bandstand Rocket 301. Long, Huey - Elvis Stole My Gal 302. Jenkins, Leroy - Why Don't You Get On The Woo Wago 303. Ferrell Brothers, The / Terry & Ann - Oh! Moon 304. Lay, Dale - Country Style Twist 305. Fleming, George - I'm Gonna Tell On You 306. Fleming, George - The Shake 307. Monte Mead - Cape Canaveral 308. Pegues, Carroll (Wild Red) - Ray & Red & The Bi-st 309. Pegues, Carroll (Wild Red) - Ray & Red & The Bi-st 310. Karber, Randell - Back To School 311. Richardson, Richie / Cuevas, Charlie & The Jagu - 312. Lara, Sammy & The Skytones - Silly Sally 313. Excels, The - Let's Dance 314. Excels, The - Walking The Dog 315. Dunn, David - Rock Me 316. Martinez, Mike 'Keys' - Sugar Baby Swinging 317. Casner, Harold - That Is Why 318. Bryan, Jerry (Houndogs) - Vampire Daddy 319. Bryan, Jerry (Houndogs) - Walking Out 320. Tolleson, Tommie - Carla Blues 321. Tolleson, Tommie - The Gulf Coast Twist 322. Tolleson, Tommie - The One Man Band /Black Lights 323. Francis, Jim & The Moderns - Travelin' 324. Williams, Skeet / Halton, Bob's Swing Kings - Mary 325. Tune Masters, The - Sonny Matta) /Mad Twistin' Fev 326. Middleton, Gary & The Excellos - Don't Be Shy 327. Dunlap, Gene & The Jokers - Made In The Shade 328. Harrington, Rick / Dunlap, Gene & The Jokers - Whi 329. Dart, Jimmy / Dunlap, Gene / Jokers, The - Please 330. Blacky Vale - If I Had Me A Woman 331. Goza, Glen & The Damangos - Goshamody Whatabody 332. Benders, The - Sharpest Little Girl 333. Wells, Gerald & The Torquays - Come On 401. Lee, Joyce & Dale & Paul The Western Cousins - Tor 402. Western Swingsters, The - Bennie Hatfield) /Forget 403. Rogers, Weldon / Wolfe, Wanda - Everybody Wants Yo 404. Gray, Bobby - There's Gonna Be A Party 405. Stadtler, Darrell & The Paddlewheels - I'll Never 406. Brown, Tommy - That Cat 407. Lynn, Jerry - Don't Want Your Money, Honey 408. Hughes, Joe & His Orchestra - Make Me Dance Little 409. Farr, Little Joey - Rock'n'roll Santa 410. Cleary, Eddie - I Don't Care 411. Cleary, Eddie - Think It Over Baby 412. Cleary, Eddie & The Customs - Meet Miss Susie 413. Burch, Woody - Aquagell Blues 414. Rel-yea's, The - Good, Good Lovin' 415. Rel-yea's, The - The Rugged Rock 416. Miley, Lonnie - Satellite Fever - Asiatic Flu 417. Osborn, Bobby & His Classic III - Wine, Wine, Wine 418. Tidwell, Billy & The Chivells - Folsom Prison Blue 419. Mitcham, Ray - Out Yonder 420. Sunny & The Sun-glows - Up Town 421. Canton, Bobby & The Citations - Beat Back Baby 422. Mods, The - Stone Henge 423. Tampellas, The - I Love Girls 424. Walton & The Silver Lake Boys - Man, What A Party 425. Channel, Bruce - Come On, Baby 426. D-y & The Motivaters - Hot Rod Ford 427. Stevens, Carl - Hillbilly Man 428. Booth, Charlie & The Blue Velvets - Gonna Find Som 429. Gray, Duane - Come Home 430. Hess, Bennie - Wild Hog Hop 431. Simpson, Donald & The Rockenettes - Save Me Your L 432. Mccullough, Cecil & The Border Boys - Pick 'Em Up 433. Lindsey,lewis - The Push 434. Davis, Al & The Gunshots - Ricky Tic 501. Davis, Al & The Blackouts - Go, Baby, Go 502. Virva, Dan & The Flying 'D' Ramblers - Duck Tail C 503. Lillie, Lonnie - Truck Driver's Special 504. Centurys, The - Whole Lotta Shakin' Goin' On 505. Grand, K.c. & The Shades - Lookie / Lookie / Looki 506. Starr, Sid & The Escorts - For You 507. Sanchez, Mike & The Rock-a-tones - Wicked 508. Circle C Band / Harmond, Lee - Ramshackled Shack 509. Wheeler, Larry & Band - Cry, Woman, Cry 510. Denton, Johnny / Sharp, Harold & Band - Hey, Babe 511. Moore, Turner / Moore, Charley & The Crystals - I' 512. Fabulous Wanderers, The - I'm A Road Runner 513. Epps, Earl - Be-bop Blues 514. Ross, Danny - Look At You, Go 515. Garmon, Johnny & The Shadows - You're Wrong 516. Garmon, Johnny & The Shadows - The Shadows Dance 517. Cole, Lee & The Beau Jesters - Cool Baby 518. Hess, Big Ben - Wild Hog Hop 519. Blevins, Bill - Baby, I Won't Keep Waitin' 520. Blevins, Bill - Crazy Blues 521. Harrison, Cledus - Rock & Roll In The Groove 522. Lombardie, Joe & The Cats - Let's All Rock & Roll 523. Hank The Drifter & His Drifting Hillbillies - I'm 524. Davis, Link - Grasshopper 525. Zuma, Paul - Our Love Will Last 526. Creep, The - Betty Lou's Got A New Tattoo 527. Creep, The - I'm Wise 528. Marvin, Eddy - I'm Packing My Duds & I'm Head-in S 529. Fowler, Don & The Country Timers - Oklahoma Baby 530. Chiefs - Blast Off The Star 531. Wormington, George - Hours With The Owls 532. Howell, Bill & His Guitar - Rocket Rollin' Blues 533. Stepp, Clayton Dale - Baby, Let's Think Of Love 534. Stepp, Clayton Dale - I'm Still Loving You 601. O'keefe, Larry - Rolling Stone 602. Night, Rocky & His Night Cats - Teen Age Bop 603. Doggett, Ray & The Counts - No Doubt About It 604. Canales, Johnny & His Orchestra - Johnny B Goode 605. Mack & Gwen / Country Playboys, The - Baby, I Want 606. King, Jessie Lee & His Crowns - Nervous Wreck 607. King, Jessie Lee & His Crowns - Rock & Roll Rover 608. Irby, Jerry - Forty Nine Women 609. Vic, Thomas, 'Bashful' & The Western Rhythmaire - 610. Howdy, Jay-bob / Nix, Hoyle & His West Texas Co - 611. Gatlin, Jimmy / Yellow Jackets, The - Texarkana Ba 612. Velvets, The - Wild Little Willy 613. Bobby & The Fifths - My Baby's Fine 614. Jades, The - Lost Train 615. Sikes, Bobby & The Rhythm Rebels - Rolling Stone 616. Ezba, Denny - Dirty, Dirty Feeling 617. Royal Lancers, The - Is This The Place 618. Strong, Ray - You're Gonna Reap What You Sow 619. Terry, Gene & His Kool Kats - The Woman I Love 620. Terry, Gene & His Kool Kats - Tip, Tap & Tell Me 621. Forse, Beamon - You Better Go Now 622. Starfires, The - Everywhere I Go 623. Brown, Charlie & His Lazy V-hands - Mean, Mean Mam 624. Brown, Charlie & His Cisco Kids - Don' T Put The B 625. Brown, Charlie & His Cisco Kids - Have You Heard T 626. C.l. & The Pictures - Let's Take A Ride 627. Douglas, Mel & The Nu-notes - Cadillac Boogie 628. Oliver, Dale - Long Gone Daddy 629. Glenn, Ernie & The Happy-go-lucky Cowboys - These 630. Wayne, Buddy & The Vi-dells - The Road Runner 631. Wayne, Buddy & The Vi-dells - What Made Maggie Run 632. Anderson, Bailey & The Satin Gentlemen - What Will 633. Harris, Francis L - The Rambler 701. Harris, Francis L - My Baby's Acting Kinda Strange 702. Arnold, Jerry - Blondes, Brunettes Or Redheads 703. Arnold, Jerry & The Rhythm Captains - Race For Tim 704. Arnold, Jerry & The Rhythm Captains - High Classed 705. Miller, Buddy & The Rockin' Ramblers - I Got Me A 706. Miller, Buddy & The Rockin' Ramblers - Rock & Roll 707. Miller, Buddy & His Rockin' Ramblers - Little Bo P 708. Crabtree, Riley - She Loves Me Better 709. Jac & Jay / Tom Toms, The - Monkey's Uncle 710. Passions, The - Mercy, Little Baby 711. Steffek, Bob & The Falcons - Wild Woody 712. Worley, Jim - Hard Hat 713. Star Combo, The - Mister Rock & Roll 714. Tidwell, Bobby & Kiamichi Mountain Boys - Cherokee 715. Louisiana Lannis - Tongue Twister Boogie 716. Louisiana Lannis - Walking Out 717. Norris, Joe - Rock Out Of This World 718. Simpson, Royce - Space Dance 719. Singer, Roy - Could You Loan Me Five 720. Owen, Rudy / The Ravens - Pretty Linda 721. Grisham, Jack - Big Heart 722. Embers, The - I'm Goin' Surfin' 723. Barnes, Betty & The Four Shadows - What Would You 724. Ford, Sandy - Cat Man Boogie 725. Jones, Dottie - Honey, Honey 726. Dove, Jerry & His String Busters - Pink Bow Tie 727. Blue Notes, The - I Love Her So 728. Goddard, Chuck - Living Myself To Death 729. Stone, Ray - China Doll 730. Moore, Cecil - I Got It Bad 731. Vale, Bernie - She's Gone, Gone 732. Delatones, The - Little Jeanie 733. Morrison, Bill & His Band - Set Me Free 801. Morrison, Bill & His Band - Baby, Be Good 802. Joe B / Davis, Charlie - Mississippi Central 803. Joe B / Davis, Charlie - Shut Your Big Fat Mouth 804. Pack, Charlie & The Originals - Fluffy Dog 805. Sundowners, The - Live It Up 806. Davis, Link & The Cajuns - Airliner 807. Davis, Link & The Cajuns - Permit Blues 808. Dee, Jimmy 'Frenchie' - I Ain't Givin' Up Nothin' 809. Moonlighters, The - Broken Heart 810. Moonlighters, The - Rock-a-bayou Baby 811. St Romain, Kirby - Oh, Baby Doll 812. Bernard, Rod - Recorded In England 813. Huskey, Johnny & The King Bees - Red Dress 814. Dale, Jim & The Comancheros - Vw 815. Lee, Jacky & The Jay Brinkley Combo - Misery 816. Goodgion, Garry - Blues Party 817. Faggard, Jan / Winter, Johnny's Band / Wanderer - 818. Davis, Chuck - Teaser 819. Lewis, Wink / Busby, Buzz & Band - Zzztt, Zzztt, Z 820. Avon & The Rave-ons - Honey, Honey, Honey 821. Avon & The Rave-ons - Teen Queen 822. Dodi & Dot - Little Red Rockin' Hood 823. Hall, Euel & The Rhythm Rockers - Blue Feeling 824. Hall, Euel & The Rhythm Rockers - Stand In Line 825. Doyle, Bobby & The Ideals - Chug-a-lug 826. Lee, Johnny & The Roadrunners - Town Of No Return 827. Boatman, Tooter & The Chaparrals - The Will Of Lov 828. Twisters, The - Mean, Mean Woman 829. Williams, Ron & The Customs - Sue Sue Baby 830. Hanna, Fletcher / Rayner, Red 'Joe' & His Ozark - 831. Zambon, Francis & The Naturals - Our Love Will Las 832. Flippo, Lawrence & The Futuras - Let's Do It 901. Ellis, Ronnie & The Originals - Honey Blonde 902. Paul, Marvin - None Of Your Business 903. Baker, Bob - Kitty Kat Korner 904. Baker, Bob - Turned On The Ice 905. Trent, Kenneth & The Continentals - The Way I Feel 906. Trent, Kenneth & The Continentals - I'm In Love 907. Rock 'N' Rollers, The - For You 908. Smith, Dayton & The Roving Warriors - What Will Th 909. Dean, Al & His All Stars - Fragile Heart 910. Hudson, Tommy & The Savoys - Rock-it 911. Frantic Freddie & The Pro-teens - Charmaine 912. Davis, Garland & The Spot Barnett Orchestra - I've 913. Epp, Al & The Pharaohs - Breaking My Heart 914. Arnold, Jack & The Chalecos - Hey, Jo Baby 915. Rel-yea's, The - Round Rock Boogie 916. Rel-yea's, The - Country Boy 917. Huffman, Paul & The Rebel Combo - She's Mine 918. Seals, Wayland & The Oil Patch Boys - When I'm Gon 919. Mils, Telli W The Fat Cat - Ain't Goin' Home 920. Zircons, The - Crazy, Crazy 921. Seals, Wayland - Oil Patch Blues 922. Rhodes, Darrell & The Falcons - Four O'clock Baby 923. Rhodes, Darrell - Lou Lou 924. Rhodes, Darrell - I Thought About You 925. Fletcher, Jimmy - What's Wrong With You 926. Morris, Gene - I Crawfished 927. Cruisers, The - Cruisin' 928. Moore, Jan - Play It Cool 929. Kriss, Jimmy - You've Got Me Worried 930. Rhodes, Darrell - Runnin' & Chasin' 931. Montgomery, Harold / Johnson, Ray Band - How Much 932. Brown, Walter & His Band - Alley Cat 933. Brown, Walter & His Band - Jelly Roll Rock
Sklep: Gigant.pl 36,21 zł
Książki / Literatura obcojęzyczna
Excerpt from Antation Bitters: A Colored Fantasy in Two Acts, for Male Characters Only (as Written for the Belmont Tennis Club) Aunt dinah. Chintz dress of very showy pattern, fan-waist gathered to a point, small rufżed shoulder-cape, red turban, large calico apron. The last removed at party. Sambo. (a boy Of thirteen or fourteen years.) Ragged calico shirt, patched trousers, reaching to ankles, held up by one home made suspender, Old light socks, very heavy rough shoes, tied with white string, and ragged straw hat. Black stockings should be? Worn under the socks, as the leg is likely to show. Kangaroo costume. Bett. (represented by a boy a year or so younger than Sam.) Calico dress, rather short, white pantalets, loose white stockings, shoes like Sambo's, and white sun-bonnet. Bett's wig should be braided in little tails, with white cord, so that the tails will stand up all over her head. Kangaroo costume. Mose. (as small a boy as can play the part.) Very short linen trousers and calico pinafore (the latter should be daubed on the front with red, yellow, sepia, etc.) black stockings will represent bare legs, and he may wear Old light slippers or moccasins. A very effective dress can be made of a burlap sack or bag; then only one garment need be used. Kangaroo costume. Lucy. First dress, ordinary light calico dress, white apron, and head-handkerchief. Second dress, pink silk party-dress, with train. Tilly. First dress similar to Lucy's. Second, yellow satin party-dress, with train. Jasper vincent. Pronounced checked suit, black and white, cane, and eyeglass. Pompey jones. Old-fashioned brown linen coat with skirts, dark trousers, very short and tight, high collar, black stock, tall hat, large steel-bowed spectacles. Everything about him neat, but much worn. Aunt chloe. Very full calico dress, drawn in about the waist, a light shawl, red and yellow turban, with a large sun-bonnet worn over the turban. About the Publisher Forgotten Books publishes hundreds of thousands of rare and classic books. Find more at www.forgottenbooks.com This book is a reproduction of an important historical work. Forgotten Books uses state-of-the-art technology to digitally reconstruct the work, preserving the original format whilst repairing imperfections present in the aged copy. In rare cases, an imperfection in the original, such as a blemish or missing page, may be replicated in our edition. We do, however, repair the vast majority of imperfections successfully; any imperfections that remain are intentionally left to preserve the state of such historical works.
Sklep: Libristo.pl 219,99 zł
Książki Obcojęzyczne>Angielskie>The arts>Industrial / commercial art & design>Fashion & textiles: design
Featuring A Range Of Footwear Designs From Stilettoes In Iridescent Snakeskin, Classic Oxford Brogues In Brown Suede And Ankle Boots In Satin, This Book Profiles Thirty-two Of The Finest Shoe Designers, Which Is Accompanied By Hundreds Of Images.
Sklep: Gigant.pl
Sklepy zlokalizowane w miastach: Warszawa, Kraków, Łódź, Wrocław, Poznań, Gdańsk, Szczecin, Bydgoszcz, Lublin, Katowice
Szukaj w sklepach lub całym serwisie
2. Szukaj na wszystkich stronach serwisu
t1=0.075, t2=0, t3=0, t4=0.023, t=0.075