Książki oraz podręczniki.
Kontakt
tel. 800 70 30 91
Wieluń


Popularne produkty
Książki, Wydawnictwa naukowe i popularno-naukowe, Powieść zagraniczna, Literatura dla dzieci, Poradniki. Informatory. Spisy, Szkoły policealne. Szkoły wyższe, Dla najmłodszych
Popularne marki
Pwn wydawnictwo naukowe, C.h. beck, Egmont, Wydawnictwo olesiejuk, Wolters kluwer, Znak, Cambridge university press, Muza, Difin, Prószyński i s-ka, Bellona, Świat książki
Rekomendcja klientów
Monitorowana jakość obsługi
opinie pozytywne: 0
opinie neutralne: 0
opinie negatywne: 0

Brilliant Classics
Opis
Many classical music listeners will be familiar with the name Darius Milhaud, but how familiar are they with his output? The owner of a bold, individual style, Milhaud was active for much of the 20th century, a modernist who is counted among the group of composers known as ?Les Six? (a term coined by the music critic Henri Collet in 1920) and who was much influenced by jazz, polytonality as well as the sounds of Brazil.Bringing together many of his orchestral works, some of which are conducted by the composer himself, this release is the perfect starting-point for those wishing to become acquainted with his art. Beginning with the Six Little Symphonies, early but imaginative works written for a variety of different textures between 1917 and 1923, the set traverses through the likewise youthful ballet L?homme et son désir, inspired by the mystique of the primeval Brazilian forest, touching on a range of different concertos in its path (including the brilliant Second Piano Concerto, completed in 1941). A carnival spirit colours many of the works ?particularly the Suite cisalpine and Le carnaval d?Aix ? unsurprising given the composer?s many visits to this country, though the South American colours are always tempered by the Milhaud?s native Provence, imbued as they are with French music-hall melodies, touches of piquant chromaticism and polytonality. Also included is the famous Le bouf sur le toit, an episodic fantasia on popular Brazilian tunes, and La muse ménagere, composed in honour of Milhaud?s wife.Together with notes by the composer on several of the works included, this special set offers consummate performances, many of which are given by the former Orchestra of Radio Luxembourg. A valuable addition to the classical music enthusiast?s library.Other information:- Darius Milhaud is one of the most colourful and versatile composers of 20th century France.- Milhaud was active in all fields and genres of composition: opera, choral, orchestral, chamber and solo works, a prolific writer and bold spirit, a member of the French composer?s group ?Les Six?, a modernist influenced by jazz, polytonality and Brazilian culture.- On this release we hear a generous selection of his orchestral works: the 6 chamber symphonies, the hilarious ballet ?Le boeuf sur le toit? (the ox on the roof), the 2nd piano concerto, the popular Le Carneval d?Aix, a concerto for percussion and orchestra and several orchestral suites: appealing music of great imagination, colour and fun!- Excellent recordings, a gem from the VOX catalogue, some of the works conducted by Milhaud himself.- Booklet includes extensive notes on the music, including contributions from the composer himself.
Dane techniczne
| | |
| --- | --- |
| ean | 5028421948621 |
| autor | Orchestra Of Radio Luxembourg, Darius Milhaud |
| liczba stron | 2 |
| format | 14.0x12.0cm |
| oprawa | plastikowa |
Sklepy z Milhaud: Orchestral Music
Sposoby płatności
Płatność przy odbiorze
Przelew bankowy
Karta kredytowa
Dostawa towaru
Wskaźnik dostępności towaru
Śledzenie stanu zamówienia
Poczta Polska [do 5 kg]
Przesyłka kurierska [Ups, dhl]
Zobacz wszystkie
opinie klientów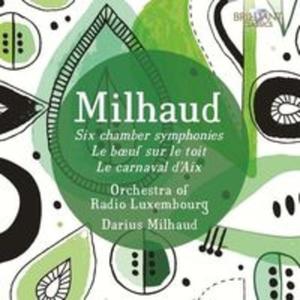 Powiększ zdjęcie
Cena: 26,90 zł
wysyłka 1 dzień
Sprzedawca
Księgarnia Internetowa Booknet
ul. Kaliska 12
98-300 Wieluń
Kontakt
Infolinia: 800 70 30 91
Tel.: 438431991
Faks: 438431991
Adres www
data aktualizacji oferty: 01.10.2017 | zgłoś błąd