Książki oraz podręczniki.
Kontakt
tel. 800 70 30 91
Wieluń


Popularne produkty
Książki, Wydawnictwa naukowe i popularno-naukowe, Powieść zagraniczna, Literatura dla dzieci, Poradniki. Informatory. Spisy, Szkoły policealne. Szkoły wyższe, Dla najmłodszych
Popularne marki
Pwn wydawnictwo naukowe, C.h. beck, Egmont, Wydawnictwo olesiejuk, Wolters kluwer, Znak, Cambridge university press, Muza, Difin, Prószyński i s-ka, Bellona, Świat książki
Rekomendcja klientów
Monitorowana jakość obsługi
opinie pozytywne: 0
opinie neutralne: 0
opinie negatywne: 0

Brilliant Classics
Opis
Bedřich Smetana was a forerunner of the Nationalist music movement in 19th-century Czechoslovakia, and played a large part in developing the country?s musical identity. This disc comprises Smetana?s most renowned work, the inimitable Má vlast (My Homeland), a series of six tone poems ? composed over five years ? that depict different elements of the landscape of the composer?s native country. Vyšehrad, or The High Castle, is the first movement, based on the castle in Prague ? the residence of early Czech kings. It opens with arpeggios played by a duo of harps, and later a military element is portrayed with the help of a march theme. The second movement Vltava (The Moldau), depicts the route of the river from the mountains to its end. Šárka, the third movement, explores the Czech folklore centred on the Bohemian Amazon maiden of the same name. This is followed by Z českých luhů a hájů (From Bohemia?s Meadows and Fields); a depiction of a beautiful landscape on a sunny day.These first four movements were intended to complete the work, but after a gap of four years Smetana composed another two: Tábor, portraying the Hussite warriors who founded and defended the city of Tábor in 1420, and Blaník, named after the mountain in central Bohemia. This, the final movement, begins with the same driving rhythms as Tábor and later relents into a joyful hymn. It is easy to see how this work paved the way for Smetana to be heralded as one of Czechoslovakia?s greatest composers and patriots. The works are performed by the Janáček Philharmonic Orchestra under the baton of Theodore Kuchar.The cycle Má Vlast by Smetana is an ode to the composer?s motherland Bohemia, singing the praises of the lush countryside, proud and venerable cities, majestic mountains and the force of nature in the country?s most important river, the Vltava (the Moldau).?seldom sounded more spontaneous?truly sparkles?full of the necessary romantic blood..performance: 9?, thus wrote ClassicsToday about these performances by the Janáček Philharmonic Orchestra conducted by Theodore Kuchar, musicians who share the same deep national roots of these works.Reissue on single CD, taken from the previously issued 3CD set of the Complete Orchestral Works by Smetana.Other information:Contains information on the composer and works.Recorded in 2007.
Dane techniczne
| | |
| --- | --- |
| ean | 5028421948539 |
| liczba stron | 1 |
| format | 12.3x14.0 |
| oprawa | plastikowa |
Sklepy z Smetana: Má Vlast
Sposoby płatności
Płatność przy odbiorze
Przelew bankowy
Karta kredytowa
Dostawa towaru
Wskaźnik dostępności towaru
Śledzenie stanu zamówienia
Poczta Polska [do 5 kg]
Przesyłka kurierska [Ups, dhl]
Zobacz wszystkie
opinie klientów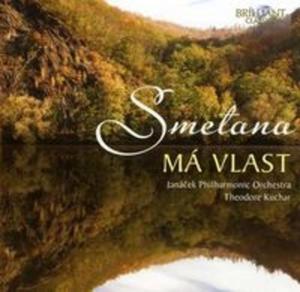 Powiększ zdjęcie
Cena: 22,40 zł
wysyłka 1 dzień
Sprzedawca
Księgarnia Internetowa Booknet
ul. Kaliska 12
98-300 Wieluń
Kontakt
Infolinia: 800 70 30 91
Tel.: 438431991
Faks: 438431991
Adres www
data aktualizacji oferty: 01.10.2017 | zgłoś błąd