Kontakt
tel. ( 32 ) 444 93 66
Kopaczów


Popularne produkty
Książki - Literatura obcojęzyczna
Popularne marki
, Createspace independent publishing platform, Harper collins publishers, Cambridge university press, Penguin books, Oxford university press, John wiley & sons
Rekomendcja klientów
Monitorowana jakość obsługi
opinie pozytywne: 0
opinie neutralne: 0
opinie negatywne: 0

English Rose Publishing
Opis
The Nursery "Alice" brings the classic story of Alice's Adventures in Wonderland to the youngest of readers, with all the beauty and all the silliness of the original. The English Rose edition: Sir John Tenniel's original illustrations have been exceptionally improved and coloured in The Nursery "Alice" making the book all the more attractive and inspiring to younger audiences. Each character is beautifully drawn and described, as Alice wends her way through Wonderland, and the language is especially adapted so that it is easy for young children to understand. This English Rose edition is a high quality, beautiful piece with enhanced images, clear formatting and loving attention to detail. English Rose love books and think that every one is special, so our editions will always be distinctive, professional and unique. Visit English Rose at www.englishrosebooks.co.uk and view our other titles and new releases. The History of "Alice": The story of Alice first appeared in print as a manuscript entitled Alice's Adventures Under Ground, written by Lewis Carroll between 1862-4 and featuring illustrations by the author. It was rewritten and published as Alice's Adventures in Wonderland (commonly shortened to Alice in Wonderland) in 1865 with illustrations by Sir John Tenniel. The Nursery "Alice" was first published in 1890, 25 years after the original Alice. Rewritten by Carroll, it included 20 of Tenniel's original illustrations enlarged and coloured, and was the first colour edition of any Alice book. It also featured a new cover illustrated by E. Gertrude Thomson.
Dane techniczne
| | |
| --- | --- |
| ISBN | 9781907960000 |
| Producent | English Rose Publishing |
| Ilość stron | 64 |
| Okładka | Miękka |
| Rok wydania | 2010 |
| Wybrani autorzy | Emily Gertrude Thomson |
Sklepy z Nursery "Alice"
Sposoby płatności
Płatność przy odbiorze
Przelew bankowy
Karta kredytowa
Dostawa towaru
Wskaźnik dostępności towaru
Śledzenie stanu zamówienia
Poczta Polska
Przesyłka kurierska
Zobacz wszystkie
opinie klientów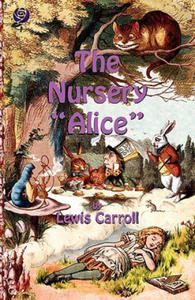 Powiększ zdjęcie
Cena: 76,81 zł
wysyłka b/d
Sprzedawca
Libristo.pl
Główna 22
59-921 Kopaczów
Kontakt
Infolinia: ( 32 ) 444 93 66
Adres www
data aktualizacji oferty: 23.11.2021 | zgłoś błąd