Książki o tematyce inwestycyjnej i grze na giełdzie.
Kontakt
tel. 513 160 320
Puszczykowo


Popularne produkty
Rozwój osobisty, e-booki, Inne, Funkcjonowanie giełd i rynków, Dla Praktyków, Droga do bogactwa, Podstawy inwestowania, Analiza fundamentalna, Analiza techniczna
Popularne marki
Onepress, Mt biznes, Wolters kluwer, Złote myśli, Cedewu, Wig press, Difin, Pwn, Polskie wydawnictwo ekonomiczne, Studio emka, Poltext, C.h. beck, Linia, Fijorr publishing
Rekomendcja klientów
Monitorowana jakość obsługi
opinie pozytywne: 0
opinie neutralne: 0
opinie negatywne: 0

Wiley
Opis
Podana cena książki jest orientacyjna, zależy od kilku czynników. Po zakupie obsługa sklepu skontaktuje się, jeśli konieczna będzie dopłata. Book Description Widely respected and admired, Philip Fisher is among the most influential investors of all time. His investment philosophies, introduced almost forty years ago, are not only studied and applied by today's financiers and investors, but are also regarded by many as gospel. This book is invaluable reading and has been since it was first published in 1958. The updated paperback retains the investment wisdom of the original edition and includes the perspectives of the author's son Ken Fisher, an investment guru in his own right in an expanded preface and introduction "I sought out Phil Fisher after reading his Common Stocks and Uncommon Profits...A thorough understanding of the business, obtained by using Phil's techniques...enables one to make intelligent investment commitments." Warren Buffet Book Info Text presents some of the writings of Philip Fisher, with a new preface and introduction by Kenneth Fisher. Previous edition: c1996. Softcover. DLC: Stocks. The publisher, John Wiley & Sons Regarded as one of the pioneers of modern investment theory, Philip A. Fisher's investment principles are studied and used by contemporary finance professionals including Warren Buffett. Fisher was the first to consider a stock's worth in terms of potential growth instead of just price trends and absolute value. His principles espouse identifying long-term growth stocks and their emerging value as opposed to choosing short-term trades for initial profit. First published in 1958, this investment classic is considered a must-read as the foundation for many of today's popular investment beliefs. --This text refers to an out of print or unavailable edition of this title. About the Author Philip A. Fisher began his career as a securities analyst in 1928 and founded Fisher & Company, an investment counseling business, in 1931. He is known as one of the pioneers of modern investment theory. Kenneth L. Fisher writes the "Portfolio Strategy" column for Forbes magazine and serves as Chairman and Chief Investment Officer of Fisher Investments, Inc., a firm that manages financial assets for institutions and high-net-worth individuals around the world.
Sklepy z Common Stocks and Uncommon Profits and Other Writings (Wiley Investment Classics)
Sposoby płatności
Płatność przy odbiorze
Przelew bankowy
Karta kredytowa
Dostawa towaru
Wskaźnik dostępności towaru
Poczta Polska
Przesyłka kurierska
Zobacz wszystkie
opinie klientów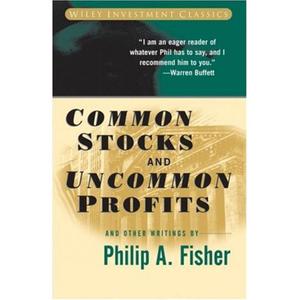 Powiększ zdjęcie
Cena: 83,90 zł
wysyłka b/d
Sprzedawca
Epilog
ul. Konopnickiej 6
62-041 Puszczykowo
Kontakt
Tel.: 513 160 320
Adres www
data aktualizacji oferty: 05.10.2017 | zgłoś błąd