clinton the mountain
- znaleziono 3 produkty w 3 sklepach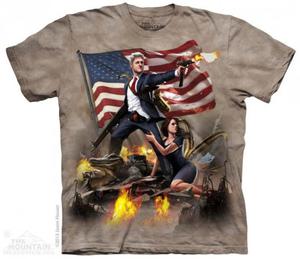 129,90 zł
Black Friday
Koszulki The Mountain WZORNICTWO - niebanalne, różnorodne i jedyne w swoim rodzaju, projektowane przez najwyższej klasy specjalistów. Wysokogatunkowa odzież dla tych, którzy lubią się wyróżniać, cenią oryginalność oraz wysoką jakość wykonania.TEMATYKA - koszulki dla miłośników zwierząt dzikich i domowych, leśników, motomaniaków, rockandrollowców, militarystów, ufologów, ornitologów i wielu innych pasjonatów. W tej koszulce pokażesz co cię kręci, co czujesz, czym się interesujesz. T-shirt The Mountain to doskonały pomysł na wyszukany i nietuzinkowy prezent.NADRUK - metoda screen printing
Sklep: VeoVeo

109,90 zł
KATEGORIE > The Mountain > DOROŚLI- krój uniwersalny > KOLEKCJA AMERICANA
Koszulka The Mountain T-shirt The Mountain - dla tych, którzy lubią się wyróżniać, dla tych, którzy jakość mają na pierwszym miejscu a oryginalny look i podążanie za trendem to dla nich styl  życia. Nie masz w czym iść na imprezę? Szukasz oryginalnego i praktycznego prezentu? A może jesteś miłośnikiem zwierząt? Dobrze trafiłeś! Koszulki The Mountain są wykonane w świetnej technologi nadruku, często sprawiają efekt 3D. Każdy wzór jest unikalny i niepowtarzalny. Nosząc koszulkę The Mountain bądź pewien, że pozostaniesz oryginalny i w zgodzie z naturą. Pokaż co Cię kręci, czym się interesujesz. W koszulce The Mountain na pewno nie zginiesz w tłumie. Najlepsze na koncert, wypad motocyklowy czy do noszenia na co dzień. Odważysz się ubrać do pracy? Śmiało! Wyraź siebie!   Główne atuty koszulek The Mountain: uszyte bez szwów bocznych, 100% bawełna (200 g) koszulki posiadają certyfikat OEKOTEX100, do produkcji nie użyto szkodliwych chemikaliów, każda koszulka jest niepowtarzalna, nadruk farbami wodnymi, w technologii sitodruku.   Informacje dotyczące prania: pierwsze pranie należy wykonać ręcznie, na lewej stronie, podczas pierwszego płukania zalecamy dodać trochę octu, w celu utrwalenia kolorów, kolejne prania w pralce w zimnej wodzie do 30 st. Celsjusza, nie wolno suszyć w pralkach automatycznych, prasować tylko na lewej stronie.   Tabela rozmiarów The Mountain: Rozmiary dla dorosłychSzerokość mierzona na wysokości pachDługość mierzona od szwa na ramieniu  S 46 ÷ 48 67 ÷ 71 M 50 ÷ 52 70 ÷ 74 L 56 ÷ 58 76 ÷ 80 XL 60 ÷ 62 78 ÷ 82 2XL 62 ÷ 64 82 ÷ 86 3XL 64 ÷ 66 83 ÷ 87 4XL 73 ÷ 75 87 ÷ 91 5XL 75 ÷ 77 88 ÷ 91 Amerykańska rozmiarówka (!) koszulki nawet rozmiar większe od europejskich. Dla pań szczupłych noszących europejskie rozmiary XS/S polecamy rozmiar L dla dzieci. Każda z koszulek jest unikalna, dlatego w tabeli podane są przybliżone wartości w granicach +/- 3 cm.
Sklep: geekcode.pl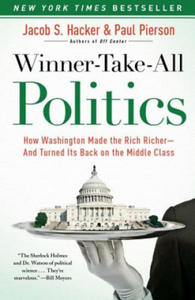 90,33 zł
Książki / Literatura obcojęzyczna
A groundbreaking work that identifies the real culprit behind one of the great economic crimes of our time - the growing inequality of incomes between the vast majority of Americans and the richest of the rich. §We all know that the very rich have gotten a lot richer these past few decades while most Americans haven't. In fact, the exorbitantly paid have continued to thrive during the current economic crisis, even as the rest of Americans have continued to fall behind. Why do the "haveit- alls" have so much more? And how have they managed to restructure the economy to reap the lion's share of the gains and shift the costs of their new economic playground downward, tearing new holes in the safety net and saddling all of us with increased debt and risk? Lots of so-called experts claim to have solved this great mystery, but no one has really gotten to the bottom of it - until now. §In their lively and provocative Winner-Take-All Politics, renowned political scientists Jacob S. Hacker and Paul Pierson demonstrate convincingly that the usual suspects - foreign trade and financial globalization, technological changes in the workplace, increased education at the top - are largely innocent of the charges against them. Instead, they indict an unlikely suspect and take us on an entertaining tour of the mountain of evidence against the culprit. The guilty party is American politics. Runaway inequality and the present economic crisis reflect what government has done to aid the rich and what it has not done to safeguard the interests of the middle class. The winner-take-all economy is primarily a result of winner-take-all politics. §In an innovative historical departure, Hacker and Pierson trace the rise of the winner-take-all economy back to the late 1970s when, under a Democratic president and a Democratic Congress, a major transformation of American politics occurred. With big business and conservative ideologues organizing themselves to undo the regulations and progressive tax policies that had helped ensure a fair distribution of economic rewards, deregulation got under way, taxes were cut for the wealthiest, and business decisively defeated labor in Washington. And this transformation continued under Reagan and the Bushes as well as under Clinton, with both parties catering to the interests of those at the very top. Hacker and Pierson's gripping narration of the epic battles waged during President Obama's first two years in office reveals an unpleasant but catalyzing truth: winner-take-all politics, while under challenge, is still very much with us. §Winner-Take-All Politics - part revelatory history, part political analysis, part intellectual journey - shows how a political system that traditionally has been responsive to the interests of the middle class has been hijacked by the superrich. In doing so, it not only changes how we think about American politics, but also points the way to rebuilding a democracy that serves the interests of the many rather than just those of the wealthy few.
Sklep: Libristo.pl
Sklepy zlokalizowane w miastach: Warszawa, Kraków, Łódź, Wrocław, Poznań, Gdańsk, Szczecin, Bydgoszcz, Lublin, Katowice
Szukaj w sklepach lub całym serwisie
2. Szukaj na wszystkich stronach serwisu
t1=0.016, t2=0, t3=0, t4=-0.978, t=0.016