consolations of philosophy
- znaleziono 12 produktów w 5 sklepach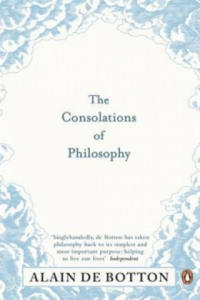 54,13 zł
Książki / Literatura obcojęzyczna
B format edition of this book, intented to apply the wisdom of some of the greatest philosophers in history to problems of modern life. The hardback reached the No.1 spot in both Britain and Ireland, selling over 60,000 copies in total. There will be a number of author events and interviews to support publication.
Sklep: Libristo.pl 45,80 zł
Nauki humanistyczne
Alain de Botton, best-selling author of How Proust can Change Your Life, has set six of the finest minds in the history of philosophy to work on the problems of everyday life. Here then are Socrates, Epicurus, Seneca, Montaigne, Schopenhauer and Nietzsche on some of the things that bother us all; lack of money, the pain of love, inadequacy, anxiety, the fear of failure and the pressure to conform.
Sklep: Albertus.pl 52,99 zł
Książki Obcojęzyczne>Angielskie>Humanities>Philosophy>History of Western philosophy
0x0131427d00000000
Sklep: Gigant.pl 48,76 zł 119,99 zł
Książki Obcojęzyczne>Angielskie>Humanities>Philosophy>History of Western philosophy>Ancient, to c 500Książki Obcojęzyczne>Angielskie...
0x00b1485c00000000
Sklep: Gigant.pl 169,99 zł
Książki Obcojęzyczne>Angielskie>Society & social sciences>Sociology & anthropology>Sociology>Death & dyingKsiążki Obcojęzyczne>Angie...
0x0081079100000000
Sklep: Gigant.pl 229,99 zł
Książki Obcojęzyczne>Angielskie>Humanities>Philosophy
0x0016c79400000000
Sklep: Gigant.pl 25,49 zł
Książki & Multimedia > Książki
Opis - Książka "O pocieszeniach, jakie daje filozofia" opiera się na kuszącym założeniu, że wielcy filozofowie mogą być nam realnie pomocni w trudach i smutkach codziennego życia. Alain de Botton zachęca do niekonwencjonalnego spojrzenia na dzieła sześciu wybitnych myślicieli; warto samemu sprawdzić, czy Montaigne pocieszy w obliczu ułomności, Epikur wesprze w ubóstwie, a Schopenhauer pomoże zmierzyć się z miłosnym zawodem. Nazwa - O pocieszeniach, jakie daje filozofia Oryginalny tytuł - The Consolations of Philosophy Autor - Alain Botton Oprawa - Miękka Wydawca - Czuły Barbarzyńca & Kompani Kod ISBN - 9788362676064 Kod EAN - 9788362676064 Wydanie - 1 Rok wydania - 2011 Język - polski Tłumacz - Piasecki Paweł Format - 12.5x19.5cm Ilość stron - 292 Podatek VAT - 5% Premiera - 2014-04-14
Sklep: InBook.pl 696,74 zł
Książki / Literatura obcojęzyczna
Boethius (c. 480-c. 525) was a Christian philosopher and author of many translations and works of philosophy, most famously the Consolations of Philosophy which were probably written when he was under house arrest, having been accused of treason by King Theoderic the Great. He was subsequently executed. On Interpretation is the second part of the Organon, as Aristotle's collected works on logic are known; it deals comprehensively and systematically with the relationship between logic and language. In his first six chapters, Aristotle defines name, verb, sentence, statement, affirmation and negation. Boethius preserves lost interpretations by two of the greatest earlier interpreters, Alexander and Porphyry, and the defence of the work's authenticity against criticism. He records the idea of Porphyry that Aristotelians believe in three types of name and verb, written, spoken and mental, in other words a language of the mind. Boethius' commentary formed part of his project to bring knowledge of Plato and Aristotle to the Latin-speaking world. It had great influence, remaining the standard introduction to On Interpretation throughout the Latin Middle Ages.
Sklep: Libristo.pl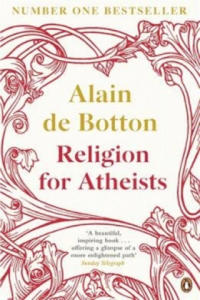 54,13 zł
Książki / Literatura obcojęzyczna
Alain de Botton's "Religion for Atheists" looks at the God debate with fresh eyes "All of us", whether religious, agnostic or atheist, are searching for meaning. And in this wise and life-affirming book, non-believer Alain de Botton both rejects the supernatural claims of religion and points out just how many good ideas they sometimes have about how we should live. And he suggests that non-believers can learn and steal from them. Picking and choosing from the thousands of years of advice assembled by the world's great religions to get practical insights on art, community, love, friendship, work, life and death, Alain de Botton shows us a range of fascinating ideas on a range of topics, including relationships, work, culture, love and death - and that could be of use to all of us, irrespective of whether we do or don't believe. In the "Sunday Times" top-ten bestseller "Religion for Atheists", Alain de Botton takes us one step further than Dawkins and Hitchens have ventured and into a world of ideas beyond the God debate..."A serious and optimistic set of practical ideas that could improve and alter the way we live". (Jeanette Winterson, "The Times"). "A beautiful, inspiring book ...offering a glimpse of a more enlightened path". ("Sunday Telegraph"). "Packed with tantalizing goads to thought and playful prompts to action". ("Independent"). "Smart, stimulating, sensitive. A timely and perceptive appreciation of how much wisdom is embodied in religious traditions and how we godless moderns might learn from it". ("Financial Times"). "There isn't a page in this book that doesn't contain a striking idea or a stimulating parallel". ("Mail on Sunday"). "Packed with tantalizing goads to thought and playful prompts to action". ("Independent"). Alain de Botton was born in 1969 and is the author of non-fiction essays on themes ranging from love and travel to architecture and philosophy. His bestselling books include "How Proust Can Change Your Life", "The Art of Travel", "The Consolations of Philosophy", "The Architecture of Happiness", "Status Anxiety", "Essays in Love", "A Week at the Airport" and "The Pleasures and Sorrows of Work". He lives in London and founded The School of Life and Living Architecture.
Sklep: Libristo.pl 277,77 zł
Książki / Literatura obcojęzyczna
Lucius Annaeus Seneca (4 BCE-65 CE) was a Roman Stoic philosopher, dramatist, statesman, and advisor to the emperor Nero, all during the Silver Age of Latin literature. The Complete Works of Lucius Annaeus Seneca is a fresh and compelling series of new English-language translations of his works in eight accessible volumes. Edited by world-renowned classicists Elizabeth Asmis, Shadi Bartsch, and Martha C. Nussbaum, this engaging series helps restore Seneca-whose works have been highly praised by modern authors from Desiderius Erasmus to Ralph Waldo Emerson - to his rightful place among the classical writers most widely studied in the humanities. Hardship and Happiness collects a range of essays intended to instruct, from consolations - works that offer comfort to someone who has suffered a personal loss - to pieces on how to achieve happiness or tranquility in the face of a difficult world. Expertly translated, the essays will be read and used by undergraduate philosophy students and experienced scholars alike.
Sklep: Libristo.pl 251,45 zł
Książki / Literatura obcojęzyczna
The inevitability of death-that of others and our own-is surely among our greatest anxieties. Mortality's Muse: The Fine Art of Dying explores how art, mainly literary art, addresses that troubling reality. While religion and philosophy offer important consolations for life's end, art responds in ways that are perhaps more complete and certainly more deeply human. Among subjects treated: the ars moriendi or "art of dying" tradition; the contrast between past and more recent cultural values; the religious consolation's value but shortcoming for some people; the role of art in offering a secular consolation; dying as a performing art; the philosophic ideal of good death; the lively appeal of carpe diem or living for the present moment; the elegiac sense of life; and the two opposite parts Mortality's Muse has played in dealing with war, the most senseless and unnecessary cause of death. The idea of an aesthetic sense of life forms the basis of these discussions. Human beings are makers in the largest sense of the word, and art represents everything they make-civilization itself with all its greatness and failings. Our civilization may ultimately be nothing but an evanescent blip in the cosmos. Even so, the creation of beauty, meaning, and purpose from disorder and suffering defines us as human beings. In the words of Robinson Jeffers, even if monuments eventually crumble and all art perish, yet for thousands of years carved stones have stood and "pained thoughts found the honey of peace in old poems."
Sklep: Libristo.pl
Sklepy zlokalizowane w miastach: Warszawa, Kraków, Łódź, Wrocław, Poznań, Gdańsk, Szczecin, Bydgoszcz, Lublin, Katowice
Szukaj w sklepach lub całym serwisie
2. Szukaj na wszystkich stronach serwisu
t1=0.035, t2=0, t3=0, t4=0.029, t=0.035