how to be parisian
- znaleziono 56 produktów w 8 sklepach 96,78 zł
Książki / Literatura obcojęzyczna
A collection of beautifully illustrated interiors celebrating fashionable people in their inspirational, eclectic, fun, and always extraordinary habitats. Within the sumptuously illustrated pages of this book, you will find every extravagant interior you've ever dreamed of. Fancy a Manhattan suite? A grand estate of one of London's men-about-town? A vintage Parisian loft? Get the look of the Valentino room, complete with red velvet drapes and hints of gold, the French teahouse, with pistachio-colored walls and gilded mirrors, or the distinguished lobby, quietly confident in purple hues with a black chandelier. Fashion House celebrates some of the most decadent and indulgent interiors from around the world and the icons, past and present, who inhabit them. Discover the type of furniture they choose, the style of clothes they wear, and how they style a space. Learn the benefits of the eclectic chair, the portrait piece, the striking rug, the signature wallpaper, and the resident pet. Combining her love of fashion and interior design with her signature illustrations, Megan Hess has created a book of undeniable style sure to be adored.
Sklep: Libristo.pl 113,55 zł
Książki / Literatura obcojęzyczna
From the bestselling authors of How to be Parisian, what smart, savvy, fabulous French women think, feel and advise as they hit forty on life, love, and everything else Older, but Better, but Older has the playful wit, self depreca
Sklep: Libristo.pl 102,37 zł
Książki / Literatura obcojęzyczna
A musical composer who dabbled in the Dada movement, a Bohemian gymnopediste of fin-de-siecle Montmartre, and a legendary dresser known as The Velvet Gentleman for his sartorial choices, Erik Satie was nearly unprecedented in technique, style and philosophy among European composers in the early twentieth century. Yet his legacy has largely languished in the shadows of Stravinsky, Debussy and Ravel. Mary E. Davis now brings Satie to life in this fascinating new biography that demonstrates that his musical innovations reached as far as his influence. Satie redefined the boundaries of the composer's art, devising new methods of artistic expression that melded ordinary elements and rarefied genres of words, visual art and music. Davis argues that Satie's modernist aesthetic was grounded in the contradictions apparent in his life such as enrolling in the conservative Schola Cantorum after working as a cabaret performer and is reflected in his irreverent essays, drawings and music. "Erik Satie" explores how the composer was embraced by both the avant-garde and Parisian elite, an experience that immersed him in the worlds of high fashion and cutting-edge modernist art, and subsequently gave him the aesthetic impetus to create the new musical style of Neoclassicism. Satie also crucially employed the power of the image through his infamous fashion statements, Davis contends, to establish his place in the art world, and in this connection between couture and culture, Satie was at the heart of a nascent celebrity culture. A fascinating and informative portrait, with numerous illustrations that include art by Satie himself, "Erik Satie" reassesses the accepted history of modernist music and restores the composer to his rightful pioneering status.
Sklep: Libristo.pl 66,90 zł
Książki / Literatura obcojęzyczna
How Parisian women loved, lived and died in the 1940s - under Occupation and then after Liberation.
Sklep: Libristo.pl 150,57 zł
Książki / Literatura obcojęzyczna
Celebrated for his novels and essays, Orwell was first and foremost a journalist and he remains one of our very best commentators. Confronting social, political and moral dilemmas head-on, Orwell was fearless in his writing: a champion of free speech, a defender against social injustice and a sharp-eyed chronicler of the age. But his work is also timeless, and pieces on immigration, Scottish independence and a Royal Commission on the Press still resonate today. Orwell had an almost unique ability to get to the heart of the matter, distilling important events and ideas into clear, pithy prose, and he was a master of subtle observation. On his return to Paris in February 1945 as War Correspondent for the Observer, he noted how the once numerous Parisian pigeons had disappeared, writing simply: 'They have been eaten.' Orwell wrote articles and essays for a number of journals and newspapers, and was a voracious reader and patron of the arts, as his many book, theatre and film reviews attest. Almost half of his 80 'As I Please' weekly columns, written while literary editor of the Tribune during the 1940s, are collected here, and they range over topics as diverse as the purchase of rose bushes from Woolworth's to the Warsaw Uprising. Whether political, poetic, polemic or personal, this is surprising, witty and intelligent writing to delight in. Published in a one-volume edition for the first time, this engaging collection of Orwell's journalism shows him at the height as his powers, and illuminates our understanding of his work as a whole.
Sklep: Libristo.pl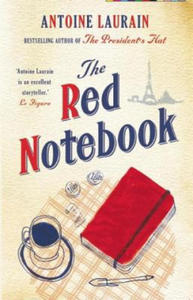 60,92 zł
Książki / Literatura obcojęzyczna
Bookseller Laurent Letellier comes across an abandoned handbag on a Parisian street, and feels impelled to return it to its owner. The bag contains no money, phone or contact information. But a small red notebook with handwritten thoughts and jottings reveals a person that Laurent would very much like to meet. Without even a name to go on, and only a few of her possessions to help him, how is he to find one woman in a city of millions?
Sklep: Libristo.pl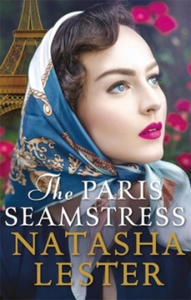 54,95 zł
Książki / Literatura obcojęzyczna
How much will a young Parisian seamstress sacrifice to make her mark in the male-dominated world of 1940s New York fashion?
Sklep: Libristo.pl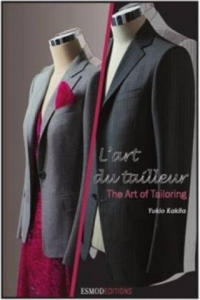 184,69 zł
Książki / Literatura obcojęzyczna
Thanks to his know-how inherited from the great Parisian tailors, Yukio Kakita brings you in this book to understand all the sensitivity of the techniques of manufacture of the the tailor.
Sklep: Libristo.pl 54,56 zł
Książki / Literatura obcojęzyczna
A silk evening gown with a grungy cardigan and cool retro hi-tops? Surfer shorts with jeweled slippers and a rock 'n' roll leather jacket? This book shows children how to create their own look by mixing up all kinds of styles, from preppy slacks and sporty tops to rockabilly skirts and Parisian-chic berets.
Sklep: Libristo.pl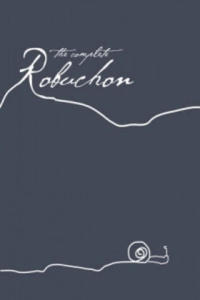 150,57 zł
Książki / Literatura obcojęzyczna
Robuchon is the most influential French chef of the post-nouvelle cuisine era. Since the mid-eighties, he has been called the primus inter pares of Paris' three star chefs for his work both at Jamin and at his eponymous restaurant. He is renowned for the relentless perfectionism of his cuisine. His food was seen as instrumental in leading French cuisine away from the excesses - and excessive reductionism - of nouvelle cuisine. In particular, his cuisine is seen as harkening back to a more authentic, even bourgeois French cuisine - cuisine actuelle - which focuses on making each ingredient taste of itself. He has mentored such distinguished chefs as Gordon Ramsay and Michael Caines and his signature dishes include a cauliflower cream with caviar and potato puree.In "The Complete Robuchon" he offers us his recipes (over 800), secrets and tips: from the perfect omelette to vegetable soup, leg of lamb to marinated mussels, to his renowned potato puree every dish is described in detail starting with the ingredients, he tells you how to clean and prepare them down to the way to hold the pan and precise cooking times. It is all here - a catalogue of the basics of French cuisine and a broad sampling of dishes that have earned the author his titles of glory and his truly imaginative recipes from L'Atelier.Born in Poitiers in 1945, Joel Robuchon became the official chef of La Tour de France, where he learnt a variety of diverse regional techniques. At 28, he became head chef at Harmony-Lafayette, overseeing 3,000 meals a day. In 1981 he launched Jamin in Paris and within three years had received three Michelin stars. In 1996 he left his Parisian restaurant, establishing L'Atelier de Joel Robuchon in Tokyo. He opened another L'Atelier in Paris in 2003 and has since established Ateliers in Las Vegas, New York and London.
Sklep: Libristo.pl 201,27 zł
Książki / Literatura obcojęzyczna
Wie verlebte eines der größten Künstlergenies des 20. Jahrhunderts die prägend grausamen Jahre während des Zweiten Weltkriegs? Dieser bisher wenig beachteten Frage spürt der aufwendig recherchierte Band nach und erzählt mit Gemälden, Skulpturen, Zeichnungen und Zeitdokumenten der Jahre 1939 bis 1945 von dem Menschen Pablo Picasso und den Widersprüchen des Alltags in Kriegszeiten. Picasso verbrachte die Kriegsjahre in seinem Pariser Atelier, hier reagierte er in seinen Werken auf die Bedrohungen, den allgewärtigen Tod und die Zerstörung. Der Krieg schaffte es dennoch nicht vordergründig in seine Motivik einzudringen. Anhand von klassischen Gattungen, wie des Porträts und des Stilllebens durchlebte er diese Zeit mit seiner ihm eigenen drastischen Bildsprache.How did one of the greatest artists of the twentieth century live during the cruel years of the Second World War? This extensively researched volume provides answers to this explosive question, with intimate insights into these years, which the artist spent exclusively in his Parisian studio. The reader is given a new perspective on Picasso's oeuvre and the way in which his works responded to the threats, the omnipresence of death and the destruction of war.
Sklep: Libristo.pl
Sklepy zlokalizowane w miastach: Warszawa, Kraków, Łódź, Wrocław, Poznań, Gdańsk, Szczecin, Bydgoszcz, Lublin, Katowice
Szukaj w sklepach lub całym serwisie
2. Szukaj na wszystkich stronach serwisu
t1=0.047, t2=0, t3=0, t4=0.023, t=0.047