krainaksiazek 10 most common estate planning 20167837
- znaleziono 6 produktów w 3 sklepach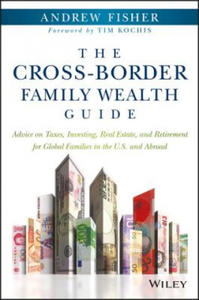 138,06 zł
Książki / Literatura obcojęzyczna
Make sense of international personal finance with expat-specific expert advice The Cross-Border Family Wealth Guide is the long-awaited financial handbook for cross border families, with expert insight from a financial advisor who specializes in expat issues. Whether you're an American living abroad, or foreign-born and living in the U.S., this book demystifies the complex issues surrounding the worldwide tax system, international information reporting, sensible investments, international real estate, and retirement planning. When your wealth crosses international borders, managing even the most mundane financial affairs can become wrought with time-consuming complexity; moving money, opening accounts, dealing with currency risks and translation, and setting up investments suddenly involves a whole new set of rules and regulations. Your 401(k), IRA, or annuity must be handled properly to retain certain tax benefits, and retirement planning takes on a brand new dimension of difficulty. This book shows you how to navigate the maze to make sure your money keeps working for you. Real world examples illustrate solutions to common problems, and real, actionable advice gives you a solid plan for your next steps. While personal finance management is rarely simple, the recent crackdown on tax havens and increased tax collection vigilance has made things even more difficult for cross border families. This book answers your questions, and shines a light on the way forward to long-term financial security for international families. * Navigate the complexities of international taxation * Get specific guidance on retirement planning * Make sense of how real estate fits into your financial picture * Invest appropriately to maximize growth for the future * Manage your assets and tax benefits across borders With the right know-how, cross border professionals can make sensible investment and financial planning decisions, but credible guidance is rare and difficult to find. Simple and practical, with targeted advice, The Cross-Border Family Wealth Guide is the international family's solution for avoiding financial confusion.
Sklep: Libristo.pl 54,10 zł
Powieści i opowiadania
Orlando Figes
Sklep: Albertus.pl 74,30 zł
Inne 1
This A-to-Z reference provides clear, concise explanations of basic as well as more advanced investment terms to help even the most unsophisticated newcomer. This unique user-friendly handbook presents not only simple, brief explanations of various investing terms and concepts, but also a short discussion on each as to how it applies in everyday life. "The Concise Encyclopedia of Investing" clears the mysteries behind the foundations of investing, giving newbies solid information they can use to explore investment possibilities. Retirement terminology, market terminology, portfolio techniques, tax information, and investment options are explained using plain language to quickly answer often-asked questions. The book discusses basic terms such as common and preferred stocks, bonds, and capital gains, as well as more complex terms and concepts such as P/E ratio and pass-through security. Helpful lists of reference books and various online investment resources provide opportunities for investors to easily find more detailed information about specific topics. "The Concise Encyclopedia of Investing" includes explanations with everyday examples of basic and more complex concepts and terms such as: 401K; 403B; annuities; asset allocation; capital gains; commodities; convertibles; estate planning; face value; future value investments; guaranteed investment contract (GIC); hedge funds; index funds; marketing timing; money market fund (MMF); non qualified retirement plans; open end funds; option contract; pass-through security; precious metals; Present Value Investments; P/E Ratio; PPI; REIT; Real Rate of Return; ROE; statements of retained earnings; STRIPS; systematic risk; UIT; variable annuities; yield-to-maturity; and zero coupon securities. "The invaluable Concise Encyclopedia of Investing" is perfect for anyone grappling with investment terminology. This reference is sure to become an indispensable desktop resource for any new investor.
Sklep: Albertus.pl 19,21 zł
Książki & Multimedia > Książki
Opis - Zeszyt ćwiczeń do wiedzy o społeczeństwie dla uczniów szkół ponadgimnazjalnych do serii Ciekawi świata i do serii Odkrywamy na nowo. Nazwa - Wiedza o społeczeństwie Ciekawi świata / Odkrywamy na nowo LO kl.1-3 ćwiczenia / zakres podstawowy Autor - Telicka-Bonecka Antonina, Bonecki Jarosław Oprawa - Miękka Wydawca - Operon Kod ISBN - 9788376807140 Kod EAN - 9788376807140 Rok wydania - 2012 Język - polski Seria wydawnicza - Ciekawi świata Format - 16.5x23.5cm Ilość stron - 96 Szkoła - Szkoła średnia Typ podręcznika - Podręcznik Przedmiot - Wiedza o społeczeństwie Podatek VAT - 5% Premiera - 2012-10-30
Sklep: InBook.pl 173,65 zł
Książki / Literatura obcojęzyczna
With PowerPivot, Microsoft brings the power of Microsoft's business intelligence tools to Excel and SharePoint users. Self-service business intelligence today augments traditional BI methods, allowing faster response time and greater flexibility. If you're a business decision-maker who uses Microsoft Office or an IT professional responsible for deploying and managing your organization's business intelligence systems, this guide will help you make the most of PowerPivot. Professional Microsoft PowerPivot for Excel and SharePoint describes all aspects of PowerPivot and shows you how to use each of its major features. By the time you are finished with this book, you will be well on your way to becoming a PowerPivot expert. This book is for people who want to learn about PowerPivot from end to end. You should have some rudimentary knowledge of databases and data analysis. Familiarity with Microsoft Excel and Microsoft SharePoint is helpful, since PowerPivot builds on those two products. This book covers the first version of PowerPivot, which ships with SQL Server 2008 R2 and enhances Microsoft Office 2010. It provides an overview of PowerPivot and a detailed look its two components: PowerPivot for Excel and PowerPivot for SharePoint. It explains the technologies that make up these two components, and gives some insight into why these components were implemented the way they were. Through an extended example, it shows how to build a PowerPivot application from end to end. The companion Web site includes all the sample applications and reports discussed. What This Book Covers After discussing self-service BI and the motivation for creating PowerPivot, the book presents a quick, end-to-end tutorial showing how to create and publish a simple PowerPivot application. It then drilsl into the features of PowerPivot for Excel in detail and, in the process, builds a more complex PowerPivot application based on a real-world case study. Finally, it discusses the server side of PowerPivot (PowerPivot for SharePoint) and provides detailed information about its installation and maintenance. Chapter 1, "Self-Service Business Intelligence and Microsoft PowerPivot," begins Part I of the book. This chapter describes self-service BI and introduces PowerPivot, Microsoft's first self-service BI tool. It provides a high-level look at the two components that make up PowerPivot - PowerPivot for Excel and PowerPivot for SharePoint. Chapter 2, "A First Look at PowerPivot," walks you through a simple example of creating a PowerPivot application from end to end. In the process, it shows how to set up the two components of PowerPivot, and describes the normal workflow of creating a simple PowerPivot application. Chapter 3, "Assembling Data," starts off Part II of the book, and explains how to bring data into PowerPivot from various external data sources. It also introduces the extended example that you will build in this and subsequent chapters. Chapter 4, "Enriching Data," shows how to enhance the data you brought into your application by creating relationships and using PowerPivot's expression language, Data Analysis Expressions (DAX). Chapter 5, "Self-Service Analysis," describes how to use your PowerPivot data with various Excel features, such as PivotTables, PivotCharts, and slicers to do analysis. Chapter 5 also delves further into DAX, showing how to create and use DAX measures. Chapter 6, "Self-Service Reporting," shows how to publish your PowerPivot workbook to the server side of PowerPivot (PowerPivot for SharePoint), and make use of its features to view and update PowerPivot reports. It also shows how to use the data in a PowerPivot workbook as a data source for reports created in other tools such as Report Builder 3.0 and Excel. Chapter 7, "Preparing for SharePoint 2010," is the first chapter in Part III of the book. It describes the components of SharePoint 2010 that are relevant for PowerPivot, and looks at how PowerPivot for SharePoint interacts with those components. Chapter 8, "PowerPivot for SharePoint Setup and Configuration," provides instructions on how to set up and configure a multi-machine SharePoint farm that contains PowerPivot for SharePoint. Chapter 9, "Troubleshooting, Monitoring, and Securing PowerPivot Services," gives tips on how to troubleshoot PowerPivot for SharePoint issues. It also shows how to monitor the health of your PowerPivot for SharePoint environment, and discusses relevant security issues. Chapter 10, "Diving into the PowerPivot Architecture," describes at a deeper level the architecture of PowerPivot, both client and server. It also explains the Windows Identity Foundation and discusses the use of Kerberos in the context of PowerPivot for SharePoint. Chapter 11, "Enterprise Considerations," talks about common PowerPivot for SharePoint enterprise considerations: capacity planning, optimizing the environment, upgrade considerations, and uploading performance. Appendix A provides instructions for setting up the data sources that are used to build the SDR Healthcare extended example in Chapters 3 through 6. Additionally, two "bonus" elements are available online at this book's companion Web site: Appendix B is a comprehensive DAX reference that describes all the DAX functions and provides code snippets that show how to use them. A special chapter describes real-world scenarios in which PowerPivot is used to solve common problems.
Sklep: Libristo.pl 246,32 zł
Książki / Literatura obcojęzyczna
"Companies have been implementing large agile projects for a number of years, but the 'stigma' of 'agile only works for small projects' continues to be a frequent barrier for newcomers and a rallying cry for agile critics. What has been missing from the agile literature is a solid, practical book on the specifics of developing large projects in an agile way. Dean Leffingwell's book Scaling Software Agility fills this gap admirably. It offers a practical guide to large project issues such as architecture, requirements development, multi-level release planning, and team organization. Leffingwell's book is a necessary guide for large projects and large organizations making the transition to agile development." -Jim Highsmith, director, Agile Practice, Cutter Consortium, author of Agile Project Management"There's tension between building software fast and delivering software that lasts, between being ultra-responsive to changes in the market and maintaining a degree of stability. In his latest work, Scaling Software Agility, Dean Leffingwell shows how to achieve a pragmatic balance among these forces. Leffingwell's observations of the problem, his advice on the solution, and his description of the resulting best practices come from experience: he's been there, done that, and has seen what's worked." -Grady Booch, IBM Fellow Agile development practices, while still controversial in some circles, offer undeniable benefits: faster time to market, better responsiveness to changing customer requirements, and higher quality. However, agile practices have been defined and recommended primarily to small teams. In Scaling Software Agility, Dean Leffingwell describes how agile methods can be applied to enterprise-class development. * Part I provides an overview of the most common and effective agile methods. * Part II describes seven best practices of agility that natively scale to the enterprise level. * Part III describes an additional set of seven organizational capabilities that companies can master to achieve the full benefits of software agility on an enterprise scale. This book is invaluable to software developers, testers and QA personnel, managers and team leads, as well as to executives of software organizations whose objective is to increase the quality and productivity of the software development process but who are faced with all the challenges of developing software on an enterprise scale. Foreword Preface Acknowledgments About the Author Part I: Overview of Software Agility Chapter 1: Introduction to Agile Methods Chapter 2: Why the Waterfall Model Doesn't Work Chapter 3: The Essence of XP Chapter 4: The Essence of Scrum Chapter 5: The Essence of RUP Chapter 6: Lean Software, DSDM, and FDD Chapter 7: The Essence of Agile Chapter 8: The Challenge of Scaling Agile Part II: Seven Agile Team Practices That Scale Chapter 9: The Define/Build/Test Component Team Chapter 10: Two Levels of Planning and Tracking Chapter 11: Mastering the Iteration Chapter 12: Smaller, More Frequent Releases Chapter 13: Concurrent Testing Chapter 14: Continuous Integration Chapter 15: Regular Reflection and Adaptation Part III: Creating the Agile Enterprise Chapter 16: Intentional Architecture Chapter 17: Lean Requirements at Scale: Vision, Roadmap, and Just-in-Time Elaboration Chapter 18: Systems of Systems and the Agile Release Train Chapter 19: Managing Highly Distributed Development Chapter 20: Impact on Customers and Operations Chapter 21: Changing the Organization Chapter 22: Measuring Business Performance Conclusion: Agility Works at Scale Bibliography Index
Sklep: Libristo.pl
Sklepy zlokalizowane w miastach: Warszawa, Kraków, Łódź, Wrocław, Poznań, Gdańsk, Szczecin, Bydgoszcz, Lublin, Katowice
Szukaj w sklepach lub całym serwisie
2. Szukaj na wszystkich stronach serwisu
t1=0.038, t2=0, t3=0, t4=0, t=0.038