krainaksiazek a collage of poetry 20169720
- znaleziono 14 produktów w 3 sklepach 82,65 zł
Książki / Literatura obcojęzyczna
Sklep: Libristo.pl 58,49 zł
Książki / Literatura obcojęzyczna
This rich compendium of translations is the first to look at Chinese poetry through its enormous influence on American poetry. Starting with Ezra Pound's "Cathay" (1915), it includes translations by three other American poets (William Carlos Williams, Kenneth Rexroth, Gary Snyder) and a translator-scholar-poet (David Hinton), all long associated with "New Directions", the great New York literary publishing house founded just over 70 years ago.The collection gathers some 200 poems by nearly 40 poets, from the anonymous early poetry to the great masters of the T'ang and Sung dynasties. Also included are previously uncollected translations by Pound, a selection of essays (some also not previously collected) by all five translators and biographical notes that are a collage of poems and comments by both the American translators and the Chinese poets themselves. "New Directions" was founded by James Laughlin, then a Harvard undergraduate, in 1936 after Ezra Pound told him to do something more "useful" than write poetry. Ever since "New Directions" has been dedicated to publishing (and keeping in print) the writers who are experimental, challenging, offbeat, and curiously classic both in English and in translation. Every day ND tries to keep language "new".
Sklep: Libristo.pl 47,07 zł
Książki & Multimedia > Książki
Opis - Przewodniki po filozofii to pierwsza w Polsce seria książkowa, której celem jest zdanie sprawy z aktualnego stanu badań naukowych w zakresie wszystkich dyscyplin filozoficznych. Każda pozycja w serii jest zbiorem esejów autorstwa czołowych polskich znawców przedmiotu reprezentujących różne ośrodki akademickie. Adresatami serii są zarówno wykładowcy i studenci filozofii, jak i szersze grono miłośników filozofii, stąd obok dbałości o merytoryczną jakość tekstów, redaktorom serii przyświeca troska o ich jasność i przystępność. Oprócz uporządkowanej prezentacji najważniejszych wątków toczonych dziś filozoficznych debat Czytelnik otrzymuje obszerne wskazówki bibliograficzne, z uwzględnieniem najnowszych publikacji na dany temat.Redaktorzy serii: Sebastian Tomasz Kołodziejczyk & Janusz SalamonPrzewodnik po metafizyce to zbiór artykułów prezentujących najnowsze stany badań nad bogatą problematyką metafizyczną we współczesnej filozofii. Niewątpliwą zaletą Przewodnika jest to, że jego Autorzy przekonująco pokazują, iż wiele problemów tradycyjnej filozofii zostało w wieku XX i XXI podjętych i opracowanych na nowo, głównie dzięki temu, że filozofia analityczna potrafiła przezwyciężyć swoje antymetafizyczne nastawienie. Dodatkowo Autorzy umiejętnie łączą tradycję kontynentalną z analityczną, by w ten sposób zaznaczyć unikalną wartość metafizyki jako dyscypliny uniwersalnej.Redaktor tomu: Sebastian Tomasz KołodziejczykKsiążka, którą łaskawy Czytelnik obecnie otrzymuje, jest świadectwem zainteresowań metafizycznych młodszego pokolenia filozofów polskich. Ich inspiracje są różne, łączy ich jednak fascynacja problematyką metafizyczną i rzetelność w jej podejmowaniu. Dzięki różnorodności propozycji książka stanowi dobry przegląd tego, co dziś w filozofii, także polskiej, się dzieje. Przewodniczący Rady Naukowej Serii: Władysław Stróżewski Nazwa - Przewodnik po metafizyce Autor - Sebastian Tomasz Kołodziejczyk (red.) Oprawa - Miękka Wydawca - WAM Kod ISBN - 9788375057485 Kod EAN - 9788375057485 Rok wydania - 2011 Język - polski Seria wydawnicza - Przewodniki po filozofii Format - 15.5x23.0cm Ilość stron - 636 Podatek VAT - 5%
Sklep: InBook.pl 237,45 zł
Książki / Literatura obcojęzyczna
Barry McGee's art buzzes with an infectious street vitality that celebrates the rich pageant of city living, while lambasting its ills, overstimulations, frustrations, addictions. His early years as a graffiti artist, tagging on the streets of San Francisco under such monikers as Ray Fong, Twist and Twisto, still nourish his drive to inscribe the blank face of modern life with the personal and the handmade. A part of the early 1990s art and graffiti boom associated with San Francisco's Mission School (others include Clare Rojas, Chris Johanson and Aaron Noble) and with the "Beautiful Loser" generation, McGee synthesizes a wide range of resources, including the Mexican muralists, anonymous street art and San Francisco Beat poetry, all of which are notably characterized by a sense of public address that McGee never neglects to convey in his own work. His paintings, drawings and installations spill over with graphic energy and political anger, and direct exhortations to his audience to respond to the life around them. This hardcover artist's book takes the form of a visual collage, incorporating photographs, drawings, paintings and documentation of past and present installations. It is the definitive volume on a much-loved artist.Barry McGee was born in San Francisco in 1968 and studied at the San Francisco Art Institute. He continues to live and work in that city. He has had solo exhibitions at Brandeis University's Rose Art Museum in Waltham, Massachusetts, Deitch Projects in New York and the Watari Museum of Contemporary Art in Tokyo.
Sklep: Libristo.pl 96,21 zł
Książki / Literatura obcojęzyczna
Before and since his enforced exile, Yang Lian has been one of the most innovative and influential poets in China. Widely hailed in America and Europe as a highly individual voice in world literature, he has been translated into many languages. Yang Lian has written that Concentric Circles is 'the most important piece since I came out from China', and that it is emphatically not a political work, but instead a work focused on 'deep reality' and the nature of how humans understand that reality through the medium of language. The book, like the sections of which it is comprised, uses a kind of collage, where many small fragments, each complete in itself, are aligned together in a series of patterns to form a grander mosaic: from line to line, poem to poem, cycle to cycle, in ever-widening concentric structures. Yang Lian regards this English version as an integral part of the work as a whole - indeed, it could be said that the work is incomplete without its English parallel, and that as he reads it he is 'struggling free from time and incorporated into the beautiful "concentric circles" of ancient and modern poetry, in China or elsewhere'. 'Yang Lian is one of the most astonishing poets I've read for years. He has a westernist, modernist sensibility allied with an ancient Chinese, almost shamanistic one. He can both excite and frighten you - like MacDiarmid meets Rilke with Samurai sword drawn!' - w.n. herbert, Scotsman 'He continues his work bridging Chinese tradition to western modernism. The scope of his creative imagination is astounding ...Yang Lian is one of the great world poets of our era' - klaus rifberg, Edinburgh Review 'It wouldn't surprise me if he became a future Nobel Laureate. His style is one of extraordinary grandeur and ambition...Without question, the sequence Where the Sea Stands Still has a monumental drive, a sensuous strength and intellectual clarity; it could prove as enduring an achievement as Montale's Xenia or Elytis's The Axion Esti' - david morley, Stand
Sklep: Libristo.pl 247,92 zł
Książki / Literatura obcojęzyczna
During the 1920s and 1930s, American minority artists and writers collaborated extensively with the Soviet avant-garde, seeking to build a revolutionary society that would end racial discrimination and advance progressive art. Making what Claude McKay called "the magic pilgrimage" to the Soviet Union, these intellectuals placed themselves at the forefront of modernism, using radical cultural and political experiments to reimagine identity and decenter the West. Shining rare light on these efforts, The Ethnic Avant-Garde makes a unique contribution to interwar literary, political, and art history, drawing extensively on Russian archives, travel narratives, and artistic exchanges to establish the parameters of an undervalued "ethnic avant-garde." These writers and artists cohered around a distinct form that mirrored Soviet techniques of montage, fragment, and interruption. They orbited interwar Moscow, where an international avant-garde converged with the Communist International. Chapters explore Vladimir Mayakovsky's 1925 visit to New York City via Cuba and Mexico, during which he wrote Russian-language poetry in an "Afro-Cuban" voice; Langston Hughes's translations of these poems while in Moscow, which he visisted to assist on a Soviet film on African American life; a futurist play condemning Western imperialism in China, which became Broadway's first major production to feature a predominantly Asian American cast; and efforts to imagine a Bolshevik Revolution as Jewish messianic arrest, followed by the slow political disenchantment of the New York Intellectuals. Through an absorbing collage of cross-ethnic encounters that also include Herbert Biberman, Sergei Eisenstein, Paul Robeson, and Vladimir Tatlin, this book remaps global modernism along minority and Soviet-centered lines, further advancing the avant-garde project of seeing the world anew.
Sklep: Libristo.pl 85,00 zł
Poezja i dramat
After his spectacular early career, in which he became one of the best-loved and most controversial poets of his time, and his radical and productive middle years, John Ashbery continued effortlessly finding new directions in the 1990s and into the twenty-first century, writing playfully, inventively. His language is exquisitely attuned to mundane reality, transforming it. Here in a single, substantial, authoritative, and helpfully annotated volume are seven complete books from this crucial period, starting with Flow Chart (1991), a tour de force that shows Ashbery
Sklep: NaszaSzkolna.pl 52,84 zł
Książki / Literatura obcojęzyczna
Conceived in several volumes, each book is independent but contributes to an evolving whole, an epic in cento form. The Invasion Handbook opens with the Versailles Peace Treaty of 1919, which excluded Germany from the community of nations, and with the answering but ill-fated attempt of the Locarno Treaties of 1925 to restore the torn fabric of Europe. It evokes Weimar culture, Hitler's rise to power, the beginnings of the persecution of the Jews, moving backwards and forwards in response to the vast shuttle of events. The poem is a triumph of technique, a simultaneous vision which proceeds by quotation and collage, catalogue and caption, prose as well as verse - a myriad staging of historical realities through the poet's intense and bitter scrutiny of the particulars of time and place. Tom Paulin's poem of war affirms the struggle and the memory of a generation upon whom the doors of living memory are now closing - the generation of the poet's parents - and it extends concerns which have haunted Tom Paulin's poetry: the relation of art to war and to questions of national identity, the search for peace and for a shared civic culture.
Sklep: Libristo.pl 324,86 zł
Feminine Singular Peter Lang AG, Internationaler Verlag der...
Książki / Literatura obcojęzyczna
Women have often chosen to tell their secrets, confide their dreams and express their deepest and most intimate thoughts in diaries, letters and other forms of life-writing. Although it is well established as a genre in the Anglophone and Francophone traditions, there has been very little publication of life-writing in the Hispanic and Lusophone worlds and even less scholarly criticism has appeared. This collection of essays is the first volume to focus on the variety of women's life-writing in the Luso-Hispanic world. The authors analyse women who have written or expressed their sense of identity through diaries, autobiographies, biographies, memoirs, travel writing and poetry, as well as forms of visual art, examining how they represent themselves and others. The volume brings together critics and academics working in Europe and the Americas who are engaging with the work of women from different countries, produced in locations ranging from a sixteenth-century convent to a twenty-first-century kitchen. The book responds to a range of different literary genres as well as reaching beyond literature to analyse women's self-representation through painting, drawing and collage.
Sklep: Libristo.pl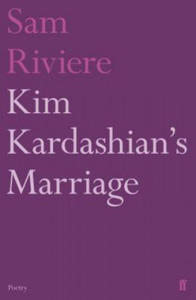 73,61 zł
Książki / Literatura obcojęzyczna
Sam Riviere's debut, 81 Austerities, began as blog responding to the spending cuts, and went on to win the Forward Prize for Best First Collection. A sequel of sorts, the 72 poems in Kim Kardashian's Marriage mark out equally sharpened lines of public and private engagement. Kim Kardashian's 2011 marriage lasted for 72 days, and was seen by some as illustrative of celebrity life as spectacle. Riviere has used it as a point of ignition, deploying terms from Kardashian's make-up regime to explore surfaces and self-consciousness, presentation and obfuscation. As with 81 Austerities, the process of enquiry involves the composition method itself, this time in poems that have been produced by harvesting and manipulating the results of search engines to create a poetry of part-collage, part-improvisation. The effect is as refractive as it is reflective, and disturbs the slant on biography until we are left with a pixellation of the first person.
Sklep: Libristo.pl 597,71 zł
Książki / Literatura obcojęzyczna
This book communicates new voices, insights, and possibilities for working with the arts and memory in researching teacher professional learning. The book reveals how, through the arts, teacher-researchers can reimagine and reinvigorate moments of the past as embodied and empowering scholarly experiences. The peer-reviewed chapters were composed from juxtaposing unique "mosaic" pieces written by 21 new and emerging scholars in South Africa and Canada. Their research explores diverse arts-based practices and resources including collage, film, drawing, narrative, poetry, photography, storytelling and television alongside related ethical issues. Critically, Memory Mosaics also demonstrates how artful memory-work can engender agency in professional learning with teacher-researchers taking up pressing issues of social justice such as inclusion and decolonisation. Overall, the book offers a multidimensional, polyvocal exploration of how artful memory-work can bring about future-oriented professional learning enacted as pedagogies of reinvention and productive remembering.
Sklep: Libristo.pl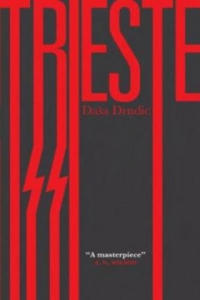 45,53 zł
Trieste Quercus Publishing
Książki / Literatura obcojęzyczna
An old woman sits alone in Gorizia, north-eastern Italy. She is waiting to be reunited with her son. He was fathered by an S.S. officer and stolen from her sixty-two years before by the Nazi authorities during the German occupation. By focusing on the experiences of one individual, Drndic engages head-on with the traumatic history of WWII and the Holocaust and deals unsparingly with the massacre of Jews in Trieste's concentration camp. A literary collage comprising photographs, scraps of poetry, interviews and testimonies from the Nuremburg Trials, it is a formally daring work of immense power and scope.
Sklep: Libristo.pl 194,58 zł
Książki / Literatura obcojęzyczna
This is a collection of books which reveal the creative process of leading international figures in fashion design. Fashion Unfolds gives an intimate look into the secret, multifaceted and fascinating world of past and contemporary fashion designers, like precious objects that reflect each designer philosophy. As well as hundreds of images each book includes unpublished interviews and essays by the industry's leading journalists. These books reveal the poetry of processes and precision that have led to the most unexpected creativity. They are materials for study, providing inspiration and awe. Born in Alghero (Italy) in 1961, growing up among the prints and embroideries of his fathers boutique, Antonio Marras quickly established himself in the fashion world, bringing onto the catwalk creations heavily influenced by Sardinian traditions and his strong passion for art. Starting from iconic pieces personally chosen by Marras as the most representative of the entire body of his work, the book is a collage of words and images that travels backwards focusing on significant moments in Marras design process. Inspirations from poems, landscapes, exhibitions or faces take shape through fine watercolours and pencil sketches.
Sklep: Libristo.pl 56,16 zł
Książki / Literatura obcojęzyczna
Tells the story of the life and death of Maggie Nelson's aunt Jane, who was murdered in 1969, via a collage of poetry and prose.
Sklep: Libristo.pl
Sklepy zlokalizowane w miastach: Warszawa, Kraków, Łódź, Wrocław, Poznań, Gdańsk, Szczecin, Bydgoszcz, Lublin, Katowice
Szukaj w sklepach lub całym serwisie
2. Szukaj na wszystkich stronach serwisu
t1=0.583, t2=0, t3=0, t4=0.046, t=0.583