krainaksiazek a cruising guide to the windward islands 20126326
- znaleziono 9 produktów w 2 sklepach 154,61 zł
Książki / Literatura obcojęzyczna
This lively cruising guide to the Canary Islands, compiled by Oliver Solanas Heinrichs and Mike Westin, offers a useful combination of cruising information, sightseeing recommendations and tips from local sailors about the beautiful islands of this Spanish archipelago.
Sklep: Libristo.pl 248,30 zł
Książki / Literatura obcojęzyczna
Street's Guide to the Cape Verde Islands is the first and only cruising guide for the Cape Verde Islands. Printed in 2011 it is a completely up-to-date, full-color guide that includes charts and sketches not available through any other source, as well as GPS waypoints, harbor and marina information, local knowledge and much more. Don Street has a message for all sailors planning to cross the Atlantic via the trade-wind route: "Forget about spending Christmas in the Caribbean, which forces you to cross the Atlantic in late November and early December when the trades are erratic and sometimes light to nonexistent. Instead, spend Christmas cruising and exploring the Cape Verde Islands and set off in late December or early January, after the trades have settled in, and be almost guaranteed a fast passage. They're not called the Christmas Winds for nothing! " To back up this advice, Don has written Street's Guide to the Cape Verde Islands. In it, he provides a historical and cultural commentary to add color to his down-to-earth descriptions of more than 50 potential anchorages (potential, because while a few are well known, a great many of them are rarely visited by any other than local boats). Any sailor with a sense of adventure who reads this guide will find plenty of reasons to go exploring in the Cape Verdes - enough, perhaps, to occupy the entire month of December. Coverage Area: Santo Antăo Săo Vicente Sal Santa Luzia Boavista Săo Nicolau Brava Fogo Santiago Maio
Sklep: Libristo.pl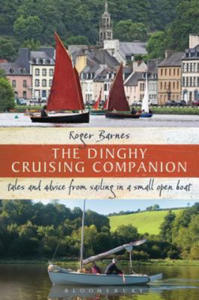 89,06 zł
Książki / Literatura obcojęzyczna
'You will venture into the fringes of the wilderness with the minimum of simple gear, to live with it on its own terms. You will know that one of the sure ways to contentment in this life is a small boat, a fair wind, and a new coast to explore.' Dinghy cruising is a wonderful way to experience nature and new coastlines at close quarters and low cost. Sailing where larger boats cannot reach, and sleeping under canvas onboard or ashore, this is boating taken right back to the basics, and all the better for that. This guide, for all aspiring or already-enthusiastic dinghy cruisers, shows how to get started and how to expand your horizons. The information and advice is interwoven with wonderfully evocative stories of the author's adventures afloat, from idyllic weeks pottering around secluded rivers and coastlines to hair-raising voyages to remote islands. The text covers: Finding a good boat Fitting out for daysailing Boatcraft under engine and oar Mooring and anchoring Preparing for open water Out at sea Coastal navigation Dinghy homemaking Keeping comfortable and safe Illustrated throughout with inspirational colour photos and helpful illustrations, this book shows just why small boats are the perfect passport to remote and beautiful places.
Sklep: Libristo.pl 83,76 zł
Książki / Literatura obcojęzyczna
Lonely Planet: The world's leading travel guide publisher Lonely Planet Discover Caribbean Islands is your passport to the most relevant, up-to-date advice on what to see and skip, and what hidden discoveries await you. Swim below the waters with darting fish, wander along the sand and stop at a lazy beach bar, or hike into emerald wilderness; all with your trusted travel companion. Get to the heart of the Caribbean Islands and begin your journey now! Inside Lonely Planet's Discover Caribbean Islands: *Full-colour maps and images throughout *Highlights and itineraries help you tailor your trip to your personal needs and interests *Insider tips to save time and money and get around like a local, avoiding crowds and trouble spots *Essential info at your fingertips - hours of operation, phone numbers, websites, transit tips, prices *Honest reviews for all budgets - eating, sleeping, sight-seeing, going out, shopping, hidden gems that most guidebooks miss *Cultural insights give you a richer, more rewarding travel experience - background on slavery and piracy, wildlife, cuisine. *Over 30 colour maps *Covers Jamaica, Dominican Republic, Puerto Rico, US & British Virgin Islands, Leeward Islands, French Antilles, Windward Islands and more The Perfect Choice: Lonely Planet's Discover Caribbean Islands, our easy-to-use guide, filled with inspiring and colorful photos, focuses on the Caribbean Islands' most popular attractions for those looking for the best of the best. * Looking for a guide focused on only one or a few islands in this destination? Check out Lonely Planet's Jamaica, Puerto Rico & Haiti and Dominican Republic guides for a comprehensive look at all these islands have to offer. Authors: Written and researched by Lonely Planet, Jean-Bernard Carrillet, Paul Clammer, Michael Grosberg, Andrea Schulte-Peevers, Polly Thomas, Ryan Ver Berkmoes, Karla Zimmerman. About Lonely Planet: Since 1973, Lonely Planet has become the world's leading travel media company with guidebooks to every destination, an award-winning website, mobile and digital travel products, and a dedicated traveller community. Lonely Planet covers must-see spots but also enables curious travellers to get off beaten paths to understand more of the culture of the places in which they find themselves.
Sklep: Libristo.pl 248,30 zł
Książki / Literatura obcojęzyczna
A Cruising Guide to The Virgin Islands, 2 ed., is the most comprehensive guide ever written for the Virgin Islands. Its 75 sketch charts contain extremely accurate hydrographic data based on personally conducted independent surveys by the author. It also contains detailed piloting instructions, GPS waypoints, aerial photos, approaches and routes,anchorages, services, dive sites, history, index, bibliography and more. It will greatly enhance your Virgin Island cruising experiences by offering you valuable information based on local knowledge. Stephen J. Pavlidis began his cruising guide writing career over 20 years ago in the Bahamas. All of his charts were created using data personally collected while visiting each area and the resulting charts are so accurate that they have been utilized by electronic navigational data providers to provide additional detail to supplement government-produced charts. Many of his books are considered the quintessential guides to their area.
Sklep: Libristo.pl 34,76 zł
Książki / Literatura obcojęzyczna
Marco Polo Finland: the Travel Guide with Insider Tips Experience all of Finland's attractions with this up-to-date, authoritative guide, complete with 'Best Of' recommendations. You'll discover excellent hotels, restaurants, trendy places to go, plus shopping tips, suggestions for those on a tight budget, details of all the sports and activities on offer and ideas for Travel with Kids. Also contains: the Perfect Route, Festival & Events, Travel Tips, Links, Blogs, Apps & more, Finnish phrasebook and a comprehensive index. Beware - it could easily happen that you travel to Finland and end up not wanting to leave this stunning place. Suomi (that's what Finns call Finland) has an extraordinary coastline with lots of rocky islands, a never ending blue-green patchwork of forest and water, vast expanses of moorland and tundra, silver midsummer nights and northern lights in winter. But a visit to the land of tango dancers, owners of summer cottages and the inventor of the mobile phone is more than just a trip to the countryside. With MARCO POLO Finland you'll embark on a journey of discovery. Immerse yourself in a very special lifestyle and discover the out-of-the-ordinary among its cultural variety and lively art scene, at its colourful festivals and while tasting Finnish specialities. Where else in the world can you pick berries and mushrooms in dense forests and dance tango in the streets at night? Or sweat in the typical smoke sauna and meet up to drink vodka afterwards? You'll appreciate the tranquillity of the thousand lakes as much as the noisy evenings in karaoke bars. Celebrate the Finnish way - you'll love it.The Insider Tips reveal, amongst other things, where you can experience the variety of Finnish cuisine and how you can explore the fascinating world of Lapland. Panels in each chapter suggest things to do if you're on a tight budget and where to pick up some real bargains. Go cruising through the skerries, the most beautiful archipelago of the world, row around Lake Paijanne, and take a trip to the Arctic - Trips & Tours showcase the country's best destinations. Untouched, lonely and beautiful: Finland's forests and lakes offer everything your heart desires. Go fishing, swimming in icy water and even dog sledding: you'll find selected listings and tips in the Sports & Activities chapter. Finally, the Dos & Don'ts point out some of the things you need to be aware of and watch out for when visiting the country. MARCO POLO Finland provides comprehensive coverage of the country. To help you get around there's a detailed road atlas inside, a folding city map of Helsinki in the backcover, plus a handy pull-out map.
Sklep: Libristo.pl 76,90 zł
Ameryka Pn > Morze Karaibskie
Insight Guide Caribbean Cruises is your comprehensive guide book to cruising the Caribbean, with full-colour photos throughout combining with lively narrative text. Our 'Best of Caribbean Cruising' section outlines top attractions and activities not to be missed, while lively features cover not just the cruising angle but the cultural one too: from choosing the right cruise for you, and cruise ship cuisine and pampering, to the Caribbean people, the region's history, and photo features on Carnival, Architecture and mo...re. The Places chapters then visit Florida, Mexico and Central America before heading for the Caribbean; a guide to the cruise lines' private islands is also included. Finally, the Travel Tips cover all your practical needs, with a wealth of information and listings to take you from Planning the Trip to Life on Board - including on-shore transport and listings for where to eat, and even where to stay should you wish to extend your trip.
Sklep: ArtTravel.pl 89,06 zł
Książki / Literatura obcojęzyczna
Channel Havens is a cruising guide with a difference. Recognising that many of us would like to sail away from the crowd, Ken Endean introduces the reader to beautiful, unfrequented places within the Western English Channel, from the Solent to the West Country, Channel Islands and Northern France. Here are sandy bays, coves, reef anchorages and the upper reaches of river estuaries - places neglected by most pilot books - where one can experience the sense of discovery and adventure that is more usually associated with faraway cruising. Anyone who is attracted by the dramatic scenery of unspoilt coastal waters will treasure this guide from an experienced sailors who has gone before.
Sklep: Libristo.pl 99,49 zł
Książki / Literatura obcojęzyczna
Answering all of the important questions, this book shows not just how to sail an ocean for the first time, but also how to enjoy it. There are insights into the social as well as nautical reality of preparing the boat, the comfort of having highly detailed plans, the inside story of life with a crew, coping with unexpected gales and calms, the live-or-die decision to keep watches or not and the ports of call from Spain to Tobago via the Atlantic islands and West Africa. This fourth edition has been substantially expanded, with extra information on: - types of boat, anchoring, sleep and watch keeping - weather and climate, and the impact of Atlantic weather systems on timings and conditions of crossings - latest developments in technology (navigation, self steering, equipment) - alternatives to the standard routes across - sailing back from the US to the UK - this edition will get you home! 'I shall enjoy dipping into this dream maker, time and again...an excellent guide to the planning of your Atlantic crossing. Read all the other books but keep this one beside you' Cruising Association 'Offers down to earth advice based on hard-won experience' Yachting Monthly 'Covers everything the novice sailor needs to know for a voyage across the Atlantic' Practical Boat Owner
Sklep: Libristo.pl
Sklepy zlokalizowane w miastach: Warszawa, Kraków, Łódź, Wrocław, Poznań, Gdańsk, Szczecin, Bydgoszcz, Lublin, Katowice
Szukaj w sklepach lub całym serwisie
2. Szukaj na wszystkich stronach serwisu
t1=0.043, t2=0, t3=0, t4=0.026, t=0.043