krainaksiazek a dark assortment 20126502
- znaleziono 7 produktów w 4 sklepach 57,23 zł
Książki / Literatura obcojęzyczna
Reb Santee was his name. He appeared to be just a rough-and-tumble cowboy, with an unruly shock of flaxen hair, and a puckered frown in his laughing blue eyes. But when he first rode into Wind River Basin, the law already had a grudge against him-and the grudges multiplied in a hurry, all because he wanted to be honest. In self-defense, he made a chain store business of outlawry. Brown's Park, over the line in Colorado; the Robbers' Roost, down in the purple wastes of Utah; the Hole-in-the-Wall; the Lost Cabin wilderness-he made them way stations on the outlaw trail, where men on the dodge could get grub, fresh horses, and information. Rustling became organized; banks and railroads began to feel the sting of their activities. The notorious "Wild Bunch" was blazing a wide trail up and down Wyoming. Stockmen organized; posses scoured the range; guns roared in dark canyons. But no one suspected Reb Santee, everybody's friend and the best-liked man in the Basin, until one fateful day...Thrills, excitement, romance, and the best assortment of laughs you ever had in a Western story.
Sklep: Libristo.pl 82,41 zł
Książki / Literatura obcojęzyczna
Does life ever seem hollow? Discover vital facts that will engage your spirit. As an ordained minister with a lifelong passion for science, Kuntz delivers a lucid and compelling message of resident truth accessible within nature. In Misled Minds you will learn what is implied by the mass that surrounds us and about the genes that define us; You will understand the origin of a species and discover what faith is; you will appreciate the gift of life and identify the basis of societal disorders; you will learn, in short, of the surest foundation for life and how to avoid an assortment of spiritual pitfalls along the way. The predominant stealthy religion interpreting familiar natural and social sciences is both inadequate and venomously misleading. Evil does not announce itself as such, it is dark and will tend to impersonate a good cause such as neutrality. For us to be human is to be religious. The power of deception is in the subtlety of it, and thus, there is no substitute for clear facts. Highly trained professionals and students are often lost in the details of a given study and fail to see the larger context of nature. This compact study reveals some powerful key facts and concepts about several of the most influential contemporary sciences providing you with an extraordinary and compelling vantage point. It can be used as a fascinating medium, to reach the multitudes of scientifically misled people saturating many of the modern cultures. The book also serves as a study for educational classes-with companion booklets available for students and teachers. The tone of Misled Minds is penetrating and persuasive in order to reach out to a largely disengaged secular audience, and yet it is quite practical for use in Christian schools and study groups. In this way you can thoroughly digest the study and also circulate it to less-approachable readership with confidence. Within this resource a clear distinction is made between good scientific evolution and speculative Darwinism. Natural selection is scrutinized and defined with aggressive precision bringing it into agreement with known environments, mathematical probabilities, and established genetic principles-ultimately revealing its complete lack of utility as a means of phyletic evolution. You will understand the highly verified genetic basis for the origin of a species and why positive pressures have such a pronounced effect their evolution. Also within this book some major influential models of psychology are reexamined and given vital context. A definite relationship is described between the mental and the spiritual, leading the reader to appreciate the wisdom of purposefully designed human anatomy: that is, to facilitate your spirit to discover and appreciate the holy Nature of its Creator. Prevailing secular models of psychology that omit such purpose are shown to be critically and conclusively incomplete. The practical and universal necessity of faith is also shown from varied perspectives, dismantling the imagined dichotomy of logical bases between "believers" and the secular mainstream. As the topic develops a clear and potent description of faith emerges. You will be empowered with a cogent understanding of faith, so that you will be ready and eager to give an answer to even the most hardened of skeptics. In summary, the scope of this study is unusually diverse, but centers on the enduring relevance of the Bible and its irreproachable content. It leads from common well-known facts to valuable, uncommon implications and concepts. The goal of this book is to disarm an array of secular lies that are entrenched and pervasive in many modern cultures and ultimately to facilitate the dissemination of liberating
Sklep: Libristo.pl 135,62 zł
Książki / Literatura obcojęzyczna
An epic collection of fantasy tales in the grand tradition, including a never-before-published A Song of Ice and Fire story by George R.R. Martin and an introduction by Gardner Dozois. Fantasy fiction has produced some of the most unforgettable heroes ever conjured onto the page: Robert E. Howard
Sklep: Libristo.pl 53,95 zł
Gry LCG > Lord of the Rings LCG > Shadows of Mirkwood Cycle
The Lord of the Rings: The Hunt for Gollum Adventure Pack The elusive creature known as Gollum is hiding somewhere in the Anduin Valley. It is up to you to find him and discover what dark designs lay in wait for him... As the first Adventure Pack in the Shadows of Mirkwood cycle, The Hunt for Gollum sets the stage for the coming quests by putting players in search of the titular creature, whose capture is the overall goal in Shadows of Mirkwood . For this first quest, players are tasked with uncovering the clues in the form of the Signs of Gollum Objective cards, which are shuffled into the Encounter deck. Featuring a new hero, new player cards for all four spheres of influence, and an assortment of new Encounter cards, The Hunt for Gollum begins your dangerous trek through the Shadows of Mirkwood ! This is not a stand-alone deck. A copy of The Lord of the Rings: The Core Set is required to play.
Sklep: Morgad.pl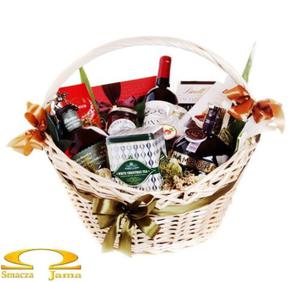 791,00 zł
Kosze delikatesowe > Boże Narodzenie
Trzy wyjątkowe alkohole uzupełnione najwyższej jakości słodyczami, przetworami oraz herbatą, w eleganckim, wytwornie przybranym koszu świątecznym, stanowią oryginalny i wysmakowany upominek.   Kosz zawiera: Likier Chambord 0,7l - Chambord to iście królewski w smaku i wyglądu likier produkowany w dolinie Loary we Francji. Jego powstanie datuje się na 1685 rok kiedy to król Ludwik XIV wizytował Château de Chambord. Likier ten powstaje na bazie koniaku (stąd także pochodzi jego cena), malin, jeżyn, miodu i wanilii. Wyczuć można połączone z miodem i koniakiem owoce leśne co daje niezwykły smak. Opakowany w piękną kulistą butelkę opasaną złotym pasem.  Wino Chateau Bonnet Rouge Reserve Merlot/Cabernet Sauvignon Francja 0,75l - dojrzewa przez 12 miesięcy w dębowej beczce, z czego 25% w nowej. Nos to bogactwo owoców z eleganckimi niuansami dębu dającymi nuty przypraw i dymu tytoniowego.W smaku szczególnie dojrzałe owoce, delikatne i obfite.Będzie dobrze dojrzewać w butelce, ale już teraz ujawnia sekret połączenia dzikich owoców, mokki, wanilii oraz lukrecji. Znakomite do sosów i ciężkich serów. Burbon Blanton`s Special Reserve 0,7l  - stworzony jako typowy bourbon prezentujący smak tej destylarni, Blanton
Sklep: SmaczaJama.pl 380,00 zł
RYSUNEK > Kredki > Zestawy kredek artystycznych
Wszystko czego artysta potrzebuje, spakowane do metalowej kasety. W zestawie znajduje się 76 elementów: Marino Watercolor pencils, Graphite Pencil, Monolith Graphite sticks, Aqua Monolith sticks, Artists
Sklep: TuLuz.pl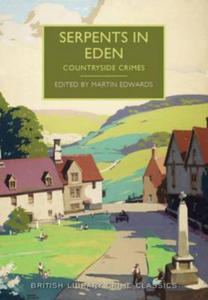 47,00 zł
Książki / Literatura obcojęzyczna
An eclectic mix of crime stories written over half a century. From a tale of poison-pen letters tearing apart a village community to a macabre mystery by Arthur Conan Doyle, the stories collected here reveal the dark truths hidden in an assortment of rural paradises.
Sklep: Libristo.pl
Sklepy zlokalizowane w miastach: Warszawa, Kraków, Łódź, Wrocław, Poznań, Gdańsk, Szczecin, Bydgoszcz, Lublin, Katowice
Szukaj w sklepach lub całym serwisie
2. Szukaj na wszystkich stronach serwisu
t1=0.318, t2=0, t3=0, t4=0.044, t=0.319