krainaksiazek a dream come true written by me illustrated by you 20169212
- znaleziono 7 produktów w 6 sklepach 108,09 zł
Książki / Literatura obcojęzyczna
This magnificent 6th edition coffee table collection is a Disney lover's dream come true! It is a guided tour through the many legendary years of Disney music, from "Minnie's Yoo Hoo" in 1930 up through "We're All in This Together" from High School Musical. The book begins with an extensive musical history of Disney, followed by beautiful piano/vocal arrangements of 68 Disney classics. Printed on deluxe stock with more than 100 stunning full-color illustrations accompanying the text and music, The Illustrated Treasury of Disney Songs is a keepsake to treasure for years to come! Songs include: The Bare Necessities * Beauty and the Beast * Breaking Free * Circle of Life * Go the Distance * It's a Small World * Look Through My Eyes * Mickey Mouse March * Reflection * Some Day My Prince Will Come * Under the Sea * When You Wish upon a Star * A Whole New World * Winnie the Pooh * You've Got a Friend in Me * You Are the Music in Me * Zip-A-Dee-Doo-Dah * and more.
Sklep: Libristo.pl 36,60 zł
Powieści i opowiadania
'When people ask me what I do for a crust and I tell them that I'm a novelist, they immediately assume that my life is a non-stop carousel of limos, television appearances, hair-dos, devoted fans, stalkers and all the glitzy paraphernalia of being a public figure. It's time to set the record straight. I write alone, in a darkened bedroom, wearing my PJs, eating bananas, my laptop on a pillow in front of me ...' Her novels are adored by millions around the world
Sklep: Albertus.pl 50,34 zł
Książki & Multimedia > Książki
Opis - Welcome to Caraval, where nothing is quite what it seems. Scarlett has never left the tiny isle of Trisda, pining from afar for the wonder of Caraval, a once-a-year week-long performance where the audience participates in the show. Caraval is Magic. Mystery. Adventure. And for Scarlett and her beloved sister Tella it represents freedom and an escape from their ruthless, abusive father. When the sisters" long-awaited invitations to Caraval finally arrive, it seems their dreams have come true. But no sooner have they arrived than Tella vanishes, kidnapped by the show"s mastermind organiser, Legend. Scarlett has been told that everything that happens during Caraval is only an elaborate performance. But nonetheless she quickly becomes enmeshed in a dangerous game of love, magic and heartbreak. And real or not, she must find Tella before the game is over, and her sister disappears forever. With CARAVAL, Stephanie Garber spins a spellbinding tale of sisterhood, love and betrayal. Like her characters, I lost myself in the dangerous, enchanting world she created-and never wanted to come out. -- Sabaa Tahir, author of New York Times bestseller Ember In the Ashes Enchanting and mysterious, Stephanie Garber"s CARAVAL is a story rich with sumptuous detail, beautifully written. -- Renee Ahdieh, New York Times No.1 bestselling author of The Wrath and the Dawn In a book where nothing is at it appears, one thing is certain: CARAVAL is the darkly enchanting adventure you"ve been looking for! -- Kiersten White, New York Times bestselling author of Paranormalcy and And I Darken Intoxicating. Darkly magical. CARAVAL walks the knife-edge between fantasy and reality. Within mere pages, I gladly lost myself in this perfect labyrinth of a plot. Stephanie Garber doesn"t just dazzle-she makes me believe. -- Jodi Meadows, author of The Incarnate Trilogy and The Orphan Queen A tale of sisterly devotion painted in colors of cerise and shimmering gold. If you ever wondered how it would feel to step into a living dream, here"s your ticket. -- Stacey Lee, author of Under a Painted Sky and Outrun the Moon A decadent and enchanting tale. CARAVAL will sink its teeth into you, and you will not want to leave. -- Roshani Chokshi, New York Times bestselling author of The Star-Touched Queen CARAVAL shimmers with magic. This is an inventive, delightful tale with several aces up its sleeve. -- Marie Rutkoski, New York Times bestselling author of the Winner"s Trilogy [A] magnificent debut novel ... intriguing characters, an imaginative setting, and evocative writing combine to create a spellbinding tale of love, loss, sacrifice, and hope. Publishers Weekly I love this novel ... It"s a thing of beauty and the stuff of dreams. -- Cecelia Ahern Like the Carousel of Roses at the heart of the party, the language is colourful, giddy and with the occasional barb. And like a fairy story, CARAVAL reveals dark truths behind a playful, glittering surface. Daily Mail Nazwa - Caraval Autor - Stephanie Garber Oprawa - Miękka Wydawca - Hodder And Stoughton Kod ISBN - 9781473629158 Kod EAN - 9781473629158 Rok wydania - 2017 Język - angielski Format - 15.5x23.5cm Ilość stron - 416 Podatek VAT - 5% Premiera - 2017-03-05
Sklep: InBook.pl 45,90 zł
Caraval Hodder and Stoughton
Literatura
Welcome to Caraval, where nothing is quite what it seems. Scarlett has never left the tiny isle of Trisda, pining from afar for the wonder of Caraval, a once-a-year week-long performance where the audience participates in the show. Caraval is Magic. Mystery. Adventure. And for Scarlett and her beloved sister Tella it represents freedom and an escape from their ruthless, abusive father. When the sisters
Sklep: NaszaSzkolna.pl 29,80 zł
Książki / Literatura obcojęzyczna
Book 6 of the Kingdom of Silk series. The books explore important themes of love, loss, friendships, home and belonging, in ways that pull at the heartstrings but are never over-sentimental. Honey for the soul. Everyone knows that Saffron Silk has a talent for pretending to be someone else but when the firebirds rage inside her head, and it hurts even to breathe, Saffron barely has the energy to be herself.Saffron's family don't know about the firebirds that come to warn her of terrible headaches. And Saffron doesn't know how to tell them. But her brother Perry Angel has learnt to read hearts and recognise tender moments, and Perry knows that Saffron is frightened.Frightened of what might be wrong with her and afraid that she might have to leave the Kingdom of Silk forever...In Glenda Millard's beautifully written and multi-award-winning Kingdom of Silk series, we meet the uncommon Silk family. Parents Ben and Annie Silk have a brood of five daughters ('the Rainbow Girls'), a son named Griffin, Griffin's best friend Layla who 'might as well be a Silk', Nell - the 'tiny bit magic' fairy grandmother, and Perry Angel - an adopted son who joins the Silk family. REVIEWS: "Every action, every sentiment, every character amongst the pages of this book is a manifesto for family, for joy, for being kind, for never failing to show someone you love them, and for never ever failing to recognise the tiny tender moments that make one's life complete.Those tiny tender moments, they are those that "make the soul tipsy with ordinary happiness". This is why I love this series so much; it reminds us that true happiness is found in the simplest things." -- LIBRARY MICE. "Millard weaves difficult issues in a non-threatening way, but her language is so lyrical and poetic (but without lashings of sentimentality) you cannot helped but be moved." -- SHARON F JONES BLOG. "Like with many other books I review I ended up reading book first, then the previous 4/5 books, then I reread this one. I'm glad I was able to read the others (thanks to the lovely publicist), because my initial thoughts were that Saffron's father was a bit of a lunatic, her family was a bit too wacky, and I didn't entirely understand the various relationships. The first time round I fully related to Saffron's fear of what was wrong with her, just because it is so scary having your body do things which you've no control over & don't understand. The care and support of her friends and family made me cry (I cry when I'm happy, sad, & overwhelmed), especially that of Perry whose personal sacrifice I fully understood when I read the stories where he first appears. This entire series is such a sweet read, covering emotionally complex issues in a way that makes sense. I want a grandmother like Nell! She is heaps of fun, sees the positive in everything, and knows that not everyone can learn the same way, which is why Perry ends up being homeschooled 2 days a week and attending school for the rest. It is never openly said (as far as I can remember) but it's obvious that Perry has some form of Autism or Aspergers, and the way his adopted brother and sisters view him is touching. I loved how Layla brightens everyone's life after their dear sister Tishkin passes away. I admire Saffron's parents for sticking with their way of life and not minding what other people think, for picking meaningful names, for being able to follow their dreams. Liking handicrafts made me like Saffron's dad being a wood carver and a baker - the naming books sounds exquisite! This is a series I'll reread because they are touching, and the illustrations heighten the meaning behind the story. A family focused read with lots of grandmother magic!" -- NAYU'S READING CORNER. "Glenda Millard's Kingdom of Silk books have won many awards in her native Australia, and no wonder: there are very few books, for children or adults, which describe love so clearly or so lyrically. There are seven books in the series, The Tender Moments of Saffron Silk is number six, and it is definitely worth reading them all, and in order, to really get to know the Silks. They are an uncommon lot: the rest of the world might see them as eccentric, even weird, that doesn't bother them at all. Parents Ben and Annie have five daughters ('the Rainbow Girls'), a son named Griffin and an adopted son, Perry Angel, who joins the family midway through the series. Nell is 'the tiny bit magic' grandmother, and Layla, Griffin's best friend, understands them so well she 'might as well be a Silk'. They live on a beautiful plot of land in the Australian countryside, and Millard evokes the sense of place beautifully. Each book describes a different event in their lives, but the emphasis is always on themes of love, friendship and belonging. In The Tender Moments of Saffron Silk, Saffron, the youngest and most dreamy of the Rainbow Girls isn't well. She has terrible headaches, accompanied by blinding lights she thinks of as firebirds. The Silks have already lost one daughter, baby Tishkin, and everyone is scared for Saffron. Little Perry is the one to realise just how frightened Saffron herself is though, and to work out what special help she needs. Everything ends well, and a small Silk miracle takes place at the hospital. Millard has a light touch and avoids sentimentality, this is another beautiful and affecting read." -- LOVEREADING.
Sklep: Libristo.pl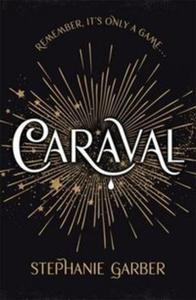 48,10 zł
Caraval Hodder And Stoughton
Powieść zagraniczna
Welcome to Caraval, where nothing is quite what it seems. Scarlett has never left the tiny isle of Trisda, pining from afar for the wonder of Caraval, a once-a-year week-long performance where the audience participates in the show. Caraval is Magic. Mystery. Adventure. And for Scarlett and her beloved sister Tella it represents freedom and an escape from their ruthless, abusive father. When the sisters? long-awaited invitations to Caraval finally arrive, it seems their dreams have come true. But no sooner have they arrived than Tella vanishes, kidnapped by the show?s mastermind organiser, Legend. Scarlett has been told that everything that happens during Caraval is only an elaborate performance. But nonetheless she quickly becomes enmeshed in a dangerous game of love, magic and heartbreak. And real or not, she must find Tella before the game is over, and her sister disappears forever. With CARAVAL, Stephanie Garber spins a spellbinding tale of sisterhood, love and betrayal. Like her characters, I lost myself in the dangerous, enchanting world she created-and never wanted to come out. -- Sabaa Tahir, author of New York Times bestseller Ember In the Ashes Enchanting and mysterious, Stephanie Garber?s CARAVAL is a story rich with sumptuous detail, beautifully written. -- Renee Ahdieh, New York Times No.1 bestselling author of The Wrath and the Dawn In a book where nothing is at it appears, one thing is certain: CARAVAL is the darkly enchanting adventure you?ve been looking for! -- Kiersten White, New York Times bestselling author of Paranormalcy and And I Darken Intoxicating. Darkly magical. CARAVAL walks the knife-edge between fantasy and reality. Within mere pages, I gladly lost myself in this perfect labyrinth of a plot. Stephanie Garber doesn?t just dazzle-she makes me believe. -- Jodi Meadows, author of The Incarnate Trilogy and The Orphan Queen A tale of sisterly devotion painted in colors of cerise and shimmering gold. If you ever wondered how it would feel to step into a living dream, here?s your ticket. -- Stacey Lee, author of Under a Painted Sky and Outrun the Moon A decadent and enchanting tale. CARAVAL will sink its teeth into you, and you will not want to leave. -- Roshani Chokshi, New York Times bestselling author of The Star-Touched Queen CARAVAL shimmers with magic. This is an inventive, delightful tale with several aces up its sleeve. -- Marie Rutkoski, New York Times bestselling author of the Winner?s Trilogy [A] magnificent debut novel ... intriguing characters, an imaginative setting, and evocative writing combine to create a spellbinding tale of love, loss, sacrifice, and hope. Publishers Weekly I love this novel ... It?s a thing of beauty and the stuff of dreams. -- Cecelia Ahern Like the Carousel of Roses at the heart of the party, the language is colourful, giddy and with the occasional barb. And like a fairy story, CARAVAL reveals dark truths behind a playful, glittering surface. Daily Mail
Sklep: Booknet.net.pl 44,95 zł
Caraval HODDER AND STOUGHTON
Literatura obcojęzyczna
Welcome to Caraval, where nothing is quite what it seems. Scarlett has never left the tiny isle of Trisda, pining from afar for the wonder of Caraval, a once-a-year week-long performance where the audience participates in the show. Caraval is Magic. Mystery. Adventure. And for Scarlett and her beloved sister Tella it represents freedom and an escape from their ruthless, abusive father. When the sisters' long-awaited invitations to Caraval finally arrive, it seems their dreams have come true. But no sooner have they arrived than Tella vanishes, kidnapped by the show's mastermind organiser, Legend. Scarlett has been told that everything that happens during Caraval is only an elaborate performance. But nonetheless she quickly becomes enmeshed in a dangerous game of love, magic and heartbreak. And real or not, she must find Tella before the game is over, and her sister disappears forever. With CARAVAL, Stephanie Garber spins a spellbinding tale of sisterhood, love and betrayal. Like her characters, I lost myself in the dangerous, enchanting world she created-and never wanted to come out. -- Sabaa Tahir, author of New York Times bestseller Ember In the Ashes Enchanting and mysterious, Stephanie Garber's CARAVAL is a story rich with sumptuous detail, beautifully written. -- Renee Ahdieh, New York Times No.1 bestselling author of The Wrath and the Dawn In a book where nothing is at it appears, one thing is certain: CARAVAL is the darkly enchanting adventure you've been looking for! -- Kiersten White, New York Times bestselling author of Paranormalcy and And I Darken Intoxicating. Darkly magical. CARAVAL walks the knife-edge between fantasy and reality. Within mere pages, I gladly lost myself in this perfect labyrinth of a plot. Stephanie Garber doesn't just dazzle-she makes me believe. -- Jodi Meadows, author of The Incarnate Trilogy and The Orphan Queen A tale of sisterly devotion painted in colors of cerise and shimmering gold. If you ever wondered how it would feel to step into a living dream, here's your ticket. -- Stacey Lee, author of Under a Painted Sky and Outrun the Moon A decadent and enchanting tale. CARAVAL will sink its teeth into you, and you will not want to leave. -- Roshani Chokshi, New York Times bestselling author of The Star-Touched Queen CARAVAL shimmers with magic. This is an inventive, delightful tale with several aces up its sleeve. -- Marie Rutkoski, New York Times bestselling author of the Winner's Trilogy [A] magnificent debut novel ... intriguing characters, an imaginative setting, and evocative writing combine to create a spellbinding tale of love, loss, sacrifice, and hope. Publishers Weekly I love this novel ... It's a thing of beauty and the stuff of dreams. -- Cecelia Ahern Like the Carousel of Roses at the heart of the party, the language is colourful, giddy and with the occasional barb. And like a fairy story, CARAVAL reveals dark truths behind a playful, glittering surface. Daily Mail
Sklep: Literacka.pl
Sklepy zlokalizowane w miastach: Warszawa, Kraków, Łódź, Wrocław, Poznań, Gdańsk, Szczecin, Bydgoszcz, Lublin, Katowice
Szukaj w sklepach lub całym serwisie
2. Szukaj na wszystkich stronach serwisu
t1=-0.959, t2=0, t3=0, t4=1.014, t=-0.959