krainaksiazek a judge and nothing but 20127929
- znaleziono 11 produktów w 3 sklepach 54,55 zł
Książki
Sklep: KrainaKsiazek.pl 37,82 zł
Whistler Hodder & Stoughton General Division
Książki / Literatura obcojęzyczna
The most corrupt judge in US history. A young investigator with a secret informant. The electrifying new thriller. Lacy Stoltz never expected to be in the firing line. Investigating judicial misconduct by Florida's one thousand judges, her cases so far have been relatively unexciting. That's until she meets Greg Myers, an indicted lawyer with an assumed name, who has an extraordinary tale to tell. Myers is representing a whistle blower who knows of a judge involved in organised crime. Along with her gangster associates this judge has facilitated the building of a casino on an Indian reservation. At least two people who opposed the scheme are dead. Since the casino was built, the judge has made several fortunes off undeclared winnings. She owns property around the world, hires private jets to take her where she wishes, and her secret vaults are overflowing with rare books, art and jewels. No one has a clue what she's been doing - until now. Under Florida law, those who help the state recover illegally acquired assets stand to gain a large percentage of them. Myers and his whistle blower friend could make millions. But first they need Lacy to start an investigation. Is she ready to pit herself against the most corrupt judge in American history, a judge whose associates think nothing of murder? 'The best thriller writer alive' Ken Follett
Sklep: Libristo.pl 84,95 zł
Książki / Literatura obcojęzyczna
As the judge starring on the hit nationally syndicated television show Divorce Court, Lynn Toler witnesses, en masse, the thematic mistakes made in American marriages. She herself has also been wed for 22 years and has seen both the highs and lows of matrimony in her own marriage as well as the marriages of those close to her. While the national divorce rate hovers around the 50% threshold, there is a lot of chatter that marriage as we know it is an outdated institution--that we are too selfish, too unwilling to make sacrifices, and too misguided by elevated expectations of happiness to make marriage work. While these points may hold some validity, a lot of this chatter is nothing new. So what's causing so many divorces and, perhaps even more importantly, what are we to do about it if we want marriage to survive? Drawing from both her professional career and personal life, Toler sees that the biggest impediment to marriage these days is that couples decide to take the plunge based almost entirely on the most irrational criteria: falling in love. Making Marriage Work doesn't suggest that love has nothing to do with marriage at all; rather, Toler says that love by itself is simply not enough to make marriages survive. This book is a logical and simple guide to reintroducing some of the practicality of marriage that has leaked out of it over the years. Marriage, Toler says, is a job, and it needs to be treated like one. However, the makeup and consistency of this job has changed so much over the past few decades that the old rules no longer apply. Making Marriage Work is an updated manual to help get the job of marriage done right in this day and age. It suggests specific procedures that should be put in place to bridge the gap between head over heels and happily ever after. It explains how to phrase things in order to span the great hormonal divide men and women often fall into when trying to talk to one another. It also discusses the very new and real challenges to marriage created in a culture often overwhelmed by the emphasis on (and ability to attain) instant gratification. Replete with simple, no-nonsense rules, Divorce Court anecdotes, and stories about Judge Toler's own union, Making Marriage Work contains invaluable information couples can use today to secure their marital tomorrow.
Sklep: Libristo.pl 36,60 zł
Powieści i opowiadania
'When people ask me what I do for a crust and I tell them that I'm a novelist, they immediately assume that my life is a non-stop carousel of limos, television appearances, hair-dos, devoted fans, stalkers and all the glitzy paraphernalia of being a public figure. It's time to set the record straight. I write alone, in a darkened bedroom, wearing my PJs, eating bananas, my laptop on a pillow in front of me ...' Her novels are adored by millions around the world
Sklep: Albertus.pl 48,08 zł
Książki / Literatura obcojęzyczna
Welcome to Cedar Cove - a small town with a big heart! Judge Olivia Lockheart has caused a scandal. Hearing Cecilia and Ian Randal's petition for a divorce, she came to the conclusion that the young couple hadn't tried hard enough to make their marriage work. Her judgement? Divorce denied. While Judge Olivia throws the town into an uproar, her daughter Justine is on the verge of the biggest decision of her life. Should she stop waiting for love and accept a marriage of convenience? Olivia's best friend, Grace, has troubles of her own. Dan, her husband, is increasingly distant and Grace is starting to wonder if he's having an affair. And in Cedar Cove, nothing stays secret for long. Make time for friends. Make time for Debbie Macomber.
Sklep: Libristo.pl
335,42 zł
Książki / Literatura obcojęzyczna
MP3 sound files inside This course in radio communications, designed by the reference expert in Aviation English, Yves Rengade, is the only one to be based on authentic in-flight recordings used as language training material which will help you to acquire or consolidate the competences required by ICAO by adopting a personalized method of working.Texte de présentation The aim of this manual is to help you to acquire or consolidate the competences required by ICAO and, to this end, to adopt a personalized method of working.The advantage of the approach followed by ICAO is that it clearly identifies the competences whose acquisition guarantees the required linguistic level; the objectives being clearly defined, it is important that from the outset you prioritize your needs so that you can organize your work accordingly.Two categories may be listed as follows:
Sklep: Libristo.pl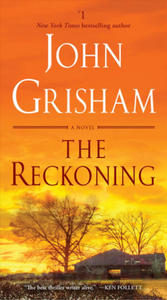 42,38 zł
Reckoning Random House Publishing
Książki / Literatura obcojęzyczna
No. 1 bestselling author John Grisham s The Reckoning is his most powerful, surprising, and suspenseful thriller yet.   A murder mystery, a courtroom drama, a family saga . . . The Reckoning is Grisham's argument that he's not just a boilerplate thriller writer. Most jurors will think the counselor has made his case. USA TodayOctober 1946, Clanton, Mississippi Pete Banning was Clanton, Mississippi s favorite son a decorated World War II hero, the patriarch of a prominent family, a farmer, father, neighbor, and a faithful member of the Methodist church. Then one cool October morning he rose early, drove into town, and committed a shocking crime.  Pete's only statement about it to the sheriff, to his lawyers, to the judge, to the jury, and to his family was: "I have nothing to say." He was not afraid of death and was willing to take his motive to the grave.             In a major novel unlike anything he has written before, John Grisham takes us on an incredible journey, from the Jim Crow South to the jungles of the Philippines during World War II; from an insane asylum filled with secrets to the Clanton courtroom where Pete s defense attorney tries desperately to save him.  Reminiscent of the finest tradition of Southern Gothic storytelling, The Reckoning would not be complete without Grisham s signature layers of legal suspense, and he delivers on every page.Praise for The Reckoning The quest for justice is only the beginning in this Southern family saga. . . . [Grisham] does so much more this time around. Akron Beacon Journal John Grisham is not only the master of suspense but also an acute observer of the human condition. And these remarkable skills converge in The Reckoning an original, gripping, penetrating novel that may be his greatest work yet. David Grann, New York Times bestselling author of Killers of the Flower Moon  John Grisham is the master of legal fiction, and his latest starts with a literal bang  and then travels backward through the horrors of war to explore what makes a hero, what makes a villain, and how thin the line between the two might be. Jodi Picoult, #1 New York Times bestselling author of A Spark of Light and Small Great Things
Sklep: Libristo.pl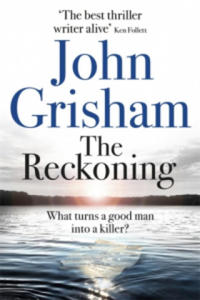 39,34 zł
Reckoning Hodder & Stoughton
Książki / Literatura obcojęzyczna
'I couldn't help thinking of Harper Lee's great American novel "To Kill a Mockingbird" while reading The Reckoning . . . [Grisham] knows how to spin a yarn' - Chicago Sun-Times 'May be his greatest work yet' - David Grann, New York Times bestselling author of Killers of the Flower Moon Pete Banning was Clanton's favourite son, a returning war hero, the patriarch of a prominent family; a farmer, father, and a faithful member of the Methodist Church. Then one cool October morning in 1946, he rose early, drove into town, walked into the Church, and calmly shot and killed the Reverend Dexter Bell. As if the murder wasn't shocking enough, it was even more baffling that Pete's only statement about it - to the sheriff, to his defense attorney, to the judge, to his family and friends, and to the people of Clanton - was 'I have nothing to say'. What turned Pete from a pillar of the community into cold-hearted killer? And why won't he confide in anyone? All his closest family knows is that it must have been something devastating - and that the fallout will haunt them, and the town, for decades to come . . . Further praise for The Reckoning
Sklep: Libristo.pl 160,78 zł
Książki / Literatura obcojęzyczna
Ludwig van Beethoven: Eine Biographie appeared in Prague a few months after the composer's death, thirteen years before the next biography of Beethoven would appear. Virtually nothing is known about the author, Johann Aloys Schlosser, except that he was born in the small town of Lann, in Bohemia, around 1790 and was a partner in a publishing firm in Prague from 1827-28, at which time he published this first brief biography of Beethoven. Many writers have pointed out the flaws in Schlosser's "biography". The purpose of the present edition is not to provide a clear and vivid picture of Beethoven's life, but to enable English-speaking readers to judge Schlosser's book for themselves rather than relying on secondhand criticisms, and to illuminate what was known and believed in Vienna and Prague in 1827 - not only about Beethoven but about his relationship to Haydn and Mozart, and to the music of Bach and Handel. Copious annotations and an introductory essay by the eminent Beethoven scholar Barry Cooper put Schlosser's text into perspective and clarify inaccuracies in the original text. Available for the first time in English, Schlosser's first biography of Beethoven substantially enriches our understanding of the attitudes of Beethoven's contemporaries and fills an important gap in Beethoven scholarship.
Sklep: Libristo.pl 32,40 zł
Powieści i opowiadania
When a letter containing a list of victims arrives in the post, PI Jack Taylor is sickened, but tells himself the list has nothing to do with him. He has enough to do just staying sane. His close friend Ridge is recovering from surgery and alcohol
Sklep: Albertus.pl 68,99 zł
Książki / Literatura obcojęzyczna
Flight follows this troubled foster teenager - a boy who is not a 'legal' Indian because he was never claimed by his father - as he learns that violence is not the answer. The journey for Flight's young hero begins as he's about to commit a massive act of violence. At the moment of the decision, he finds himself shot back through time to resurface in the body of an FBI agent during the civil rights era, where he sees why 'Hell is Red River, Idaho, in the 1970s'. Red River is only the first stop in an eye-opening trip through moments in American history. He will continue travelling back to inhabit the body of an Indian child during the battle at Little Bighorn and then ride with an Indian tracker in the nineteenth century before materialising as an airline pilot jetting through the skies today. During these travels through time, his refrain grows: 'Who's to judge?' This novel seeks nothing less than an understanding of why human beings hate. Flight is irrepressible and fearless - Sherman Alexie at his most brilliant.
Sklep: Libristo.pl
Sklepy zlokalizowane w miastach: Warszawa, Kraków, Łódź, Wrocław, Poznań, Gdańsk, Szczecin, Bydgoszcz, Lublin, Katowice
Szukaj w sklepach lub całym serwisie
2. Szukaj na wszystkich stronach serwisu
t1=0.043, t2=0, t3=0, t4=0, t=0.043