krainaksiazek a practitioner s guide to alternative investment funds 20126359
- znaleziono 7 produktów w 1 sklepie 654,96 zł
Książki / Literatura obcojęzyczna
The Complete Guide to Hedge Funds and Hedge Fund Strategies is a comprehensive resource for investment practitioners, providing complete coverage of characteristics, constraints, risks, opportunities and limitations of hedge fund investing. The book starts out by examining the fundamentals of hedge funds - their history and evolution, their key characteristics and what makes them different from other investment vehicles. It then describes in detail and with practical illustrations from the industry the 20 main investment strategies implemented by hedge fund managers, including classic strategies like equity hedge, convertible arbitrage or event driven strategies but also less covered ones like mortgage backed securities, PIPE funds, volatility arbitrage or asset based lending. This is followed by a comprehensive analysis of the historical performance of hedge funds, compared to traditional investments, using classical and more advanced tools, and then a review of the funds during the financial crisis of 2007-2008.Finally, the book presents up to date coverage of regulation and governance of hedge funds, including the Dodd-Frank Wall Street Reform and Consumer Protection Act, alternative UCITS and the Alternative Investment Fund Management Directive. The book is illustrated with more than 80 tables and 220 figures to explain key concepts. The Complete Guide to Hedge Funds and Hedge Fund Strategies will be an essential reference for anyone investing in or working in hedge funds and for anyone with an interest in these alternative investments, and how they work.
Sklep: Libristo.pl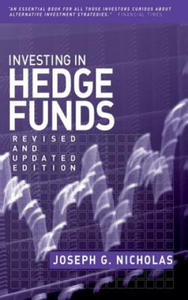 163,73 zł
Książki / Literatura obcojęzyczna
Hedge funds are in the news and on the minds of sophisticated investors more than ever. Investors have questions about how the funds are structured, where the assets are allocated, and whether hedge funds can truly act as a hedge against market risk. The answers are all here in "Investing in Hedge Funds."Until recently, much of what makes hedge funds tick has been closely guarded--the intellectual property of Wall Street's investment elite. In this updated and revised text, Joseph G. Nicholas, founder and chairman of the leading industry information provider Hedge Fund Research, Inc., travels inside the hedge fund marketplace to explain the alternative investment strategies of top fund managers, providing clear descriptions of how to access these funds and where they're headed. It's a complete guide that everyone investing in hedge funds should study closely.
Sklep: Libristo.pl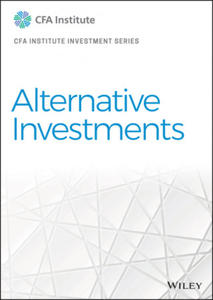 553,90 zł
Książki / Literatura obcojęzyczna
The complete guide to alternative investments, from experts working with CFA InstituteAlternative Investments is the definitive guide to understanding non-traditional asset classes. Alternatives are a disparate group of investments that are distinguished from long-only, publicly traded investments in stocks, bonds, and cash (often referred to as traditional investments). Alternative investments include real estate, commodities, infrastructure, and other non-traditional investments such as private equity or debt and hedge funds. They are attractive to investors because of the potential for portfolio diversification resulting in a higher risk-adjusted return for the portfolio.Alternative Investments and its accompanying workbook (sold separately) lead students and investment professionals through the many characteristics of non-traditional assets, including:* Narrow specialization of the investment managers* Relatively low correlation of returns with those of traditional investments* Less regulation and less transparency than traditional investments* Limited historical risk and return data* Unique legal and tax considerations* Higher fees, often including performance or incentive fees* Concentrated portfolios* Restrictions on redemptions (i.e. "lockups" and "gates")CFA Institute is the world's premier association for investment professionals, and the governing body for the CFA(r) Program, CIPM(r) Program, CFA Institute ESG Investing Certificate, and Investment Foundations(r) Program. Those seeking a deeper understanding of the markets, mechanisms, and use of alternatives will value the level of expertise CFA Institute brings to the discussion, providing a clear, comprehensive resource for students and professionals alike. Whether used alone or in conjunction with the companion workbook, Alternative Investments offers a complete course in alternative investments and their role in investment management.
Sklep: Libristo.pl 125,86 zł
Książki / Literatura obcojęzyczna
In 2008 we watched as trillions of dollars vanished before our eyes, enveloped in the crash and burn of Wall Street's bottom line. As working Americans and retirees awake from the aftermath, we're searching for answers and alternatives to the reckless loans and dicey short-term bets that ravaged our savings and retirement assets. Up From Wall Street: The Responsible Investment Alternative makes the case that there are strategic and socially responsible investment paths that have the capacity to rebuild our economy and infrastructure, reinvigorate our cities, and create the highly-anticipated green jobs of the future. Through real-life stories and case studies, Thomas Croft illustrates how the responsible investment of savings assets, pensions, insurance funds, and other trusts can generate positive social, economic, and environmental benefits - along with financial returns. Included in the book is A Field Guide to Responsible Capital, which contains descriptions of investment funds that are together managing over $30 billion and provides a detailed analysis of some of the firms and projects in which they invest. "Anyone with an interest in making sure their savings are put to work in a manner that strengthens our economy must read this volume." -Dr. Tessa Hebb, author of No Small Change: Pension Funds and Corporate Engagement "Up From Wall Street offers a path towards, and real life examples of, investments in private equity and real estate that create value for investors by producing sustainable wealth for businesses, their employees, and communities alike." -David Wood, Director, The Institute for Responsible Investment "This study captures a rising wave of progressive investment activity that will define the 'prudent investor' standard for all investors in the future." -Kirsten Snow Spalding, California Director, Ceres "I hope that ... many of the people who pushed for change in Washington, D.C. across America and our neighbors to the North will read this book." -Richard L. Trumka, Secretary-Treasurer, AFL-CIO Thomas Croft is an international expert on innovative capital strategies and jobs-oriented economic revitalization policies. He serves as Director of the Heartland Network and Executive Director of the Steel Valley Authority and has authored or commissioned vital new perspectives on alternative pension investment strategies and a fair economy
Sklep: Libristo.pl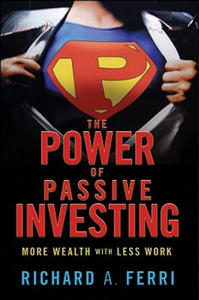 134,13 zł
Książki / Literatura obcojęzyczna
A practical guide to passive investing Time and again, individual investors discover, all too late, that actively picking stocks is a loser's game. The alternative lies with index funds. This passive form of investing allows you to participate in the markets relatively cheaply while prospering all the more because the money saved on investment expenses stays in your pocket. In his latest book, investment expert Richard Ferri shows you how easy and accessible index investing is. Along the way, he highlights how successful you can be by using this passive approach to allocate funds to stocks, bonds, and other prudent asset classes. Addresses the advantages of index funds over portfolios that are actively managed Offers insights on index-based funds that provide exposure to designated broad markets and don't make bets on individual securities Ferri is also author of the Wiley title: The ETF Book and co-author of The Bogleheads' Guide to Retirement Planning If you're looking for a productive investment approach that won't take all of your time to implement, then The Power of Passive Investing is the book you need to read.
Sklep: Libristo.pl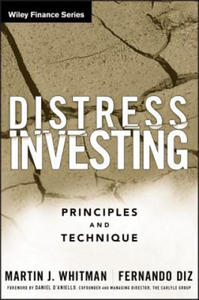 315,91 zł
Książki / Literatura obcojęzyczna
A comprehensive guide to distress investing around the world Increasingly, corporate rehabilitation is more interesting than corporate liquidation to governments and capital markets. Following this trend, a mezzanine industry of mutual funds, hedge funds, and private investors has stepped up to fill the role of the traditional corporate lender. Distress Investing puts this topic in perspective and covers the essential aspects of this discipline--from its theoretical underpinnings to its practical applications. The book features cases studies of some of the biggest distress investing situations, including Kmart and Pacific Gas & Electric. From the recent changes to U.S. bankruptcy code and creditor rights to cash bailouts, readers will learn how to analyze distressed situations such as pricing issues, arbitrage opportunities, tax disadvantages, and the reorganization of funding plans. Written by the leading practitioner of distress investing and coauthored by a leading academic in the field, this book is certain to become the bible on this topic for professional investors and students alike. Martin J. Whitman (New York, NY) is Chairman and Co-CIO of Third Avenue Management LLC.He is also the author of Value Investing (978-0-471-16292-6) and The Aggressive Conservative Investor (978-0-471-76805-0), from Wiley. Fernando Diz (Syracuse, NY) is the Martin J. Whitman Associate Professor of Finance and Director of The Ballentine Investment Institute at Syracuse University.
Sklep: Libristo.pl 693,23 zł
Książki / Literatura obcojęzyczna
Performance measurement and attribution are key tools in informing investment decisions and strategies. Performance measurement is the quality control of the investment decision process, enabling money managers to calculate return, understand the behaviour of a portfolio of assets, communicate with clients and determine how performance can be improved. Focusing on the practical use and calculation of performance returns rather than the academic background, Practical Portfolio Performance Measurement and Attribution provides a clear guide to the role and implications of these methods in today's financial environment, enabling readers to apply their knowledge with immediate effect. Fully updated from the first edition, this book covers key new developments such as fixed income attribution, attribution of derivative instruments and alternative investment strategies, leverage and short positions, risk-adjusted performance measures for hedge funds plus updates on presentation standards.Complete with a CD containing worked examples for the majority of exhibits, the book covers the mathematical aspects of the topic in an accessible and practical way, making this book an essential reference for anyone involved in asset management.
Sklep: Libristo.pl
Sklepy zlokalizowane w miastach: Warszawa, Kraków, Łódź, Wrocław, Poznań, Gdańsk, Szczecin, Bydgoszcz, Lublin, Katowice
Szukaj w sklepach lub całym serwisie
2. Szukaj na wszystkich stronach serwisu
t1=0.023, t2=0, t3=0, t4=0, t=0.023