krainaksiazek a practitioner s guide to alternative investment funds 20126359
- znaleziono 7 produktów w 1 sklepie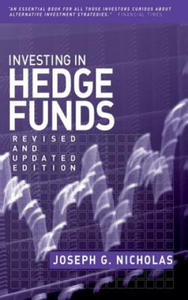 160,26 zł
Książki / Literatura obcojęzyczna
Hedge funds are in the news and on the minds of sophisticated investors more than ever. Investors have questions about how the funds are structured, where the assets are allocated, and whether hedge funds can truly act as a hedge against market risk. The answers are all here in "Investing in Hedge Funds." Until recently, much of what makes hedge funds tick has been closely guarded--the intellectual property of Wall Street's investment elite. In this updated and revised text, Joseph G. Nicholas, founder and chairman of the leading industry information provider Hedge Fund Research, Inc., travels inside the hedge fund marketplace to explain the alternative investment strategies of top fund managers, providing clear descriptions of how to access these funds and where they're headed. It's a complete guide that everyone investing in hedge funds should study closely.
Sklep: Libristo.pl 97,85 zł
Książki / Literatura obcojęzyczna
Praise For THE LITTLE BOOK OF ALTERNATIVE INVESTMENTS "Ben and Phil have done it again. Another lucid, insightful book, designed to enhance your wealth! In today's stock-addled cult of equities, there is a gaping hole in most investors' portfolios...the whole panoply of alternative investments that can simultaneously help us cut our risk, better hedge our inflation risk, and boost our return. This Little Book is filled with big ideas on how to make these markets and strategies a treasured part of our investing toolkit." - Robert Arnott , Chairman, Research Affiliates "I have been reading Ben Stein for thirty-five years and Phil DeMuth since he joined up with Ben ten years ago. They do solid work, and this latest is no exception." - Jim Rogers , author of A Gift to My Children "If anyone can make hedge funds sexy, Stein and DeMuth can, and they've done it with style in this engaging, instructive, and tasteful how-to guide for investing in alternatives. But you should read this Kama Sutra of investment manuals not just for the thrills, but also to learn how to avoid the hazards of promiscuous and unprotected investing." - Andrew Lo , Professor and Director, MIT Laboratory for Financial Engineering
Sklep: Libristo.pl 127,82 zł
Książki / Literatura obcojęzyczna
In 2008 we watched as trillions of dollars vanished before our eyes, enveloped in the crash and burn of Wall Street's bottom line. As working Americans and retirees awake from the aftermath, we're searching for answers and alternatives to the reckless loans and dicey short-term bets that ravaged our savings and retirement assets. Up From Wall Street: The Responsible Investment Alternative makes the case that there are strategic and socially responsible investment paths that have the capacity to rebuild our economy and infrastructure, reinvigorate our cities, and create the highly-anticipated green jobs of the future. Through real-life stories and case studies, Thomas Croft illustrates how the responsible investment of savings assets, pensions, insurance funds, and other trusts can generate positive social, economic, and environmental benefits - along with financial returns. Included in the book is A Field Guide to Responsible Capital, which contains descriptions of investment funds that are together managing over $30 billion and provides a detailed analysis of some of the firms and projects in which they invest. "Anyone with an interest in making sure their savings are put to work in a manner that strengthens our economy must read this volume." -Dr. Tessa Hebb, author of No Small Change: Pension Funds and Corporate Engagement "Up From Wall Street offers a path towards, and real life examples of, investments in private equity and real estate that create value for investors by producing sustainable wealth for businesses, their employees, and communities alike." -David Wood, Director, The Institute for Responsible Investment "This study captures a rising wave of progressive investment activity that will define the 'prudent investor' standard for all investors in the future." -Kirsten Snow Spalding, California Director, Ceres "I hope that ... many of the people who pushed for change in Washington, D.C. across America and our neighbors to the North will read this book." -Richard L. Trumka, Secretary-Treasurer, AFL-CIO Thomas Croft is an international expert on innovative capital strategies and jobs-oriented economic revitalization policies. He serves as Director of the Heartland Network and Executive Director of the Steel Valley Authority and has authored or commissioned vital new perspectives on alternative pension investment strategies and a fair economy
Sklep: Libristo.pl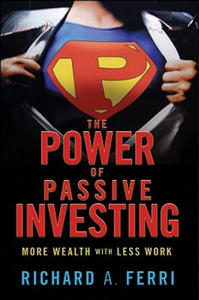 114,20 zł
Książki / Literatura obcojęzyczna
A practical guide to passive investing Time and again, individual investors discover, all too late, that actively picking stocks is a loser's game. The alternative lies with index funds. This passive form of investing allows you to participate in the markets relatively cheaply while prospering all the more because the money saved on investment expenses stays in your pocket. In his latest book, investment expert Richard Ferri shows you how easy and accessible index investing is. Along the way, he highlights how successful you can be by using this passive approach to allocate funds to stocks, bonds, and other prudent asset classes. Addresses the advantages of index funds over portfolios that are actively managed Offers insights on index-based funds that provide exposure to designated broad markets and don't make bets on individual securities Ferri is also author of the Wiley title: The ETF Book and co-author of The Bogleheads' Guide to Retirement Planning If you're looking for a productive investment approach that won't take all of your time to implement, then The Power of Passive Investing is the book you need to read.
Sklep: Libristo.pl 469,38 zł
Książki / Literatura obcojęzyczna
Achieve higher returns with lower risk and take your profits globally. A leading hedge fund trader offers a solid and profitable trading approach to the world markets. "This is the best stock market book that I have read in a long time. Boucher lays it out clearly, concisely, and in a most interesting manner. A 'must read' for anyone who invests in the equities market." -Dan Sullivan Editor, The Chartist "A leading practitioner offers rich theoretical insights and sound practical advice based on years of successful trading. Mark Boucher is that rare investment analyst who knows what really works in trading and can communicate it with authority and grace." -Nelson Freeburg Editor and Publisher, Formula Research, Inc. The Hedge Fund Edge is an indispensable guide for any investor or trader who wants to consistently profit from the markets without having to undergo huge risks. Mark Boucher, hedge fund manager and well-known speaker on trading, provides readers with a solid methodology for achieving market-beating, long-run returns with risk that is substantially below the long-run risk of U.S. and global equities. Boucher first looks at the limitations of traditional stock and bond investing, and then explains how to determine the safest and most profitable periods for investing in stocks in any country. He explains this strategy both conceptually and with an objective model that has been used to manage money successfully since the 1950s. He shows how to allocate funds among global equities at any given time while following safe, reliable, and profitable trends. The book also provides a thorough discussion of the Austrian Liquidity Cycle, an original combination of Austrian Economics, Economic Alchemy, and Liquidity Cycle Theory. Boucher explains how to use this theory to understand the major moves behind the markets and determine the most profitable market in which to invest. The Hedge Fund Edge provides critical valuation and technical models as well as essential information on stock selection techniques to help readers identify which markets and stocks are both lower-risk and higher-performing. Boucher also describes, in detail, the impact of governmental policies on the markets and the connection between macroeconomic performance and investment performance. Also included are essential timing models for determining when to invest in gold, bonds, commodities, and other asset classes, as well as methods for allocating a portfolio with the goal of investing in the very best trends at any one point in time across all asset classes. The book emphasizes the power of diversification among asset classes, such as arbitrage funds, global hedge funds, different types of futures funds, distressed bonds, and other market-uncorrelated investments. Boucher explains how this diversification can be used to build a bullet-proof and highly profitable portfolio that returns consistently high profits with much lower than market risk. Boucher provides examples from his own real-time hedge fund trading experience and offers his performance as proof of what can be achieved via these techniques. The Hedge Fund Edge melds market timing, vehicle selection, risk management techniques, economic insight and understanding, and tactical asset allocation into a totally new philosophy and approach that has been proven to produce spectacular gains with relatively low risk.
Sklep: Libristo.pl 77,63 zł
Książki / Literatura obcojęzyczna
Get more bang for your buck in the commodities market and start trading today§While Wall Street has been troubled, commodity markets have been soaring. Since 2002, commodities have outperformed every other asset class including stocks, mutual funds, and real estate. This hands-on, friendly guide gives you the basics on breaking into the market, dispels common myths, and shows you how to implement a wide range of trading and investing strategies. It also helps you diversify your portfolio, measure risk, and apply market analysis techniques.§Expanded coverage of the types of commodities available to investors Advice on how to manage the risks and rewards of commodities§Updated examples and information on SEC rules and regulations (and tax laws)§Featuring time-tested rules for investment success Commodities For Dummies helps you minimize risk, maximize profit, and find the shortest route to Easy Street.Get more bang for your buck in the commodities market and start trading today§While Wall Street has been troubled, commodity markets have been soaring. This hands-on, friendly guide gives you the basics on breaking into the commodities market, dispels common myths, and shows you how to implement a wide range of trading and investing strategies. It also helps you diversify your portfolio, measure risk, and apply market analysis techniques.§Commodities 101 -- get a grasp on basic portfolio allocation methods, create and design an investing road map, and discover how commodities stack up against other investment vehicles§Avoid risky business -- arm yourself with the know-how tominimize risk and maximize returns with the help of commodities§Know your options -- understand the pros and cons of investing through the futures markets, the equity markets, ETFs, and mutual funds§Energize your profits -- discover how to make big cash in energy, the largest sub-asset class in the commodities universe§Put the pedal to the metal -- find out everything you ever wanted to know about investing in gold, silver, copper, nickel, and other metals§Open the book and find:§Tips on choosing the right investment vehicle§The best ways to manage risk§How to choose a broker and open a trading account§Why energy trading is hot (and profitable)§A look at natural gas applications§How to trade agricultural products§The benefits of investing in wind and solar power§Alternative energy sources you should know about§Learn to:§Break into the market and start trading today§Diversify your portfolio§Minimize risk and maximize profit§Track commodities indexes
Sklep: Libristo.pl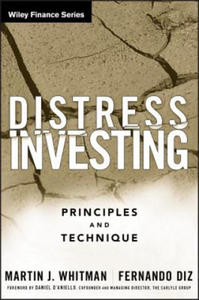 291,88 zł
Książki / Literatura obcojęzyczna
A comprehensive guide to distress investing around the world Increasingly, corporate rehabilitation is more interesting than corporate liquidation to governments and capital markets. Following this trend, a mezzanine industry of mutual funds, hedge funds, and private investors has stepped up to fill the role of the traditional corporate lender. Distress Investing puts this topic in perspective and covers the essential aspects of this discipline--from its theoretical underpinnings to its practical applications. The book features cases studies of some of the biggest distress investing situations, including Kmart and Pacific Gas & Electric. From the recent changes to U.S. bankruptcy code and creditor rights to cash bailouts, readers will learn how to analyze distressed situations such as pricing issues, arbitrage opportunities, tax disadvantages, and the reorganization of funding plans. Written by the leading practitioner of distress investing and coauthored by a leading academic in the field, this book is certain to become the bible on this topic for professional investors and students alike. Martin J. Whitman (New York, NY) is Chairman and Co-CIO of Third Avenue Management LLC. He is also the author of Value Investing (978-0-471-16292-6) and The Aggressive Conservative Investor (978-0-471-76805-0), from Wiley. Fernando Diz (Syracuse, NY) is the Martin J. Whitman Associate Professor of Finance and Director of The Ballentine Investment Institute at Syracuse University.
Sklep: Libristo.pl
Sklepy zlokalizowane w miastach: Warszawa, Kraków, Łódź, Wrocław, Poznań, Gdańsk, Szczecin, Bydgoszcz, Lublin, Katowice
Szukaj w sklepach lub całym serwisie
2. Szukaj na wszystkich stronach serwisu
t1=0.326, t2=0, t3=0, t4=0.019, t=0.327