krainaksiazek a practitioner s guide to alternative investment funds 20126359
- znaleziono 5 produktów w 1 sklepie 373,21 zł
Książki / Literatura obcojęzyczna
The Complete Guide to Hedge Funds and Hedge Fund Strategies is a comprehensive resource for investment practitioners, providing complete coverage of characteristics, constraints, risks, opportunities and limitations of hedge fund investing. The book starts out by examining the fundamentals of hedge funds - their history and evolution, their key characteristics and what makes them different from other investment vehicles. It then describes in detail and with practical illustrations from the industry the 20 main investment strategies implemented by hedge fund managers, including classic strategies like equity hedge, convertible arbitrage or event driven strategies but also less covered ones like mortgage backed securities, PIPE funds, volatility arbitrage or asset based lending. This is followed by a comprehensive analysis of the historical performance of hedge funds, compared to traditional investments, using classical and more advanced tools, and then a review of the funds during the financial crisis of 2007-2008. Finally, the book presents up to date coverage of regulation and governance of hedge funds, including the Dodd-Frank Wall Street Reform and Consumer Protection Act, alternative UCITS and the Alternative Investment Fund Management Directive. The book is illustrated with more than 80 tables and 220 figures to explain key concepts. The Complete Guide to Hedge Funds and Hedge Fund Strategies will be an essential reference for anyone investing in or working in hedge funds and for anyone with an interest in these alternative investments, and how they work.
Sklep: Libristo.pl 205,99 zł
Książki / Literatura obcojęzyczna
Since the formalization of asset allocation in 1952 with the publication of Portfolio Selection by Harry Markowitz, there have been great strides made to enhance the application of this groundbreaking theory. However, progress has been uneven. It has been punctuated with instances of misleading research, which has contributed to the stubborn persistence of certain fallacies about asset allocation. A Practitioner's Guide to Asset Allocation fills a void in the literature by offering a hands-on resource that describes the many important innovations that address key challenges to asset allocation and dispels common fallacies about asset allocation. The authors cover the fundamentals of asset allocation, including a discussion of the attributes that qualify a group of securities as an asset class and a detailed description of the conventional application of mean-variance analysis to asset allocation.. The authors review a number of common fallacies about asset allocation and dispel these misconceptions with logic or hard evidence. The fallacies debunked include such notions as: asset allocation determines more than 90% of investment performance; time diversifies risk; optimization is hypersensitive to estimation error; factors provide greater diversification than assets and are more effective at reducing noise; and that equally weighted portfolios perform more reliably out of sample than optimized portfolios. A Practitioner's Guide to Asset Allocation also explores the innovations that address key challenges to asset allocation and presents an alternative optimization procedure to address the idea that some investors have complex preferences and returns may not be elliptically distributed. Among the challenges highlighted, the authors explain how to overcome inefficiencies that result from constraints by expanding the optimization objective function to incorporate absolute and relative goals simultaneously. The text also explores the challenge of currency risk, describes how to use shadow assets and liabilities to unify liquidity with expected return and risk, and shows how to evaluate alternative asset mixes by assessing exposure to loss throughout the investment horizon based on regime-dependent risk. This practical text contains an illustrative example of asset allocation which is used to demonstrate the impact of the innovations described throughout the book. In addition, the book includes supplemental material that summarizes the key takeaways and includes information on relevant statistical and theoretical concepts, as well as a comprehensive glossary of terms.
Sklep: Libristo.pl 97,85 zł
Książki / Literatura obcojęzyczna
Praise For THE LITTLE BOOK OF ALTERNATIVE INVESTMENTS "Ben and Phil have done it again. Another lucid, insightful book, designed to enhance your wealth! In today's stock-addled cult of equities, there is a gaping hole in most investors' portfolios...the whole panoply of alternative investments that can simultaneously help us cut our risk, better hedge our inflation risk, and boost our return. This Little Book is filled with big ideas on how to make these markets and strategies a treasured part of our investing toolkit." - Robert Arnott , Chairman, Research Affiliates "I have been reading Ben Stein for thirty-five years and Phil DeMuth since he joined up with Ben ten years ago. They do solid work, and this latest is no exception." - Jim Rogers , author of A Gift to My Children "If anyone can make hedge funds sexy, Stein and DeMuth can, and they've done it with style in this engaging, instructive, and tasteful how-to guide for investing in alternatives. But you should read this Kama Sutra of investment manuals not just for the thrills, but also to learn how to avoid the hazards of promiscuous and unprotected investing." - Andrew Lo , Professor and Director, MIT Laboratory for Financial Engineering
Sklep: Libristo.pl 372,55 zł
Książki / Literatura obcojęzyczna
The definitive guide to demystifying the venture capital business The Business of Venture Capital, Second Edition covers the entire spectrum of this field, from raising funds and structuring investments to assessing exit pathways. Written by a practitioner for practitioners, the book provides the necessary breadth and depth, simplifies the jargon, and balances the analytical logic with experiential wisdom. Starting with a Foreword by Mark Heesen, President, National Venture Capital Association (NVCA), this important guide includes insights and perspectives from leading experts. Covers the process of raising the venture fund, including identifying and assessing the Limited Partner universe; fund due-diligence criteria; and fund investment terms in Part One Discusses the investment process, including sourcing investment opportunities; conducting due diligence and negotiating investment terms; adding value as a board member; and exploring exit pathways in Part Two Offers insights, anecdotes, and wisdom from the experiences of best-in-class practitioners Includes interviews conducted by Leading Limited Partners/Fund-of-Funds with Credit Suisse, Top Tier Capital Partners, Grove Street Advisors, Rho Capital, Pension Fund Managers, and Family Office Managers Features the insights of over twenty-five leading venture capital practitioners, frequently featured on Forbes' Midas List of top venture capitalists Those aspiring to raise a fund, pursue a career in venture capital, or simply understand the art of investing can benefit from The Business of Venture Capital, Second Edition . The companion website offers various tools such as GP Fund Due Diligence Checklist, Investment Due Diligence Checklist, and more, as well as external links to industry white papers and other industry guidelines.
Sklep: Libristo.pl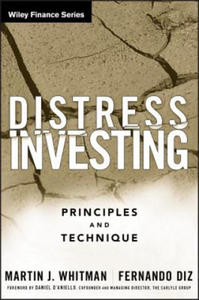 336,77 zł
Książki / Literatura obcojęzyczna
A comprehensive guide to distress investing around the world Increasingly, corporate rehabilitation is more interesting than corporate liquidation to governments and capital markets. Following this trend, a mezzanine industry of mutual funds, hedge funds, and private investors has stepped up to fill the role of the traditional corporate lender. Distress Investing puts this topic in perspective and covers the essential aspects of this discipline--from its theoretical underpinnings to its practical applications. The book features cases studies of some of the biggest distress investing situations, including Kmart and Pacific Gas & Electric. From the recent changes to U.S. bankruptcy code and creditor rights to cash bailouts, readers will learn how to analyze distressed situations such as pricing issues, arbitrage opportunities, tax disadvantages, and the reorganization of funding plans. Written by the leading practitioner of distress investing and coauthored by a leading academic in the field, this book is certain to become the bible on this topic for professional investors and students alike. Martin J. Whitman (New York, NY) is Chairman and Co-CIO of Third Avenue Management LLC. He is also the author of Value Investing (978-0-471-16292-6) and The Aggressive Conservative Investor (978-0-471-76805-0), from Wiley. Fernando Diz (Syracuse, NY) is the Martin J. Whitman Associate Professor of Finance and Director of The Ballentine Investment Institute at Syracuse University.
Sklep: Libristo.pl
Sklepy zlokalizowane w miastach: Warszawa, Kraków, Łódź, Wrocław, Poznań, Gdańsk, Szczecin, Bydgoszcz, Lublin, Katowice
Szukaj w sklepach lub całym serwisie
2. Szukaj na wszystkich stronach serwisu
t1=0.216, t2=0, t3=0, t4=0.019, t=0.216