krainaksiazek a simplified tax structure for the united states 20131282
- znaleziono 4 produkty w 2 sklepach 335,45 zł
Książki / Literatura obcojęzyczna
In a landmark paper Franco Modigliani and Merton Miller had demonstrated that in a typical neo- classical set up the average cost of capital to any firm is completely independent of its capital structure. However, skepticism about practical force of invariance proposition and dramatic changes in conclusion dominated this arena of work. Nonetheless, a relatively small body of empirical work has emphasized the factors like size, rate of growth of firm s tangible asset, capital intensity, profitability, volatility of income and tax consideration in explaining the observed variation in capital structure across firms. Unfortunately this empirical research is by and large confined to the United States and a few advanced countries. Therefore, the book tries to fill this gap by answering many important questions like: How do the firms in Less Developed Countries (LDCs) finance their growth? To what extent do they rely on internal source of finance as opposed to the external sources of finance? These questions are not only important from a theoretical or academic standpoint but also from policy perspectives.
Sklep: Libristo.pl 449,27 zł
Książki / Literatura obcojęzyczna
In the fall of 2011, the Census Bureau released data from the American Community Survey (ACS) one-year (2010) and three-year (2008-2010) estimates for the United States. The ACS replaced the decennial census long form in 2010 and now collects long-form-type information on a continuing basis rather than every 10 years, providing more current data. The ACS provides a regular stream of updated information for states and local areas and has revolutionized the way we use data to understand our communities. It produces social, housing, and economic characteristics for demographic groups. This third edition of The Who, What, and Where of America is the first to include data on unmarried partner households, health insurance coverage, and median real estate tax. It uses the 2008-2010 ACS data to present a concise resource of information that tells a story about America-its population, levels of education, types of employment and housing, and patterns of migration and transportation in one, convenient volume. The Who, What, and Where of America pulls details from the ACS that identify America at a certain point in time: Who: Age, Race and Ethnicity, and Household Structure What: Education, Employment, and Income Where: Migration, Housing, and Transportation Each part is preceded by highlights and ranking tables that show how areas diverge from the national norm. These research aids are invaluable for understanding data from the ACS and for highlighting what it tells us about who we are, what we do, and where we live. Each topic is divided into four tables revealing the results of the data collected from different types of geographic areas in the United States, generally with populations greater than 20,000. Using these breakdowns, we can compare the change, movement, or activities of each area with its neighboring areas and with the national norm: * States * Counties * Metropolitan Areas * Cities Some facts in this edition of Who, What, and Where Who: The U.S. population grew by 9.7 percent between the 2000 and 2010 censuses. The ACS measures the population characteristics, and the proportions in each race group have remained relatively stable. The Hispanic or Latino population showed the greatest increase, growing to more than 16 percent of the population, a jump of nearly 2 percentage points in only a few years. The Asian population, now 5.6 percent of the population, also showed a large proportional increase. Average household size in 2010 was 2.63 persons per household, slightly higher than the 2.6 persons per household measured in the 2005-2007 time period. Compared with the states, DC ranks number 1 with the highest percentage of people who have never been married as well as the highest proportion of one-person households. Among the states, Maine has the highest proportion of divorced persons, at 13.8 percent. In the United States as a whole, 10.9 percent of the population was divorced. The percentage of households in which no adult speaks English well is 4.3 percent for the nation. California, New York, and Texas lead with between 8 percent and 10 percent of households with no English-speaking adults. Nearly half of American households are married-couple family households, a proportion that dropped below 50 percent during the decade, ranging from over 60 percent in Utah to 22.7 percent in the District of Columbia. DC's population-totally urban-reflects an influx of young, single persons (57 percent have never married), with nearly half of all households occupied by only one person and a median age that dropped by more than a year during the last half of the decade. Among metropolitan areas, Palm Coast, Florida had the highest increase in population--more than 90 percent from 2000 to 2010. Palm Coast is a new metropolitan area with a core city that didn't even exist 40 years ago. Its rapid growth has made it very vulnerable to the recent downturns in the housing market. St. George, Utah, had the next highest increase, at almost 53 percent. Many metropolitan areas lost population during the decade, most notably New Orleans, which dropped 11.5 percent because of Hurricane Katrina. Metropolitan areas in Florida, California, Texas, and New York had the largest percentage of foreign-born residents, the highest being almost 40 percent in Miami Fort Lauderdale--Pompano Beach, Florida, followed closely by San Jose-Sunnyvale-Santa Clara, California. For the United States as a whole, 12.9 percent of the population was foreign-born. The top five cities with the largest percent change since 2000 are Short Pump, VA; Maricopa, AZ; Herriman, UT; Eagle Mountain, UT; and Sahuarita, AZ with changes in population of more than 600 percent. These large changes are due to the increase in housing development in these areas, sometimes accompanied by annexation of new territory. More than 20 new counties are included in this edition of WWW because their populations now exceed 20,000: Taylor, FL; Minidoka, ID; Carroll, IN; Buena Vista, IA; Pottawatomie, KS; Breckinridge, KY; Concordia, LA; Kent, MD; Dodge, MN; Hubbard, MN; Washington, NB; Roosevelt, NM; Bertie, NC; Polk, NC; Warren, NC; Beckham, OK; McIntosh, OK; DeWitt, TX; Jones, TX; Carbon, UT; Sevier, UT; Jackson, WI; and Taylor, WI. What: Residents with a high school diploma or less, in percent: United States 43.1 Cudahy city, California 83.2 Maywood city, California 83.0 Bell Gardens city, California 82.9 Florence-Graham CDP, California 81.0 Lennox CDP, California 80.4 Residents with a bachelor's degree or more, percent: United States 28.0 Bethesda CDP, Maryland 84.1 University Park city, Texas 83.3 Brookline CDP, Massachusetts 82.1 Mountain Brook city, Alabama 81.9 McLean CDP, Virginia 79.9 Households with income less than $25,000: United States 24.0 East St. Louis city, Illinois 61.7 Selma city, Alabama 57.0 Carbondale city, Illinois 56.2 Statesboro city, Georgia 55.7 University CDP (Hillsborough county), Florida 54.1 Households with income more than $100,000: United States 20.6 Franklin Farm CDP, Virginia 80.8 Southlake city, Texas 78.5 Colleyville city, Texas 73.8 McLean CDP, Virginia 73.2 North Potomac CDP, Maryland 72.2 Where: Most Americans live in the same house that they lived in a year ago. Across the country, slightly more than 84 percent of the population is living in the same home. The state with the lowest percentage of residents living in the same house was Nevada, at a little more than 76 percent. The state with the highest percentage of residents in the same house was New Jersey, at 90 percent. The top 5 counties with the highest percentage of new residents from other counties are Pulaski County, MO, Harrisonburg city, VA, Madison County, ID, Winchester city, VA, and Charlottesville city, VA, most of them housing military bases or universities. Across the country, the proportion of residents who moved from a different city was 10 percent. Cities where more than 40 percent of the residents were new included Fort Hood, TX; Isla Vista, CA; Florence, AZ; North Chicago, IL; and State College, PA; again mainly cities with large group quarters populations: military facilities and universities, and Florence, AZ is the location of several correctional facilities. The mean travel time to work by all Americans is a little more than 25 minutes. The top 5 cities with the longest travel time to work are Patterson, CA; Los Banos, CA; Lake Elsinore, CA; Temescal Valley, CA; and Waldorf, MD.
Sklep: Libristo.pl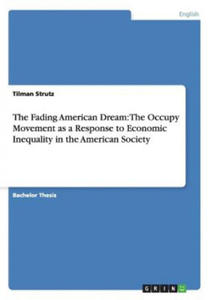 138,18 zł
Książki / Literatura obcojęzyczna
Bachelor Thesis from the year 2012 in the subject American Studies - Miscellaneous, grade: 1,0, University of Mannheim, language: English, abstract: Research has shown that social inequality is very apparent in today s US class structure and has even worsened within the last several decades. The researcher will argue that the Occupy movement was a response to the status quo of class inequality and growing wealth disparity. Along with the dissatisfaction caused by the entrenchment of social and economic inequality, the Occupy movement was further fueled by the breakdown of the United States housing market, the bailout of financial institutions with tax money, and the global economic crisis from 2008 onward. These events directly affected countless families throughout the U.S. in the form of foreclosures, unemployment, and cuts in social programs. Ultimately, these economic failures even challenged the American majority s nearly limitless faith in the American-style capitalism, i.e., a system based on laissez-faire economics.In order to present the Occupy movement as it relates to current economic and social conditions in the United States, the researcher will begin by analyzing the reality of American class structure and economic inequality, followed by a brief discussion of the financial crisis from 2008 to the present. The researcher will show that the crisis and pervasive influence of moneyed interests in the American political system has led to increasing social and economic disparities between the elite class and the middle and lower classes. The purpose of this Bachelor s thesis is ultimately to contrast the concept and the promise of the American Dream with the American reality of increasing social inequality and social immobility and thus explain the emergence of the Occupy movement. Finally, the researcher will discuss the implications of the Anti-Wall Street protests for American politics and society and show that the Occupy movement has significantly altered political discourse in America.
Sklep: Libristo.pl 780,70 zł
Inne 1
Securitisation has survived the threats that emerged in the aftermath of the collapses of Enron, WorldCom, and Parmalat. Today, global securitisation markets continue to go from strength to strength, particularly as regards the evolution of new synthetic structures and the application of securitisation technology to fresh asset classes. This Yearbook focuses on the latest innovations in securitisation, including the securitisation of derivatives and alternative asset classes, and also exotic variations on the securitisation of well-established asset classes. Twenty-nine distinguished authors all of them active in the global securitisation markets as advisers, structurers, facilitators, or regulators brilliantly elucidate such topics as the following: synthetic squares as an effective means of arbitrage securitisation; collateralised debt obligations from a ratings perspective; use of, and potential for, synthetic securitisation in Germany and Italy; weather derivatives; use of equity derivatives as alternatives to credit risk; securitisation of alternative asset classes in Japan and the United States; covered bonds in a variety of European jurisdictions; new types of commercial mortgage backed securities; securitisation of non-performing tax receivables as an example of public sector securitisation; and securitisation structures in the Islamic regulatory and legal framework. The complex and sometimes controversial issues of documentation are well covered, as are all significant legal and regulatory issues. Three concluding essays detail the recent changes in accountancy fuelled by perceived abuse of existing regulations, and the revised framework for capital adequacy formulated by the Basel Committee. The Yearbook provides detailed information on the legal structure of innovative securitisations as well as recent developments in the accounting and regulatory treatment of securitisations. For legal advisers, investors, and regulators, there is no more useful guide to current and emerging trends and opportunities in securitisation.
Sklep: Albertus.pl
Sklepy zlokalizowane w miastach: Warszawa, Kraków, Łódź, Wrocław, Poznań, Gdańsk, Szczecin, Bydgoszcz, Lublin, Katowice
Szukaj w sklepach lub całym serwisie
2. Szukaj na wszystkich stronach serwisu
t1=0.182, t2=0, t3=0, t4=0.019, t=0.182