krainaksiazek an officer s story a politico military journey 20169150
- znaleziono 7 produktów w 1 sklepie 87,66 zł
Książki / Literatura obcojęzyczna
This is the journey begun by a teenager who had a question about a UFO sighting. This is the story of that boy who became a UFO investigator and used every opportunity he had to investigate cases throughout the United States. This is a report on investigations as diverse as the Carroll Wayne Watts contact case and the Roswell UFO crash. This is a history of UFO research from the mid-1960s until today, told by someone who was there and who saw much of it himself. This is the account of a researcher who fought to let the facts speak for themselves in the midst of heated arguments within the UFO community. This is the memoir of an adult who found a few answers to the UFO mystery but in the process came face to face with dozens of new questions. This is REFLECTIONS OF A UFO INVESTIGATOR by Kevin Randle. KEVIN D. RANDLE is a retired military officer who served in Vietnam as a helicopter pilot and in Iraq as an intelligence officer. He has been investigating UFOs for more than 40 years and has traveled throughout the U.S. on his quest to learn the truth. He has written more than 20 books on UFOs, has interviewed hundreds of people about their experiences, and has lectured throughout the country about one of the most puzzling phenomenon in our times.
Sklep: Libristo.pl 108,58 zł
Książki / Literatura obcojęzyczna
In the Batailles & Temoignages collection, here's a new album dedicated to the story of a German Romanian born in Kronstadt in the Carpathians, who joined the Waffen-SS, and became an officer. He would go on to fight at Normandy. Finally a book about one of these Volksdeutsche (mainly German minorities in Central Europe) who enlisted in the Waffen-SS, proud of their origins and making great soldiers in the German Army led by Arthur Phleps. We follow this young German from Romania to his journey through the Verfugungstruppe and his transfer to the Hohenstaufen, as well as the training that took him there, which allows the reader to get a wider view on the formation of this division. The first battles were in Galicia and the Normandy coast where our officer was seriously injured and his military career came to an end.
Sklep: Libristo.pl 76,36 zł
Książki / Literatura obcojęzyczna
Redeye Fulda Cold by Bill Fortin is a different type of war novel. This piece of history is set in 1969 West Germany. The reality of what happened in the Cold War on the border between the opposing forces of East and West makes this a great read; it's an important part of our military history. Rick Fontain, the main character, is found just out of high school working for Bell Systems when he is summoned by his friends and neighbors. During his induction into the US Army he is given an aptitude test. The test results change the path of his life forever. He is encouraged to become an officer but the extra time, in addition to his two years, is a no go for Rick. He opts for training on the Redeye, the first ever hand held surface to air missile system designed for close combat for the infantry. What Rick doesn't know is that he is being watched from afar. His progress is being scrutinized and he is being evaluated for recruitment into the CIA. The style of the author, Fortin, is written in the first person. We travel with Bill on a journey that follows the army life of Rick though short snippets of his, at times, humorous and MASH-like journey. The style of headers detailing the timeframe of where and when things were taking place are unique and are always appreciated by the reader always pushing to find out where and when what would happen next. His journey from boot camp continues when he is stationed near the Fulda Gap. Not a well known place, but its stragetic position to the free world was an important post that kept Europe safe during those tense 30 plus years. Rick and his team would become one of the greatest deterrents to an invasion from Mother Russia. Fortin brings all the key elements together to make a fabulous story: mystery; intrigue; love; suspense; bravery and reality. It is a snap shot in history back to when the world was at the brink. Redeye Fulda Cold is a historical expression of our military tradition. The story ends leaving the reader wanting to see a sequel novel to find out where Rick goes next. Author Bill Fortin has deftly combined fictional characters and people he served with in the United States Army to recount some important but little-known events during the Cold War. His story takes the reader to the people and places of the late 1960s European Military Community and a series of carefully crafted CIA military operations designed to thwart a possible Russian invasion through the infamous Fulda Gap.
Sklep: Libristo.pl 64,61 zł
Książki / Literatura obcojęzyczna
Around the year 117 AD, the Ninth Legion, stationed at Eburacum - modern day York - marched north to suppress a rebellion of the Caledonian tribes, and was never heard of again. During the 1860s, a wingless Roman Eagle was discovered during excavations at the village of Silchester in Hampshire, puzzling archaeologists and scholars alike. Rosemary Sutcliff weaves a compelling story from these two mysteries, dispatching her hero, the young Roman officer Marcus Aquila, on a perilous journey beyond Hadrian's Wall to find out what happened to the discredited legion in which his father served, and to salvage, if he can, its Eagle and its honour. All the essential elements of a classic adventure are here - the daring quest, the uncovering of the secrets of the past, and a nerve-racking escape across the mountains, pursued by vengeful tribesmen. But it is the human element which triumphs, and one of the most memorable scenes in the book is Marcus appealing to a crowd baying for blood to save a young British gladiator from certain death during the Saturnalia Games. Proud son of a Brigantian chieftain, Esca becomes his slave, then his freedman, and the indispensable companion of his travels. The Eagle of the Ninth is partly the story of their growing friendship, crossing the divide created by conquest and colonialism; and partly Marcus' journey of self-discovery as he learns of his father's fate and comes to terms with the end of his own military career. At the end he embraces a different, more hopeful future - not in Rome but 'under the pale and changeful northern skies' - acquiring a farm in the Downs, and marrying the girl next door. The Eagle of the Ninth has all its author's hallmark qualities - a mature and complex story, a wealth of historical detail, cultural sensitivity, wit and compassion. Above all, Sutcliff is able to conjure up the atmosphere of a distant age in a totally convincing way. It is hardly surprising that her work would set the standard for all historical fiction to come. The Everyman edition reprints the classic black and white illustrations of C Walter Hodges which accompanied the first edition in 1954.
Sklep: Libristo.pl 67,96 zł
Książki / Literatura obcojęzyczna
"Anyone entering Iraq must travel the road from Amman to Baghdad along the Fallujah by-pass and around the Ramadi Ring Road. It's the most dangerous trunk route in the world used as a personal, fairground shooting gallery by insurgents and Islamists with rocket propelled grenades and Kalashnikovs. For newcomers to the country it's terrifying - but hell only really begins when that first journey ends..." Present-day Iraq: a crucible of torture, chemical warfare and Islamic terrorism, and straddling over it all the mighty US Army and its allies; but there's another western army in Iraq that dwarfs the British contingent and is second only in size to the US Army itself. It's a disparate and anarchic multi-national force of men gathered from twenty or more countries numbering some 30,000. It's a mercenary army of men and a few women with guns for hire earning an average of $1,000 dollars a day. They are in Iraq to provide security for the businessmen, surveyors, building contractors, oil experts, aid workers and, of course, the TV crews who have flocked to the country to pick over the carcass of Saddam's regime and help the country re-build. Not since the days when the East India Company used soldiers of fortune to depose fabulously wealthy Maharajas and conquer India for Great Britain, and mercenaries fought George Washington's Continental Army for King George, has such a large and lethal independent fighting force been assembled. Once upon a time such men were called freelances, mercenaries, soldiers of fortune or dogs of war, but today they go under a different name: private military contractors. There's a far more fundamental sea change, too, as women have joined their ranks in significant numbers for the first time, bringing a new and interesting dynamic into the equation. In Iraq today, the majority of their number are men who come from 'real deal' Special Forces units or former soldiers from regular units and regiments; all of them know what they're about and rub shoulders together more or less comfortably with at least a shared understanding of basic military requirements. One such man is John Geddes, ex-SAS warrant officer and veteran of a fistful of hard wars who became a member of the private army in Iraq for the eighteen months immediately following George W. Bush's declaration of the end of hostilities in early May 2003. Now, for the first time, John Geddes will reveal the inside story of this extraordinary private army and the private war they are still fighting with the insurgents in Iraq.
Sklep: Libristo.pl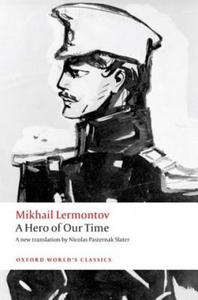 47,49 zł
Książki / Literatura obcojęzyczna
'After all that - how, you might wonder, could one not become a fatalist?' Lermontov's hero, Pechorin, is a young army officer posted to the Caucasus, where his adventures - amorous and reckless - do nothing to alleviate his boredom and cynicism. World-weary and self-destructive, Pechorin is alienated from those around him yet he is full of passion and romantic ardour, sensitive as well as arrogant. His complex, contradictory character dominates A Hero of Our Time, the first great Russian novel, in which the intricate narrative unfolds episodically, transporting the reader from the breathtaking terrain of the Caucasus to the genteel surroundings of spa resorts. Told in an engaging yet pointedly ironic style, the story expresses Lermontov's own estrangement from the stifling conventions of bourgeois society and the oppression of Russian autocracy, but it also captures a longing for freedom through acts of love and bravery. This new edition also includes Pushkin's Journey to Arzrum, in which Pushkin describes his own experiences of Russia's military campaigns in the Caucasus and which provides a fascinating counterpoint to Lermontov's novel. ABOUT THE SERIES: For over 100 years Oxford World's Classics has made available the widest range of literature from around the globe. Each affordable volume reflects Oxford's commitment to scholarship, providing the most accurate text plus a wealth of other valuable features, including expert introductions by leading authorities, helpful notes to clarify the text, up-to-date bibliographies for further study, and much more.
Sklep: Libristo.pl 93,00 zł
Książki / Literatura obcojęzyczna
The Iraqi invasion of Kuwait is given a fresh perspective in this intriguing first hand account by a vacationing American army officer who witnessed the dramatic events unfold from his hotel window. A compelling read, it also provides an unusual insight into U.S. and Iraqi relations. - Eyewitness account of the crucial early stages of the Gulf War - Entertaining and previously unknown story from an up-and-coming military writer - Includes an account of the author's unexpected journey to Baghdad as an American internee
Sklep: Libristo.pl
Sklepy zlokalizowane w miastach: Warszawa, Kraków, Łódź, Wrocław, Poznań, Gdańsk, Szczecin, Bydgoszcz, Lublin, Katowice
Szukaj w sklepach lub całym serwisie
2. Szukaj na wszystkich stronach serwisu
t1=0.293, t2=0, t3=0, t4=0.019, t=0.293