krainaksiazek attraction from the heart completely yours 20170031
- znaleziono 11 produktów w 2 sklepach 98,88 zł
Książki / Literatura obcojęzyczna
"We are, and attract into our lives, what we think, say and believe about ourselves and our perceived reality." EMBRACE THE POWER OF THE I AM YOUR NEW LIFE IS WAITING R.J. Banks' has gathered knowledge from his extraordinary life using the Power of the I AM and the Law of Attraction, to help hundreds of thousands of Americans break the cycle of being pulled and pushed by their own unknown commands on the Law of Attraction. Instead of philosophical words to understand the meaning of the Power of "I AM" and the "Law of Attraction", he gives the reader practical steps to help you obtain the natural power that is already yours hidden within. You just need to know where to find it. R. J. Banks reveals this power, where to find it, how you can obtain it and how to use it at will for whatever you desire. In this book, the words I AM reveal themselves in a whole new light. They allow you to understand and explore a new natural, empowered side of yourself unknown under any other avenue other than this book. Once you learn to possess this power, your life will never be the same DISCOVER YOUR POWER. EMPOWER YOUR LIFE. CONTROL YOUR DESTINY
Sklep: Libristo.pl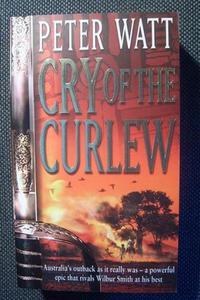 8,00 zł
Antykwariat literacki / Książki angielskojęzyczne
Life was harsh and cheap in the frontierlands of northern Australia. When prosperous landowner Donald Macintosh orders the brutal dispersal of the aboriginal Nerambura tribe from his property in 1862, he little realises the terrible consequences of what he regards as a routine land clearance. Witnesses to the brutal slaughter, poverty-stricken cattle-drivers Patrick Duffy and his son, Tom, are unwillingly dragged into its aftermath, and a chain of events is set in motion from which neither family will escape intact. Meanwhile, in thriving Sydney Town, Michael Duffy and Fiona Macintosh are completely unaware of the cataclysmic events overtaking their fathers in the colony of Queensland. When their paths cross on a day's outing from the city, the spark of instant attraction is ignited. But a storm during the ferry trip home is but a small portent of what is to follow... Spanning the middle years of the nineteenth century, Cry of the Curlew is the compelling epic of the all-consuming cycle of love, death, violence and revenge which overtake the two feuding families as they attempt to tame the wilds of Northern Australia. It establishes Peter Watt as an exceptional new storytelling talent. Stan książki bardzo dobry.
Sklep: Hatteria.pl 46,63 zł
Książki / Literatura obcojęzyczna
For fans of Sons of Anarchy, Kristen Ashley, Madeline Sheehan and Joanna Wylde. New York Times bestselling author Katie Ashley revs up the danger and sexual tension in her Vicious Cycle biker romance series. Looking for a walk on the wild side, Annabel Percy, the daughter of a powerful politician, starts dating a biker she knows is completely wrong for her. But she finds herself living a nightmare when she's kidnapped and transported into a hell on earth she never could have imagined. Born and bred into the Hells Raiders MC, Nathaniel "Reverend" Malloy lives and dies for his brothers. But when he becomes the unexpected savior of a rival club's captive, Rev makes it his personal mission to nurse Annabel back to health - and to shelter her from the nightmares that torment her. Once Annabel heals, she's stunned to realize she is falling for the seductive man who saved her. Faced with their impossible attraction, can she accept the life he leads, or will Rev walk away from the only life he's ever known for the woman he was never supposed to love? Want more sexy, gritty biker romance? Look for the other titles of danger and desire in the Vicious Cycle series.
Sklep: Libristo.pl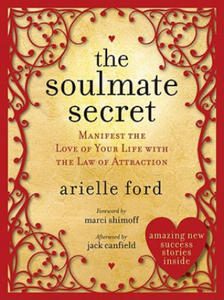 51,09 zł
Książki / Literatura obcojęzyczna
Have you ever wondered what it takes to find the love of your life? Is it your dream to find a life-partner who will love, cherish and adore you? "The Soulmate Secret" will show you how to take control of your romantic destiny by using the Law of Attraction. Finding true love is possible for anyone at any age if you're willing to prepare yourself, on all levels, to become a magnet for love. Arielle Ford knows this from experience. She used the techniques in this book to bring her soulmate into her life at age 44. They were engaged six weeks later. This ancient formula reveals that our Universe is set up to deliver the people and things that are consistent with our personal belief system. If you don't believe you will ever find the one, then guess what? You probably won't. If, however, you learn to believe that the one is not only out there but is also looking for you, then true love can be yours. Using a series of processes called feelingizations - feeling in every cell of your being the outcome you want to create - Ford reveals how to manifest the man or woman of your dreams. The techniques, rituals, and projects found within these pages will allow you to prepare your home, body, mind, and spirit for the lover your heart truly desires.
Sklep: Libristo.pl 41,91 zł
Książki / Literatura obcojęzyczna
I bit my lip as I typed in the words 'sexting and teens' and hit 'search'. Articles popped up, one after another, and I groaned inwardly. Most of them were about me. Ashleigh's boyfriend, Kaleb, is about to leave for college, and Ashleigh is worried that he'll forget about her while he's away. So at a legendary end-of-summer pool party, Ashleigh's friends suggest she text him a picture of herself - sans swimsuit - to take with him. Before she can talk herself out of it, Ashleigh strides off to the bathroom, snaps a photo in the full-length mirror, and hits 'send.' But when Kaleb and Ashleigh go through a bad breakup, Kaleb takes revenge by forwarding the text to his baseball team. Soon the photo has gone viral, attracting the attention of the school board, the local police, and the media. As her friends and family try to distance themselves from the scandal, Ashleigh feels completely alone - until she meets Mack while serving her court-ordered community service. Not only does Mack offer a fresh chance at friendship, but he's the one person in town who received the text of Ashleigh's photo - and didn't look. Acclaimed author Jennifer Brown brings readers a gripping novel about honesty and betrayal, redemption and friendship, attraction and integrity, as Ashleigh finds that while a picture may be worth a thousand words, it doesn't always tell the whole story.
Sklep: Libristo.pl 315,24 zł
Książki / Literatura obcojęzyczna
Endorsements: ""Colin and Edna McDougall have made a valuable contribution to the understanding of why and how faithful men and women took the Lord's admonition to make disciples seriously. This is a fascinating account of the planting of the Church in Dahomey (now Benin) in West Africa and the costs involved both to the missionaries and to the church they established. It is informative, moving, realistic, challenging and well written. I recommend it to all who are interested in God's desire that no one should perish."" Clyde Cook, President, Biola University. ""Few lifestyles are so completely different from today's Christian as those who first took the Gospel to the unreached peoples of Africa. With the heart of a devoted son and disciple of Christ, Colin McDougall has documented the lives of those who gave all to reach the peoples of Benin-the pioneer missionaries of Sudan Interior Mission."" Ed Underwood, Senior Pastor, Church of the Open Door. ""I read with great interest the life story of two of God's choice servants, Stewart and Edna McDougall-their heartaches, trials and victories-as they served the Lord in Dahomey/Benin. The thrilling results of their ministry is evidence to all that their labor was not in vain. For anyone interested in the growth of the Church in Africa, it is a must read."" Robert L. Foster, former International Director of Africa Evangelical Fellowship. ""This reader-friendly record belongs in the library of every home and church that takes seriously the Great Commission of Jesus Christ. The story of SIM church planting in Dahomey spells out the historic roots of an epic movement that has made an astonishing difference in an African nation. It is animated by colorful anecdotes that transport the mind into living episodes. Frail humans grappled to unlock an obscure language and culture. Isolated from the familiar, some with developing families and in a context of poverty of the basic resources, they trusted God. . . . My spirit is enriched. Yours will be, too."" Howard Dowdell, Founder: Canadian Centre for World Mission. About the Contributor(s): Colin and his wife, Virginia are both children of missionaries who served in Africa. Colin was a professor at Biola University for more than two decades during which time he also served as the Missions Elder for Church of the Open Door. He left Biola to serve as Executive Director of ACMC in Wheaton, Illinois, and is currently the President of Eternal Truth Ministries of North Carolina. He has written two other books, Guide for Disciple-makers and Models for Disciple-makers.
Sklep: Libristo.pl 76,14 zł
Książki / Literatura obcojęzyczna
Excerpt from Heat Engines: Being a New; Edition of Steam A piece of cold iron can be made red hot by hammering it. A carpenter's saw, an engineer's chisel, or turning tool, soon get hot when a rubbing action, or friction, is set up between the tool and the work, although they are all quite cold to begin with. Sir Humphry Davy melted' two blocks of ice by rubbing them one upon another, from which he concluded that 'the immediate cause of the phenomenon of heat is motion and this is now the generally accepted view of the nature of heat. Still we know that things may be hot without being visibly in motion hence, if heat is motion, the motion must exist in parts of the body too minute to be seen. All bodies are assumed to be composed of minute particles called molecules, held together by mutual attraction or cohesion, and these molecules are in a state of continual agitation or vibration. The hotter the body the more vigorous the vibra tions of its constituent particles. In solid bodies the vibrations are limited in extent. If this limit is exceeded, owing to addi tion of heat, cohesion is sufficiently overcome to enable the particles to move about freely and without restriction, and the solid has now become a liquid. On still continuing the heat, further separation of the molecules takes place, cohesion is completely overcome, and they ży off in all directions. The liquid has now become a gas. The pressure exerted by the gas on the interior surface of the vessel in which it is confined is due to the collision of the molecules with the sides of the vessel. The greater the intensity of the heat the more violent the impact, and there fore the greater the pressure exerted. This is the condition of things in the interior of a steam boiler. If a part of the enclosing vessel were movable, it would evidently be pushed backward and outward. This is what happens to the piston of the steam engine. About the Publisher Forgotten Books publishes hundreds of thousands of rare and classic books. Find more at www.forgottenbooks.com This book is a reproduction of an important historical work. Forgotten Books uses state-of-the-art technology to digitally reconstruct the work, preserving the original format whilst repairing imperfections present in the aged copy. In rare cases, an imperfection in the original, such as a blemish or missing page, may be replicated in our edition. We do, however, repair the vast majority of imperfections successfully; any imperfections that remain are intentionally left to preserve the state of such historical works.
Sklep: Libristo.pl 57,87 zł
Książki / Literatura obcojęzyczna
Only one girl will win the cash prize...and a chance at love with Jeremy Bane. Monet isn't just another lust-struck teenager trying to win the heart of Rock God Jeremy Bane--she needs the prize money from his new reality show to cure her illness. Monet has Fluxem, a contagious disease that's spread through saliva. It's completely curable if you have enough money, which she and her single mother don't. Now that she's on the show, Monet has to work harder to keep her Fluxem hidden. She only has to keep the secret long enough to woo Jeremy Bane so he picks her as the winner. She doesn't even care about the love part; the prize alone will change her life. But the real Jeremy Bane is nothing like she imagined. Monet finds herself fighting against feelings that make her want to give in to her attraction and Jeremy's attempts for a kiss. The further she goes in the competition, the more impossible it becomes to resist him--and when the producers turn the tables and start digging up dirt on the contestants, Monet fears her secret will be revealed before she's ready and ruin everything. The only way to win Jeremy's heart is to tell him the truth, but confessing her disease could cost her the competition, the prize money, and him.
Sklep: Libristo.pl 46,63 zł
Książki / Literatura obcojęzyczna
He opened his eyes as she stepped into the bath. She had lit a lamp but turned the wick low. She was black with silvery glints of mica, and her hair was twisted up and pinned. She washed with a sponge and cloth, watching in a full-length mirror not in admiration but because fine coal dust had insinuated itself completely into the pores of her skin. As she washed she progressed from ebony to blue, and from blue to olive, like a watercolour turning to a lighter colour...Rose said, 'What's your name? You know mine, I don't know yours.' 'Blair.' 'You're a bastard, Mr Blair.' Rose is a searing love story, a gripping adventure and a haunting mystery. It is the story of Jonathan Blair, an American adventurer cast adrift in Victorian England who must travel north to solve the mysterious disappearance of a young cleric...and confront his own heart of darkness...
Sklep: Libristo.pl 1353,51 zł
Książki / Literatura obcojęzyczna
On 15-17 September, 1993, Innsbruck, Austria, search. Another remarkable case, that of the pre-Colum hosted the International Mummy Symposium. This bian miner from Restauradora Mine near Chuqincamata does not mean that beautiful North Tyrol was the setting in northern Chile, is the result of impregnation with for a gathering of the world's most prominent mummies copper salts, and the mummy became an attraction as themselves, but rather the exciting discovery of a Late "Copper Man" at various fairs around the country. As he Neolithic glacial mummy released from the ice of the was found with a complete set of miner's tools, the Otztal Alps provided the focus of attention for numerous mummy offers a unique insight into the life and working scholars from many different parts of the world to come conditions of an Indio miner of the first millennium AD. together to address various questions relating to mum Even so, the mummified remains comprise only the skel mified human remains. eton with a completely rigid covering of skin, whereas Normally researchers studying the remains of histori the other soft parts have not survived. calor prehistoric human bodies will at best have bony In contrast, mummification in ice, and especially in substance to work on. It is rarely the case that soft parts the permafrost, can produce much better results.
Sklep: Libristo.pl 46,63 zł
Książki / Literatura obcojęzyczna
A suspicious death. A ghost in a mirror. The second Dark Legacy novel from the New York Times bestselling author known for crafting novels of burning passion and chilling suspense ...Gwen Frazier is no stranger to ghosts. She sees them in pools of water, windows, mirrors - any reflective surface - at the scene of their violent deaths. But finding justice for the dead is something she's not trained to do and a luxury she can't afford. What pays the bills is her work as a psychic counsellor who sees auras and interprets dreams. But the death of her friend and mentor, Evelyn Ballinger, brings Gwen back to the small town of Wilby, Oregon, and brings back memories she would rather forget. And suddenly, she finds herself a suspect. Enter Judson Coppersmith - a man of startling power and disturbing energy. Sent by a friend to help Gwen, the psychic investigator arrives in Wilby barely in control of his own talent and his own life, haunted by urgent dreams. His attraction to Gwen is primal, but there are secrets he must keep to protect himself from surrendering to her completely. As their investigation into deaths past and present draws them ever closer to danger, Gwen finds herself going too far - into dreamscapes, into decades of deception, and into the fires of a desire too strong to resist ...
Sklep: Libristo.pl
Sklepy zlokalizowane w miastach: Warszawa, Kraków, Łódź, Wrocław, Poznań, Gdańsk, Szczecin, Bydgoszcz, Lublin, Katowice
Szukaj w sklepach lub całym serwisie
2. Szukaj na wszystkich stronach serwisu
t1=0.519, t2=0, t3=0, t4=0.042, t=0.52