krainaksiazek attraction from the heart completely yours 20170031
- znaleziono 8 produktów w 2 sklepach 203,28 zł
Yours, Al Harbour Publishing
Książki / Literatura obcojęzyczna
"Dear John: I was down in your neck or coccyx of the woods last week and put my arms around an ex-pro boxer's wife in a drunken euphoria and nearly got my profile altered to 7500 A.D. . . . Dear Louis: I was just talking to Peter Brown and he says you hate me . . . What a waste of time. . . . Dear Buc: I always used to tell Birney if he died before me I was gonna grind him up and marinate him for an aphrodisiac. I like the guy, but never could figure out his apparent attraction to women . . ." --from various letters
Sklep: Libristo.pl 44,86 zł
Książki / Literatura obcojęzyczna
For fans of Sons of Anarchy, Kristen Ashley, Madeline Sheehan and Joanna Wylde. New York Times bestselling author Katie Ashley revs up the danger and sexual tension in her Vicious Cycle biker romance series. Looking for a walk on the wild side, Annabel Percy, the daughter of a powerful politician, starts dating a biker she knows is completely wrong for her. But she finds herself living a nightmare when she's kidnapped and transported into a hell on earth she never could have imagined. Born and bred into the Hells Raiders MC, Nathaniel "Reverend" Malloy lives and dies for his brothers. But when he becomes the unexpected savior of a rival club's captive, Rev makes it his personal mission to nurse Annabel back to health - and to shelter her from the nightmares that torment her. Once Annabel heals, she's stunned to realize she is falling for the seductive man who saved her. Faced with their impossible attraction, can she accept the life he leads, or will Rev walk away from the only life he's ever known for the woman he was never supposed to love? Want more sexy, gritty biker romance? Look for the other titles of danger and desire in the Vicious Cycle series.
Sklep: Libristo.pl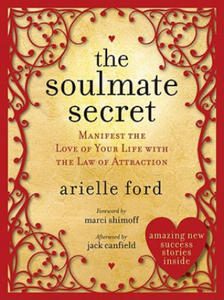 49,16 zł
Książki / Literatura obcojęzyczna
Have you ever wondered what it takes to find the love of your life? Is it your dream to find a life-partner who will love, cherish and adore you? "The Soulmate Secret" will show you how to take control of your romantic destiny by using the Law of Attraction. Finding true love is possible for anyone at any age if you're willing to prepare yourself, on all levels, to become a magnet for love. Arielle Ford knows this from experience. She used the techniques in this book to bring her soulmate into her life at age 44. They were engaged six weeks later. This ancient formula reveals that our Universe is set up to deliver the people and things that are consistent with our personal belief system. If you don't believe you will ever find the one, then guess what? You probably won't. If, however, you learn to believe that the one is not only out there but is also looking for you, then true love can be yours. Using a series of processes called feelingizations - feeling in every cell of your being the outcome you want to create - Ford reveals how to manifest the man or woman of your dreams. The techniques, rituals, and projects found within these pages will allow you to prepare your home, body, mind, and spirit for the lover your heart truly desires.
Sklep: Libristo.pl 44,86 zł
Książki / Literatura obcojęzyczna
He opened his eyes as she stepped into the bath. She had lit a lamp but turned the wick low. She was black with silvery glints of mica, and her hair was twisted up and pinned. She washed with a sponge and cloth, watching in a full-length mirror not in admiration but because fine coal dust had insinuated itself completely into the pores of her skin. As she washed she progressed from ebony to blue, and from blue to olive, like a watercolour turning to a lighter colour...Rose said, 'What's your name? You know mine, I don't know yours.' 'Blair.' 'You're a bastard, Mr Blair.' Rose is a searing love story, a gripping adventure and a haunting mystery. It is the story of Jonathan Blair, an American adventurer cast adrift in Victorian England who must travel north to solve the mysterious disappearance of a young cleric...and confront his own heart of darkness...
Sklep: Libristo.pl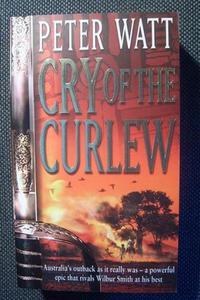 8,00 zł
Antykwariat literacki / Książki angielskojęzyczne
Life was harsh and cheap in the frontierlands of northern Australia. When prosperous landowner Donald Macintosh orders the brutal dispersal of the aboriginal Nerambura tribe from his property in 1862, he little realises the terrible consequences of what he regards as a routine land clearance. Witnesses to the brutal slaughter, poverty-stricken cattle-drivers Patrick Duffy and his son, Tom, are unwillingly dragged into its aftermath, and a chain of events is set in motion from which neither family will escape intact. Meanwhile, in thriving Sydney Town, Michael Duffy and Fiona Macintosh are completely unaware of the cataclysmic events overtaking their fathers in the colony of Queensland. When their paths cross on a day's outing from the city, the spark of instant attraction is ignited. But a storm during the ferry trip home is but a small portent of what is to follow... Spanning the middle years of the nineteenth century, Cry of the Curlew is the compelling epic of the all-consuming cycle of love, death, violence and revenge which overtake the two feuding families as they attempt to tame the wilds of Northern Australia. It establishes Peter Watt as an exceptional new storytelling talent. Stan książki bardzo dobry.
Sklep: Hatteria.pl 39,73 zł
Książki / Literatura obcojęzyczna
I bit my lip as I typed in the words 'sexting and teens' and hit 'search'. Articles popped up, one after another, and I groaned inwardly. Most of them were about me. Ashleigh's boyfriend, Kaleb, is about to leave for college, and Ashleigh is worried that he'll forget about her while he's away. So at a legendary end-of-summer pool party, Ashleigh's friends suggest she text him a picture of herself - sans swimsuit - to take with him. Before she can talk herself out of it, Ashleigh strides off to the bathroom, snaps a photo in the full-length mirror, and hits 'send.' But when Kaleb and Ashleigh go through a bad breakup, Kaleb takes revenge by forwarding the text to his baseball team. Soon the photo has gone viral, attracting the attention of the school board, the local police, and the media. As her friends and family try to distance themselves from the scandal, Ashleigh feels completely alone - until she meets Mack while serving her court-ordered community service. Not only does Mack offer a fresh chance at friendship, but he's the one person in town who received the text of Ashleigh's photo - and didn't look. Acclaimed author Jennifer Brown brings readers a gripping novel about honesty and betrayal, redemption and friendship, attraction and integrity, as Ashleigh finds that while a picture may be worth a thousand words, it doesn't always tell the whole story.
Sklep: Libristo.pl 44,86 zł
Książki / Literatura obcojęzyczna
A suspicious death. A ghost in a mirror. The second Dark Legacy novel from the New York Times bestselling author known for crafting novels of burning passion and chilling suspense ...Gwen Frazier is no stranger to ghosts. She sees them in pools of water, windows, mirrors - any reflective surface - at the scene of their violent deaths. But finding justice for the dead is something she's not trained to do and a luxury she can't afford. What pays the bills is her work as a psychic counsellor who sees auras and interprets dreams. But the death of her friend and mentor, Evelyn Ballinger, brings Gwen back to the small town of Wilby, Oregon, and brings back memories she would rather forget. And suddenly, she finds herself a suspect. Enter Judson Coppersmith - a man of startling power and disturbing energy. Sent by a friend to help Gwen, the psychic investigator arrives in Wilby barely in control of his own talent and his own life, haunted by urgent dreams. His attraction to Gwen is primal, but there are secrets he must keep to protect himself from surrendering to her completely. As their investigation into deaths past and present draws them ever closer to danger, Gwen finds herself going too far - into dreamscapes, into decades of deception, and into the fires of a desire too strong to resist ...
Sklep: Libristo.pl 120,34 zł
Książki / Literatura obcojęzyczna
Creating a sensation with her risque nightclub act and strolls down the Champs Elysees, pet cheetah in tow, Josephine Baker lives on in popular memory as the banana-skirted siren of Jazz Age Paris. In Josephine Baker and the Rainbow Tribe," Matthew Pratt Guterl brings out a little known side of the celebrated personality, showing how her ambitions of later years were even more daring and subversive than the youthful exploits that made her the first African American superstar. Her performing days numbered, Baker settled down in a sixteenth-century chateau she named Les Milandes, in the south of France. Then, in 1953, she did something completely unexpected and, in the context of racially sensitive times, outrageous. Adopting twelve children from around the globe, she transformed her estate into a theme park, complete with rides, hotels, a collective farm, and singing and dancing. The main attraction was her Rainbow Tribe, the family of the future, which showcased children of all skin colors, nations, and religions living together in harmony. Les Milandes attracted an adoring public eager to spend money on a utopian vision, and to worship at the feet of Josephine, mother of the world. Alerting readers to some of the contradictions at the heart of the Rainbow Tribe project--its undertow of child exploitation and megalomania in particular--Guterl concludes that Baker was a serious and determined activist who believed she could make a positive difference by creating a family out of the troublesome material of race."
Sklep: Libristo.pl
Sklepy zlokalizowane w miastach: Warszawa, Kraków, Łódź, Wrocław, Poznań, Gdańsk, Szczecin, Bydgoszcz, Lublin, Katowice
Szukaj w sklepach lub całym serwisie
2. Szukaj na wszystkich stronach serwisu
t1=0.031, t2=0, t3=0, t4=0.015, t=0.032