krainaksiazek business communication developing leaders for a networked world 20128973
- znaleziono 6 produktów w 2 sklepach 729,34 zł
Książki / Literatura obcojęzyczna
Risk and reward are always foremost in the determination of investment decisions and business transactions. Advances in the area of Information Communication Technologies (ICT) have enabled the development of new business paradigms. Such paradigms involve transactions taking place between loosely connected parties, often totally or partially unknown to one another. One important concept required to ensure such transactions are successful is transactional risk. The importance of doing this has been demonstrated in recent financial crisis. This book is unique in simultaneously taking into account the likelihood of an event occurring and its financial impact and provides an integrated discussion of the process of transactional risk identification, assessment, evaluation, management and recording in these emerging domains. It provides a detailed and clear exposition of the importance of transactional risk before detailing for its assessment and evaluation. §The scope of the book is theoretical and practical and as such it will have a broad market both within academia and industry. Specifically this book should be of primary interest to researchers, graduate students and practitioners in the area of developing business intelligence techniques and their application in various real world applications.
Sklep: Libristo.pl 249,79 zł
Książki / Literatura obcojęzyczna
Master's Thesis from the year 2014 in the subject Statistics, grade: 75, Technical University of Berlin (Loyola College), course: M.Sc Statistics, language: English, abstract: The Doing Business Report (DB) is a study elaborated by the World Bank Group since 2003 every year that is aimed to measure the costs to firms of business regulations in 189 countries in 2012.The study has become one of the flagship knowledge products of the World Bank Group in the field of Private Sector development, and is claimed to have motivated the design of several regulatory reforms in developing Countries. The study presents every year a detailed analysis of costs, requirements and procedures. A specific type of Private Firm is subject in all countries, and then, creates rankings for every country. The study is also backed up by broad communication efforts, and by creating rankings, the study spotlights countries and leaders that are promoting reforms.
Sklep: Libristo.pl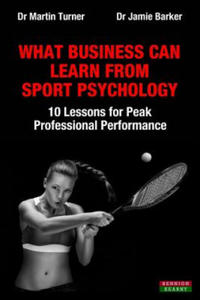 87,66 zł
Książki / Literatura obcojęzyczna
How are the best athletes in the world able to function under the immense pressure of competition? By harnessing the potential of their minds to train smart, stay committed, focus, and deliver winning performances with body and mind when the time is right. The mental side of performance has always been a crucial component for success - but nowadays coaches, teams, and athletes of all levels and abilities are using sport psychology to help fulfil their potential and serve up success. It goes without saying that business performance has many parallels with sporting performance. But did you realize that the scientific principles of sport psychology, used by elite athletes the world over, are being used by some of the most successful business professionals? Performance - in any context - is about utilizing and deploying every possible resource to fulfil your potential. This book is about getting into a winning state of body and mind for your performance - whatever that might be - sales pitches, presentations, leadership, strategic thinking, delivery, and more. In What Business Can Learn From Sport Psychology you will develop the most important weapon you need to succeed in business: your mental approach to performance. This book reveals the secrets of the winning mind by exploring the strategies and techniques used by the most successful athletes and professionals on the planet. As you read this book you will learn about practical and powerful techniques and refine your mental approach to business performance. Based on decades of scientific research, the authors' professional experiences, and the experiences of winning athletes and business professionals, this book is a practical and evidence-driven resource that will teach you how to deal with pressure, break through adversity, embrace challenges, project business confidence, and much more. - Discover and Utilize sport psychology techniques to Maximize your potential and that of your organization - Develop ways to not just cope but Thrive under pressure - Harness the power of your mind to avoid Overthinking; Seize your Opportunities - Understand the Power of Communication, Preparation, and Pre-Performance Routines - Prevent destructive thoughts from taking hold - Learn how to Self-Regulate in pressure situations through Relaxation and Activation Exercises - Full of practical guidance, and tried-and-tested performance methodologies Who are the authors? Dr Martin Turner is a Lecturer in Sport and Exercise Psychology in the School of Psychology, Sport and Exercise at Staffordshire University. Martin is an active researcher and a Chartered practitioner psychologist. He consults with professional athletes, teams, and coaches, and works extensively with business professionals and management in multinational organizations. Dr Jamie Barker is Associate Professor of Applied Performance Psychology at Staffordshire University, and a Chartered psychologist. Jamie is an active researcher and contributor to the Centre for Sport, Health, and Exercise Research (CSHER), works with business leaders and professionals across many disciplines, and is the co-author of the acclaimed Bennion Kearny title: The Psychology of Cricket: Developing Mental Toughness, amongst others.
Sklep: Libristo.pl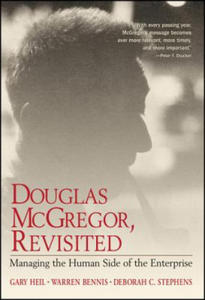 227,91 zł
Książki / Literatura obcojęzyczna
The words of Douglas McGregor, one of the fore-fathers of management theory and one of the top business thinkers of all time, cannot and should not be ignored. McGregor's vision of a more humanistic workplace may not have been widely accepted over three decades ago, but technological advancements that McGregor himself anticipated have paradoxically helped companies become more human. Viewing employees not as cogs in the machine but as living beings with individual goals-what McGregor called "the human side of the enterprise"-has proven to provide a remarkable competitive advantage. Now, with the rise of the networked economy, the growing power of frontline workers, and the shift in power from mass producer to individual consumer, authors Gary Heil, Warren Bennis, and Deborah Stephens assert that McGregor's ideas are more important and relevant than ever before. Douglas McGregor, Revisited emphasizes McGregor's lasting influence and updates his thinking with new concepts, fresh strategies, and modern implementation. This timely work traces McGregor's original thinking, which has emerged in current approaches that stress distributed leadership, open-minded appraisal techniques, and employee/customer commitment. Highlighted throughout with gems of wisdom in McGregor's own words, the book describes the value of his theories for today's managers. The authors carefully outline how to put McGregor's thinking into practice in your own business so you can: Devise a better performance management system Form and supervise effective management teams Build cooperation instead of internal competition Cultivate an intrinsically motivating, values-driven workplace Create a cause worthy of employee commitment Also featured are examples from a host of companies and leaders who have flourished under McGregor's approach. Authoritative and highly instructive, Douglas McGregor, Revisited offers new generations of managers important lessons from history and from the field. Praise for Douglas McGregor, Revisited "This book revisits in a contemporary manner the most important question facing management today: given what we know about human nature, how should work be managed so as to unleash the vast creative potential of human beings? The evidence is overwhelming that many people either come to an organization or can be appropriately led to exhibit the behavior McGregor characterized as 'Theory Y.' This book provides a 'how-to' approach for developing people at work and for establishing high performance organizations."-Joseph A. Maciariello, Horton Professor of Management Peter F. Drucker Graduate School of Management, Claremont Graduate University and Claremont McKenna College. Author of Lasting Value: Lessons from a Century of Agility at Lincoln Electric Douglas McGregor's seminal works, The Human Side of the Enterprise and The Professional Manager, debunked Taylorism and described a revolutionary way to manage people. He was the first to apply the findings in behavioral science to the world of business. Based on what had been learned about human behavior, McGregor explored the implications of managing people in a different manner than tradition dictated. The nature of work today makes McGregor's ideas more relevant than ever before. This important book applies his thinking to today's business world, proving again that the human aspect of work is crucial to organizational effectiveness. It also suggests how you can change your thinking and implement his ideas in your own business and workplace.
Sklep: Libristo.pl 386,40 zł
Biznes
With total coverage of over 100 economies worldwide and published for the seventh consecutive year, The Global Information Technology Report has grown into the world's most eminent assessment of the impact of information and communication technology (ICT) on the development and competitiveness of nations, and into a powerful tool for business leaders and policy makers in understanding the enabling factors of ICT advancements. The Global Information Technology Report 2006-2007 features the latest computation and rankings of the Networked Readiness Index as well as a number of essays covering different issues of networked readiness and showcasing best policies and practicing in leveraging ICT for growth and development.
Sklep: Albertus.pl 122,21 zł
Książki / Literatura obcojęzyczna
Project Report from the year 2012 in the subject Business economics - Marketing, Corporate Communication, CRM, Market Research, Social Media, grade: 2,0, Southern Illinois University Carbondale (College of Business), course: International Marketing, language: English, abstract: Presented here is Carbondale Consulting Crew s analysis of opening a new market for Arlington Plating Company s service in the country of Japan. Included in the analysis is a very concise marketing plan, which will assist Arlington Plating Company in making the decision of whether or not they should proceed. In this marketing plan, many factors that could affect the company s success are reviewed; such as the legal environment of Japan, the cultural and political environment, as well as the economic environment. §Along with those factors is the competitive environment. We not only looked at the general competitive environment of other chroming services, but specific competition as well. In general terms, we concluded that Arlington Plating Company s toughest competition would most likely be Japan s quickly developing country. The continuous updating of the company s plating technology will potentially be exhausting and a difficult hurdle to overcome. When speaking in specifics, there are a few other plating and chroming companies that will be competing in unison with our service. §Furthermore, Carbondale Consulting Crew went very in-depth when carefully choosing a target market. With Japan being one of the top leaders in car and motorcycle manufacturing, it was decided it would be tactful to target the three leading car manufacturers, as well as the three leading motorcycle manufacturers: Toyota, Nissan, Honda, Yamaha, and Suzuki.§Other things to consider were strengths, weaknesses, opportunities, and threats. Strengths and Weaknesses included would be §APC s unique technique and sustainable competitive advantages such as patents (strength) and unawareness of doing business internationally (weakness). Opportunities and threats include the fact that Japan is one of the top vehicle manufacturers in the world (opportunity), and competition (threat). It was decided by the Carbondale Consulting Crew that Arlington Plating Company s mode of entry would be licensing, due to the fact that contractual agreements are normally the most successful modes for business-to-business industries. Projected profits were hypothesized as well in our analysis. Finally, a plan for promotion, product, price, and physical distribution was implemented.
Sklep: Libristo.pl
Sklepy zlokalizowane w miastach: Warszawa, Kraków, Łódź, Wrocław, Poznań, Gdańsk, Szczecin, Bydgoszcz, Lublin, Katowice
Szukaj w sklepach lub całym serwisie
2. Szukaj na wszystkich stronach serwisu
t1=0.294, t2=0, t3=0, t4=0.019, t=0.294