krainaksiazek business driven information systems 20128972
- znaleziono 13 produktów w 2 sklepach 300,55 zł
Książki / Literatura obcojęzyczna
The Internet and the World Wide Web are becoming increasingly important in our highly interconnected world. This book addresses the topic of querying the data available, with regard to its quality, in a systematic and comprehensive way, from a database point of view. First, information quality and information quality measures are systematically introduced before ranking algorithms are developed for selecting Web sources for access. The second part is devoted to quality-driven query answering, particularly to query planning methods and algorithms. The in-depth presentation of algorithms and techniques for quality-oriented querying will serve as a valuable source of reference for R&D professionals and for IT business people. In addition, the work will provide students with a comprehensible introduction to cutting-edge research.
Sklep: Libristo.pl 329,60 zł
Książki / Literatura obcojęzyczna
The Author shows the classification of international accounting systems, harmonization and standardization process. The unified accounting information system will lead to new types of analysis and data; furthermore, with the possible integration of new indicators from the practice of certain countries. Some economic characteristics and affects of international accounting standards are compared, measured and valued inside and outside of the European Union using mathematical-statistical methods. The results of applied regression model support that the greater demand for more informative and conservative accounting earnings due to performance evaluations at more widely held by businesses stimulating to adopt international accounting standards. Businesses with lower labor productivity compared to their industry peers have greater incentives to follow accounting standardization. The increase in the sensitivity of turnover to accounting performance post-adoption is primarily driven by heightened turnover sensitivity to accounting losses. The empirical results can be the author's suggestions for business management.
Sklep: Libristo.pl 348,97 zł
Książki / Literatura obcojęzyczna
This volume constitutes the proceedings of the 4th Working Conference on Practice-Driven Research on Enterprise Transformation (PRET), held in Gda sk, Poland, on June 27, 2012, as the industrial track of the 24th International Conference on Advanced Information Systems Engineering (CAiSE 2012).§Restructuring, divesting, improving performance, and merging are among the usual transformation activities that enterprises conduct to provide answers to the challenging demands put on them. To foster the much-needed debate between researchers and practitioners on these topics, the number of papers accepted for PRET is kept low, providing the authors and the audience with ample time to engage in discussions about both the practical implications of results and the theoretical underpinnings of phenomena observed in industrial practice. This year, five papers were selected after careful review, and each paper is between 20 and 25 pages long, to allow for the presentation of details.§The topics covered include enterprise architecture, business and IT alignment, and business process management and evaluation.§The topics covered include enterprise architecture, business and IT alignment, and business process management and evaluation.
Sklep: Libristo.pl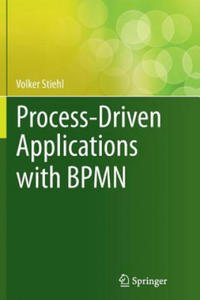 348,05 zł
Książki / Literatura obcojęzyczna
How can we optimize differentiating business processes and exploit their full potential? Here Volker Stiehl provides answers, utilizing the various options that the BPMN (Business Process Model and Notation) standard offers for planning, implementing and monitoring processes. The book presents an approach for implementing an architecture for applications that strives to find a balance between development and maintenance costs, sustainability, scalability and fault tolerance; that meets flexibility requirements without becoming inordinately complex itself; and that keeps the end application as abstract as possible from the system landscape in which it operates. Based on the semantic enhancements found in version 2.0 of the BPMN standard, which have made it possible to execute process models, his approach exploits BPMN to create and run complete application architectures. In this context, BPMN is not just used to model the business processes of the application, as the "B" in BPMN might suggest; but also to model and execute the integration processes between the systems. Throughout the book, the software package SAP Process Orchestration is used to illustrate the implementation of the proposed architecture, yet all recommendations are intentionally kept generic so that they can be implemented on any other comparable platform as well. Software architects, IT managers, software developers and project managers, as well as students of information and business technology will find the book a valuable resource. The proposed application architecture offers them a detailed blueprint, the principles of which they can use to plan and implement process-driven distributed applications.
Sklep: Libristo.pl 735,68 zł
Książki / Literatura obcojęzyczna
This book presents cutting-edge emerging technologies and approaches in the areas of service-oriented architectures, intelligent devices and cloud-based cyber-physical systems. It provides a clear view on their applicability to the management and automation of manufacturing and process industries. It offers a holistic view of future industrial cyber-physical systems and their industrial usage and also depicts technologies and architectures as well as a migration approach and engineering tools based on these.§By providing a careful balance between the theory and the practical aspects, this book has been authored by several experts from academia and industry, thereby offering a valuable understanding of the vision, the domain, the processes and the results of the research. It has several illustrations and tables to clearly exemplify the concepts and results examined in the text and these are supported by four real-life case-studies.§We are witnessing rapid advances in the industrial automation, mainly driven by business needs towards agility and supported by new disruptive advances both on the software and hardware side, as well as the cross-fertilization of concepts and the amalgamation of information and communication technology-driven approaches in traditional industrial automation and control systems. This book is intended for technology managers, application designers, solution developers, engineers working in industry, as well as researchers, undergraduate and graduate students of industrial automation, industrial informatics and production engineering.§
Sklep: Libristo.pl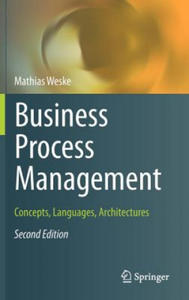 312,00 zł
Książki / Literatura obcojęzyczna
Business process management is usually treated from two different perspectives: business administration and computer science. While business administration professionals tend to consider information technology as a subordinate aspect in business process management for experts to handle, by contrast computer science professionals often consider business goals and organizational regulations as terms that do not deserve much thought but require the appropriate level of abstraction.§Mathias Weske argues that all communities involved need to have a common understanding of the different aspects of business process management. To this end, he details the complete business process lifecycle from the modeling phase to process enactment and improvement, taking into account all different stakeholders involved. After starting with a presentation of general foundations and abstraction models, he explains concepts like process orchestrations and choreographies, as well as process properties and data dependencies. Finally, he presents both traditional and advanced business process management architectures, covering, for example, workflow management systems, service-oriented architectures, and data-driven approaches. In addition, he shows how standards like WfMC, SOAP, WSDL, and BPEL fit into the picture.§This textbook is ideally suited for classes on business process management, information systems architecture, and workflow management. This 2nd edition contains major updates on BPMN Version 2 process orchestration and process choreographies, and the chapter on BPM methodologies has been completely rewritten. The accompanying website www.bpm-book.com contains further information and additional teaching material.
Sklep: Libristo.pl 275,96 zł
Książki / Literatura obcojęzyczna
Business Intelligence (BI): It's not just a technology. It's not just a methodology. It's a powerful new management approach that - when done right - can deliver knowledge, efficiency, better decisions, and profit to almost any organization that uses it. When BI first came on the scene, it promised a lot but often failed to deliver. The missing element was the business-centric focus explained in "The Profit Impact of Business Intelligence". Written by BI gurus Steve Williams and Nancy Williams, "The Profit Impact of Business Intelligence" shows step by step how you can achieve the promise of BI by connecting it to your organization's strategic goals, culture, and strengths while correcting your BI weaknesses. It provides a practical, process-oriented guide to achieve the full promise of BI. It shows how world-class companies used BI to become leaders in their industries. It helps senior business and IT executives understand the strategic impact of BI and how they can ensure a strong payoff from their BI investments. It identifies the most common mistakes organizations make in implementing BI. It includes a helpful glossary of BI terms. It also includes a BI readiness assessment for your organization. It includes Web links and extensive references for more information. Steve Williams, President and founder of DecisionPath Consulting, is a leading advocate of business-driven BI design and development. His consulting firm is one of the largest in the specialized field of Business Intelligence and Data Warehousing. Steve has over 23 years experience in information systems and systems engineering and has co-authored a training course on the BI Pathway Method. Nancy Williams is Vice President of DecisionPath Consulting. With over 21 years of business and technical experience, she provides technical and strategic leadership on business intelligence as well as hands-on guidance for client engagements. This is a practical, process-oriented book that will help organizations realize the promise of BI. It is written by Nancy and Steve Williams, veteran consultants and instructors with hands-on, 'in the trenches' experience in government and corporate business intelligence applications. It will help senior business and IT executives understand the strategic impact of BI and how they can help ensure a strong payoff on BI investments.
Sklep: Libristo.pl 282,30 zł
Biznes
Over the past few decades the political systems in advanced industrial societies have sailed through turbulent times. The globalization and liberalization of markets -- driven in part by a revolution in communication technologies -- coincided with an unprecedented mobility of capital, goods and services as well as increasing dependence of national polities on political and economic processes beyond their immediate control. Although these changes did not seal the end of the nation state, as some alarmist accounts had predicted, it undoubtedly transformed political power structures. An important question is how this deep structural change has affected the political sub-system of associational interest intermediation. The authors follow up that question by leaning on established accounts of collective action research and including more recent insights from organization theory, evolutionary theory and network analysis. They present empirical results having been obtained from hundreds of interviews with CEOs of business associations in the US, Britain, Germany, Switzerland and Austria. The core sectors are chemicals and information and communication technologies.There are also chapters on automotives and the dairy industry.
Sklep: Albertus.pl 130,46 zł
Książki / Literatura obcojęzyczna
Source: Wikipedia. Pages: 121. Chapters: Simple Network Management Protocol, Security management, Load balancing, Fault management, Managed object, Common management information service, Cacti, ProCurve Products, Windows Management Instrumentation, Organizationally unique identifier, Autonomic Networking, Comparison of network monitoring systems, Big Brother, Zentyal, Automounter, Management information base, HP OpenView, Assistant Secretary of Defense for Networks and Information Integration, Java Management Extensions, SolarWinds, Zenoss, Distributed Management Task Force, Netcat, Digital footprint, Syslog-ng, Opsview, Nagios, PacketTrap, Web-Based Enterprise Management, Goverlan Remote Administration Suite, Opsi, Zabbix, Network resource planning, NetCrunch, Transaction Language 1, Monolith Software, NETCONF, Pandora FMS, GridCC, Open Grid Forum, BaseN, Shinken, IP Flow Information Export, Cramer Systems, Nimsoft, OpenNMS, Network administrator, Plixer International, HP TeMIP Software, SFlow, FCAPS, Ganglia, RRDtool, In-network management, Transposition driven scheduling, Element Management, HP Business Service Management, NIS+, Network element, Website monitoring, JBoss operations network, Net-SNMP, Integrated business planning, Common management information protocol, Extromatica Network Monitor, OAMP, WhatsUp Gold, Network performance management, Multi Router Traffic Grapher, Log management and intelligence, Network management model, Accelops, Network traffic measurement, Information Security Operations Center, Desktop and mobile Architecture for System Hardware, Avaya Proactive Voice Quality Management, Network operations center, Zyrion Traverse, RMON, Rsyslog, Routers2, Object identifier, Enterprise project management, Avaya Unified Communications Management, NOC at Georgia State University, Console server, Network Information Service, Observium, Ipswitch, Inc., Website tracking, Telecommunications Management Network, Desktop Management Interface, InterMapper, ActionPacked! Networks, WMIX Software, Intellipool Network Monitor, WS-Management, Avaya Enterprise Switch Manager, Bidirectional Forwarding Detection, Cisco Unified Provisioning Manager, IBM Director, HP Operations Manager, Pragma Systems, FreeNATS, Dataprobe, Network Load Balancing Services, Terry Childs, Etherape, PacketFence, AdRem Software, Telecommunications control software, Argus, CoopNet content distribution system, Jumpnode, OpenKBM, Raritan Inc., Oracle Enterprise Manager Ops Center, CA Spectrum, MIMIC Simulator, NetLabs, NetXMS, Sipnms, Registered State Change Notification, Isyvmon, Internet server monitoring, Xymon, N2rrd, EventTracker PULSE, Loop Management System, Audit Record Generation and Utilization System, Ipanema Technologies, AiCache, Log management knowledge base, Paessler, Admon, Real user monitoring, Dhyan Network management System, Synthetic monitoring, SNMPTT, Netdisco, RANCID, Structure of Management Information, Optical performance monitoring, Big Sister, Network to Network Interface, Network management station, Passive monitoring, Remote virtual media, Panorama9, Upstream server, Fully Automatic Installation, JConsole, Lanhelper, Telecommunications Systems Management, IPHost Network Monitor, IT network assurance, Rollover cable, CaLStats, Joint Inter-Domain Management, Salutation, Telecommunication Management Network model, User network interface, Agent Extensibility Protocol, Monitoring and Measurement, Enterprise numbers, Guidelines for the D...
Sklep: Libristo.pl 252,98 zł
Supply Chains Addison-Wesley Educational Publishers Inc
Książki / Literatura obcojęzyczna
"An excellent summary of the state of supply chain management going into the twenty-first century. Explains the essential concepts clearly and offers practical, down-to-earth advice for making supply chains more efficient and adaptive. Truly a survival guide for executives as they struggle to cope with the increasing competition between supply chains." -Christian Knoll, Vice President of Global Supply Chain Management, SAP AG "Through real-world case studies and graphic illustrations, David Taylor clearly demonstrates the bottom-line benefits of managing the supply chain effectively. Although the book is written for managers, I recommend it for everyone from the executive suite to the shipping floor because they all have to work together to master the supply chain. But beware-you can expect many passionate employees demanding improvements in your company's supply chain after reading this book!" -David Myers, President, WinfoSoft Inc., Former Board Member of Supply Chain Council "A comprehensive, thoroughly researched, and well-designed book that gives managers the information they need in a highly readable form. I am already starting to use the techniques in this book to improve our international distribution system." -Jim Muller, Vice President of Produce Sales, SoFresh Produce "Supply chain management is a deceptively deep subject. Simple business practices combine to form complex systems that seem to defy rational analysis: Companies that form trading partnerships continue to compete despite their best efforts to cooperate; small variations in consumer buying create devastating swings in upstream demand, and so on. In his trademark fashion, Taylor clearly reveals the hidden logic at work in your supply chain and gives you the practical tools you need to make better management decisions. A must-read for every manager who affects a supply chain, and in today's marketplace there are few managers who are exempt from this requirement." -Adrian J. Bowles, Ph.D., President, CoSource.net "David Taylor has done it again. With his new book, David makes supply chain management easy to grasp for the working manager, just as he did with his earlier guides to business technology. If you work for a company that is part of a supply chain, you need this book." -Dirk Riehle, Ph.D. "David Taylor has done a masterful job of defining the core issues in supply chain management without getting trapped in the quicksand of jargon. This concise book is well written, highly informative, and easy to read." -Marcia Robinson, President, E-Business Strategies, author of Services Blueprint: Roadmap "Taylor has done a tremendous job of giving readers an intuitive grasp of a complicated subject. If you're new to supply chains, this book will give you an invaluable map of the territory. If you're already among the initiated, it will crystallize your insights and help you make better decisions. In either case, you can only come out ahead by reading this book." -Kevin Dick, Founder of Kevin Dick Associates, author of XML: A Manager's Guide "My motto for compressing data is 'squeeze it til it gags.' In the current business climate, that's what you have to do to costs, and Taylor shows you many ways to squeeze costs out of your supply chain. He also writes with the same economy: This book contains exactly what you need to manage your supply chain effectively. Nothing is missing, and nothing is extra." -Charles Ashbacher, President, Charles Ashbacher Technologies Today's fiercest business battles are taking place between competitors' supply chains, with victory dependent on finding a way to deliver products to customers more quickly and efficiently than the competition. For proof, just look to Dell and Amazon.com, both of which revolutionized their industries by changing how companies produce, distribute, and sell physical goods. But they're hardly alone. By revamping their supply chains, Siemens CT improved lead time from six months to two weeks, Gillette slashed $400 million of inventory, and Chrysler saved $1.7 billion a year. It's a high-stakes game, and you don't have a lot of choice about playing: If your company touches a physical product, it's part of a supply chain--and your success ultimately hangs on the weakest link in that chain. In Supply Chains: A Manager's Guide, best-selling author David Taylor explains how to assemble a killer supply chain using the knowledge, technology, and tools employed in supply-chain success stories. Using his signature fast-track summaries and informative graphics, Taylor offers a clear roadmap to understanding and solving the complex problems of supply-chain management. Modern manufacturing has driven down the time and cost of the production process, leaving supply chains as the final frontier for cost reduction and competitive advantage. Supply Chains: A Manager's Guide will quickly give managers the foundation they need to contribute effectively to their company's supply-chain success.
Sklep: Libristo.pl 103,00 zł
Transforming Enterprise MIT Press Massachusets Institute of Tech nology
Inne 1
Innovators across all sectors of society are using information and communication technology to reshape economic and social activity. Even after the boom -- and despite the bust -- the process of structural change continues across organizational boundaries. Transforming Enterprise considers the implications of this change from a balanced, post-bust perspective. Original essays examine the impact on the economy as a whole, and, in particular, the effect on productivity; the role of information technology in creating and using knowledge -- especially knowledge that leads to innovation; and new organizational models, as seen in the interlocking and overlapping networks made possible by the Internet. The authors also analyze structural changes in specific sectors, including the effect of information technology on the automotive industry, demand-driven production and flexible value chains in the personal computer industry, and new models of outsourced manufacturing in the electronics industry. The final essays examine the societal implications of the diverse ways that information technologies are used -- across individuals, groups, communities, and nations -- and considering questions of access and the digital divide. William H. Dutton is Professor of Internet Studies and Director of the Oxford Internet Institute, University of Oxford. Brian Kahin is Visiting Professor at the University of Michigan. He is a coeditor of Transforming Enterprise (MIT Press, 2004) and many other books. Ramon O'Callaghan is Professor of Information Systems and Management at the School of Economics and Business Administration, Tilburg University, the Netherlands. Andrew W. Wyckoff is Head of the Economic Analysis and Statistics Division, Directorate for Science, Technology, and Industry, Organisation for Economic Co-operation and Development, Paris.
Sklep: Albertus.pl 876,82 zł
Książki / Literatura obcojęzyczna
Service Level Agreements for Cloud Computing provides a unique combination of business-driven application scenarios and advanced research in the area of service-level agreements for Clouds and service-oriented infrastructures. Current state-of-the-art research findings are presented in this book, as well as business-ready solutions applicable to Cloud infrastructures or ERP (Enterprise Resource Planning) environments.§Service Level Agreements for Cloud Computing contributes to the various levels of service-level management from the infrastructure over the software to the business layer, including horizontal aspects like service monitoring. This book provides readers with essential information on how to deploy and manage Cloud infrastructures. Case studies are presented at the end of most chapters. §Service Level Agreements for Cloud Computing is designed as a reference book for high-end practitioners working in cloud computing, distributed systems and IT services. Advanced-level students focused on computer science will also find this book valuable as a secondary text book or reference.
Sklep: Libristo.pl 212,47 zł
Książki / Literatura obcojęzyczna
Use the methodology in this study guide to design, manage, and operate a balanced enterprise cybersecurity program that is pragmatic and realistic in the face of resource constraints and other real-world limitations. This guide is an instructional companion to the book Enterprise Cybersecurity: How to Build a Successful Cyberdefense Program Against Advanced Threats . The study guide will help you understand the book's ideas and put them to work. The guide can be used for self-study or in the classroom. Enterprise cybersecurity is about implementing a cyberdefense program that will succeed in defending against real-world attacks. While we often know what should be done, the resources to do it often are not sufficient. The reality is that the Cybersecurity Conundrum-what the defenders request, what the frameworks specify, and what the budget allows versus what the attackers exploit-gets in the way of what needs to be done. Cyberattacks in the headlines affecting millions of people show that this conundrum fails more often than we would prefer. Cybersecurity professionals want to implement more than what control frameworks specify, and more than what the budget allows. Ironically, another challenge is that even when defenders get everything that they want, clever attackers are extremely effective at finding and exploiting the gaps in those defenses, regardless of their comprehensiveness. Therefore, the cybersecurity challenge is to spend the available budget on the right protections, so that real-world attacks can be thwarted without breaking the bank. People involved in or interested in successful enterprise cybersecurity can use this study guide to gain insight into a comprehensive framework for coordinating an entire enterprise cyberdefense program. What You'll Learn Know the methodology of targeted attacks and why they succeed Master the cybersecurity risk management process Understand why cybersecurity capabilities are the foundation of effective cyberdefenses Organize a cybersecurity program's policy, people, budget, technology, and assessment Assess and score a cybersecurity program Report cybersecurity program status against compliance and regulatory frameworks Use the operational processes and supporting information systems of a successful cybersecurity program Create a data-driven and objectively managed cybersecurity program Discover how cybersecurity is evolving and will continue to evolve over the next decade Who This Book Is For Those involved in or interested in successful enterprise cybersecurity (e.g., business professionals, IT professionals, cybersecurity professionals, and students). This guide can be used in a self-study mode. The book can be used by students to facilitate note-taking in the classroom and by Instructors to develop classroom presentations based on the contents of the original book, Enterprise Cybersecurity: How to Build a Successful Cyberdefense Program Against Advanced Threats .
Sklep: Libristo.pl
Sklepy zlokalizowane w miastach: Warszawa, Kraków, Łódź, Wrocław, Poznań, Gdańsk, Szczecin, Bydgoszcz, Lublin, Katowice
Szukaj w sklepach lub całym serwisie
2. Szukaj na wszystkich stronach serwisu
t1=0.545, t2=0, t3=0, t4=0.042, t=0.545