krainaksiazek business plan best proven techniques to writing a successful business plan to maximize a profitable business 20167324
- znaleziono 4 produkty w 2 sklepach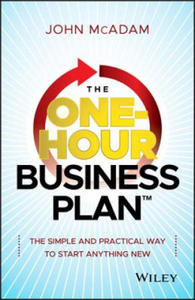 131,41 zł
Książki / Literatura obcojęzyczna
A guide to writing a successful business plan--in just one hour§A strong business plan greatly increases a business chance of success, especially in an economic environment in which more than 50 percent of businesses fail within three years. Your business plan can serve as a foundation for your successful business. The One-Hour Plan, written by seasoned entrepreneur and business instructor John McAdam, helps you lay that foundation. With the help of this book, aspiring entrepreneurs can write a viable business plan in just one hour.§Offers step-by-step guidance on the process of writing a business plan, with field-tested instructional techniques that are simple, strong, and easy to implement§Written by John McAdam, a "been there, done that" hired CEO and serial entrepreneur with decades of real-world experience, who helps ordinary people become entrepreneurs and helps entrepreneurs become successful§The One-Hour Business Plan outlines a process and a framework for creating a business plan that sets you up for success. Give your business the best odds for success, in just one hour of your time.
Sklep: Libristo.pl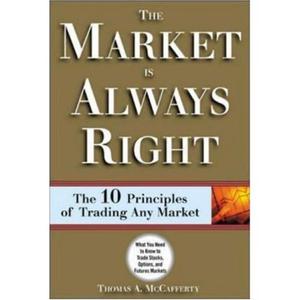 157,40 zł
Literatura anglojęzyczna
Podana cena książki jest orientacyjna, zależy od kilku czynników. Po zakupie obsługa sklepu skontaktuje się, jeśli konieczna będzie dopłata. Book Description Rules for successful trading, direct from the traders who practice them every day Even with today's high-speed computers, online accounts, and information access, traders still live or die based on their abilities to control fear, greed, and emotion. The Market Is Always Right gives traders battle-proven advice for avoiding common trading setbacks by understanding human natureboth their own and others'and directing it toward profitable outcomes. Distilling the wisdom of hundreds of traders, this proactive book starts with 10 overriding rulesfor example, "Evaluate your performance"and then lists the subrules within each, such as "Qualify and quantify your trading pattern." Other examples include: Never chase trades Watch the opendon't trade it When in doubt, get out Download Description Even with today's high-speed computers, online accounts, and information access, traders still live or die based on their abilities to control fear, greed, and emotion. The Market Is Always Right gives traders battle-proven advice for avoiding common trading setbacks by understanding human natureboth their own and others'and directing it toward profitable outcomes. Book Info Provides rules for successful trading, direct from the traders who practice them every day. Gives traders battle-proven advice for avoiding common trading setbacks by understanding human nature, both their own and others' and directing it toward profitable outcomes. From the Back Cover Market-Proven Tactics for Fighting the Trader's Toughest Enemy--His Own Volatile Emotions Few professions are as stress-filled as trading. In the time it takes to refill your coffee, you can lose tens of thousands of dollars. Then you must determine in a split second whether to cut your losses and sell, average down and buy more, or sit tight and hope the market turns back in your favor... Without any guarantees. The Market Is Always Right answers the question, "How do experienced traders control their emotions in the heat of the trading battle?" Whether you are trading stocks, options, or futures, this straight-talking book shows you how to maintain a strong and steady course by detailing: - Ways to spot--and overcome--the seven deadly sins of trading - Two key questions traders should ask themselves before each market open - Trading events that scream "SELL!" no matter what Long-time traders know: Whether markets are plummeting, skyrocketing, or simply holding steady, emotion is a trader's worst enemy. Whether you are a new trader looking to reach the next level of market mastery or an experienced trader seeking to pick up a new trick or two, The Market Is Always Right will show you how to maintain control in every market--by keeping your cool while all about you are losing theirs. "Traders must deal with human nature as they trade, both their own and their counterparts', as they collectively react to the markets they trade. The purpose of this book is to give you an insight into what hundreds of other traders have found that works when it comes to harnessing and directing human nature most productively..."--from the Introduction The world of trading is undergoing an unprecedented metamorphosis. Powerful personal computers, direct access to live trading markets, unlimited access to information, and more have placed individual traders on the same playing field as the pros. Yet one essential aspect of trading--the trader's basic human nature--remains unchanged and can wreak more havoc than all other trading perils combined. The Market Is Always Right takes you beyond the techniques of trading to explore your mind, day in and day out the most important and difficult-to-control market tool. Showing you how to recognize and overcome fear, greed, envy, and other deeplyengrained emotions that consistently work against your trading success, this insightful and market-proven guidebook covers: - Ways to develop--and stick to--a personalized trading plan - Strategies for knowing when to pull the trigger and avoid "paralysis by analysis" - Nine personality types, with the common trading faults of each - How to know when--and when not--to hold a position overnight - Valuable appendices listing Level 2 market makers, trading terms, resources for further information, and more "If you attempt to fight or to impose your will on the market, you court disaster."--from Chapter 1 While you can't control the global economy, the markets, or even the actions and reactions of other traders, you can control your own stress levels--and even learn to use them to your advantage! Let The Market Is Always Right show you how to go beyond mechanical trading principles to develop the successful trader's most essential and difficult-to-acquire tool--self-knowledge--and thereby replace costly self-doubt and worry with the confidence you need to remain focused on the business at hand and make sound decisions every second of the trading day. About the Autor Thomas McCafferty is COO of Market Wise Securities and has been involved in the securities industry for nearly three decades. A registered stockbroker and options principal, McCafferty has written a number of books on trading, including All About Commodities.
Sklep: Maklerska.pl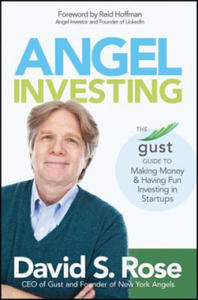 145,58 zł
Książki / Literatura obcojęzyczna
Praise for Angel Investing: "The world of entrepreneurial startups is where the most exciting and creative action is happening in todays business world, which is why I was a strong supporter of the Jobs Act of 2012. No wonder millions of people are wondering how they can get involved as investors. Theres no better place to start than by reading". (David S. Roses Angel Investing. U.S. Senator Charles E. Schumer, Senate Finance Committee). "From the best methods for finding and picking tomorrows big winners to proven techniques for adding value to any business you invest in, Angel Investing provides readers with everything they need to know to get started in this fascinating, fun and lucrative business arena". (David Bach, number 1 New York Times bestselling author of The Automatic Millionaire and Start Late Finish Rich, Angel Investor). "As an angel investor and a long-time fan of David S. Rose, I was delighted to hear he finally captured his wit and wisdom in the pages of a book. Davids witty stories and angel investing principles as well as his unsurpassed knowledge of his field are teaching me so much more about investing than Ive learned over the years doing it!" (Barbara Corcoran, Real Estate Mogul, Shark Tank star, Angel Investor). "This is the most comprehensive and readable guide to angel investing ever written. The chapter on valuation and expectations lays out a clear framework for understanding one of the least well-known pitfalls in the angel world. And its emphasis on creating a win-win relationship with the entrepreneur is at the heart of being a long-term successful angel and continuing to see the best deal flow. I recommend this book to anyone even thinking about making or receiving angel investments. (Howard L. Morgan, Founding Partner, First Round Capital). "Angel Investing is an engaging, easy read, full of real stories and hard numbers, actual cases and a whole lot of good advice. David S. Rose brings tons of real-world knowledge to the subject that makes this required reading for every new angel". (Tim Berry, Author of Business Plan Pro, Entrepreneur, Angel Investor). "Anyone with a checkbook can be an angel investor, but it takes insight to do it well. David S. Rose has written a terrific new book that will help would-be angels make money, rather than lose it. From explaining the value of diversification, to tips on evaluating deals, to offering up plans to attract good deals, Angel Investing will help you move from a money-losing amateur to a money-making professional angel. And if you're an entrepreneur looking for angel money, you should read this book too. It will help you understand what knowledgeable angels are seeking and how they will evaluate you". (Scott Shane, author of Fools Gold? The Truth Behind Angel Investing in America).
Sklep: Libristo.pl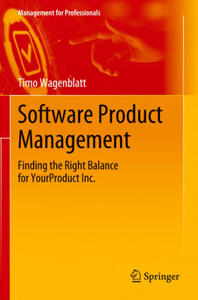 258,51 zł
Książki / Literatura obcojęzyczna
This book is for product managers, product owners, product marketing managers, VPs and Heads of Product, CEOs, and start-up founders. In short, it serves anyone interested personally or professionally in software product management. You'll learn how to plan, coordinate and execute all activities required for software product success. It enables you to find the right balance for delivering customer value and long-term product success. The book offers a comprehensive introduction for beginners as well as proven practices and a novel, holistic approach for experienced product managers. It provides much-needed clarity regarding the numerous tasks and responsibilities involved in the professional and successful management of software products. Readers can use this book as a reference book if they are interested in or have the urgent need to improve one of the following software product management dimensions: Product Viability, Product Development, Go-to-Market / Product Marketing, Software Demonstrations and Training, The Market / Your Customers, or Organizational Maturity.The book helps product people to maximize their impact and effectiveness. Whether you're a seasoned practitioner, new to software product management, or just want to learn more about the best-of-all disciplines and advance your skills, this book introduces a novel and "business" tested approach to structure and orchestrate the vital dimensions of software product management. You will learn how to create focus and alignment on the things that matter for product success.
Sklep: Libristo.pl
Sklepy zlokalizowane w miastach: Warszawa, Kraków, Łódź, Wrocław, Poznań, Gdańsk, Szczecin, Bydgoszcz, Lublin, Katowice
Szukaj w sklepach lub całym serwisie
2. Szukaj na wszystkich stronach serwisu
t1=0.047, t2=0, t3=0, t4=0, t=0.047